FOR THE PAST YEAR, Mid-Hudson Valley families have been able to enjoy superior milk produced by a group of select local farms, privately distributed and marketed in a couple of dozen stores from Newburgh to Red Hook. Fueled solely by words of mouth, sales have risen ten-fold within the year—from a mere 100 gallons of milk weekly at its debut to 1,000 gallons a week in early March this year.
Though still in its infancy, Hudson Valley Fresh may hold the key to a brighter future for at least a handful of area dairy farms. There is hope that the new, farmer-led initiative will grow enough, both in numbers and economics, to reverse the shaky fortunes of the participating dairy farmers—and make the profession more appealing to a younger generation.
Dairy farmers are probably feeling some urgency. Looming on the horizon is the dairy industry's prediction that the average 2006 milk price paid to farmers will be down from last year's by as much as 15 percent. In real dollars, ignoring short-term spikes and dips, the price farmers receive for their milk has been slipping downward for at least 25 years.
"We don't compete on price, but quality and freshness."
—Sam Simon
"The thing that caught my attention was the logo," says Dan Tiberio, who with his brother, manages Tiberio's Red Hook IGA. "We're thrilled that we have it." Showcasing local farm products that helped this locally owned grocery retain a foothold in the community, despite nearby competition from Hannaford, Stop & Shop and Wal-Mart. Whole, chocolate, 1 percent and skim milk, packaged in half-gallon jugs, sell for $2.69 to $2.99, with the lower prices in smaller stores.
"We don't compete on price, but quality and freshness," explains Sam Simon, MD, the dairy farmer who helped originate the Hudson Valley Fresh concept and now serves as its board president. The milk is bottled less than a day after it leaves the farms and it's delivered shortly afterwards. Quality, Simon stresses, means the milk contains fewer bacteria and somatic cells, which indicate infection, than regulations allow. Formerly, the milk from what are now Hudson Valley Fresh producers had been co-mingled with average and poor milk that could barely pass the federal government's minimal sanitary requirements—effectively preventing customers from discovering just how good fresh, local milk can taste.
Currently, Hudson Valley Fresh milk is produced at four Dutchess County farms that meet Hudson Valley Fresh's premium quality standards. Another five farms in the county are taking measures to upgrade their milk quality so they can become suppliers soon.
People are supportive of Hudson Valley Fresh on principle, according to Barry Chase, one of the farmers supplying the milk, "But once they taste the milk—that's when they really get hooked," he stresses. The second-generation Pine Plains dairyman and his main employee milk 52 registered Holsteins twice daily in two traditional yellow barns. With this manageable number, they can grow almost all the herd's feed on the 350-acre Chaseholm Farm and some rented cropland.
During a recent visit, 64-year-old Chase had just finished clipping a few of his bovines for comfort and cleanliness—personal care that few commercial cows receive. He keeps his small herd healthy and productive with a blend of time-honored practices, genetic considerations and science. At Chaseholm Farm, every cow has a name and a pedigree: Every animal is the progeny of three venerable maternal lines tracing back 13 or 14 generations. The sale of registered cows comprises about 20 percent of the farm's income. Chase doesn't expect to see his income supplemented much from Hudson Valley Fresh for the next few years.
Chaseholm Farm is one of two remaining dairy farms in the town of Pine Plains. The Chase family is seriously exploring placing the farm in a conservation easement to protect its future. In the last five years, their land and school taxes have almost doubles—to about $20,000 annually. Now, three residential developments proposed for the town would triple its population of 1,800. The group will have to sell a lot of milk to offset the rapidly rising costs of farming in such a community.
About 15 miles to the west of Chaseholm Farm in Salt Point is a farmer who supplies Hudson Valley Fresh but does not own a farm. As a young dairy farmer, John Conklin, 34, has financial constraints that prevent him from hiring enough help. "It's a tough business. That's why I was ready to climb aboard Hudson Valley Fresh. Especially in this area, we need more money for our product."
Though his parents were teachers and did not own a farm, dairy farming has always been a magnet for Conklin. He was exposed to the work and rhythms as a boy visiting his grandparents on their farm. Against some hefty odds, he succeeded in setting up his own operation from scratch on rented property.
Because limited land is available to him, Conklin purchases feed raised by his landlord's farm manager. He maintains the biggest herd his leased barn will accomodate—95 cows. To milk them and then do his other chores, he works from 4 in the morning until 7 at night, with an hour off to go home for breakfast. He has help at every milking, but does most everything else by himself.
Dutchess County farmers marketing Dutchess County milk was not a new idea for Verne Jackson, who milks cows on the last dairy farm in Fishkill. "I've always talked about the concept with other farmers: We have to get more for our milk."
Sandwiched between the Taconic Parkway and I-84 in the midst of suburbia, the 250 acres that make up Jackson's Shenandoah Farm seem prime for development. Even Jackson's father, from whom he and his brother purchased the 114-year old farm in 1960, didn't think they would be able to stay there.
Jackson, who is in his early 70s, intends to keep farming. He has help from three adult sons and a grown grandson (each also works off the farm by necessity), and the benefit of the added acreage on two rented farms, where they raise crops and beef cattle. "Our barn holds 48—that's what we milk. We never expanded and we don't have heavy debt,"Jackson explains, adding that he and his brother didn't buy into the once-ubiquitous advice that farmers needed to "get big or get out."
"We wanted to creep before we walk. We need to walk before we can run."
—Verne Jackson
Hudson Valley Fresh guarantees its farmers $20 per hundred-weight for their milk ($5 more than they were receiving last year for shipping milk to the dairy co-op, Agri-Mark). Normally, farmers are required to sell all of their milk to their dairy co-op, but in this case, Agri-Mark was willing to release a portion of their milk, though it deducts a "fee" of $2 per hundredweight for the milk they retain.
"You shouldn't have to be an orthopedic surgeon to be a dairy farmers," says Simon, who retired from his medical specialty at age 52 in order to return to the agricultural way of life he is passionate about.
Simon's situation is atypical. He grew up on a Middletown dairy farm. When his father died suddenly in 1969, Simon was starting medical school. He returned home on weekends ("While still wearing my suede jacket") to keep the farm going and to provide for his mother and younger siblings. Eventually he bought the 150-acre Planckenhorn Farm, near Poughkeepsie (where he practiced medicine).
For the past 11 years, Simon has milked cows at this Pleasant Valley farm. Breeding to improve the genetics and the responsiveness of cows to good care are two aspects of agriculture he finds very gratifying. "Some people like art," Simon observes. "I like living works of art."
From the start, as a volunteer, Sam Simon has taken on the lion's share of day-to-day responsibilities for the group. Currently, the only paid help are two part-time delivery truck drivers whose compensation comes out of milk revenues.
After recruiting other farmers and farm advocates, Hudson Valley Fresh incorporated as a not-for-profit with the broad mission of strengthening local farms and developing "food-secure communities." Wary of massive debt payments, the group- vetoed the idea of investing in a processing plant. ("We don't need any help in losing money," Simon notes.) Indeed, their fears are well-founded: Most of the handful of farmer-owned milk-processing plants they toured on a van trip through Pennsylvania and Virginia have gone bankrupt, victims of over-capitalization and insufficient marketing.
While the farmers were ruminating about their options, Simon's herdsman Tom Manning and his cousin, Assemblyman Pat Manning (R–Hopewell Junction), went to a baseball game, where they lamented the plight of dairy farmers. Over breakfast at a local diner not long after, the two were hatching a plan to form Hudson Valley Fresh.
"We mapped it ou on a napkin," Pat Manning recalls. A strong advocate for open space, he has emphasized that farmland conservation only works "if we can keep farmers on their property." Unless farmers earn a living wage for their hard work, he said there is no economic reason to farm, especially with developers knocking ont heir doors with offers of millions of dollars. Stagnating conventional milk prices compound the challenges of dairy farming in rapidly suburbanizing areas where rising property values present a constant temptation to sell. Most farmers eventually capitulate to escalating property taxes and dwindling agricultural infrastructure—the feed dealers, farm vets, equipment dealers, and fellow farmers are also disappearing. Yet, some farmers are determined to stay the course. Dutchess County has only 23 dairy farmers left.
A first step toward marketing Hudson Valley Fresh milk was for the farmers to find a bottler—but none of the processors Simon approached was willing to take the extra step of keeping the Hudson Valley Fresh milk segregated. (Unless the process could guarantee that the milk the farmers would sell was their own, unblended with others' milk, the group's integrity would be at risk.)
Ultimately, Ronnybrook Dairy Farm (in Ancramdale) became the group's bottler. This southern Columbia County farm—one of fewer than a dozen farms in New York State that bottle their own milk—had extra capacity and an interest in working with them. In 1991, the Osofsky family (owners of Ronnybrook, who, in fact, have a long history of practicing what they preach) entered the public eye with a splash when it started bottling its rBGH-free milk in returnable glass bottles for the New York metro and Hudson Valley markets. (Almost one-third of the milk produced in New York state comes from farms that milk 500 cows or more, according to the National Agricultural Statistics Service. On such factory-style dairy farms, cows would never go out on pasture; typically, they receive injections of recombinant Bovine Growth Hormone (rGBH), a drug banned in most other industrialized nations and which Hudson Valley Fresh farmers have agreed not to use). Currently the farm milks 90 cows.
"Local food is the true homeland security." —Assemblyman Pat Manning
(R–Hopewell Junction)
The relationship between the producers and Ronnybrook is symbiotic: By using a bottler who understands their requirements, Hudson Valley Fresh farmers acquired the means to sell their milk to customers. The fact that Ronnybrook had a milk tanker truck and could pick up simplified logistics. In exchange, Ronnybrook has gained access to quality milk that meets its own standards, facilitating the expansion of its "drinkable yogurt" line. Ronnybrook also gets the excess butterfat from Hudson Valley Fresh's skim and 1 percent milks. Bottled in half-gallon plastic jugs, Hudson Valley Fresh milk differs visually from Ronnybrook's glass quarts. The "competition" has not hurt either entity—one grocery store manager said since the introduction of Hudson Valley Fresh in his store, Ronnybrook's sales have also increased.
Assemblyman Manning has secured give grants from public sources totaling $155,000 (two others are still in the pipeline) and another $10,000 in private grants for Hudson Valley Fresh. Why the largess? "Local food is the true homeland security," Manning stressed. "We subsidize private industry all the time. Big corporations spend millions to market their products." He adds that an infusion of funds is needed to help market Hudson Valley farm products.
With these grants, Hudson Valley Fresh purchased a new refrigerated truck and four vending machines (placed in schools and a boy's and girl's club), and financed various start-up costs. Grant funds are also temporarily paid for a part-time staff person who was to spearhead marketing efforts, but that arrangement failed.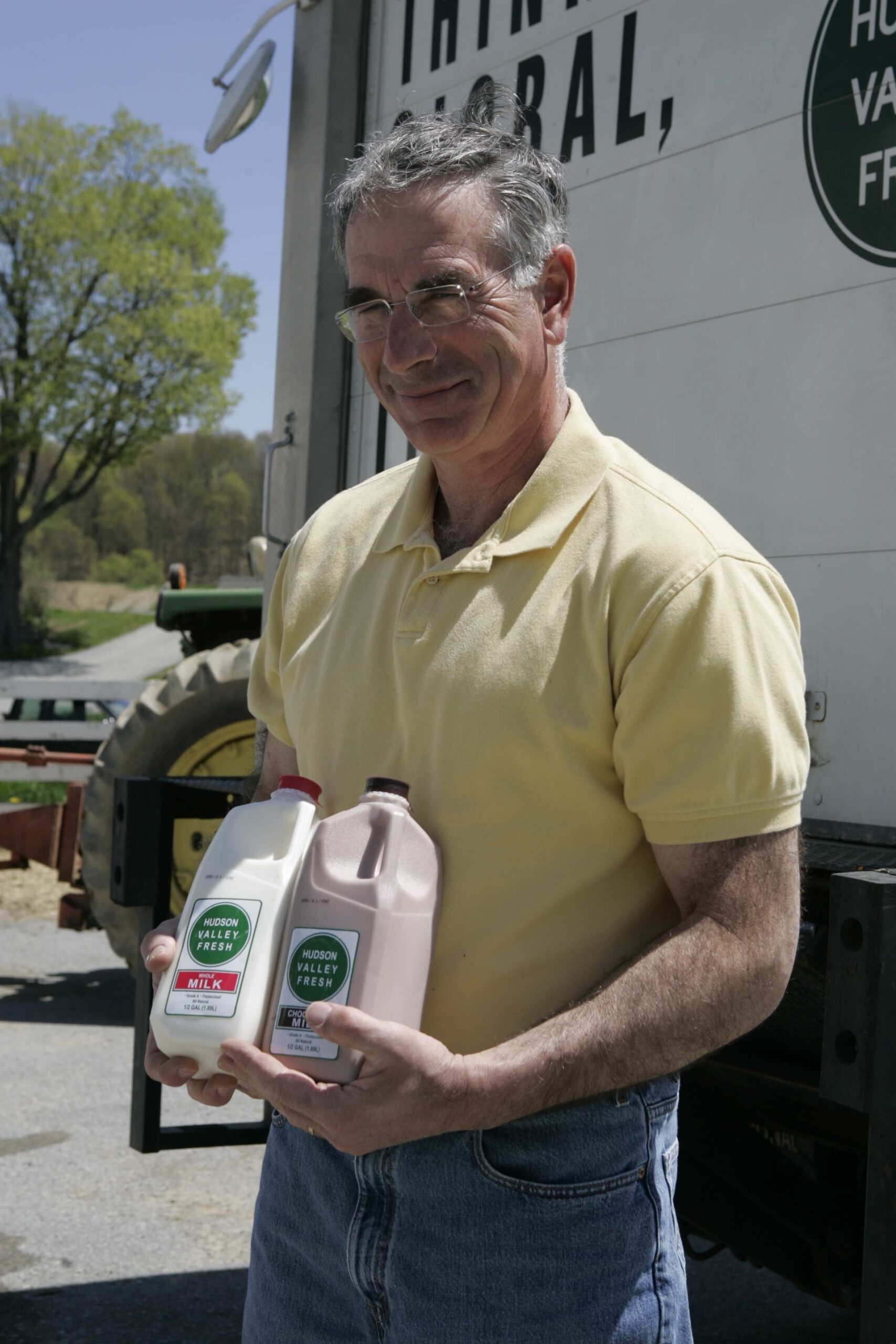 More than anyone else, dairy farmers are acutely aware that the public has been losing its appreciation for milk. Under the guide of protecting the food supply, government regulations have reduced consumers to purchasing the lowest-common-denominator milk, which increasingly is being provided by industrial-type farms. Could it be that the sinking quality of ordinary milk is responsible for its sluggish demand?
With its promise of ecological farming methods and avoidance of toxic chemicals, organic milk has attracted millions of customers. Arguing for the virtues of Hudson Valley Fresh from the consumer perspective, Simon voiced objections to mass-marketed organic milk—organic milk purveyors, he declares, only adhere to the established bacterial and somatic cell count standards. Hudson Valley Fresh restricts bacteria to just one-tenth of the government's allowable level and requires that the somatic cell count fall below almost one-quarter of the legal maximum.
Ironically, freshness is not a characteristic of most organic milk, which is subjected to ultra-high temperature pasteurization to lengthen shelf life. This harsh process breaks down the lipase and protease enzymes needed for milk digestion, Simon points out.
When the fat is removed in order to make a low-fat milk, along with it go vitamins A and D, which is why synthetic vitamins must be reintroduced into the milk at the dairy. The catch is that vitamins A and D are fat-soluble and need fat to be absorbed into the body.
As an added bonus, Hudson Valley Fresh does not standardize butterfat in its whole milk, so its fat content is actually about 0.5 percent higher than the 3.3 percent minimum. "You get what the cow gives," says Simon. (Dairy processors ordinarily skim off the extra butterfat for cream and butter, with the blessing of the law.)
In a well-intentioned but misguided tactic to fight childhood obesity, New York City education officials removed whole milk from public school cafeterias in February 2006. "Real food" advocate and author Nina Planch warned in a New York Times op-ed piece that "City officials have identified the wrong culprit in our health woes." The fat is needed, Planch wrote, so the body can digest protein and absorb calcium. Especially important is saturated fat for calcium intake (the popular monounsaturated and polyunsaturated fats don't do it). Additionally, Planch noted, milk fat is important because of its glycosphingolipids (fats that encourage metabolism and fight gastrointestinal infections).
Further, when the fat is removed in order to make a low-fat milk, along with it go vitamins A and D, which is why synthetic vitamins must be reintroduced into the milk at the dairy. The catch is that vitamins A and D are fat-soluble and need fat to be absorbed into the body; "fortified" low-fat milk is "not nearly as beneficial as the real thing," Planck notes.
The dairy farmers concur. "People are eating a lot of other foods with higher fat," says Jackson. Whole milk, he notes, could accurately be described as being "96.5 percent fat-free." As an orthopedic surgeon, Simon is appropriately positioned to be a champion of healthy milk. He has seen first-hand how essential it is for young people to get sufficient calcium by the time they reach the end of their teens.
In the region, Hudson Valley Fresh farmers and supporters are the first to get such an initiative off the ground. But they are not alone—small pockets of farmers scattered around the country have banded together to make their local milk available to9 those who will appreciate it.
In the last two years, six Connecticut milk producers have entered their local marketplace as The Farmer's Cow and the Rhode Island Dairy Farmer Cooperative has introduced Rhody Fresh Milk. Both groups get their milk bottled at Guida Dairy in Connecticut, a processor that cannot keep their milk separate.
Started eight years ago, the most established farmer-led effort in the Northeast is the Pioneer Valley Milk Marketing Cooperative, selling, under the name Our Family Farms. This seven-farm coop has created a demand for one-half of the milk produced by their 350 cows—each week, 12,000 gallons of their milk is sold retail in small groceries, chain supermarkets and farmstands in a three-county region in western Massachusetts. Like Hudson Valley Fresh, the coop's standards do not allow rBGH to be used and all of its members milk 100 or fewer cows.
An important secret of Our Family Farms' success has been the unique way farmer participation is rewarded. With the assistance of an exceptional facilitator, the members recognized early that dairy farm families would be the best spokespeople for their milk.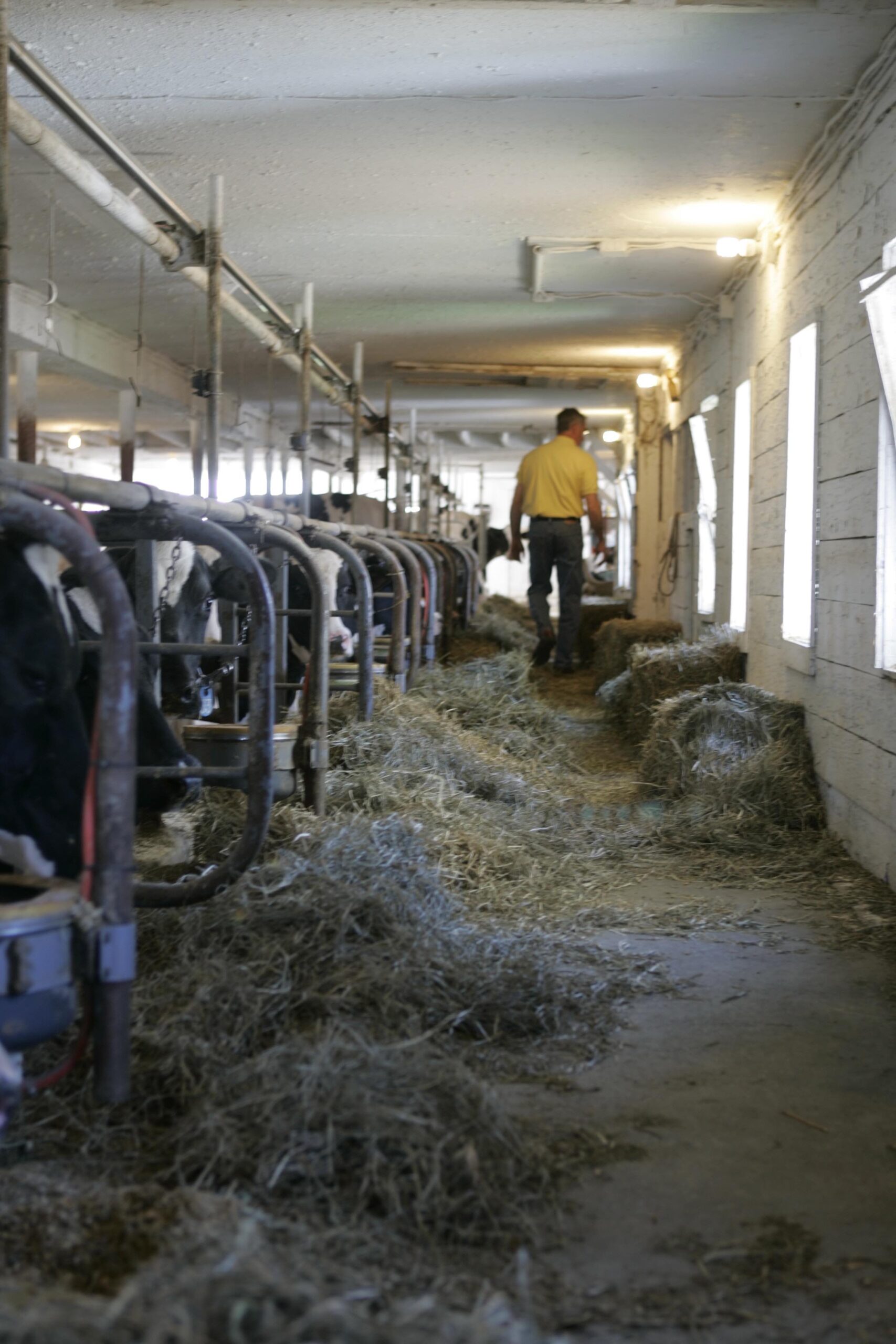 Following from this insight, the coop generously compensates its member when the farmer or family members take part in marketing activities, like in-store tastings, donning the group's cow costume, or greeting the public at community functions. Farm families also receive incentive payments for attending monthly board meetings. Simply being a member of the coop without helping in promotion is discouraged as far less profitable.
The achievement of Our Family Farms suggests how much more demand for Hudson Valley Fresh may be on the horizon if the members can step up their promotion efforts sufficiently. This seems plausivle—several Hudson Valley Fresh farmers have expressed a strong desire to begin actively participating in promoting their milk.
Having progressed beyond simple talk, Hudson Valley Fresh ha succeeded in an important respect—breaking into the market was just the first step. Members like Verne Jackson feel the group is on track. "We wanted to creep before we walk. We need to walk before we can run," he declares.