WHEN SARA HIGGINS WAS RAISING three kids in the 1990s, most of the breakfast cereals on the market were loaded with sugar and artificial colors. Unimpressed by the commercial options, she began making her own granola instead. "There weren't any choices out there I felt good about feeding to my kids," she says. "So, like any parent would, I came up with my own."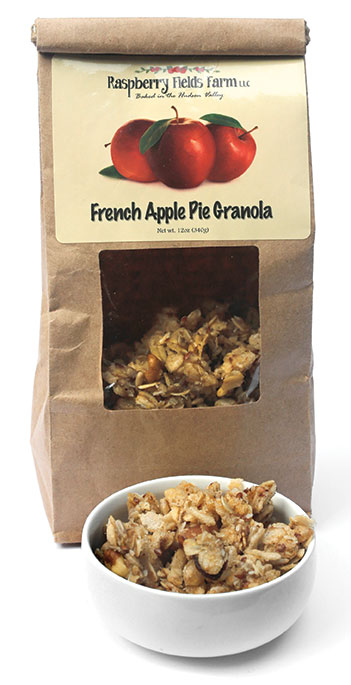 Her first batches featured dried, hand-picked raspberries grown around the family's 150-year-old farmhouse in Marlboro. Naturally, the kids ate it up—and so did Higgins' friends and family. "Friends kept telling me that I should try selling it," she recalls. "In 2007, I brought some to a manager at Adams Fairacre Farms and they started selling it in their stores. That really gave me validation that I was onto something and I went running with it. Within a year, we got picked up by Whole Foods." Raspberry Fields Farm, the small granola company that could, took off.
Now, nine years since the company's start, Higgins bakes from her summer kitchen-turned commercial prep space appropriately called "The Granolary." Since 2016, the company has shifted mainly to online sales and wholesale at only a few local grocers and retailers. Her small staff of three plus the kids, now grown, handcraft the popular raspberry granola that started it all, along with French apple pie flavor and dark chocolate sea salt cookies. Simple ingredients—whole rolled oats, crisp rice, honey and coconut—make for a moist, chewy, scratch-made flavor. With milk it's a tasty breakfast cereal; on its own it's a satisfying power snack.
Higgins admits her granola has become a staple among local hikers and bikers—it's the "house granola" at Main Street Bistro in New Paltz, a popular brunch spot for Shawangunk Ridge explorers. A 12-ounce bag retails for $7.99 at Adams Fairacre Farms, Mohonk Mountain House and the Taste NY Store at Todd Hill. It and other products (including granola wedding favor sets) are available on the company's website. raspberryfieldsfarm.com