Serves 4
Ingredients
Basic brine for pork (1 1/4 gallons water, 3/4 cup salt, 1/2 cup sugar, black peppercorn, bar leaf, coriander seed to taste)
2 pounds pork rib rack, brined for one hour
2 cups cleaned peas
2 cups cleaned morels (thinly sliced shallots, thyme, salt and extra virgin olive oil to sauté)
1 to 2 cups charred onion soubis
CHARRED SPRING ONION SOUBISE
2 Spanish onions sliced thin small bunch of thyme
1/8 pound unsalted butter
splash of heavy cream
sherry vinegar to taste
CHARRED SCALLION OIL
2 bunches of scallions
extra virgin olive oil
lemon juice to taste
VEGETABLES AND MUSHROOMS
2 cups cleaned morels
2 thinly sliced shallots
pinch fresh thyme
2 cups garbanzo beans
butter
vegetable stock
lemon juice
Method
CHARRED SPRING ONION SOUBISE
Sweat onions with thyme until transparent. Remove thyme.
Puree onions with butter and heavy cream.
Season with salt and sherry vinegar to taste.
CHARRED SCALLION OIL
Preheat grill on high.
Burn scallions on grill at high heat.
Once thoroughly charred, place in blender, pulsing while slowly adding oil to emulsify.
Season with salt and lemon juice to taste.
VEGETABLES AND MUSHROOMS
Sauté clean morels with shallots and thyme. Season with salt.
Blanch and sauté garbanzo beans in butter and vegetable stock, seasoning with fresh lemon juice and salt to taste.
ASSEMBLY
Grill pork to desired temperature, rendering all the excess fat off the rack. Avoid flare-ups while grilling pork.
Garnish plate with charred onion soubise, place the sliced pork on top.
Garnish pork with sautéed vegetables and mushrooms. Garnish with fresh pea leaves and a great extra virgin olive oil.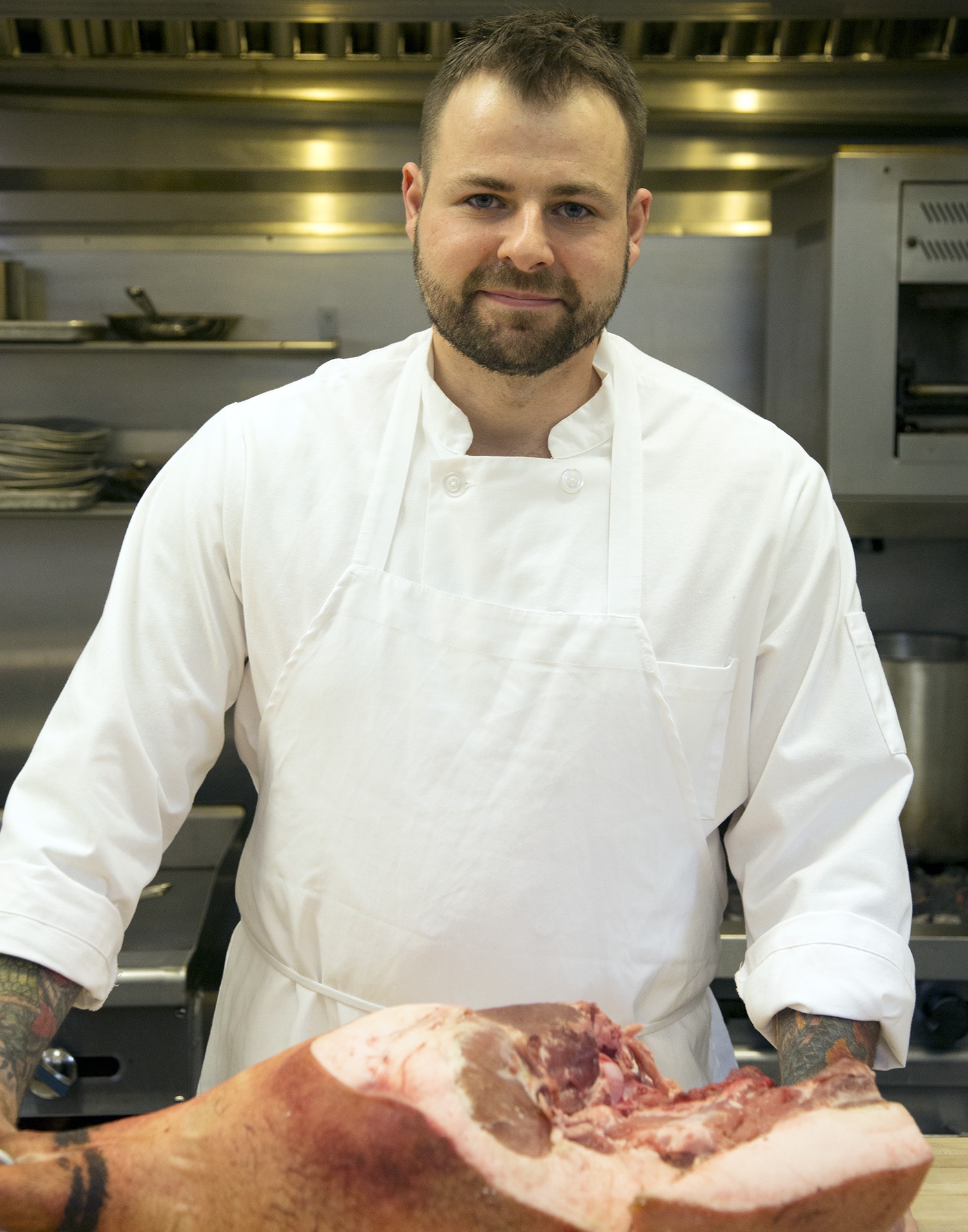 "We do our best to purchase local, high quality vegetables, meat and dairy. Subsequently, this translates into a greater expense and the necessity to utilize everything… we have a lot of fun coming up with ways to utilize our byproducts." Fun indeed… in this dish the young tendrils and leaves of early peas provide a fresh counterpoint to earthy morels and charred onions.