"Desert" is not a word that usually comes to mind when describing the Hudson Valley's extraordinary landscape of panoramic river views, grazing cows and verdant orchards. Yet, parts of many communities from Hudson to White Plains literally are "food deserts"—areas with limited access to fresh food. Supermarket closures may force residents of some neighborhoods to go miles to the nearest shopping center or mall to buy groceries when they used to walk around the corner.
One solution to this problem is emerging: retro-fitted trucks and trailers that bring free or moderately priced fresh food directly to the people and communities where it's needed most. These "mobile groceries" can cover significant areas on a weekly basis.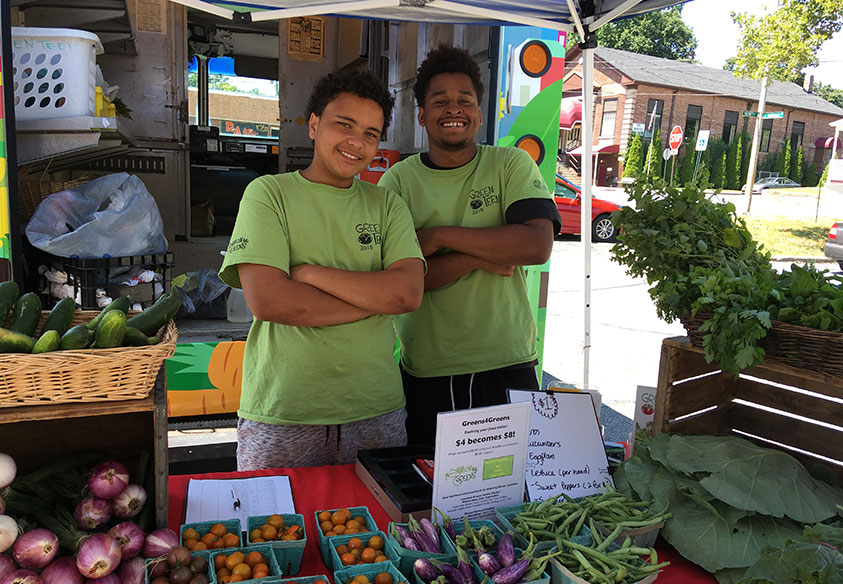 The Feeding Westchester Mobile Food Pantry serves primarily areas in Westchester County with few or no existing food retailers, soup kitchens or food pantries. The program is funded by donations; the produce is distributed free. Dutchess Outreach Fresh Market partners with seven local farms to stock its food trailer. Last year, the program distributed 14,808 pounds of fresh food free of charge to residents of Poughkeepsie. Serving Beacon (Dutchess County) and Newburgh (Orange County), the Common Greens Mobile Market offers below-market-price vegetables sourced from the nine-acre Common Grounds Farm in Wappingers Falls and from plots planted and grown by local students who are part of Green Teens, a program that introduces urban youth to farming. This past season, the mobile market rolled out a brand new vehicle that runs on solar power and vegetable oil.
One of the newest mobile grocery operations is Rolling Grocer 19, serving primarily residents of the city of Hudson (Columbia County). It has a "fair food policy," a three-tiered pricing structure for each product on the shelf: wholesale, retail, and a mid-level average. Shoppers use a simple guide to determine the price level they qualify for. Unlike other food initiatives that provide only fruits and vegetables, Rolling Grocer 19 includes bulk grains, meat, dairy and non-food items like cleaning and personal hygiene products.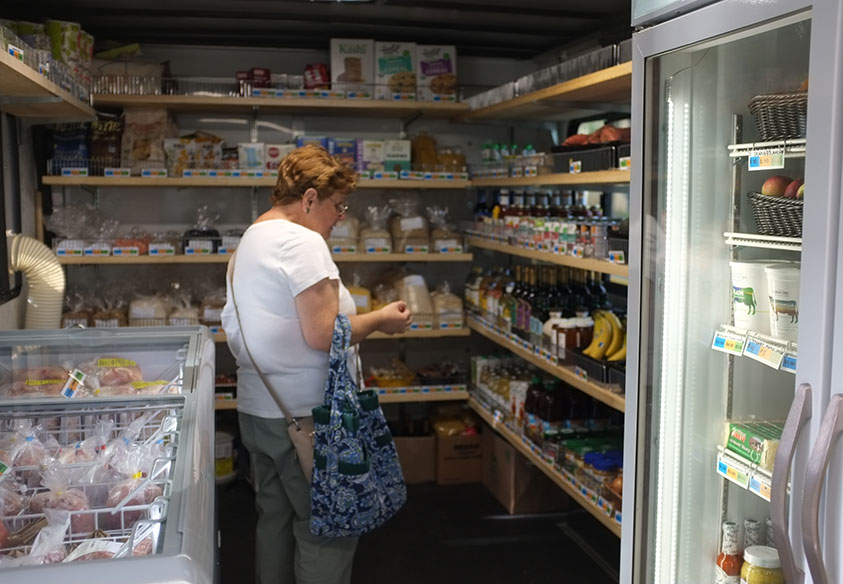 After only two months of operation, Rolling Grocer 19 has consistently met its goal of selling $1,000 worth of products each week. Organizers attribute at least part of the success to careful, thorough research and planning.
The project was spearheaded by Rachel and Steffen Schneider, founders of The Institute for Mindful Agriculture, a department of the nonprofit Hawthorne Valley Association (HVA), in Ghent. Rachel is both a farmer and a teacher at Hawthorne Valley Farm Association; her husband Steffen is the farming operations director there. They formed a diverse group of people to advise the mobile project and address the specific needs of Hudson residents.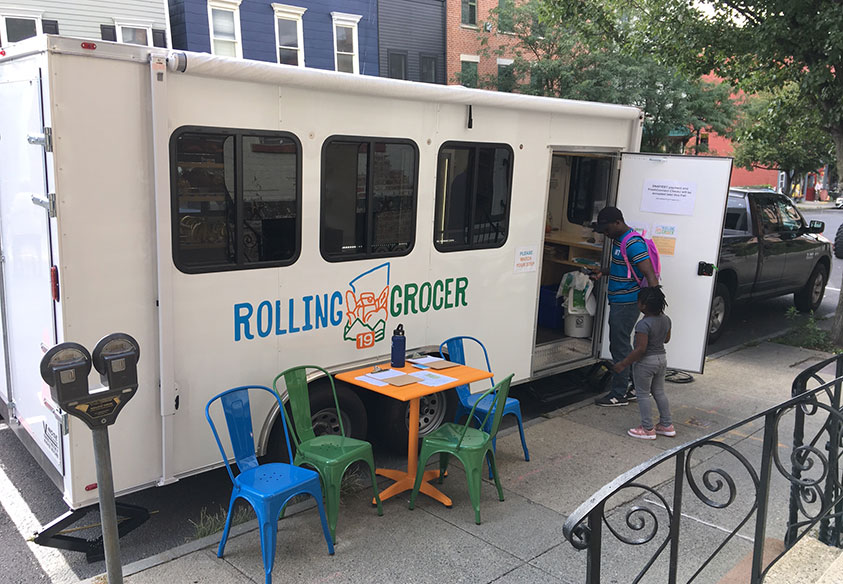 Customers are enthusiastic. An awning and a colorful setup of table and chairs encourages lingering and interaction. On a recent afternoon, Rachel explained the tiered pricing to a new customer. "It touched me to experience the generosity and goodwill of people who have undergone hard times themselves," Rachel notes. "The woman was in recovery and had been cooking regularly at her home for friends and neighbors. She had no car and had to rely on her mom to take her to supermarkets on Fairview Avenue, outside of town. She was so grateful to have [RG19] literally in front of her door."
The pricing model has the effect of breaking down social barriers, as well. Hudson resident Tamar Adler, a Manhattan food writer, shares her enthusiasm. "I buy Northwind Farms sausage, sustainable shrimp or fish, avocados, brown rice, Sparrowbush Farm greens and carrots—it's so good!" Adler, who can afford to pay the higher prices, says. "When I pay retail, it supports others paying less. It's exactly what we need to happen everywhere."
Eventually, organizers plan to expand coverage to the entire county, "and perhaps to have several trailers going out from Hudson to mini-hubs in the townships that particularly suffer from lack of access to fresh and healthy food," Rachel stresses.
It is, as Adler was moved to write on The Rolling Grocer 19 Facebook page, "a vision of a better future."
Common Greens Mobile Market
79 Farmstead Ln, Wappingers Falls
(845) 231-4424; commongroundfarm.org
Dutchess Outreach Fresh Market
29 North Hamilton St, Poughkeepsie
(845) 454-3792; dutchessoutreach.org
Feeding Westchester Mobile Food Pantry
200 Clearbrook Rd, Elmsford
(914) 923-1100; feedingwestchester.org
Rolling Grocer 19
Hudson
(518) 755-1349; rollinggrocer19.org