Tucked quietly in Ulster County, Half Moon Rondout Café is the place to go for hot donuts and coffee in an upbeat atmosphere.
Step inside Half Moon Rondout Café for a welcoming spot to snack on delicious treats and sip on a steaming cup of coffee with friends. With plenty of bright colorful accents, high-top tables and chairs, and a collection of historic Hudson Valley photos on the wall, this is the ultimate gathering place.
A Sweet Vision
Half Moon Rondout Café opened in November 2020 by Kaira Tiegen and her partner, JT Pinna. After spending the previous 17 years in corporate restaurants, Tiegen wanted to bring a coffee spot that honored her Seattle roots to the area. Pinna sought to enjoy semi-retirement by making donuts after traveling for work in national security for 30 years. Tiegen and Pinna opened the café in Kingston to offer a welcoming space to a diverse community.
The name Half Moon comes from the ship that Henry Hudson sailed on the Hudson River. "I think the name was a perfect connection since I grew up in Seattle, and Starbucks' name came from the ship Starbuck from Moby Dick," notes Tiegen.
Donut Mind If I Do
All donuts are made to order to provide the ultimate fresh, warm donut experience. The donuts come from a re-engineered recipe from the 1700s that was discovered in French archives, providing them with a unique, cakey flavor. The donuts are not heavy or greasy, but instead are light with a slight crunch on the outside and vanilla flavor on the inside.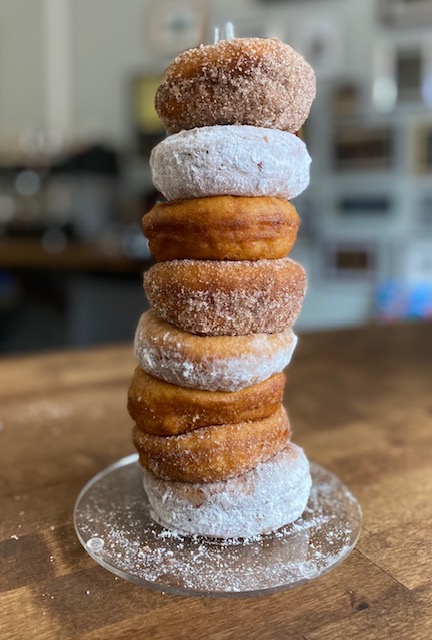 Many of the regulars enjoy the delectable plain donuts, but the eatery also offers powdered sugar and cinnamon sugar donuts. "The powdered sugar donuts are my personal favorites," remarks Tiegen. On the weekends the shop offers glazed donuts, with options including maple, vanilla, and chocolate glaze. Other goodies that will make your mouth water are the seasonal scones, Tiegen's mother's cookies (which she comes in to bake fresh every morning), and savory breakfast croissants. There is also a chicken and donut special available on Wednesdays and chocolate or cinnamon babka, which Pinna learned how to make from an elderly woman in Russia (babka is also available for wholesale).
Sip Back and Relax
In addition to its delicious treats, Half Moon Rondout Café offers warm and refreshing drinks to satisfy any craving. The Hudson Valley destination works with New York-based roasters and currently partners with Heavyfeather Coffee Roasters, which is based in the Catskills. The shop also imports Turkish espresso. "We want people to be really impressed with the cup of coffee that they order. We use high-value coffee while supporting local," says Tiegen. Enjoy your coffee with a variety of milk options, Torani syrups (which are gluten-free), or sugar-free coffee syrup. For non-coffee drinkers, try the on-draft kombucha, Italian sodas, hot apple cider, hot chocolate, or fresh-squeezed lemonade.
Some of the seasonal offerings include the pumpkin pie latte, which is made with pumpkin pie sauce and tastes like a pie in a cup. The café also brews its own chai tea and chai cider (apple cider and chai tea). And before you know it, the delicious candy cane mocha and candy cane donuts will be making an appearance on the menu. For the holidays, look for the announcement of custom donuts (which can be ordered a week in advance). Who wouldn't love adorable Christmas donuts? If you are seeking a custom order for donuts or donut cakes for a special occasion, the shop can do that, too.
At Half Moon Rondout Café, the team is all about creating a space that the community can enjoy. The café is almost always open and has been known to stay open in the middle of snowstorms so neighborhood children can sled down to purchase a donut. You cannot pass by the storefront without smelling fresh donuts being whipped up inside, so be sure to try these mouth-watering creations the next time you are in Kingston.
---
Related: 5 Donut Shops to Try in the Hudson Valley, According to an Editor