There's a secret garden on the rooftop of The Culinary Institute of America.
The path to the miniature Eden is an unlikely one, taking those in the know away from the Hyde Park school's award-winning eateries to cut through the gym, through a series of stairwells, and, ultimately, onto the rooftop. Above the ceiling of the Student Commons, a paradise of fruit and vegetables await. An unlikely scene, to be sure, it presents carefully irrigated, manicured beds containing everything from leafy clusters of broccoli, cabbage, and kohlrabi to eggplants, peas, and edible flowers. The homegrown treats are hot commodities for the chefs on campus, who covet them as tools of instruction within the college's 42 bake shops and teaching kitchens.
The rooftop garden is not a new addition to the CIA's campus. Introduced in 2015, it began as a small-scale operation with nothing more than a few plantings of strawberries. Four years ago, an extensive renovation to the space added a built-in watering system, updated beds, and new crop rotation systems.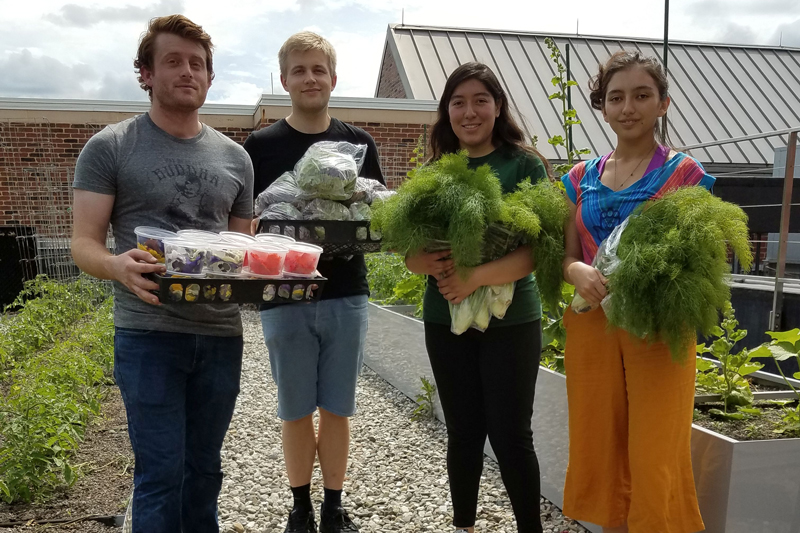 In charge of the garden's operation is Dr. Taylor Reid, professor of Applied Food Studies. On trips to the roof with his classes, Reid uses the garden to educate on topics ranging from the importance of soil and composting to effective methods of pest control and basic product knowledge. He's also the one who hauls the fresh-picked bounty down to the school's numerous restaurants, where not a leaf, flower, stem, or scrap goes to waste.
"Our chefs are really good," Reid says of the professors' creativity when it comes to putting the rooftop resources to work. "It's good for students to have those ingredients."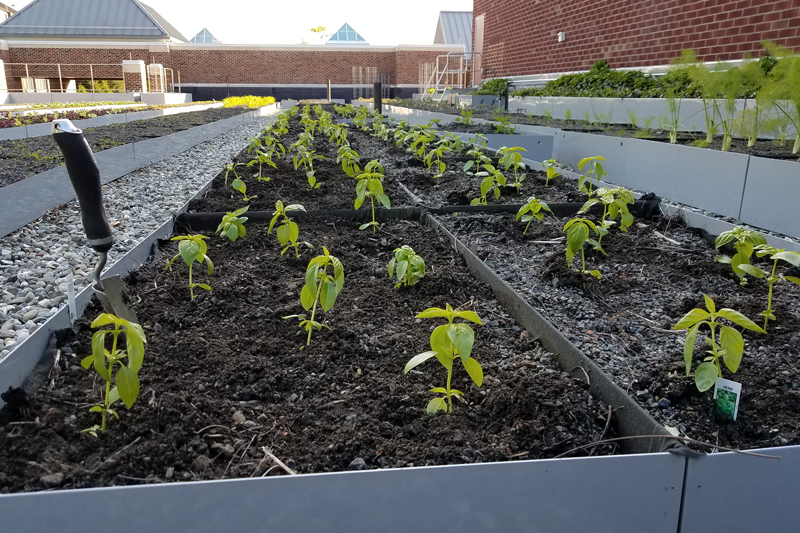 Of course, the rooftop garden is only one chapter of the sustainable narrative being told at the CIA right now. In recent months, the college has pushed to expand upon the eco-friendly conversations already happening on campus.
Building off its annual Menus of Change Conference, a multi-day event that delves into the state of sustainability in the culinary sphere, the school launched Farm to Table: Hudson Valley as a bachelor's degree concentration for students who want to learn about the ecology of food and the significance of chef-community relationships in regard to local sourcing.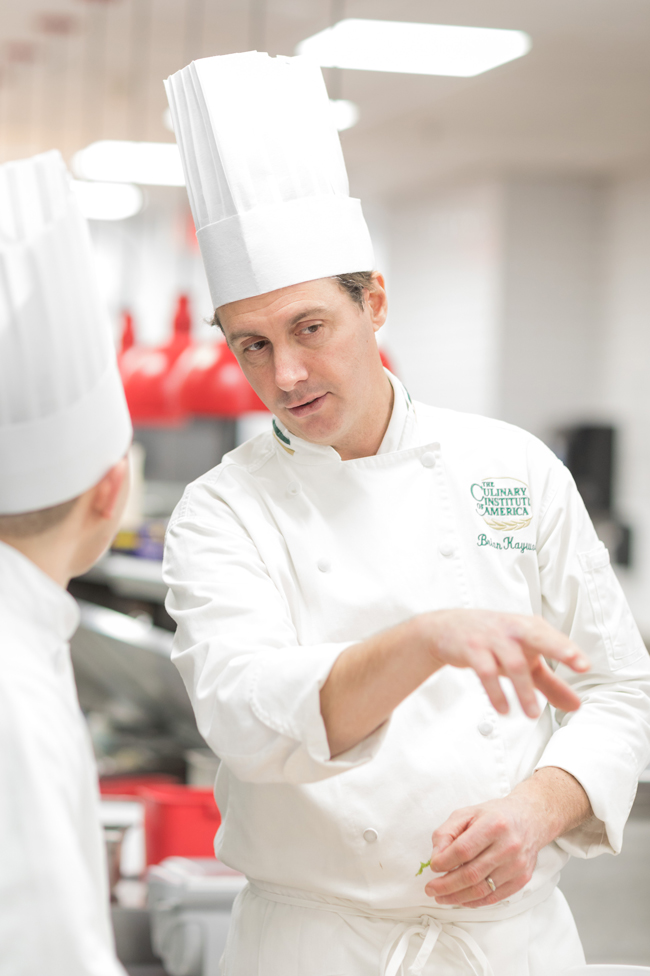 Two of the program's courses, Farm to Fork and Sustainable Food Systems, offer a hyperlocal focus on environmentally minded culinary operations. Within them, students have the unique opportunity to get out in the field to meet Hudson Valley producers at any of the 60 farms within a 75-mile radius of the school and absorb first-hand knowledge of crop rotations, organic farming, and even the local restaurant supply chain.
By the Numbers
The Culinary Institute of America
300-400
number of people who attended the 2019 Menus of Change Conference
60
farms in a 75-mile radius of campus
42
teaching kitchens and bake shops on campus
18
number of students enrolled in the Farm-to-Table concentration in Fall 2019
Closer to home, the CIA practices what it preaches on campus. Thanks to Reid and Brian Kaywork, chef-instructor at the American Bounty Restaurant kitchen, and Tony Nogales, associate dean of culinary arts, the Hyde Park center is a treasure trove for sustainable integrations into academia. Kaywork created the sustainability steward role in CIA kitchens, which places one student per class in charge of monitoring and educating about sustainable practices, and in one forested corner of the school, Reid is even growing shiitake mushrooms with one of his classes on logs he soaks himself.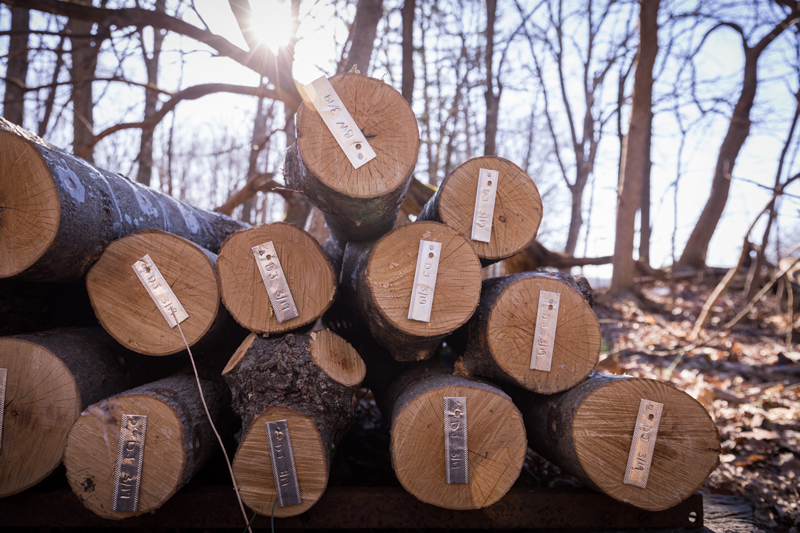 In fact, eco-minded practices abound everywhere on campus, from the grapevines and hops dangling across fences to the beehives along the riverfront and the maple trees at the edge of campus.
CIA students have the unique opportunity to get out in the field to meet any of the 60 producers in a 75-mile radius of the school.
The homegrown ingredients aren't just for show, either. The CIA integrates each and every one of its products into the kitchen. After classes tap trees for syrup in February and March, they pass their sweet findings on to the baking and pastry classes, which use the syrup to perfect tempting desserts like the ones on display at the school's Apple Pie Bakery Café.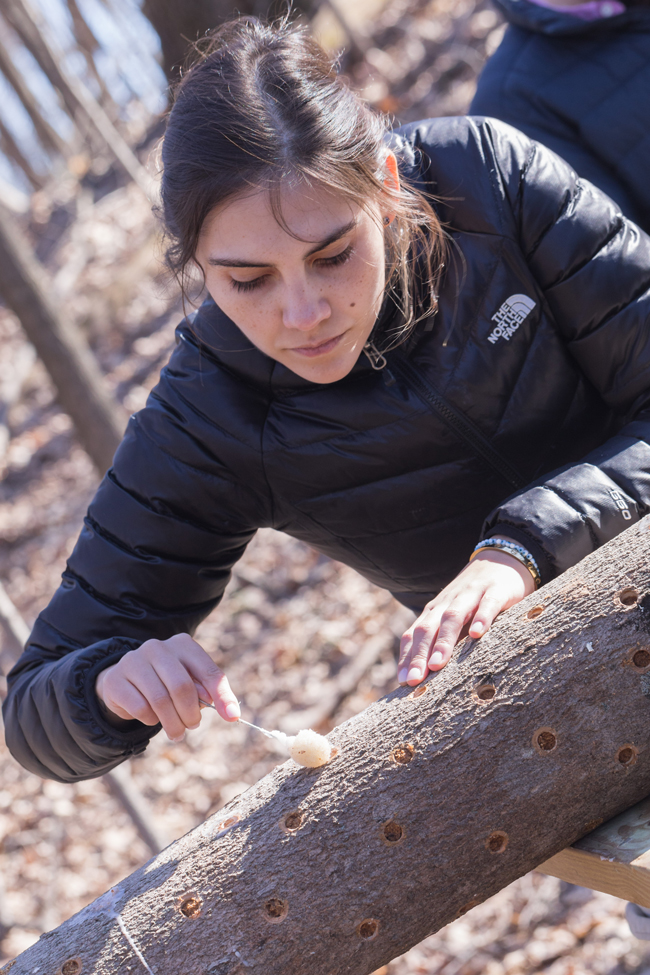 Even the not-so-pretty produce, the bits with blemishes and imperfect shapes, finds a home in The Egg's kitchen, which prepares the meals that students eat on a daily basis. At every level of the CIA's education process, students have the chance to delve into the origins of food, learn about new ingredients and original uses for overlooked ones, and, above all, ask questions.
"We want to let students make their own decisions," Dean Nogales says, adding that while the school primes on animal agriculture, plant-forward cuisine, and no-waste cooking, it leaves the choice about which culinary practices are best in the hands of its students. They are the future of food, after all.
Vassar College
The Culinary Institute of America might be the chief thought leader for sustainable education in the Hudson Valley, but it's far from the only college with green living in mind. A closer look reveals that every college in the region has some foundation of eco-friendly initiatives in place, with many going a step further via entire offices and groups dedicated to sustainability.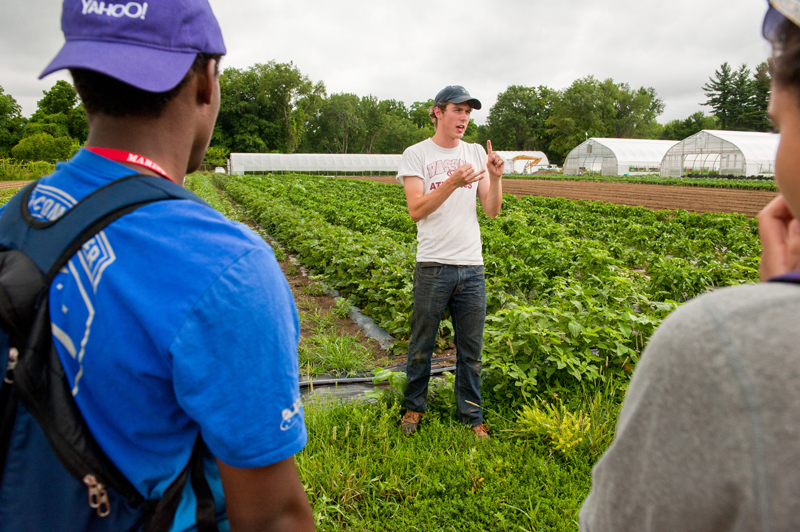 Down the road in Poughkeepsie, Vassar College embraces environmental practices both locally and globally. In collaboration with the Office of Sustainability and Vassar Greens club, the school supports extracurricular programming like Vassar Experimental Garden (VEG), a half-acre garden run by students that's open to the campus community. From January to May, it also plays host to the Arlington Farmers' Market, which sets up in the College Center of Main Building so Hudson Valley vendors can sell bread, cheese, produce, and more.
"Sustainability is one of the most pressing issues for today's generation," observes Vassar College Sustainability Director Micah Kenfeld. "The energy and enthusiasm our student body has for the environment is integral to Vassar's role as a leader on climate action."
By the Numbers
Vassar College
2030
the year Vassar commits to achieving carbon neutrality
415
acres of ecological preserve owned by Vassar College
100+
courses with sustainability content
42
percentage of reduction in carbon footprint since 2005, from over 30,000 metric tons/year to 17,000 metric tons
32
tons of waste composted annually
$0 amount students, faculty, staff, and administrators pay to ride the Dutchess County Bus with their Vassar ID card
Indeed, it's that enthusiasm that prompted a successful collaboration between Bon Appetit, the school's plant-forward dining program, and the Poughkeepsie Farm Project, which grows produce at the Vassar Farm and Ecological Preserve for the campus cafeteria. It's also what enabled the college to ban the sale of bottled water on campus, thereby removing thousands of bottles from the consumer-to-landfill stream. While each measure is noteworthy in its own right, they combine to support Vassar's 2016 enactment of its Climate Action Plan, which outlines the path to achieving carbon neutrality by 2030.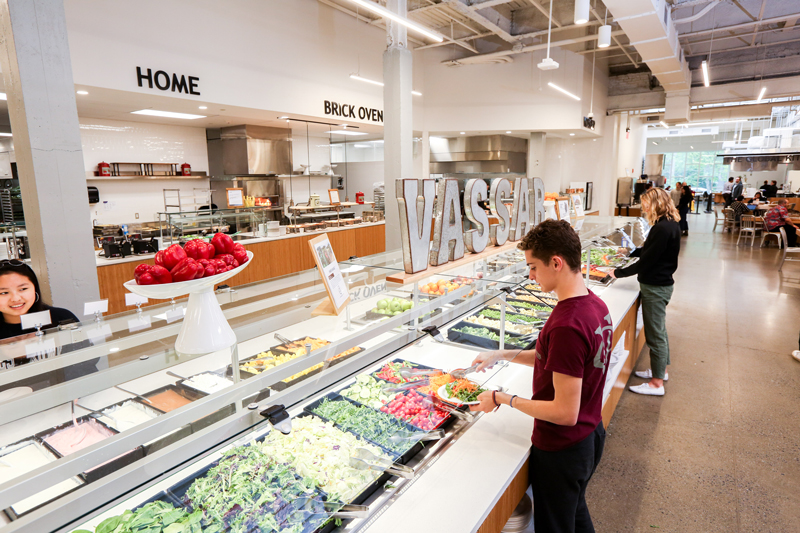 "Vassar's student body has been making history for over 150 years," Kenfeld continues. "[The students'] continued passion and commitment to the environment [has] catalyzed some of Vassar's most sustainable initiatives, from composting to local food in the dining halls…These efforts are key to not just Vassar's ability to thrive over the next 150 years, but the entire Hudson Valley's as well."
Marist College
Nearby, Marist College makes sustainable inroads with hyperlocal collaborations that support the Hudson Valley community just as much as they benefit the school's commitment to environmental stewardship. With its dining program, the college commits to purchasing ingredients from within a 200-mile radius. According to Associate Dean for Student Affairs Steve Sansola, the school's local purchasing ratio has steadily increased from 21 percent in 2010-11 to 54 percent in 2018-19.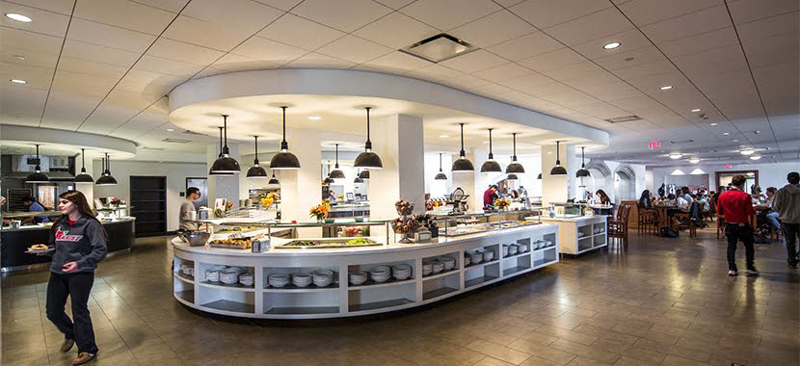 As for sourcing local goods for both the dining hall and the Neighborgoods Farmers' Market (a recurring pop-up that students can shop at using points from their dining plan during the Fall 2019 semester), Marist partners with familiar names like Purdy & Sons, Winter Sun Farms, Red Barn Produce, Baldor, Rockland Bakery, Dressel Farms, Bread Alone, and Hudson Valley Fresh to bring Hudson Valley flavor to campus. At the end of the day, the college continues the local lifecycle by donating remaining food to local organizations through Feed HV.
By the Numbers
Marist College
2007
year in which the Campus Sustainability Advisory Committee came into being
200
the radius of miles within which Marist purchases food for its dining program
54
percentage of local purchasing by Marist Dining Services 2018/19, up from 21 percent in 2010/11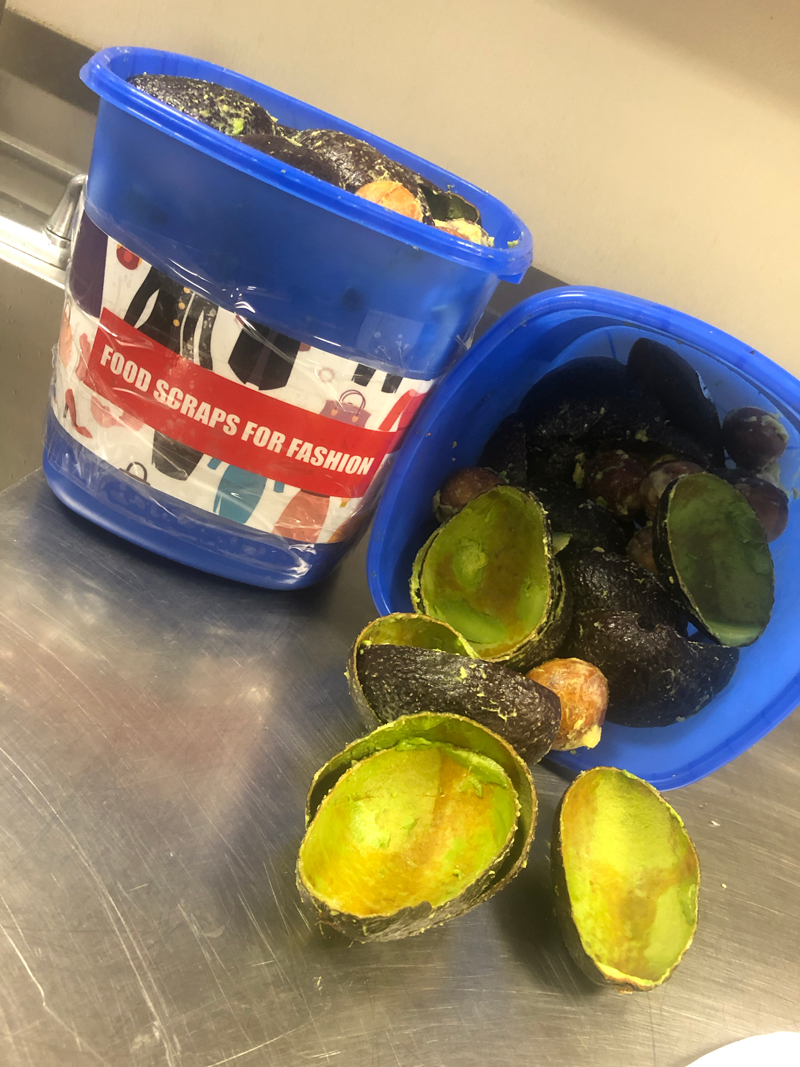 Slow fashion is sustainable fashion. – Tess Cimino, Marist College, '19
Perhaps even more notable, however, is Marist's integration of sustainable ideals into its acclaimed fashion program. In spring 2019, the Marist Fashion Design student group planned "A Dinner to Dye For," an evening in which students prepared a meal, then used their scraps to craft sustainably dyed t-shirts.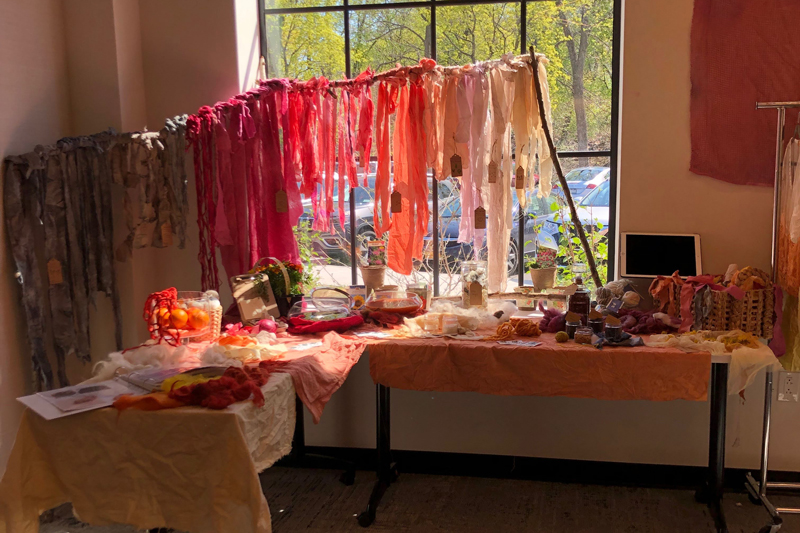 "You can use food scraps, flowers, and unconventional things you wouldn't think of to dye your clothing," explains Tess Cimino '19, the initiative's founder. "Slow fashion is sustainable fashion."
Bard College
Further up the river in Annandale-on-Hudson, Bard College operates as an agent of sustainable change both within the confines of campus and across the nation. Far more than a grassroots endeavor, eco-friendly programming extends across the student and administrative tiers. Like Vassar College, Bard is working toward a carbon neutrality by 2035 promise, a commitment that Bard President Leon Botstein signed two weeks after students united to protest concerns regarding access to public transport and disposables in the dining halls.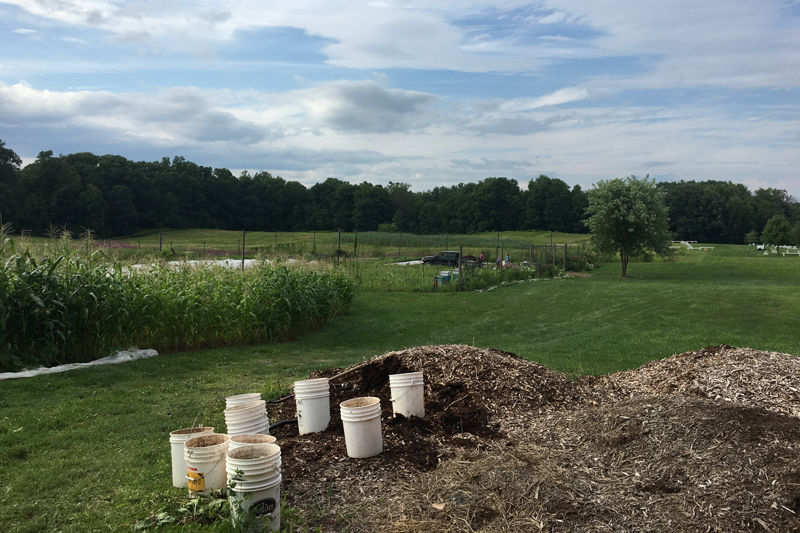 Regarding dining on campus, Bard has made a commitment over the past year to reduce food waste and support regional food systems. According to Brittany Florio, food program supervisor at Bard's Office of Sustainability, the college harvested 17,000 pounds of produce from Bard Farm last year for use on campus. On the other side of the equation, the school prioritizes waste reduction and reuse as well. In a one-year time frame, Bard donated 13,620 pounds of food to the Darmstadt shelter in Kingston and diverted 241,000 pounds of food scraps from landfills for use as compost.
Throughout it all, the students have a voice. They band together via BardEATS, an advocacy group that addresses ways to improve food systems on campus, and BardE3s, an organization that helps the Hudson Valley community think green. When paired with the college's green education concentrations — it offers both an MBA in sustainability and M.S. programs on environmental policy, climate science and policy, and environmental education — Bard students have every opportunity to become active, engaged, and more sustainable citizens.
By the Numbers
Bard College
241,000
pounds of food scraps diverted from landfills and turned into compost for the campus community in a one-year period
17,000
pounds of produce harvested from Bard Farm and served on campus in a one-year period
13,620
pounds of food donated to the Darmstadt shelter in Kingston in a one-year period
27
percentage of food on campus that comes from local, ecologically grown, humanely raised, and fair trade sources
"Bard students receive an education that recognizes climate crisis as a multifaceted issue affecting all departments of study," notes Office of Sustainability intern Karianne Canfield. "Students graduating from Bard will now be able to support sustainable futures based on this awareness."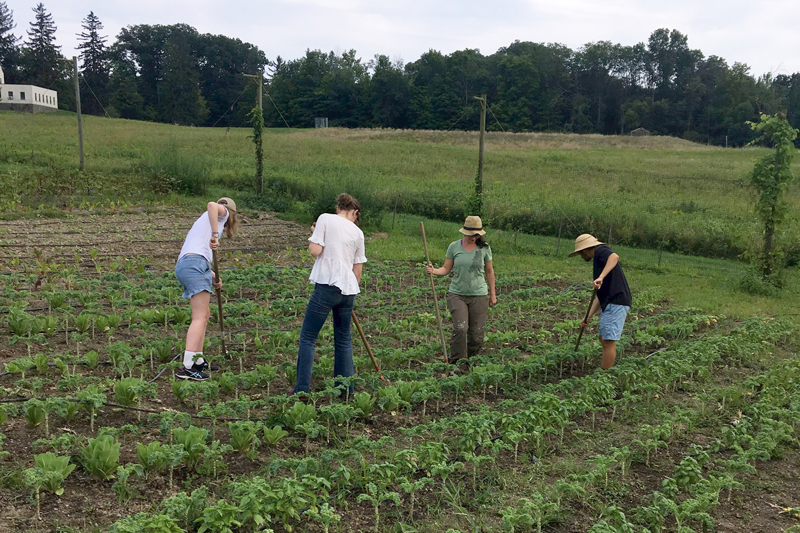 Back at The Culinary Institute of America, Dr. Reid just wants his shiitake mushrooms to grow. If all goes to plan, the professor's 40 drilled logs in the woods will sprout magnificent mushrooms twice a year. Come summer, he'll switch gears and take his Food Systems classes up to the rooftop garden for a uniquely edible education.
And while the CIA is spearheading many initiatives, they happily acknowledge they're not alone in their efforts. "We are all doing it," Reid says, referring to the three aforementioned schools."I think the question now is just how can we increase the speed and scale of these efforts, and how can we seamlessly integrate these kinds of projects with our existing curriculum. It's a huge question, but Farm to Table is certainly part of the answer."