Aaron Hodgins Davis, founder of Hodgins Harvest, never liked mushrooms as a child. Most of the time, he experienced the common and rather plain button variety on pizza. However, he soon realized he had an entire world of fungi to discover.
When Davis, who grew up in Saratoga Springs before moving to Montclair, New Jersey, first sampled oyster mushrooms, his perspective changed. The protein-packed ingredient quickly became the "meat and potatoes/bread and butter" variety for his palate. Around that time, he was working in documentary filmmaking, and he opted to relocate to Rockland County for better access to New York City. It was at his new homebase that he first decided to give growing mushrooms a try.
"I first tried growing oyster mushrooms about seven years ago. Slowly, I grew more and more and developed [increasingly] elaborate setups in my house as a hobby," Davis recalls. "After that, I quickly scaled it up to be a part-time side business."
His harvest tripled each year. In the spring of 2019, he grew more oyster mushrooms than he could ever eat. He joined the Piermont Farmers Market, where Hodgins Harvest remains a staple to this day. Now, the mushroom farm makes eight to 10 farmers' market appearances per week, with locations across Westchester County.
In fact, about a year ago, Davis quit his career in filmmaking in order to run Hodgins Harvest full-time.
Davis and his team grow a massive myriad of mushroom types in Blauvelt. A few top-sellers include lion's mane, cordyceps, black poplar, chestnut, and the aforementioned oyster. Of course, the team members at Hodgins Harvest are also skilled foragers.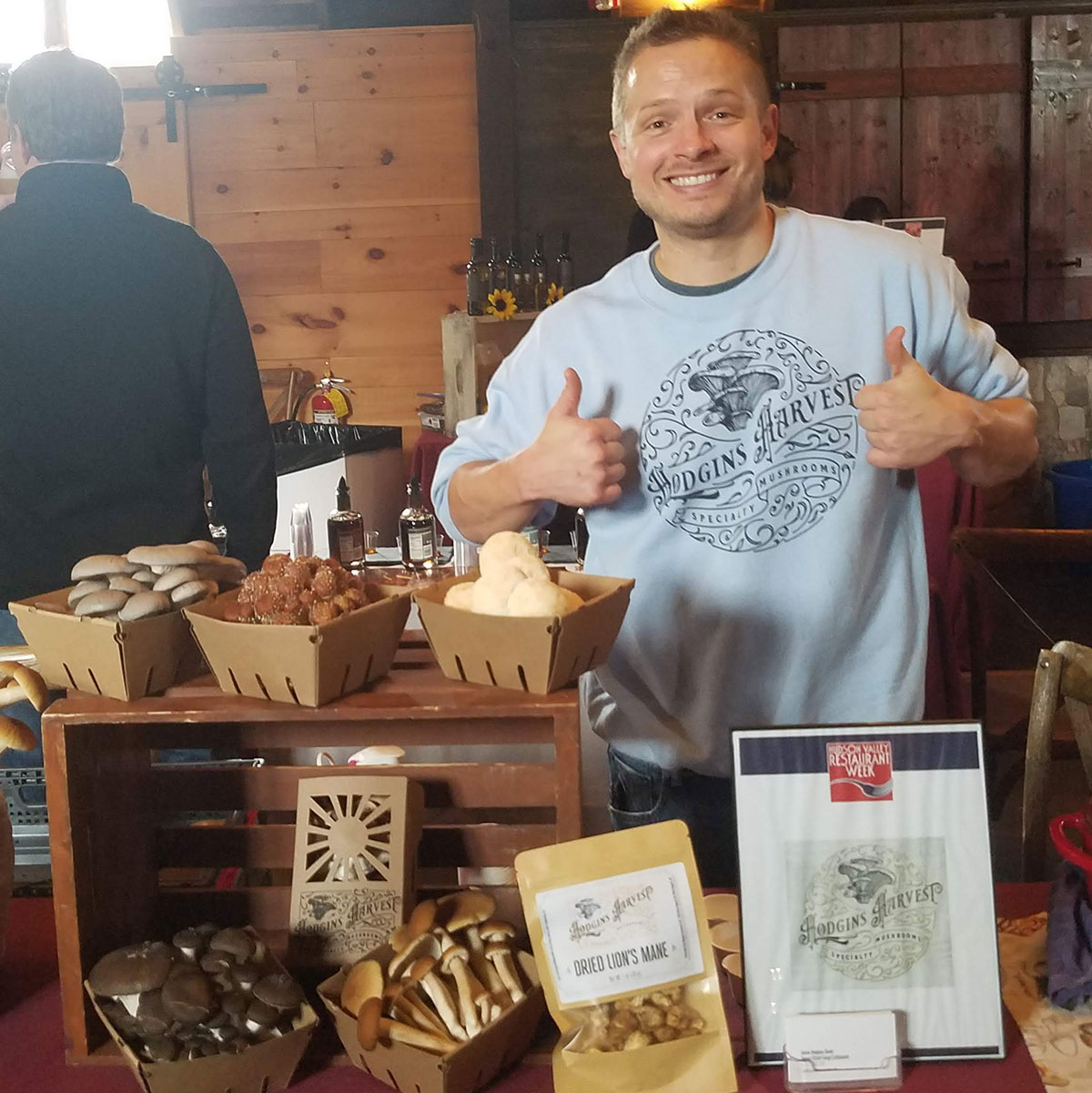 Davis and the people who work at Hodgins Harvest all forage. After all, the Hudson Valley is an incredible destination for foraged foods. As far as wild mushrooms go, they sell chanterelles when they're in season from July-September.
"All the foraging I do is within 45 minutes of my house. During the high point of the season, we collected about 60 lbs of chanterelles in one week. Whenever the weather's warm, there's bound to be chicken of the woods somewhere," Davis says. Even so, only a few types of the foraged varieties make it to the farm stand. Many of the lesser known varieties (with low harvest yields) wind up in his home kitchen.
In addition to selling fungi, Hodgins Harvest also produces wellness tinctures from mushrooms as well as grow-your-own kits.
At home, Hudson Valleyites can cultivate over three pounds of certified organic mushrooms per kit. Currently, Hodgins Harvest offers grow kits for oyster, pink oyster, and lion's mane mushrooms (and combo packs that include all three). Each massive box comes with up to seven pounds of organic mushroom mycelium. All you have to do is pull a cardboard circle off the back of each kit, mist it three times a day, and wait no more than ten days for the ultra-fresh mushrooms to be ready.
As far as tinctures go, Davis curates a variety of options for a great number of health benefits.
"We have a link on the side of our tincture bottles that will take you to a page (hodginsharvest.com/research) with links to academic articles of research into the various mushrooms offered," Davis states. For instance, chaga and maitake are both commonly used as immune system boosters. Reishi mushrooms are also highly beneficial for immune health, with anti-inflammatory and anti-histamine characteristics.
"Lion's mane is is probably the best seller and most known by customers, because there's just been a ton of press about it recently. It's good for cognition. There's a lot of research that shows it assists in the prevention of Alzheimer's and treatment of dementia," Davis explains.
Cordyceps, on the other hand, is a good source of energy. Davis explains that it feels more like natural energy originating from the body rather than a jittery kick that can come from caffeine. There's also a lot of research that demonstrates its positive impact on lung health, which has been especially relevant in the face of COVID-19.
Cordyceps isn't your average mushroom, and Davis is even reluctant to even classify it as such. The parasitic fungus will attack insects and other small organisms in nature. It even grows orange tentacles and takes over the nervous system of its host. This means that cordyceps can actually control an insect's body and make it move.
"It'll often make insects go to a high point on a branch or tree and then it'll kill it. After the insect is dead, it stays in that place," Davis elaborates. "Next, the fungus then fruits out the top of the bug's head and releases spores. The wind takes it, and the fungus infects more insects from the colony that way."
If that sounds intimidating, don't fret. Cordyceps does not have that effect on humans—outside of The Last of Us, a video game that explores this concept as science fiction.
"Turkey Tail got really popular in the last few months, I think in large part due to this documentary, Fantastic Fungi. Paul Stamets tells a story about giving his mom, who had late-stage breast cancer, Turkey Tail, and how she recovered. An extract from Turkey Tail is actually a prescription anti-tumor drug in Japan and China, and is prescribed alongside radiation or chemotherapy."
To make the tinctures, mushrooms undergo a dual extraction process. A tough, fibrous substance called chitin traps many of the helpful compounds people are trying to incorporate into their diet. In other words, eating a raw reishi mushroom won't yield the same results a tincture would.
The process starts with dried powdered mushrooms. Hodgins Harvest grinds them into a powder called a marc. Then, the team soaks the marc in 180 proof organic cane spirits. For eight weeks, the marc sits in alcohol.
"We use half-gallon mason jars, and I used to shake each one by hand every day. Now, we empty the alcohol marc into a blender about once a week to help break the matter down," Davis says.
The second extraction uses hot water, creating what is essentially an extremely strong mushroom tea. The team then boils it down to the point where it becomes a thick, viscous liquid. Each extraction pulls different compounds out of the fungi. The hot water extraction may repeat up to five times before the "tea" is combined with the alcohol marc.
While the mushrooms and tinctures are a main focus for the brand, Davis' initial attraction to growing mushrooms came from culinary interactions. Hodgins Harvest launched risotto kits in the fall of 2021, featuring a blend of organic dried oyster, shiitake, and black poplar mushrooms. Preparing the savory risotto is simple and sans the laborious task of adding broth one ladleful at a time. Plus, the mix can be prepared as a dairy-free or vegan dish (with your substitutes of choice).
"I'd really like to move in that direction, where Hodgins Harvest focuses on doing more prepared foods that are using mushrooms we actually grew on the farm," Davis says.
Soon, Hodgins Harvest will offer a mushroom mac and cheese kit, combining a house fungi mix with powdered cheddar, parmesan, and blue cheese. For now, find the brand online and at a variety of farmers' markets.