IN THE RECENT PAST, many wine drinkers equated Riesling with sweetness, probably because some of the most famous Riesling wines in the world—all of them from Germany—are sweet. The rare Eisweins ("Icewine," made from frozen grapes) and the much sought after trockenbeerenauslese wines (made from shriveled, raisinated grapes affected by botrytis, otherwise known as "noble rot") are exquisite examples of sweet Riesling.
Today, while sweet styles of Riesling wines abound in both the Old and New World (Canada is now the top producer of Icewine), there is serious and sustained interest in dry Riesling, a wine that is no less elegant than its sweet siblings and is food-friendly with lighter foods, especially dishes that feature spicy, salty or smoky flavors. A cool, dry Riesling, redolent of refreshingly high acidity and balanced citrus, melon, and stone fruit flavors, is the perfect match for the "ethnic" foods of northern Europe, the Middle East, Asia, and the Americas; with Thai, Cambodian, Vietnamese, Chinese, Malaysian, Lebanese, Turkish, Israeli or Indian cuisines; with smoked salmon, gravlax, herring, oysters, fried chicken, crab cakes, or prosciutto e melone; or with pork dishes and charcuterie (especially classic pork-based sausages, including the classics found in my neighborhood at the Smokehouse of the Catskills in Saugerties).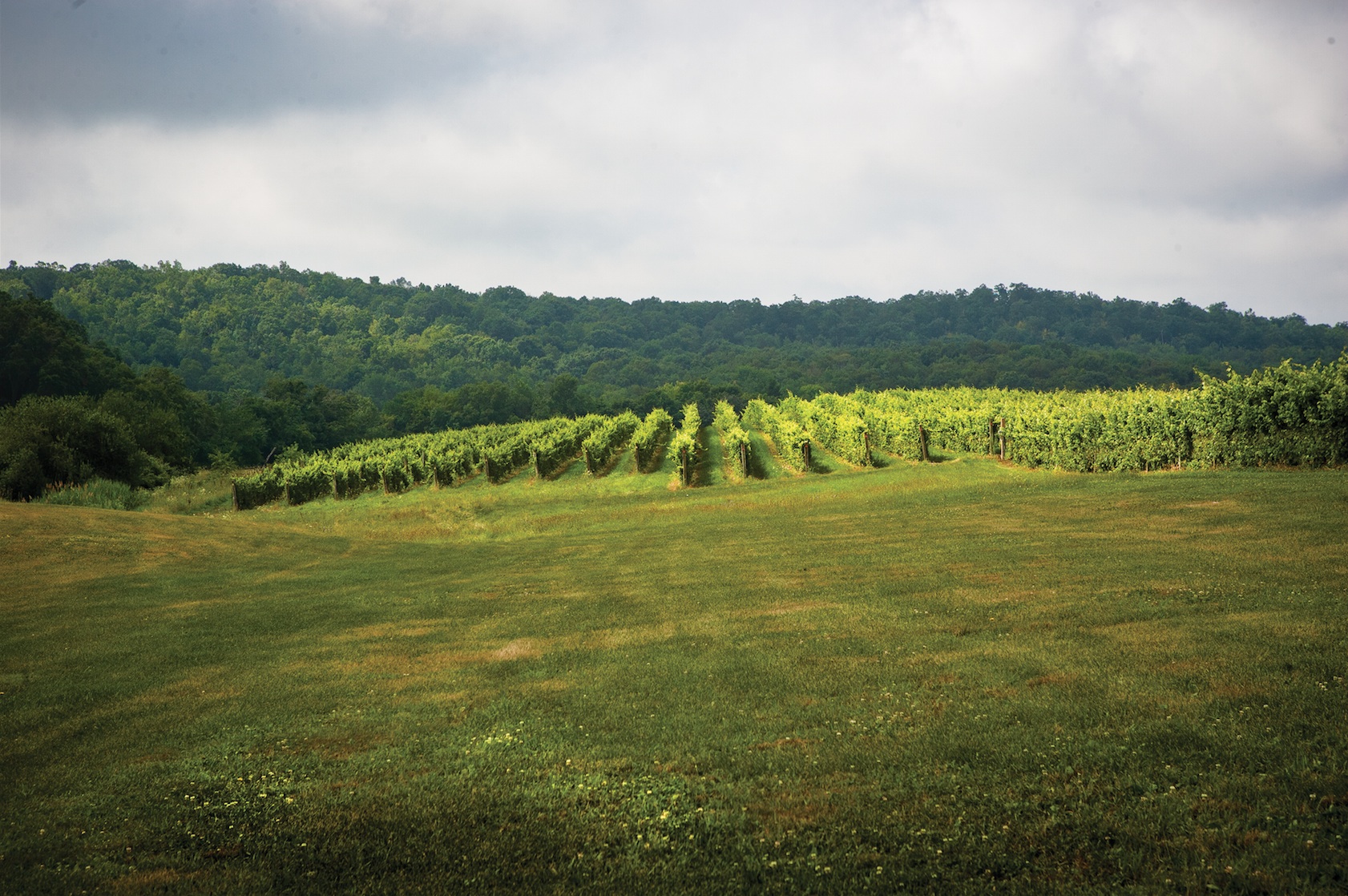 German Riesling is still the benchmark for judging Riesling, sweet or dry. However, there is great Riesling produced in the United States. Although California produces about 90 percent of the wines in the US (with the exception of a handful of high-quality producers—Smith-Madrone, Trefethen, Bonterra and Jekel), if the state's wineries stopped producing Riesling tomorrow, almost nobody would notice. Washington State, producer of about five percent of the nation's wine, is our largest producer of Riesling. (Try "Eroica," produced by Chateau Ste. Michelle in partnership with Ernst Loosen, the most famous winemaker in the Mosel wine district of Germany).
New York State's Finger Lakes region has become famous for the varietal, and wonderful examples of dry Riesling are produced by dozens of wineries. Here in the Hudson Valley, Whitecliff, Brotherhood, Benmarl, Tousey, Applewood, Hudson-Chatham, Warwick Valley and Glorie Farms produce Rieslings that are dry to semi-dry (just a touch of sweetness balanced by acidity).

The thing about Hudson Valley Rieslings is this: To my knowledge, only one of our wineries is producing an estate-bottled Riesling. Brotherhood Winery produces a Riesling Icewine, a sweet wine made from frozen grapes grown at their Greendale Farm vineyards near Hudson. "Estate-bottled" means that all of the grapes—in this case, Riesling— were grown by the producers on their own vineyard land in the Hudson Valley (officially the Hudson River Region American Viticultural Area/AVA). Although several of these Riesling wines are quite good—Whitecliff's 2009 Riesling won Best White Wine in the 2010 San Francisco International Wine Competition, besting 1,300 wines from 27 countries—none of them has yet to express the true terroir of the Hudson River Region.
The best dry Riesling in the Hudson Valley has yet to be produced, and when it is, I'm confident it will be an estate-bottled wine made from grapes grown exclusively in the Hudson River Region AVA.
At least one winery in the Valley is pursuing this goal. Last May, Millbrook Winery, now in its twenty-sixth vintage, planted three acres of Riesling in its vineyards. General Manager David Bova and winemaker John Graziano believe that Millbrook can produce an estate-bottled dry Riesling from this new vineyard block, with the first crop being ready in 2013. Here are some highlights of the project.
Millbrook planted particular "clones" of Riesling developed at German agricultural research stations that emphasize the characteristics that John Graziano is looking for in a good dry Riesling, both in the vineyard and the winery; Graziano chose "Neustadt 90 and Geisenheim 198." With advice from Fred Frank, of Konstantin Frank winery in the Finger Lakes, and Chris Gerling, of Cornell University's New York State Agricultural Experiment Station in Geneva, 90 and 198 will provide a bit of diversity in the finished wine—90 is all about aromatics and varietal character in the finished wine, while 198 shows concentration of lemon / lime acidity. In the vineyard, 90 develops higher sugars for better alcohol balance in the finished wine. The vines will be grafted to rootstock "3309," which can survive the harsh winters of the Hudson Valley and responds well to dramatic changes in climate. (The overwhelming majority of wine grapes—vitis vinifera—are not planted on their own roots, but are grafted to native American rootstock. "Cloning" grapes has nothing to do with the Frankenfood approach to interspecies cloning. A "clone" is a varietal crossing— Pinot Noir and Pinot Noir—approximating what insect vectors might perform by long-term pollination to bring about desirable characteristics in the vine; "cloning" hastens the process.)
The vines are planted on the Castle Hill vineyard block, a hillside just south of Wing's Castle, a handmade Addams Family-style castle built by artists Peter and Toni Ann Wing, that overlooks Millbrook vineyards (formerly Wing Farm). The hillside is ideal for Riesling, a late-ripening grape, because the sunshine on the hillside helps to protect against late-season frosts and the dynamic air currents will help to prevent moisture-based rot in the grapes.
Vineyard yields will be extremely low, about 2.5 tons per acre, insuring flavor concentration in each grape cluster. That means that Millbrook will be able to produce about 400 cases of wine—a tiny production—so the wine will be sold in the tasting room at the winery and to local customers, not through conventional distribution channels. If Graziano, Bova and Millbrook owner John Dyson are satisfied with the quality and if the wine proves popular, Millbrook has several other sites that should prove ideal for further planting.
The Riesling planting program cost about $10,000 per acre, and Millbrook will have to purchase several large stainless steel tanks with refrigerated jackets to ferment and make the wine in a crisp, fruit-driven style. Like most of the best Riesling produced all over the world, the wine will not see any small oak barrels, as such cooperage can destroy the fresh, fruity flavors of Riesling.
Millbrook will add their estate-bottled Riesling to their portfolio of other estate-bottled wines: Chardonnay, Pinot Noir, Cabernet Franc, and Tocai Friulano, a grape native to the vineyards of northeast Italy. Like Riesling, Tocai Friulano is an aromatic white wine, and Millbrook is one of very few producers of the wine outside of Italy (where it is now known simply as Friulano). The wine continues to be a success for Millbrook, and should be for the foreseeable future. In two or three years, when production of estate-bottled Millbrook dry Riesling should be in full swing, Tocai Friulano may have to make room at the table.