DINE & STAY
Where To Stay
Come dine and stay in the Hudson Valley.
These Hudson Valley Restaurant Week participants also offer overnight stays:
THINGS TO DO NOW

From day trips to multi-day excursions, make your Hudson Valley Restaurant Week meal an adventure to remember. The Valley is vast and varied. Visit a historic site, museum or nature preserve. Go shopping—and make it "local." Whether you're looking for a romantic retreat or a girlfriend's getaway, a family fun-day or a scenic hike with friends, Hudson Valley Restaurant Week is a great time to explore the Hudson River Valley.
METRO NORTH DEALS & GETAWAYS
Leave the car behind while saving money. From discounted museums and attractions to great outdoor adventures, Metro-North's Deals & Getaways discount packages make it easy to get away. Many of the HVRW participating restaurants are within easy walking distance of a train station.
FARMERS' MARKETS
Visit one of the region's growing indoor farmers markets. Perk up your table at one of the region's growing number of indoor farmers markets. In addition to hardy root vegetables and storage apples, you can perk up your spring table with fresh greenhouse produce and artisanal breads, cheeses and meats. Or, take home some great homemade jams, preserves or pickles. Here's a handy guide to markets by location and day.
WINE & SPIRIT COUNTRY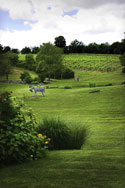 The Hudson Valley has become one of the most diverse and interesting new wine regions in the U.S. producing brilliant, effervescent sparkling wines, refreshing bright whites and soft approachable reds. The region is also making a name for its artisanal spirits, craft beers and hard ciders. Explore a vineyard, distillery or brewery.
GETTING HERE
By Train:
From Manhattan and points along the Hudson River, you can easily reach the Hudson Valley by Metro-North Railroad. Amtrak also offers services from cities near and far.
By Plane:
If you're coming from far away, you'll probably want to fly into one of the Hudson Valley's major airports. You may arrive at Stewart International Airport or Westchester Airport.
By Car:
Driving to the Hudson Valley? Use Google Maps to get directions.
TOURISM INFO