The friendly cow all red and white
I love with all my heart:
She gives me cream with all her might,
To eat with apple-tart.
—Robert Louis Stevenson, "The Cow," from A Child's Garden of Verses
THERE IS PERHAPS NO ODE to an edible as succinct as Stevenson's rhyme about a cow and her cream, and no foodstuff more worthy of the praise. Whipped or clotted, folded into chocolate mousse or squiggled through a pastry tip, cream is nothing less than liquid lusciousness.
The tempting "apple-tart" is quaint, but young Americans are more apt to form memories of an icebox cake made with Nabisco Famous Chocolate Wafers and dollops of cream—something that looks like a miniature quonset hut frosted with snow and yields to a spoon in the most wonderful way. In elementary school, kids shake heavy cream in jars until it turns to butter, a sort of miracle to children unaccustomed to knowing where their food comes from.
But heavy cream has turned from treat to culprit in our low-fat, lactose-intolerant world. The most militant eaters refuse any dish that dares to include cream. Some who deign to use cream dishonor it in the most woeful ways—armed with cans of Reddi-wip®, they deploy perfunctory white carnations that turn a dessert into nothing so much as a prom date.
Heavy cream has turned from treat to culprit in our low-fat, lactose-intolerant world.
Happily, in the Hudson Valley, a proud tradition of dairy farming assures an abundant supply of superior cream. Prize-winning family farms with pampered herds of Jerseys and Guernseys (breeds that produce milk with the highest butterfat content) employ a host of best practices to give us cream that makes ultra-pasteurized supermarket products pale by comparison. Just a little bit of cream goes a long way, in fact—a mere tablespoon can have a Cinderella effect on mundane oatmeal or humble scrambled eggs.
Happily, in the Hudson Valley, a proud tradition of dairy farming assures an abundant supply of superior cream.
Aware of diners' doubts regarding cream and its calories, many chefs and cooks take a conservative approach. "We use only enough cream to create texture, color, mouthfeel," says Jason Potanovich, assistant professor at the Culinary Institute of America in Hyde Park and chef at the CIA's Bocuse Restaurant. Sautéed chicken breast with morel sauce is a perennial favorite on the menu and was a signature dish of the late French chef Paul Bocuse, for whom the restaurant is named. The sauce, a classic velouté laced with madeira and cognac, is finished with "just a touch of cream."
In the fall and winter months, the kitchen crew at Bocuse gives the royal treatment to frost-resistant vegetables like turnips, winter squash and sweet potatoes. "We sweat them in butter and submerge them in cream—equal parts vegetables and cream—then simmer them until they're tender," Potanovich notes. "We strain off the cream, then add a little of it back into the purée. Cream just makes things a bit more complex." (The dessert roster at Bocuse is less restrained: Cream enriches panna cotta, chocolate mousse, pot de crème, crème brûlée, diplomat cream, rocher glacé, cheesecake and various ice creams.)
In her classic French Country Cooking (1951), Elizabeth David, the sometimes imperious British doyenne of cookery, warns of using too much cream. "Have some regard for the digestions of others even if your own resembles that of the ostrich," she writes. "A sole cooked in a rich sauce of cream and mushrooms must be followed by a dish of entirely different aspect such as a roasted partridge or a grilled tournedos, cold ham, jellied beef or a terrine of duck. It must not be preceded by a creamy mushroom soup, nor followed by chicken cooked in a cream sauce."
With its whitewashed board fences, prim farmhouse, barns and sheds and brightly colored tractors, Stormfield Swiss at Knapp Farm, home to Stormfield Swiss Dairy, beckons like a toy farm set. Lovely, long-lashed Brown Swiss cows give the dairy operation its name; the farm menagerie includes two goats (Mikey and Trouble), skulking farm cats, peacocks, free-range chickens and an armful of guinea hens.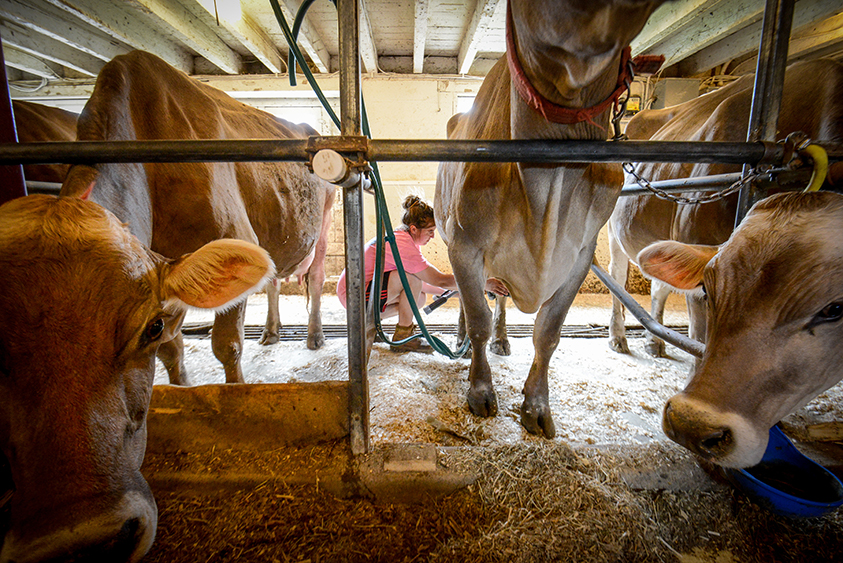 Jennifer DeForest, a fifth-generation dairy farmer, runs the operation with her husband, James Lawrence. She maintains the herd and milks the cows twice a day, every day—at 5:30 in the morning and at 4 in the afternoon—and Jim, in her words, "does everything else," including growing and harvesting feed, maintaining machinery and repairing infrastructure.
On a hot Saturday in late June, the couple's young children, Jenna and Justin, tag along on a tour of the calf barn, milk house and milking barn. Both are 4-H Cloverbuds, eager to show off the calves they'll take to the Dutchess County Fair in August. ("I usually get a blue ribbon," Jenna chimes.) The cows and calves—with names like Sweetie, Basil, Kit Kat and Twix—are deeply affectionate, nuzzling DeForest and the kids with their wet noses.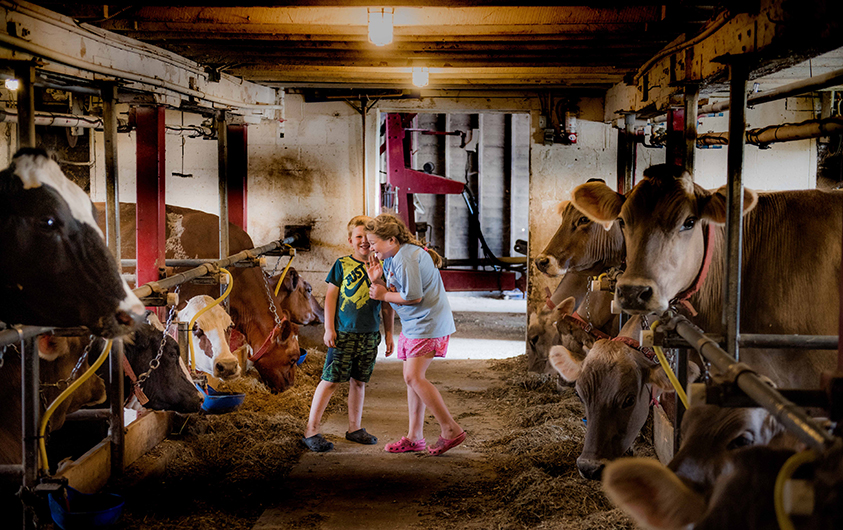 DeForest, who got her first calf for Christmas when she was eight, favors Brown Swiss for their docile temperament. "They're the friendliest, hands-down the best personalities," she says. "Out in the field, they'll lay their head on your shoulder. And they don't give attitude when you milk them." The Wisconsin-based Brown Swiss Association promotes the breed for its "dairy strength" and good looks. "Style, balance and fancy frames make them easy winners at shows," touts the group's website (brownswissusa.com).
In the spotless milk room of Stormfield Swiss, the cold milk stored in the big stainless tank is agitated five minutes every hour to keep the cream from separating and floating to the top. After the milk truck has uploaded the milk, DeForest sometimes ladles out the cream that remains in the bottom of the tank to use for a special occasion. "We made a tractor cake with whipped cream frosting for Father's Day," she recalls. "My father stopped by—Jenna was so excited to surprise Dad and Poppy at the same time, she grabbed the cake carrier and it came apart. Thank goodness Justin had just mopped the floor—the 10-second rule came in and we scooped it up."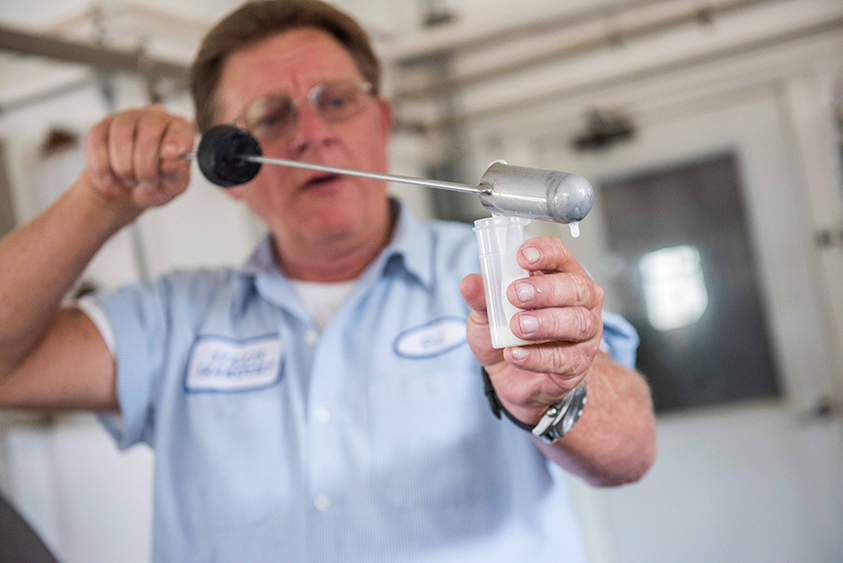 The entire milk production of Stormfield Swiss goes to Hudson Valley Fresh, a cooperative of 11 regional dairy farms that emphasizes sustainable living wages, land stewardship, quality herds and preservation of agricultural heritage. Milk from member farms is mingled and processed at Boice Bros. Dairy, in Kingston. The cooperative also supplies the CIA with 100 gallons of cream a week, delivered in quart cartons; Potanovich calls the quality of the cream "beautiful."
Much of Hudson Valley Fresh milk comes from high-volume Holsteins, but breeds that give richer milk keep the overall butterfat content high, around 4 percent. "We don't lower butterfat to national standard—3.5 percent for whole milk," DeForest says, adding, "At Coon Brothers [in Amenia, also a member of Hudson Valley Fresh]—this was years ago—they had a Guernsey tank and a Holstein tank. Guernseys have the best flavored milk."
Another loyal customer of Hudson Valley Fresh is Zoe's Ice Cream Barn, in LaGrangeville (Dutchess County). Katie Ferris, a CIA-trained pastry chef who raised lambs as a 4-H member, owns the two-year-old, year-round business with her father, Bob Ferris, a fourth-generation dairy farmer. Inside the cheerful barn-style building, glossy photos of cows and dairy farms are hung the way some restaurants display shots of celebrities.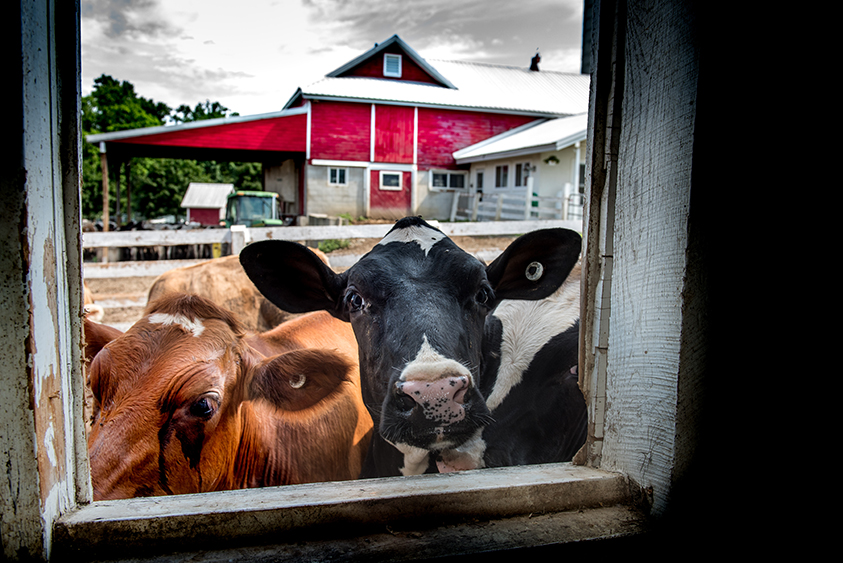 The cooperative's milk and cream bolster the flavor of Zoe's hard ice cream and super-smooth, egg-enriched soft-serve (in cones that vary in size from calf to heifer to bull). The very popular hot fudge sundaes are a cream-lover's dream, with rivulets of cream-laden hot fudge sauce and clouds of whipped cream, beaten in small batches in a KitchenAid, on top.
The ice cream pies in the glass-fronted freezer case are trimmed with elaborate ruffles of cream. Fall seasonal pies are made with apple and pumpkin ice creams. "We sell hundreds of pies at Thanksgiving," Ferris says, noting that the pies, which get a little extra ornamentation, sell out quickly. "We pipe maple leaves on top and decorate them with orange and brown sprinkles."
Local Producers of High‑Quality Heavy Cream
Battenkill Valley Creamery
691 County Rt 30, Salem
(518) 854-9400
battenkillcreamery.com
Products sold onsite at the Creamery Store. Home delivery locally through Hudson Milk Company, (914) 245-0409; hudsonmilk.com.
Boice Bros. Dairy
62 O'Neil St, Kingston
(845) 340-2018
boicebrosdairy.com
Products sold onsite at the Milk House.
Hudson Valley Fresh
47 S Hamilton St, Poughkeepsie
(845) 226-3065
hudsonvalleyfresh.com
Available at numerous retail outlets regionwide.
Ronnybrook Farm Dairy
310 Prospect Hill Rd, Ancramdale
1-800-772-6455
ronnybrook.com
Sold at farmers' markets and retail locations. Home delivery locally.