IN 1825, MORE THAN A THOUSAND New York State distilleries produced a major share of the nation's whiskey. The Eighteenth Amendment, adopted in 1920 under President Woodrow Wilson, banned the "manufacture, transportation, importation and sale of intoxicating liquors in the United States." It essentially shut down the distilling industry and sent it underground.
Bootlegging, of course, became common, and there was no shortage of bootleggers here in the valley—in some rural outposts, underground piping that led from secret stills to bottling sheds can still be found. Orange, Dutchess and Greene Counties were particularly popular areas for such operations. Prohibition lasted until 1933, when President Franklin D. Roosevelt kept his campaign promise to allow alcohol back into public consumption, but it would take another 70 years for legitimate distilling to return to the Hudson Valley in any significant way.
Today, there are thirteen licensed craft distillers in New York State—four are located right here in the Hudson Valley. What these small distillers lack in volume, they make up for in harmonic alignment to the zeitgeist. Much like the trend in microbreweries a decade ago, the new craft distilleries are among the first in what may be destined to become a booming business.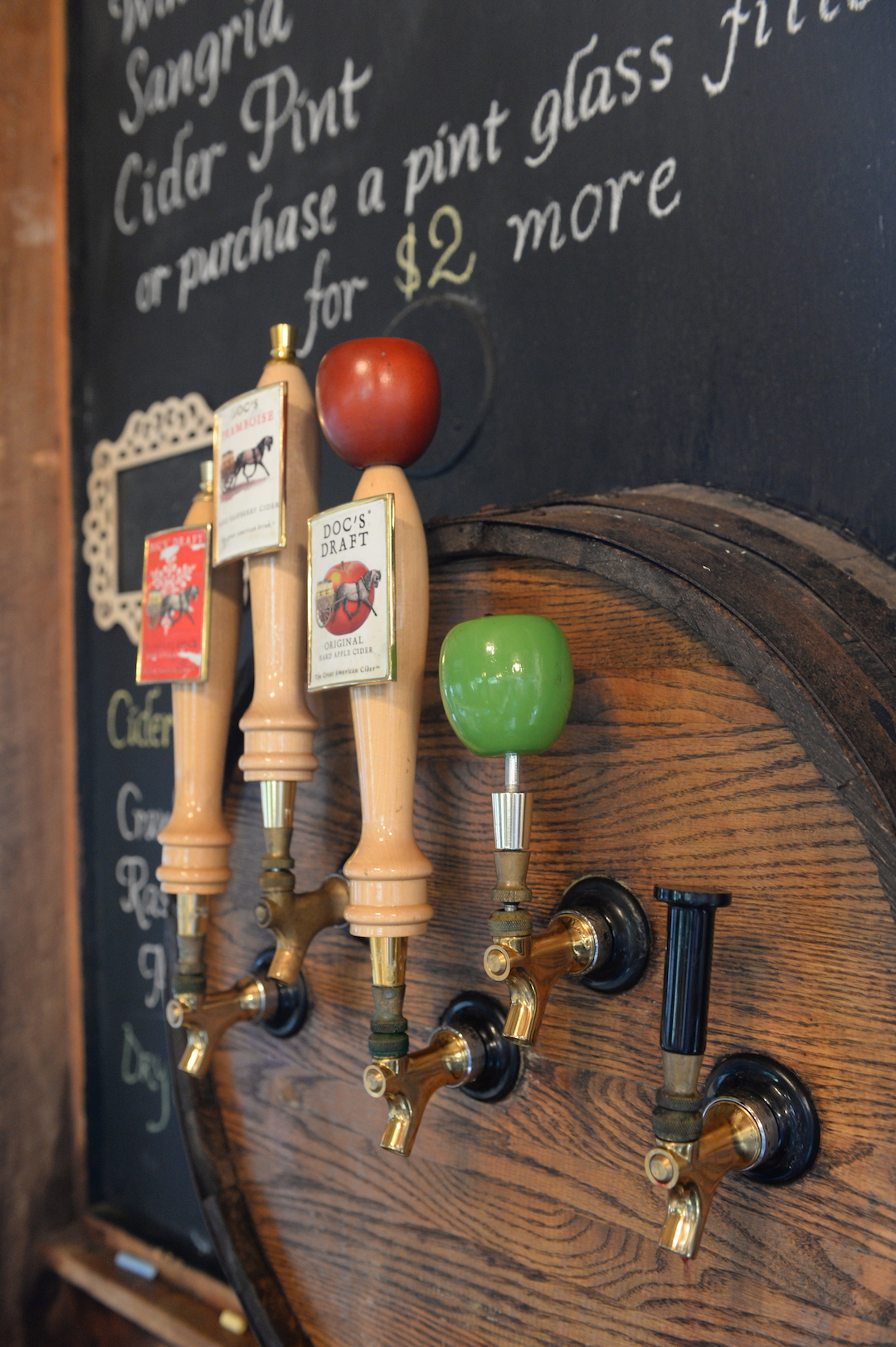 Among the pioneers of this movement are Jason Grizzanti and Jeremy Kidde, of Warwick Valley Winery; Ralph Erenzo and Brian Lee, of Tuthilltown Spirits; and Derek Grout and Tom Crowell, of Harvest Spirits. They are beating the odds, changing antiquated laws and producing outstanding spirits.
At Warwick Valley Winery and Distillery, a sense of laid-back comfort exudes with European flair. The stucco-faced tasting house, bordered with rose gardens, is surrounded by pick-your-own orchards, a pristine kitchen garden and cozy seating areas.
When Jason Grizzanti was 12 years old, his parents gave him about 200 apple trees and called it Jason's Orchard. His entrepreneurial spirit bloomed into a pick-your-own operation and evolved into award-winning hard apple cider. "I knew we would never be able to make ends meet just growing apples," Grizzanti says.
After he gradated from Cornell in 2000, Grizzanti began exploring the possibilities of making distilled spirits. He traveled to Michigan to learn more about small distilleries. "They were making all these fruit brandies," he says. "I thought, we're growing fruit here, we make hard ciders, so it seemed like a natural progression to start making fruit brandies."
About the same time, Jeremy Kidde, a childhood friend of Grizzanti's, joined the business as a partner, concentrating on sales and marketing. "I thought the distillery idea had a lot of potential," Kidde recalls. "The timing was perfect—I found the idea of making distilled spirits very intriguing."
People are ready for change… There has been no innovation in the product for nearly 80 years.
Navigating the labrynthine state and federal requirements took over a year of struggle and thousands of dollars ("It was an up-hill battle," Grizzanti says), but the duo received a license in 2003, becoming the first legally operating distillery in the Hudson Valley since before Prohibition. [See "Eau-de-vie du Warwick," Valley Table 21.] The license still did not permit tours, tastings or sales on the farm, however.
Warwick Valley now produces apple and pear brandy (eau de vie) and apple, black currant, grape and cherry fruit liqueurs. "It's going to take some time and education for Americans to understand brandy," Grizzanti notes. "In France, brandies are very popular after dinner as digestives; the chef will frequently offer a free glass after the meal as a token of gratitude. It's not really a cocktail; it is really something you sip." Nor is the eau de vie cheap, or easy, to make—it takes approximately 30 pounds of fruit to make a 375ml bottle. "The brandies are expensive to make—and therefore a little expensive to purchase," Grizzanti says. "We have to hand-sell every bottle to liquor stores and restaurants."
The small-batch, handmade tradition is alive and well in Ulster County, as well. Walk through the door into Tuthilltown Spirits, in Gardiner, and it's as if you've been transported to the heart of Kentucky. The aroma of yeast, corn and grains cooking mingles with the sound of jazz on the sound system while whiskey flows into large steel vats.
Ralph Erenzo and Brian Lee are co-founders of the state's first—and so far only—whiskey producer. "People are ready for change," Erenzo says, "They are ready for something new. There has been no innovation in the product for nearly 80 years."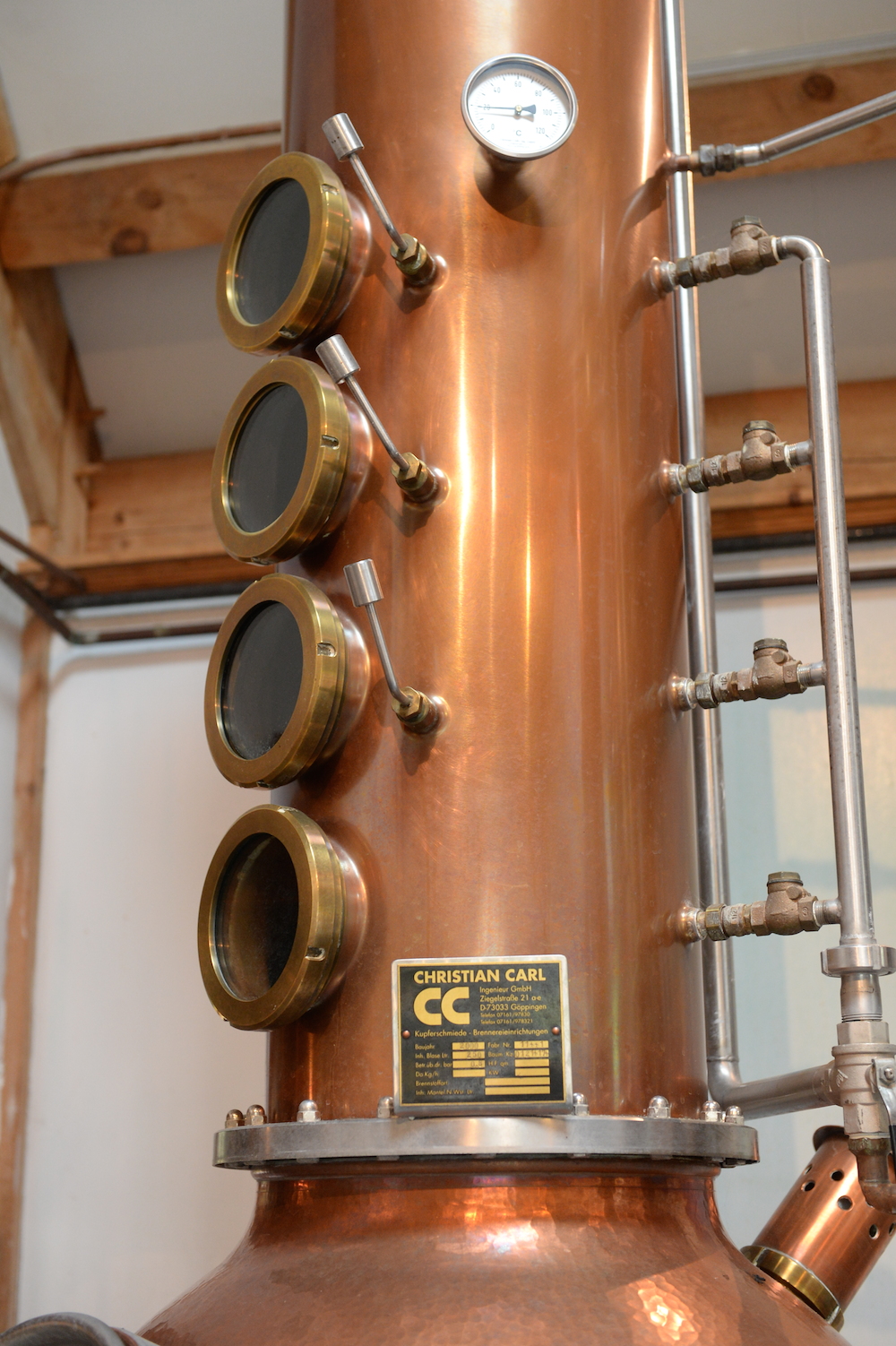 An avid rock climber, Erenzo's dream was to build sleeping quarters for climbers visiting the famed Shawangunk Ridge, which towers over the landscape nearby. Erenzo purchased a 36-acre parcel along with its eighteenth-century farmhouse and gristmill (formerly the Tuthilltown Grist Mill, well known for its stone-ground flour). His original plans were stymied, so he debated the merits of various agricultural crops on the property, but none of them made financial sense.
Enter Brian Lee, in business school at the time and looking for an opportunity. Lee had heard there was a gristmill for sale and came to check it out. He and Erenzo sat on an old wall overlooking a meadow and the Shawangunk Ridge and thought: whiskey.
The startup took a few years, but what began as a two-man operation now employs 10. Local apples, potatoes, corn and grapes form the basis of the small, artisanal batches of bourbon, rye, rum, vodka and an un-aged corn whiskey (sometimes referred to as moonshine or white lightning) that are garnering Tuthilltown Spirits a worldwide reputation. "No one has made alcohol on this scale for almost four generations," Erenzo says. "The difference between us and the big distillers is we're so close to this stuff—these bottles get picked up 14 times before they end up on a retail shelf."
In Marlboro, in southern Ulster County, Stoutridge Vineyard owners Steve Osborne and Kimberly Wagner, who built the state-of-the-art winery in 2005, included distilling in their plans and are seeking a distilling license now. Osborne says their three hand-made copper stills from Germany will one day produce vodka, gin, whiskey, brandy and grappa from local grains and fruits.
Tucked away in northern Columbia County, Harvest Valley Farms, in Valatie, is a family farm and farmers' market with a well-earned reputation for producing some of the most delicious pies and cider doughnuts in the Hudson Valley—make that pies, cider doughnuts, brandy and prize-winning vodka, as well.
Owned and operated by Derek Grout and Tom Crowell, the farm originated with Grout's grandfather in the 1950s. The two converted one of the farm's massive cold storage rooms into a still in the summer of 2005 and the rest is history.
What started out as applejack has become about the most valuable thing you can turn an apple into.
Harvest Spirits, with state-of-the-art equipment, is the region's newest micro-distillery and the first in the state to hold a farm distillery license, which requires the use of New York State farm products and is designed to promote agritourism and agriculture. (The license allows tours, tastings and direct retail sales on site.) Harvest Spirits remains one of the few distilleries in the country that makes alcohol from apples grown, picked, pressed, fermented, distilled, and bottled at the same location.
"In the beginning, we hardly had anything but a hole in the wall—and no sign," Crowell remembers. "It was almost like a speakeasy—you had to know how to go behind the hedge to find the distillery."
Harvest Spirits' growing reputation is centered on its signature product, which seems to prove Grout's contention that "premium vodka doesn't have to start with grain or potatoes." Core Vodka (made from apples, though it's not an apple-flavored vodka), which, in true artisanal fashion, comes in hand-numbered bottles, can legitimately be called an "award-winner"—recent awards include a gold medal at the 2008 International Review of Spirits in Chicago, and another gold medal for Best in Class at the 2009 New York Spirits Awards. Crowell says any expansion of the business will focus on other apple-based spirits, but they plan to hold vodka production to less than 2,000 cases per year. What started out as applejack, Crowell asserts, has become "about the most valuable thing you can turn an apple into."
One result of all this new distilling activity has been the formation of the New York Craft Distiller's Guild. "Every other product in the world evolves over time except alcohol, because the big producers have a lock on the law and distribution," Erenzo says. The Guild has worked with the New York State Law Revision Commission to rewrite the state's alcoholic beverage control laws, many of which have not been revised since Prohibition. "Only recently has there been a change in the law that has made it possible for small distillers to develop and flourish," Erenzo says.
Thanks to the changes, it's estimated the number of New York State distillers may double over the next five years, and that's a good thing. Growers will see new markets, and both agriculture and tourism should benefit. And, of course, there's something in it for the state. "A small still operating at the limit of production allowed by its license can generate up to $1 million in annual excise and sales taxes," Erenzo adds.
According to the Guild, New York now has the highest concentration of distilleries of any state east of the Mississippi. Crowell says, "The benefits are obvious. When you buy local you help support local business and agriculture. Not only can you conserve the fossil fuels needed to transport the alcohol, you can control the entire process, from field to bottle."
The number-one-selling spirits marketer of the early Republic was none other than George Washington. He is now touted as the founder of "The American Whiskey Trail," a route that mostly focuses on the historic, large distilleries of Kentucky and Tennessee. Perhaps one day it will include the Hudson Valley.