WHEN IT COMES TO FOOD AND WINE pairing, we all can be thankful that the old days of "white wine with fish, red wine with meat" are over. These days, many of us prefer to eat vegetable-based dishes, depending on our mood and/or regimen, and quite a few of us have chosen the path of living as vegetarians or vegans.
How does wine fit with our vegetarian or vegan food choices? Very nicely, actually. The same basic principles and guidelines for pairing wine with food that hold true for meat and fish also hold true for pairing a wonderful wine with a wonderful vegetarian or vegan meal.
But before pairing Syrah with seitan or Albariño with avocados, remember that, in the strictest sense of the words, not all wines are vegan or vegetarian. The fact is, a substantial number of wines still use animal-based products in the "fining" of the wine—clarifying the wine by removing proteins, yeasts, and solid materials that will make the wine cloudy and visually unappealing, or create off-flavors or aromas in the wine. "Fining agents" act as organic magnets for unwanted materials and carry the glop to the bottom of a barrel or a tank. When the wine is "racked"—poured into another holding container—the wine is separated from the solids. Racking is just like decanting, except on a huge scale.
More than two million websites pop up when you Google vegan wines.
Fining agents typically used in wineries include egg whites, egg albumin or casein (milk proteins). So far, this is good news for lacto-ovo vegetarians, but not for strict vegans. However, common fining agents also include gelatin (produced from animal bones), isinglass (made from fish bladders), and chitin (lobster and crab shells). Though illegal in both France and the United States, some wine producers even use bull's blood to fine their wines.
Fortunately, there are alternatives to animal-based fining agents. The most popular are bentonite clay, diatomaceous earth and carbon. With all fining agents, only near undetectable traces of the material remain in the finished wine.
Personally, I believe how a wine is fined should not be a major issue for vegans and vegetarians because of the efficiency of the process. However, many may disagree with me based on dietary, philosophical or religious grounds. For those who want to make sure the wine they drink has not been fined with animal and/or dairy-based products, there is help: More than two million websites pop up when you Google vegan wines. The first dozen or so sites will provide a substantial, if incomplete, list of vegan wines from all over the world to choose from and to make reasonably informed choices. Other sources of information about the fining agents used in a particular wine will be your local wine merchant or via the producer's website or e-mail. Also note that a wine labeled as "organic," or made from organic or biodynamic grapes, is not necessarily vegan. Similarly, wines made from grapes grown employing less-sustainable methods may very well meet vegan standards.
But enough bad news. The good news is that pairing wines with vegan and vegetarian foods is not only easy, it is also a way to stretch your creative muscles. Choosing wines for veggie-based dishes can result in exquisite pairings. There are a few basic principles to remember, though:
• Powerful flavors in food call for powerful wines. Lighter food flavors require lighter wines.
• Spicy, salty or smoky flavors in food welcome lighter, fruity, off-dry to semi-sweet whites and reds.
• You can pair food with wine by creating complementary pairings—the food tastes like the wine (pasta with fresh herbs, olive oil, and olives paired with fresh, herbaceous Sauvignon Blanc, for example)—or by contrasting pairings—the food and the wine have opposite flavors and textures (earthy mushroom risotto with fruit-driven Pinot Noir).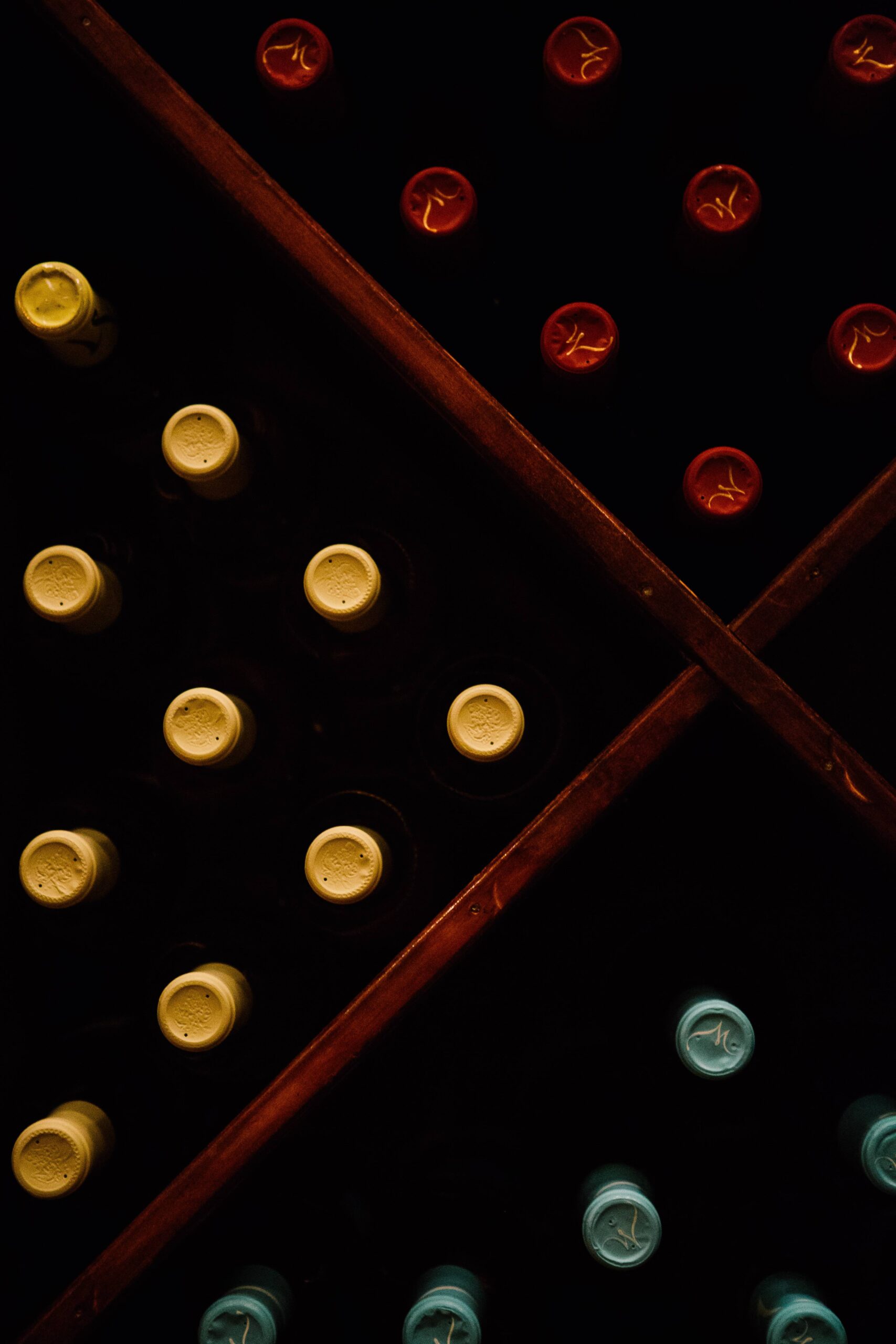 When it comes to vegetarian and vegan food-and-wine pairing, a few other party tricks come into play. This is where you can really get creative. If you're a lacto-ovo vegetarian, remember that whole milk or cream, eggs and cheeses can create real richness in a dish that might traditionally be meat-based (lasagna, for example). If you're a vegan, olive oil, seitan, tofu and especially nuts can add a great deal of "meaty" richness to a dish. Also, whether you're a vegan or lacto-ovo vegetarian, vegetable-based sauces, reductions, purées and coulis add layers of flavor and will welcome a heartier wine. Fruit-based sauces and purées can add a subtle sweetness and acidity to a dish, and will welcome a contrasting dose of spices, herbs, or salt.
One of the keys to enjoying a great wine-and-food match for both vegans and lacto-ovo vegetarians is to consider the cooking method. A meal featuring steamed vegetables and brown rice will call for a much lighter wine than one featuring the same vegetables—grilled and served with an enticing, peppery pasta. Steaming or poaching creates far less flavor intensity in a dish than does grilling, broiling, roasting or braising. Sautéing and pan-frying is right in the middle of the intensity scale.
Some basic vegetable-based foods and wines almost always work together. But there are no rules, only guidelines and some common sense practices that just about everyone who loves to cook, loves to eat, and loves to drink wine with food observe on a daily basis, be they lacto-ovo vegetarians, vegans, or omnivores. Experiment on your own and have fun preparing, serving and eating a wonderful vegetarian or vegan repast, complete with a glorious wine:
Avocados are rich and sexy, and work beautifully with voluptuously herbaceous, grassy and fruity whites, such as New Zealand Sauvignon Blanc; Chardonnay from the Hudson Valley, Italy, or Chile; Albariño from Spain; or Moschofilero from Greece.
Beans, lentils, pulses: These meaty, high-intensity flavors call for medium- to full-bodied reds with a dose of tannin and a load of fruit: Syrah (Shiraz), Merlot, Chianti Classico, Pinot Noir, Zinfandel, or Côte du Rhône. Also, look to the dry whites from Alsace, France (they behave like red wines in drag).
Corn is deceptively rich, with or without butter—it was made for oaky Chardonnay.
Couscous with herbs and veggies calls for a dry rosé, sparkling Brut Rosé, Sauvignon Blanc, Viognier, unoaked Chardonnay (such as true Chablis), semi-dry Gewürztraminer or Riesling.
With gazpacho, try Vinho Verde from Portugal; Sauvignon Blanc, Rueda from Spain; and also, a light, dry rosé from Provence.
Grilled vegetables are everybody's favorite. Try a fruity light- to medium-bodied red, such as Beaujolais-Villages, Rioja Crianza, Dolcetto, or Pinot Noir, or an Australian GSM (Grenache/Shiraz/Mourvèdre) blend. For whites, go with Viognier, Fumé Blanc, Gewürztraminer, or Argentine Torrontes.
Hummus, baba ganoush, tabouleh, falafel: The lemon and/or spice in these dishes calls for dry to semi-dry Finger Lakes Riesling, South African Chenin Blanc, California Sauvignon Blanc and (believe it or not) white Zinfandel.
Lasagna, pasticcio, pastas with tomato-based sauces, vegetables and cheese (or tofu): Where to start? There are so many medium-bodied, subtly fruity reds to choose from: Nemea from Greece; Chianti Classico from Tuscany; Barbera from Piemonte; Mencia from Bierzo, Spain; Pinot Noir from Oregon or New York State; Zinfandel, Merlot from Washington State; Carmenère from Chile.
For mushrooms, there are just two words (and one wine) to remember: Pinot Noir. The earthy mushrooms and the fruit of the Pinot make for the divine contrast.
Olives: All from Spain: Fino or Manzanilla Sherry, dry rosé from Navarra or Rioja, bubbly Cava. No better,and no simpler finger food/tapas than good olives and good wine.
Onions: Try an Alsace or Oregon Pinot Gris with a savory onion tart, and a Beaujolais or Côte du Rhône with a traditional onion soup.
Pasta or risotto with a melange of grilled or sautéed vegetables, or ratatouille: Dress these dishes with a good extra virgin olive oil and a touch of balsamic vinegar, then serve with full-bodied whites such as California Chardonnay, Viognier, Côte du Rhône Blanc, an Australian Semillon, or Washington State Semillon-Chardonnay blend. For reds, try Chianti Classico or Rosso di Montalcino from Tuscany; Dão from Portugal; Ribera del Duero from Spain; Pinot Noir, Merlot or Zinfandel from California; Cabernet Franc from the Hudson Valley or Long Island; or an inexpensive, simple, young red Bordeaux.