The Mexican states of Oaxaca and Puebla are famous for their rich, complex moles. On a quest for mole enlightenment, writer Mike Diago delved into our local Mexican communities and found two women who are keeping mole‑making traditions — and the cultural heritage they represent — alive in the Hudson Valley.
I shouldered through the door of El Paso Mexican Restaurant in Highland early on a Saturday. Grocery bags swinging from my fists, the bells hanging from the door banged in a morning alert. Owner and Chef Rosalía Jiménez* poked her head out from the kitchen and called me over. She slapped her hand on the counter, and I heaved all of the bags on top. She began to sort, "You forgot the bread. Did you try [La Amistad on] Mill Street?" I had not. She left the kitchen and returned cradling a bunch of sesame seed loaves. "We'll use these so we don't have to add the seeds separately; you use what you have."
My lesson had begun. But mole isn't learned so much as coded into your fibers. Jiménez's mole is a rich lava of chilies, chocolates, nuts, seeds, and spices, bubbled up through layers of family and cultural history. It can only be tasted occasionally, when she can recruit a friend to spend a long day making it with her. When I asked if I could be that friend for a day, I was surprised that she narrated a long grocery list and told me to show up on Saturday at 6:30 a.m.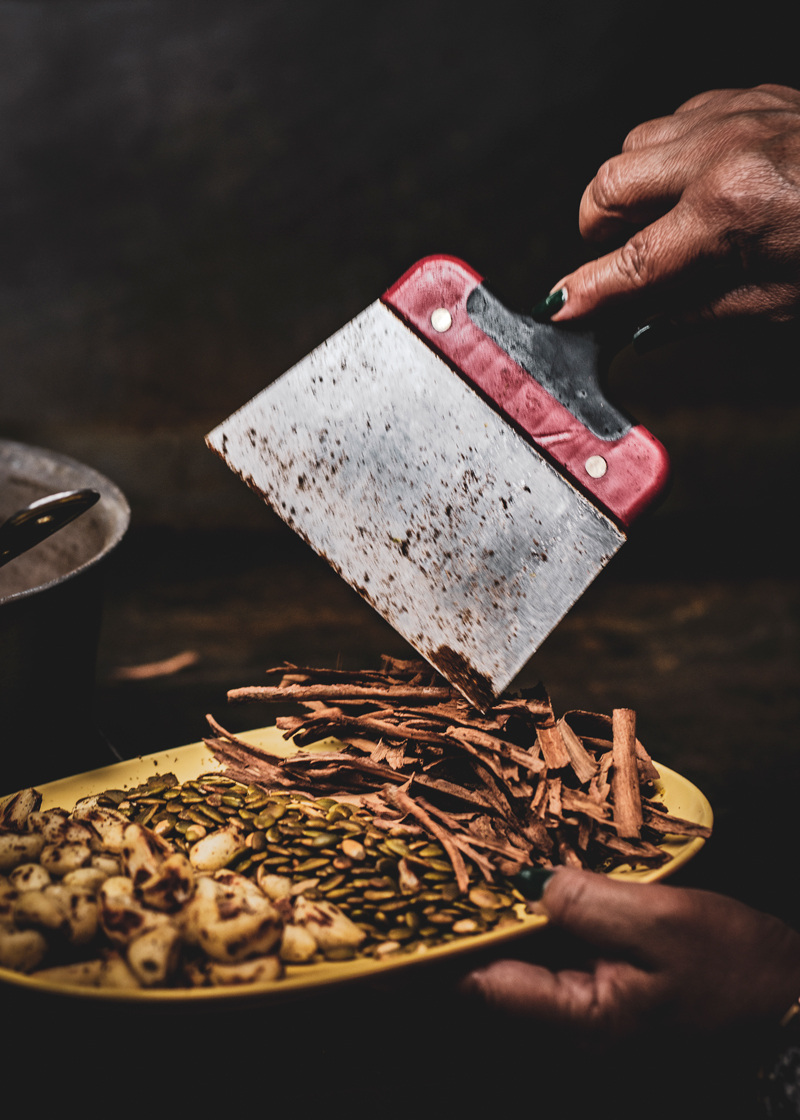 "It's the mole people make in my town, Ciénega de Zimatlán, Oaxaca," she said. "I learned from my mother." The simple statement belied something very complex. Jiménez left for Poughkeepsie in the 1980s and rarely goes back. I asked what led her so far north, and if she knew how the first Oaxacans found Poughkeepsie. "I already had family here," she replied with a shrug. "I guess they had family, too."
As we toasted dried pasillas, anchos, and guajillos on the comal and set them aside to be soaked and blended, she recalled days spent preparing the dish alongside her mother: "We didn't use a blender. We spent days grinding everything on a metate [a large flat stone]. We made the chocolate, too, grinding the cocoa beans and cinnamon. It tasted different…better. Hardly anyone does it like that anymore, not even there. But, this is still the mole from my town."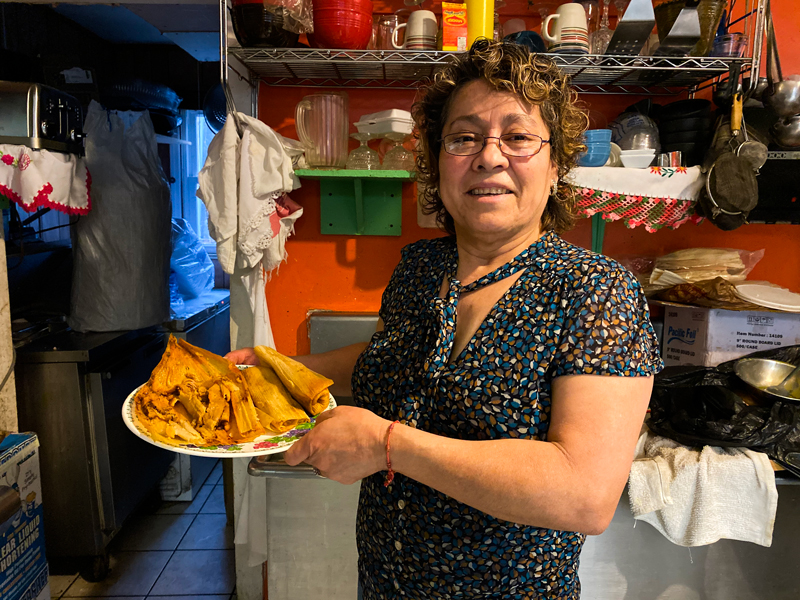 I scribbled down notes, trying to estimate how much of each ingredient we put in, but things got lost in translation, not from Spanish to English, but from her deeper way of knowing to the rigid recipe on the page. Vivid memories — of the bittersweet aroma of cocoa bursting on the stone; the crackle of wood fire under an enormous copper caldera; the forearm soreness and back sweat from hours of stirring and grinding in the heat; the expression on her mother's face when she tasted a sample off of her open hand — bind taste to emotion creating intuition, an indecipherable code.
Things got lost in translation, not from Spanish to English, but from her deeper way of knowing to the rigid recipe on the page.
After a few hours of simmering, Jiménez casually ladled some of the scorching liquid onto her bare palm, slurped it off, paused, then shot around the kitchen like a pinball, deftly gathering spices and throwing them into the pot before I could record the ingredients on paper. She tasted it again and gave a single nod. Then, she griddled a couple of tortillas, dipped them into the dark sauce, folded them over on a saucer, and sprinkled them with thin slices of raw onion and fresh homemade cheese. She passed one to me with a fork…delicious.
A few days later, following a recommendation from Jiménez, I continued my cadging for mole enlightenment at Tacos Uriel on Mill Street in Newburgh. I sat at a table, ordered the mole Poblano, and looked out a window, framed with a thick, vinyl strip of colored lights, at La Amistad, the place where I should have gone for Jiménez's bread.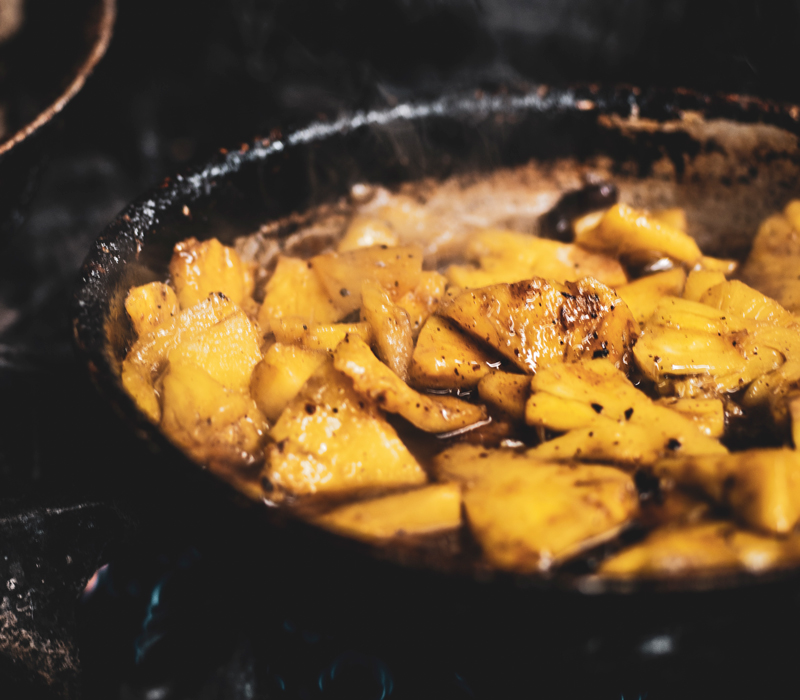 A waitress returned with a plate of rice, beans, fresh cheese, avocado slices, tortillas, and chicken cloaked in shining, dark mole sauce garnished with sesame seeds. Black with white dots, like stars in an infinite galaxy, I folded a tortilla and scooped some of the sauce into my mouth. The taste was that deep.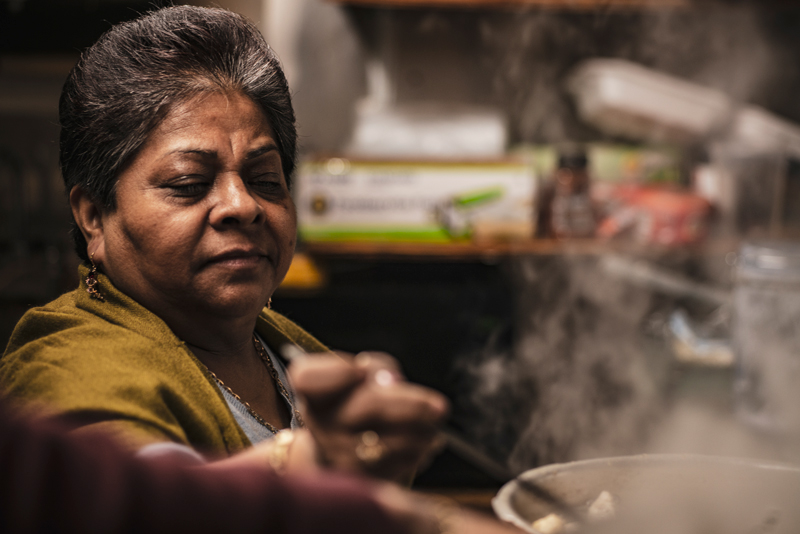 After my meal, I asked if I could meet the cook and out came José Rojas, a stout, gray-haired man with a big mustache. I praised the mole, explained my mole mission, and said that I would love to see them make it sometime. As I spoke, he gave me a suspicious look composed of mostly eyebrow, then relaxed his face into a smile. "My wife makes it, but she isn't going to make it again for a while," he said. "We do it in big batches and just finished making a lot for a festival."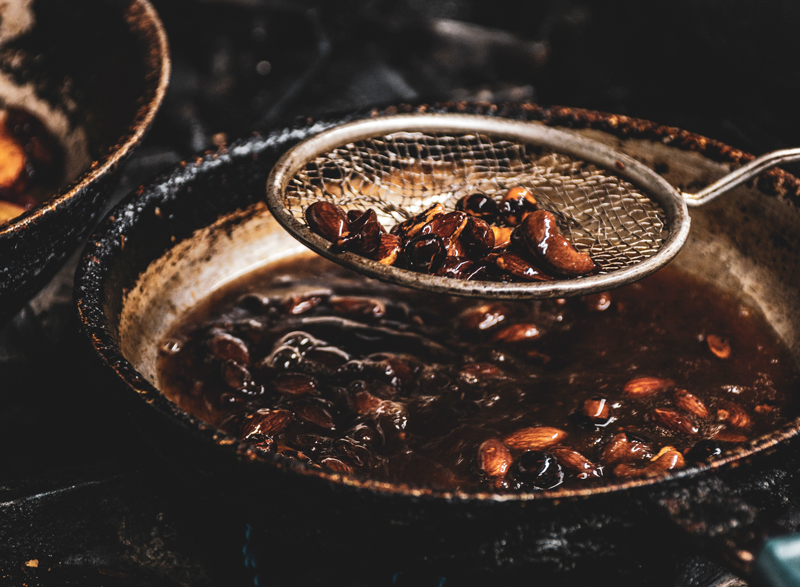 He left briefly and returned with a glossy flyer advertising the festival of the Virgen de Juquila on December 8. That festival is their biggest mole-making effort of the year, he said, with a wide grin and valiant posture.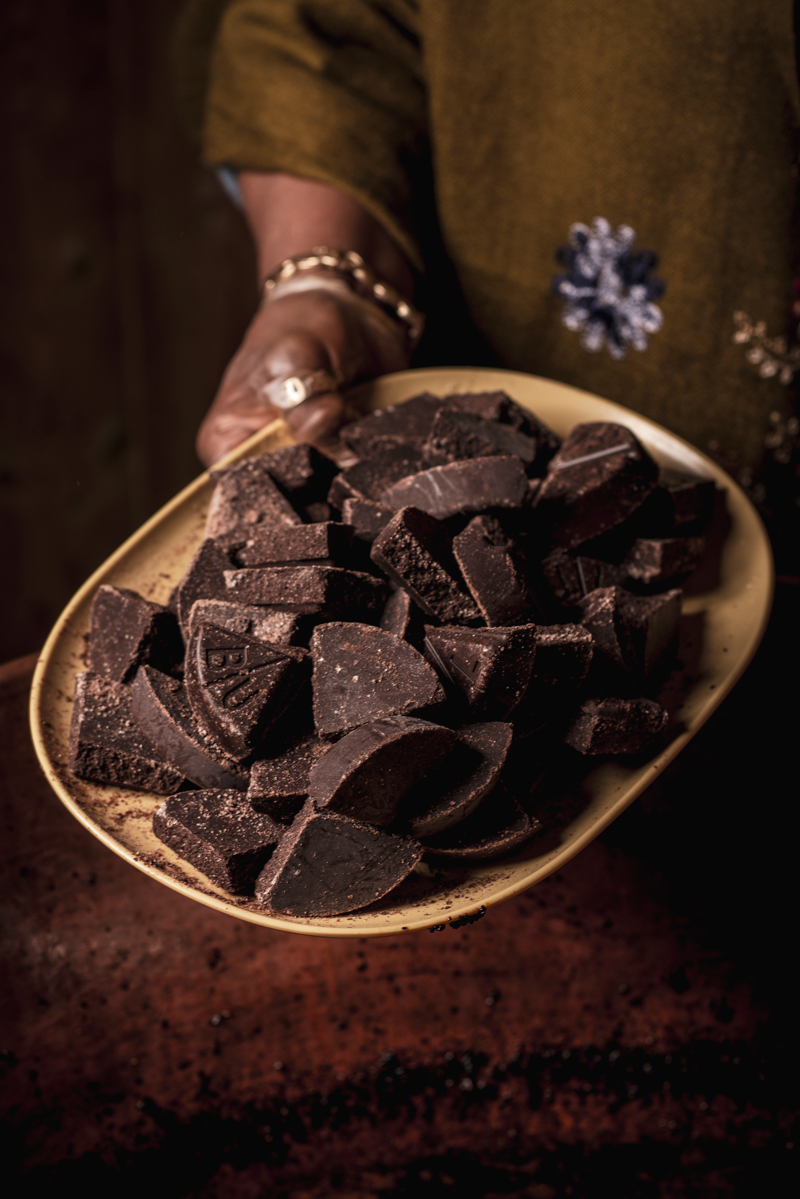 The Virgen de Juquila, or "La Morenita" as she is affectionately called, is an ancient statuette of the Virgin Mary that has been venerated in Oaxaca and Puebla, Mexico's most famous mole-making states, since her arrival with a Spanish Dominican friar in the 16th century. In Mexico, pilgrims trek to her sanctuary each December 8, and, in Newburgh, they celebrate in the gymnasium of St. Patrick's Church. Rojas' family makes three large vats of mole — enough to feed around 300 people — for the festival. It is his family's most profound expression of reverence.
Leftover bread, chilies, and about a hundred other ingredients went into a pot and a divine gust of wind blew spices from a nearby bowl over the fire into the mix.
Mole has always been related to the church. "It was first made by the nuns of Santa Rosa," Rojas said. A widely accepted origin story tells that, in the 1680s, the viceroy of New Spain made an unannounced visit to a convent in Santa Rosa, Puebla. The nun in charge of the kitchen, Sor Andrea, unsure of what to serve him, prayed for an angel to inspire a dish. Leftover bread, chilies, and about a hundred other ingredients went into a pot and a divine gust of wind blew spices from a nearby bowl over the fire into the mix. She served the resulting sauce (or molli in Nahuatl) over turkey and the viceroy was satisfied. Others say the dish is older, likely derived from the Aztec chilimolli.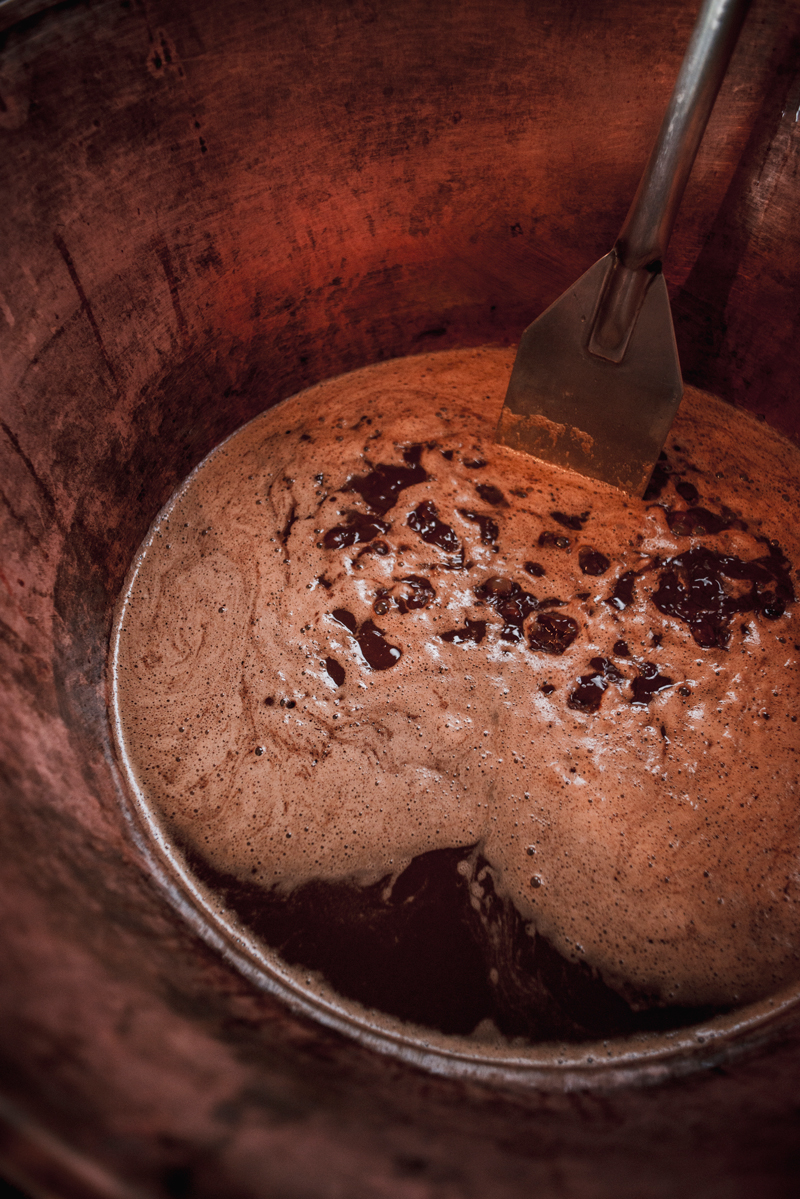 Back in the present, Rojas waved to his wife in the kitchen, molera and Chef Maribel Rojas. About the same height as José, but with a darker complexion and shoulder-length salt-and-pepper hair, she approached the table slowly and took a seat. "I'm from a small town in the State of Puebla, Santa Ines Ahuantempan," she told me. "At eight years old, I was already very attracted to food and cooking. My mom brought me to my aunt, the town's molera, Tía Chagua. From that time on I spent a lot of time with her. Someone had to carry on the tradition. It was very hard work. It would take seven or eight days to make. When it came time to do the grinding, sometimes we'd have seven or eight people working the ingredients on a big metate. People would donate different ingredients, and Tía Chagua would oversee everything."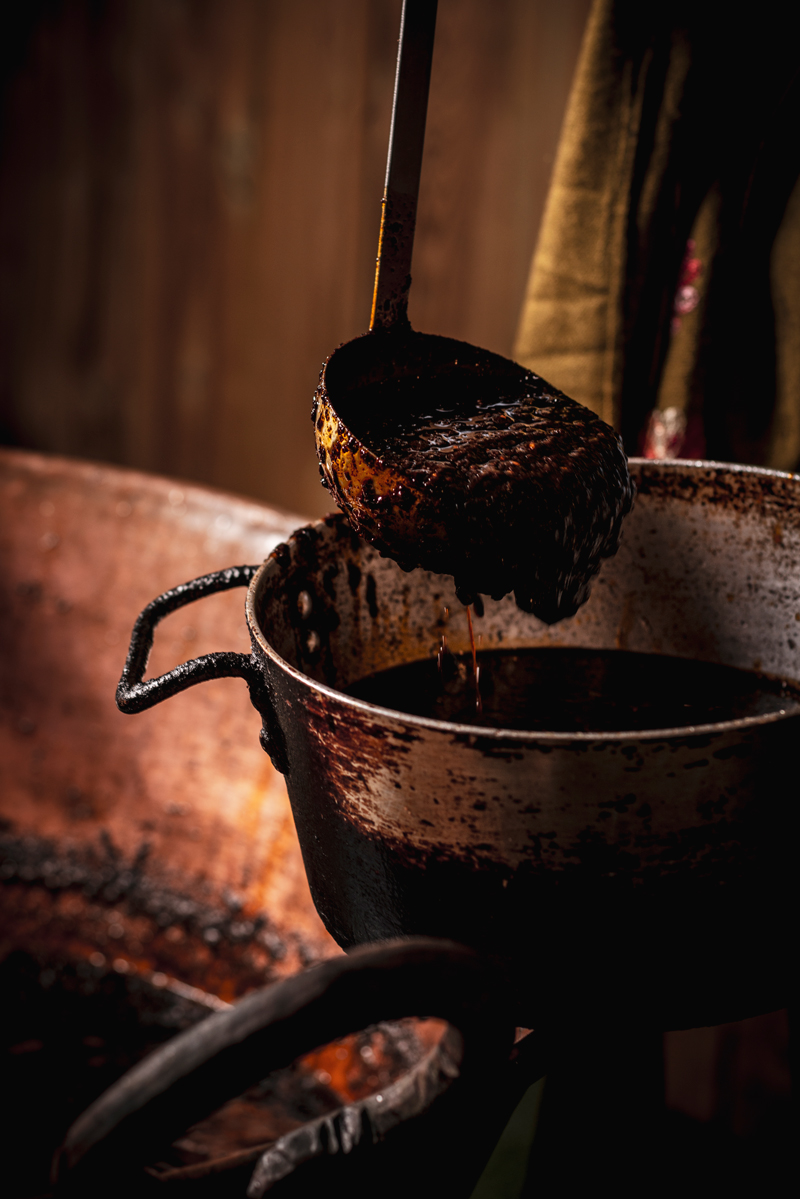 She paused as an elderly man walked toward the door with bags of takeout. "Hey, do you remember Tía Chagua?" she asked. "Of course! Her real name was Isaura," he replied. The man was the Nauhatl teacher in Santa Ines, Maribel told me. She and her childhood friends all learned the language of their Aztec ancestors from him. He had come to get some of her mole.
Maribel continued, "She looked like the lady on the Abuelita chocolate package." Everyone chuckled. "We were together almost every day, if we weren't making mole she would be at my house. She was not egotistical and was very generous with teaching me her technique. When I finally started to cook it at home, my mom couldn't believe it!"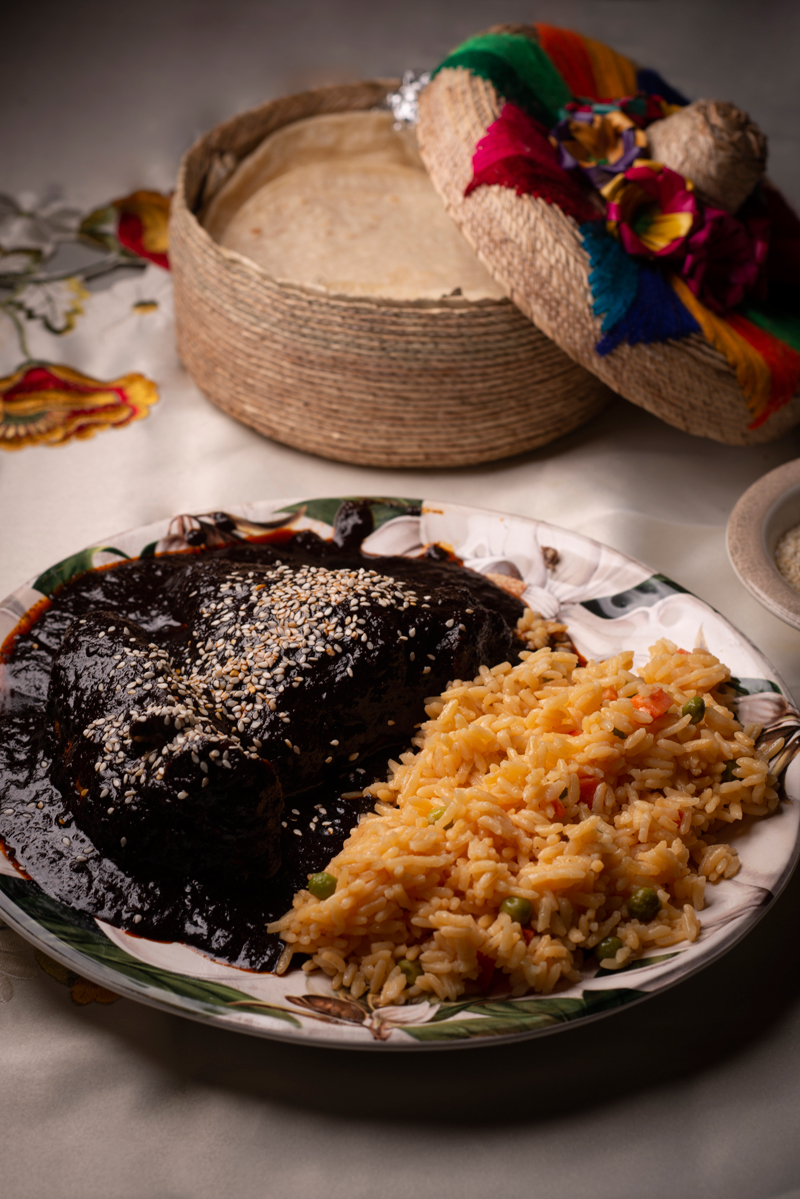 As a teenager, Maribel was in line to be the next town molera. But while the position brought esteem, it did not bring a living. She was one of many Poblanos and Oaxaceños, like Jiménez, who moved to Newburgh and Poughkeepsie, respectively, during an economic migration between the late '70s and early '90s.
"The first generation came for las manzanas — the apple farms that stretch between Newburgh and Poughkeepsie on Route 9," Maribel explained. José chimed in, "[Recruiters] would come with big speakers and set up in a central location in town. They would announce that anyone who wanted to go to the U.S. for work should come sign up. They would have all of the paperwork ready to go; all you had to do was sign and you would be headed out, sometimes that same night, on a three-month work visa. The first generation of my family, cousins, came in 1976."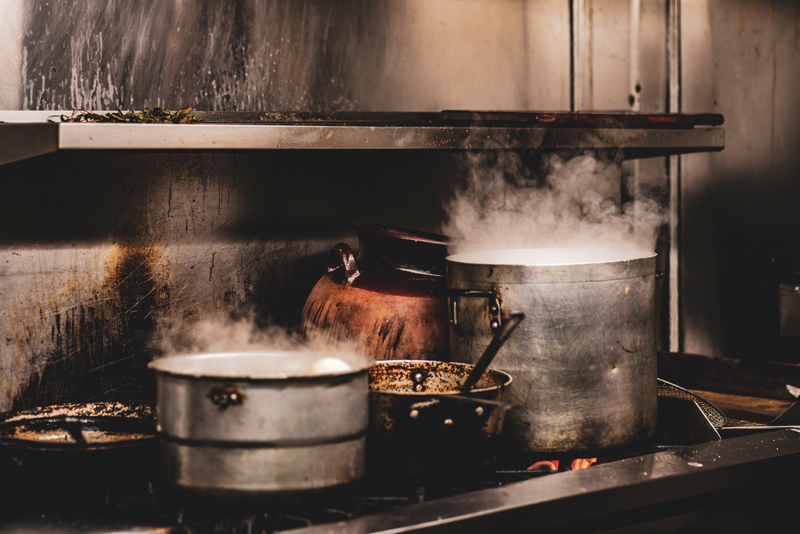 She explained, "When I first got here, and for most of those years, I worked in a factory, but I would make mole on the side. There were no stores selling Mexican products, but I would gather everything and make batches, sometimes as big as 120 pounds, and sell portions to private households around Newburgh. We didn't start Tacos Uriel until 2009."
Now, Newburgh is at least half Hispanic, mostly Mexican, and the Mill Street area is home to a thriving Poblano community. Tacos Uriel is an important part of that, a place where Mariel and José might run into her childhood teacher and prepare him a mole that will remind him of Tía Chagua.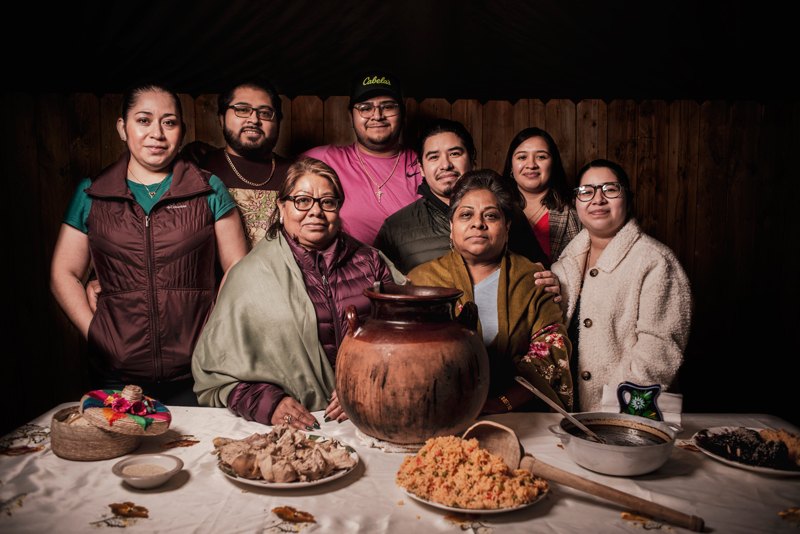 As the night went on, Maribel and José's son joined us at the table. She had him pull out his phone to show pictures of family in Puebla making huge batches of mole in a copper caldera over wood fire on a patio. Other pictures showed picnic tables with smiling men awaiting their food. I asked if he knew how to make mole and he responded in English, "No, but one of my brothers does." Maribel wrung her hands and smiled.
*At press time, Jiménez had sold El Paso to a friend. She continues to live in Highland.