SITTING AT A WINDOW TABLE with bistro tables out front and a blackboard covered with coffee options over the bar, you might feel like you're in the West Village, but with Washington's Headquarters just across the street, it's a good bet you're not. You're at Caffe Macchiato in Newburgh.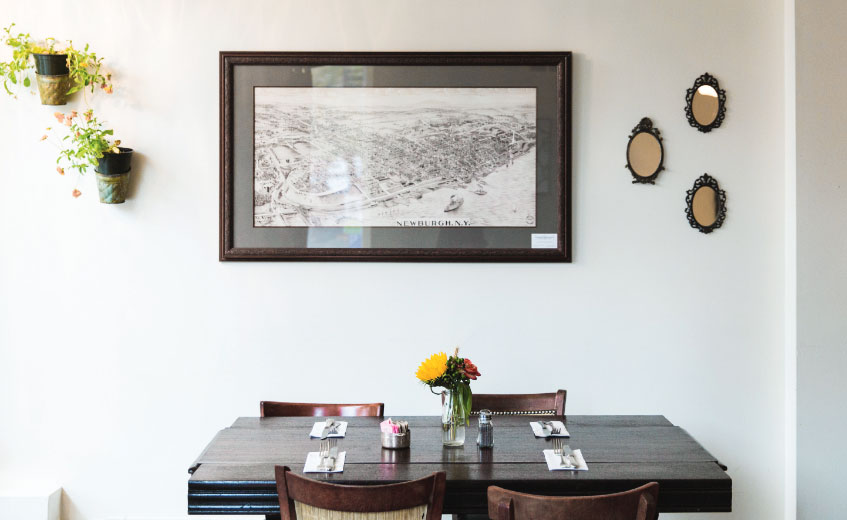 ​Caffe Macchiato has been a Liberty Street anchor for over a decade. Founded by native Italian Barbara Ballerini and her husband Edwin, the cafe became known for casual Italian specialties and Edwin's sensational desserts. In 2015, the cafe was purchased by Chef Jodi Cummings, a native of Newburgh (born half a mile away at St. Luke's Hospital) who remembers a different, thriving Newburgh when she was growing up. She and her mother went food shopping downtown every Friday. "We would go to five or six shops, including the fish market, the meat market and a local farm stand," Cummings recalls. "It was very European-style here, with mom-and-pop shops. Those memories and feeling of community have a lot to do with how I ended up here, running a cafe."
Cummings took a circuitous route to Caffe Macchiato. She attended the Fashion Institute of Technology in New York City and worked in the garment district designing menswear fabric, commuting the whole time because she loved the valley so much. Done in by the commute after seven years, however, she eventually worked in several restaurants in Connecticut and on Nantucket (where she worked for a Polish couple who served Italian food "worthy of a Tuscan grandmother"), and, ultimately, faced choosing a career as an art teacher or a chef. Always a CIA groupie, she chose food. "I went to the Culinary as an adult and was determined to get everything out of it that I could," she beams. "I still think of all the things the chefs taught me—they took my cooking to another level. It was the best decision I ever made."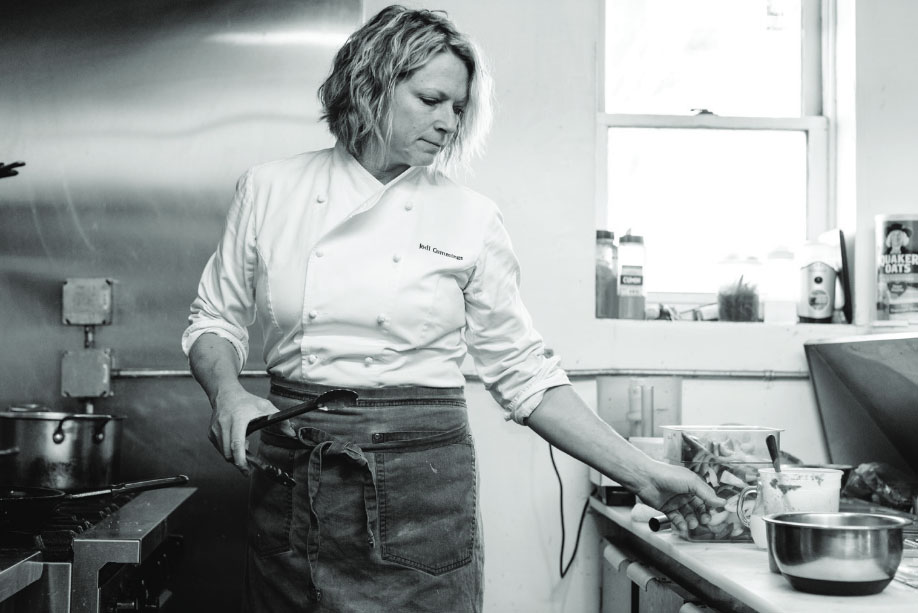 After graduation, Cummings got her first professional culinary job as the first full-time chef at Buttermilk Falls in Milton. She then worked as a private chef and at Glynwood, where she helped host the James Beard Foundation's seventh Chef's Boot Camp for Policy and Change (along with James Beard Award-winning chefs Rick Bayless and Michel Nischan, founder of the Chef's Action Network). "It was amazing," she recalls. "We spent most of the time sitting and discussing food challenges and how to solve them. Cooking was how we relaxed. I was very fortunate to be a participant."
When Cummings took over Caffe Macchiato in September 2015, she wanted to bring in her ideas but didn't want to wipe the slate clean, so she asked her customers, "What did Barbara make that you loved?" She learned that Ballerini was known for her baked eggs and coconut waffles. Cummings transformed the baked eggs into eggs cocotte; the coconut waffles morphed into fried chicken and waffles. (Cummings spent a year in North Carolina, where she worked for a southern chef. "I picked up on some great staples like fried green tomatoes—which I'm obsessed with—fried pickles, and fried chicken and waffles, which really work together. It shouldn't, but it does.")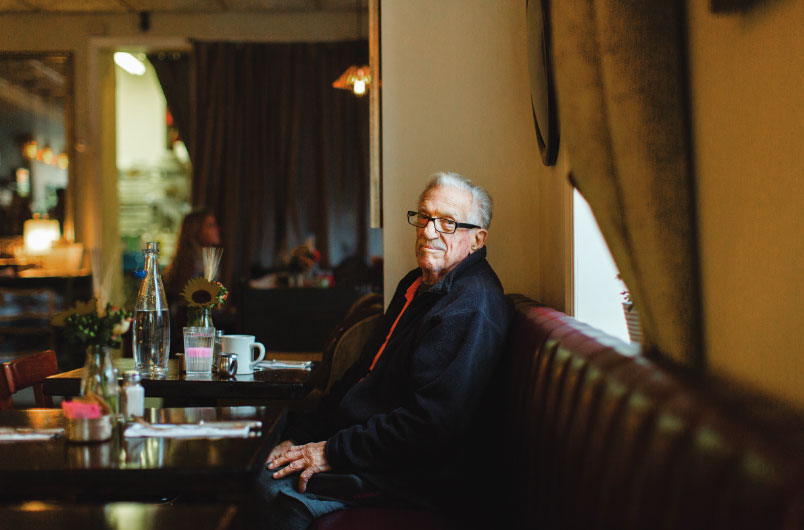 Cummings updated the interior of the cafe with tin ceiling tiles, schoolhouse pendant lamps and quirky artwork, including a Spanish poster for Dr. Zhivago and an original menu from Newburgh's Palatine Hotel. According to an 1893 article, the palatial hotel, now sadly demolished, once drew "throngs of handsome and stylishly attired ladies…and their chivalrous escorts" from New York City.
Most chefs either cook or bake, but, unlike the majority, Cummings enjoys (and excels at) both. A self-described morning person, she gets up early and bakes for a couple of hours until switching her focus at about 8 o'clock to breakfast and her clientele, which include both tourists and regular customers, some of whom come in several times a week. One regular, a 92-year-old gentleman, comes in twice a day. "He comes in for breakfast, then comes back later in the day for lunch," Cummings notes. "He's lived here for 25 years, and we've become part of his daily routine—he's comfortable here and thinks of us as family. That makes me so happy. We're having his ninety-third birthday party here next week." A couple walking by outside knocks on the front window and waves. "They were married here when it was owned by [Ballerini], and they just keep coming," Cummings says. "We also have people who introduced themselves at the cafe—two months later, they come in together as great friends."
The Thai scramble is a best seller—gloriously sweet, spicy and savory.
Cummings becomes animated when she talks about Newburgh. "When I moved back five years ago, everyone was asking if everything was alright. It was really frustrating. I love it. I love the architecture. I love the history—there's one house here that actually was wired by Thomas Edison! When I was cooking for private clients in Rhinebeck and Millbrook and told them I was from Newburgh, they often said, 'I've been hearing a lot about that place. What are your thoughts on buying a house there?' I'd say, do it. Do it now." She points to a beautiful building across from the cafe. "That building was just sold. There were 20 people who wanted to buy it."
From a breakfast sandwich of fried eggs, provolone, garlic tomatoes and arugula on brioche to the Thai curry scramble (scrambled eggs with house-made green curry, broccoli and potatoes), shrimp and grits (dusted with Turkish spices), or eggs cocotte with mushrooms, spinach and Gruyere, the menu at Caffe Macchiato is eclectic and compelling. The Thai scramble is a best seller—gloriously sweet, spicy and savory—as is her own Concord jam. "That jam is so special to me because the smell of it is childhood," Cummings says. "When we peel and seed the grapes for the jam, it takes me back to when I was a child picking those grapes."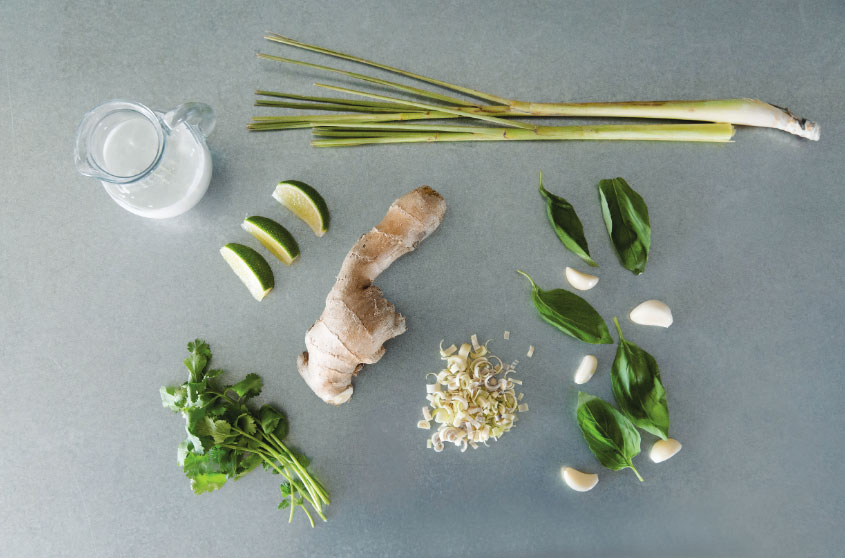 Because she relies heavily on local sources for her ingredients, as the seasons change, so does the menu. "I'm not one of those stubborn chefs that says, 'My way or no way,'" Cummings says, admitting that she has had some friendly debates with customers about seasonal ingredients. "They said they wanted [strawberries] on pancakes, and I would say, 'I'm so sorry, but strawberries are only in season in June. I promise you strawberries in June when they taste amazing. Just wait—when I get them in and they're local, then you'll understand why my menus are the way they are.' And they came back and said, 'Okay, you're right.'"
Beer and wine are available at the cafe, as is another one of Cummings' obsessions—hard cider, which she looks forward to introducing to her customers, along with educating them with a cider tasting. "Some ciders are sweet; some are sour; some taste like beer; others taste like wine. People don't know which ones to order and therefore don't order any of them."Winter is no different. "I don't shy away from winter," Cummings says. "I think our bodies want the foods that are in season. I embrace all that. We're getting into brisket and pulled pork season—and brunch season. In the summer, people come for brunch, but they come early so they can get outside. Now, they hang out and have a nice long brunch." On the winter menu, look for squashes, potatoes (which she says "are not really delicious until January") and spinach ("phenomenal in winter—December spinach tastes like candy"). Winter is also soup time and hers are always made from scratch. Cummings matter-of-factly concludes that she could never work in a restaurant where the menu never changes.
From its grits and scrambled eggs to desserts like millionaire's shortbread, Caffe Macchiato effortlessly combines Cummings' idealism with real-world pragmatism into a little restaurant that just feels good. "Growing up in the Hudson Valley, I was surrounded by apple trees, grape vines and my friends' fathers' farms," she says. "I was in awe of farmers and have always leaned toward a place where there's a short distance between where the food comes from and where it's eaten."