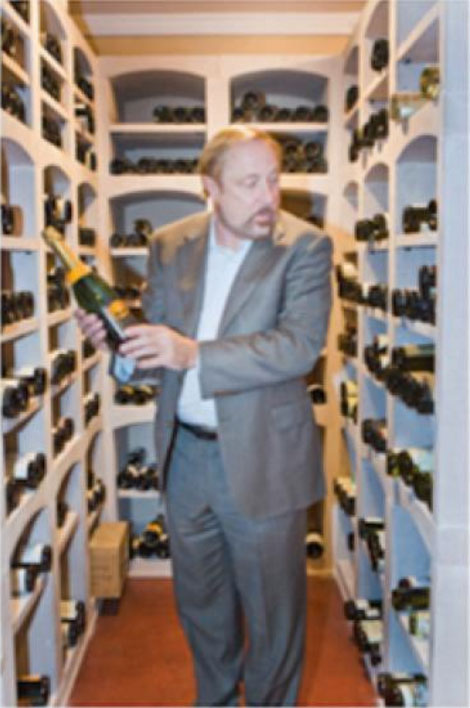 IT MIGHT SEEM AS THOUGH Kevin Zraly has led a charmed life. Independent, good-humored, the focus of a full-page Playboy ad in 1978 ("The Playboy reader. His lust is for life."), which included his by-now trademarked aphorisms "How do you get to be Cellarmaster at Windows on the World at 25? Well, you start by not knowing how to pronounce 'Nuit St. Georges,'" and "I've always been against working a 9 to 5 job. So I work from 12 to 12," he is perhaps the first in a long line of culinary stars to reach the limelight via John Novi's DePuy Canal House, and the tales of his adventures across this country and Europe throughout the early 1970s sound like a revised edition of On the Road. Since 1972, though, Zraly has been on a mission in pursuit of one goal—to learn, and then to teach, as much as he could about wine. From wine salesman to wine buyer to wine scholar and teacher, Zraly's name has become synonymous with wine worldwide. It's not too surprising that his Windows on the World Complete Wine Course, written from and for the wine classes he's been teaching continuously for 34 years, is the world's best-selling wine book. Now out in a 25th-anniversary edition, the book has sold more than three million copies, and both the book and Kevin Zraly are still going strong.
Kevin Zraly: In 1980, I thought about writing a book about wine. Why? There were no books that were easy to read—they were all encyclopedic in nature. My students were saying, "You've got to give us something else."
I never really wrote the book, it was really taped. I'm not that good of a writer—you're only as good as your editors, you know that. Fortunately, it's the number-one selling wine book in the world. The book is in Korean, in Japanese, and I just got the Chinese edition. It's now being translated into French—my biggest coup. It's going digital or electronic, whatever they call it—you see me, I talk about the next chapter and then you read the chapter.
It's been a rollercoaster ride—a good one. I reflect upon it a lot. You take something that you have a passion for and you get paid for it. The new book that I'm writing is called The Glass is Half Full. The book I wanted to write is God Loves Wine.
The early years of the DePuy Canal House are the stuff of legend. Yes, Zraly was working there the night New York Times restaurant critic Craig Claiborne walked in (and subsequently awarded the restaurant four stars). Yes, Zraly learned to tend bar almost by accident. And yes, that's where it all started.
KZ: It took me six years to graduate college because I took time off to study wine. In August of '69 I wanted to go to whatever college was nearby. What college was going to take me? Well, Ulster County Community College. This was a happening place. (There's a picture of me in the Distinguished Alumni Hall of Fame.) I lived in Stone Ridge and then moved to High Falls above Mrs. Novi's pizzeria. That's where John started—his mom and dad had a pizzeria called Novi's. I was looking to pay my rent but I was looking for beer money, like, the 25 cent glass of beer. I was in college, a steak-and-potatoes guy.
[The Times thing] was in 1970. There were only four of us working: John, the Lynch brothers and me. It was a Sunday and he had no food left. In walks Craig Claiborne—there were eight people in the party, Claiborne, of course, Jacque Pepin, Pierre Franey. I had no idea who Craig Claiborne was or what it meant. John got a four-star rating from The New York Times.
We've got red, white and rosé, I said, What more do you want?
The place just picked up. Zero to 60. We were making our own drinks at the time because there wasn't enough business to warrant a bartender, only on Saturday nights. I also had to learn about liquor and beer. Everybody was still drinking Old Fashioneds and Martini Negronis. One of the bartenders was a guy named Eric Miller—his father, Mark Miller, owned Benmarl. His hair was down to here. I talked with him about bartending, about wine. Behind the bar—I'm not making a joke about this—we had three wines: red, white and rosé, and they were jug wines. No wonder people didn't drink wine.
Then a New Yorker came up and he said, "This is ridiculous—I drove all the way up, two hours. You have a great 1797 stone building, you have great food, but your wine list stinks. Who does the wine list?" Everyone says, Kevin. So I have to walk out to the table. "We've got red, white and rosé," I said, "What more do you want?" The guy was so frustrated with me, he said, "Listen son, I'm going to send you something." He sent me a paperback book on wine, probably cost 65 cents, and that's where it started. There's a lot more to wine than red, white and rose.
I got the book. It was like walking into Dorsky Museum and you look around and see all this stuff and all of a sudden you focus in on something and you want to know who did that painting, and then you want to know more about that person. That's what wine is about.
I'm at the Canal House and I'm the wine buyer. We're doing big business, probably some of the best business in the whole area. So now all the wine distributors want to do business and I'm the buyer of liquor, beer and wine. I'm 20 years old. I know I'm going into the wine business, there's no doubt about it.
In 1971, we taught our first class together, John and I, through UCCC. It was in the main dining room and we had about 25 students and I didn't have any idea what I was talking about, but I learned from that experience: Start drinking right away—people like your jokes better if they've had some wine. I think it was a four-week course. We got through that. We taught our course and I was being paid now, not much, but it was money coming in.
Eric Miller will be my oldest friend in wine. My second would be Steven Kolpan. (Steven took over my job when I left the Canal House.) The first winery I ever went to in my life is Benmarl. The first wine list I ever did was the DePuy Canal House Tavern.
Around 1975, New York restaurateur Joe Baum was staffing his latest venture—the stellar Windows on the World restaurant atop the World Trade Center. Call it luck or call it good timing, Zraly the wine salesman got the job as the restaurant's first cellarmaster. Two things happened that changed his life (again): He literally got instant access to any wine in the world he wanted to taste or buy, and shortly thereafter, he began to teach a wine class.
KZ: They were looking for a young American cellarmaster. (They didn't want to call him sommelier because it was French—they wanted to use the term cellarmaster.) They had already interviewed 25 people from across the country and from Europe. I had just turned 25. I was just trying to sell wine. I got the job.
I was put in charge. I said to Joe, "How many assistants can I have?" He said, "None—you're it. You buy all the wine. I want wines from all over the world—this is Windows on the World. You get the service done." (I still have the wine lists—I got them out after the bombing in 1993. I saved a lot of stuff that wasn't destroyed on September 11.) We had all the French wines, of course—90 percent of what were selling was French—but we had Yugoslavian wines, Chili wines, Argentina, Australia, Switzerland.
Joe was doing all the restaurants in the World Trade Center. Windows on the World was not expected to make money, everything else was. It reversed—Windows on the World became an unbelievable restaurant from day one. It didn't stop for 15 years.
We opened in April of 1976. For the July 4, 1976 Bicentennial, every dignitary in the world was at Windows on the World to watch the fireworks from a safe environment. It was a beautiful day. Everything worked. Here I am, in charge of the greatest wine cellar in New York City. From one day being a salesman—selling nothing—to the next day being the number one buyer.
You know that thing about being in the right place at the right time? This is what's true: Being in the right place at the right time after you've done your homework, being qualified to be there.
How do you do a wine program? First thing you do is train everybody: bus boys, dishwashers, receptionists, secretaries—everybody takes a wine course. That's how you develop the whole thing. If you don't start there, then don't do it. When I left in 1980, the guy who took over my position [had] started at Windows as a bus boy. He was the second cellarmaster—he went on to do the Rainbow Room.
I started teaching a wine class in the fall of 1976. It wasn't called Windows on the World Wine School, it was called the Club at the World Trade Center Wine School—12 students. After the bombing in February 1993, the World Trade Center opened within a month. Windows on the World did not—it was closed for three years, from '93 to '96. Joe Baum had left by this time. The Port Authority wanted the wine school to continue, so I taught the class from '93 to '94 at 7 World Trade Center. I look at it as carrying on a legacy because it never ended. It's 34 years old—20,000 students have graduated my classes. On September 10, 2001, Windows on the World was the largest restaurant in the world dollar volume, which was $38 million a year; our wine sales were $6 million.
You know those stories about the wine guy who can blind taste a wine and then tell you not only the vintage and vineyard but also the day of the week the grapes were harvested and what the vintner had for breakfast? (Well, OK, maybe not the day of the week.) Zraly admits he hasn't always been able to do that but, importantly, he has friends who can. His lifelong, around-the-world quest for knowledge about wine has been its own reward.
KZ: I'm a research analyst. This is all I do. As people do stocks and bonds, I do wine, daily. I'm on a computer looking at everything that's going on.
The wine revolution goes along with the food revolution. There were no restaurants 40 years ago in the Napa Valley. Boston, forget it. Philadelphia, forget it. New York had it, but not San Francisco. There's no doubt about it: New York City is the wine capital of the world.
Number one sales would be Los Angeles, primarily American wines. New York is international. I can get any wine I want here. Everybody passes through New York. In the old days, Bob Mondavi would come through on his way to Europe, say a few words to my class. Remember the Smothers Brothers? They had a winery—so I said Dick, Tom, come on in. They did.
Remember, we started with only France and then maybe Germany back 40 years ago. Italy wasn't making good wine. Spain in '74 and '75, when Franco was still in charge, had political problems; Chili and Argentina were not making good wines. Now everybody is making wines: South Africa, New Zealand, Australia. Everywhere there's really unbelievable quality. Now you've got to go into a store and look at 6,000 different labels.
In France, consumption is going down. In Italy, down, big time. Spain, down. Americans are the number one consumers of wine in the world. Even in recession, 17 years of increases in consumption. China is now the number one buyer of Bordeaux in the world. South Korea is very big into wine.
I've come to the conclusion that this is the Golden Age of Wine—that's the good news. The sad news is there's no new horizon. There's no new country, except possibly China, but it will take China another 10 years. China is the number one grape-growing country in the world (for table grapes). They have something going on.
There are 6,000 wineries in the United States. Missouri at one time was the number one state. It was all on the East Coast; eventually it got to the West Coast and took off. California represents 90 percent of all wine production in the U.S. The number two state is Washington. Number three state is New York and number four is Oregon. Those four states equal 98 percent of all wine sold in the U.S. The statistics also show that 75 percent of all wine consumed by Americans is from the United States. So it's only a 25 percent import market. Americans are drinking American wines. My wine classes today are 55 percent women—they're the largest buyers of wine.
[In New York], the Finger Lakes obviously have been [making wine] the longest. (Well, I shouldn't say that—you could say the Hudson Valley has been around the longest. Some people have called New Paltz the birthplace of American viticulture. The history of New Paltz goes back to 1677—when the French Huguenots settled here, they planted a vineyard. I'm still trying to find out where.)
But let's talk about major wine production. I say some of the best Riesling in the world is coming from the Finger Lakes. I would also put Chardonnay there as well—not the best in the world, but it's very, very good Chardonnay. They are making strides with red grapes, but they're early ripening red grapes because of their growing season.
Let me try to break this down: Cabernet Sauvignon I love—it's my favorite grape—but you need a long growing season for it, so you're not going to see it in the Finger Lakes, you're not going to see it in the Hudson Valley. Possibly in Long Island, but that would have to be in a great year. They have excellent weather out there. Red grapes can grow there—Merlot and Cabernet Franc. I think Long Island produces some world-class wines.
So now we come to the Hudson Valley. Why didn't the Hudson Valley become the premier wine region in New York State? Blame it on the weather, and possibly soil conditions, as well. I'm not going to discount the Hudson Valley at this point—it's still not out of the question. Millbrook is arguably the best winery in the Hudson Valley. John Dyson is a businessman—if he can do it, it can be done.
I think that the best land for growing grapes is down near Milton and Marlboro, so I'm watching Stoutridge—it's very interesting what he's done. But look where it is. It typifies the area—you go through a residential community until you hit a speed bump and slow down and then all of a sudden you come to it. How did this get here? That's not what Sonoma is about; that's not what the Napa Valley is about—the Napa Valley is the second-largest tourism destination in California. But when I go through the back roads of Highland—that's Tuscany. That's the rolling hills of Tuscany.
After a tragic fire destroyed his home near New Paltz, Zraly built another one, literally from the underground up—he first found a location for his wine cellar, dug out of a bed of shale, then built the house around it.
KZ: I designed it. I didn't know what I was going to do—whether it was going to be wood or whether I was going to go with stock or have a carpenter do something special—but I knew what space I wanted, that the wine cellar was going to be here. This was first designed because of the shale. Then I finally found this—limestone from Burgundy, France—this is earth so this is perfect.
A wine cellar should be about 55 degrees and 75 degrees percent humidity. Right now, it's about 60 degrees, but in the next month, for the next 10 months it will be 55 degrees naturally. Why? Because it's all shale on the outside walls. It gets as high as 62 degrees—62 degrees, as far as I'm con­cerned, is OK. It won't drop below 55 degrees. Plus I have this refrigerator for some very special wines. Humidity right now is 75 percent, naturally.
Calling himself a frustrated musician (his four children all play music and Zraly was once a member of a rock band called the Winettes that included, among others, Bryan Miller, New York Times restaurant critic; Michael Skurnik of Michael Skurnick Wines, Inc.; and Josh Wesson, co-author of the justly famous Red Wine with Fish: The New Art of Matching Wine With Food (Simon and Schuster, 1989) and co-founder of Best Cellars, Inc.), Zraly now lives in a bucolic setting not far from a small vineyard he planted a few years ago. It's a peaceful, restful environment where, with patience, one can catch a glimpse of a slightly different Kevin Zraly.
KZ: This is the smell I was talking about—it's called the dead leaf smell and you'll get it in wine as a wine gets older. As a wine gets older it deteriorates—that's a positive thing. It's like compost. But not negative. It's not a bad smell.
I'm growing vinifera. It's financial suicide. I'm doing it because I want to prove it can be done. This is my fourth year—it takes three or four years—and if you remember last year, it was rainy and wet. This year was just spectacular.
It's ironic in many ways that I got where I got. There was no design.
These are grapes [near the house], by the way. They're Concords. I have Concords here for eating grapes and also to make jelly and I also use these grapes to get an idea if Japanese beetles are around—if there are Japanese beetles around here, they're down in my vineyard and I've got to get down there. I have vines all around, just like checkpoints.
People ask, how did you start in wine? I make a joke—I started as an altar boy. It's true. This priest was very influential in my life as a speaker—he would do his homilies and I was 13, 14 years old, and he'd say, "What did you think? Do you think I got my message across?" I thought, what is he asking me for? But I learned how to do public speaking from him. He would say, "Don't use notes—if you have to use notes then you don't have it." He was influential.
To me, it's ironic in many ways that I got where I got. There was no design. It was all these crazy events. It was very serendipitous.
ZRALY ON HOLIDAY WINES
People get together for the holidays, families get together. There are so many different types of foods that people put out, and a lot of it is done buffet style. Holiday wines are different than regular dinner wine—there should be a lot of it and there should be a variety.
Here's my bottom line: This is where I'm serving the $15 bottle and under. (Except I have a few relatives who know something about wine—we'll go down to the wine cellar and do our thing.) Just think of everything that's on the table, because it ain't just the turkey. My mother makes something—I have no idea what it is but it's some kind of Jello with white things floating in it. Then you have sweet potatoes, cranberry sauce. Whether it's a sit-down meal or buffet style, this is not where your best wines come out, this is where you find the best values, say, between $10 and $20. That's good for everybody.
What I'm looking for is what I call user-friendly wines. They're going to be lighter in style, unoaked, because they'll go better with different kinds of food. There's this attitude that rosés are not good, but that's not true in today's world. I'm going to say rosés from Spain or from France. Champagne and sparkling wines, like Prosecco, always go. —KZ