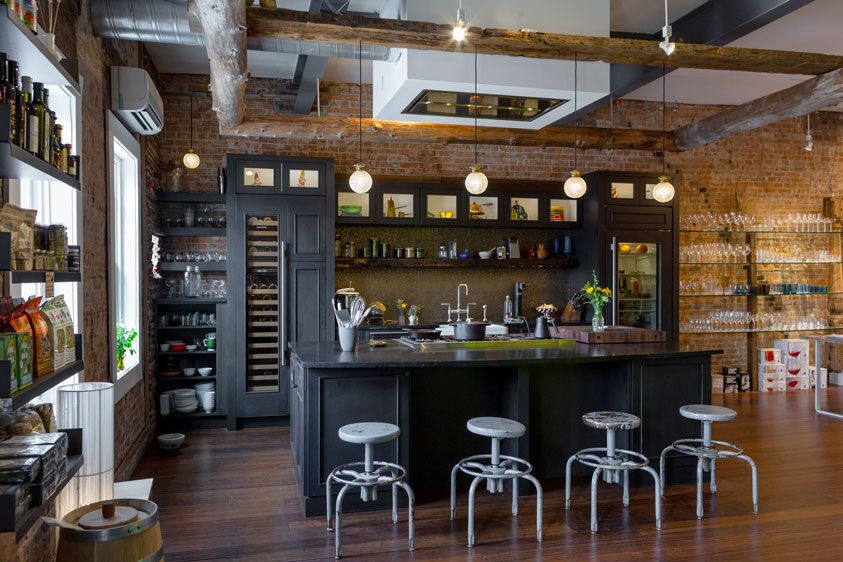 "WE TOOK GARBAGE AND NAILED it to the wall."
That's how J.T. McKay describes how he and Sean Nutley designed bluecashew Kitchen Homestead, their relocated and re-imagined retail and cooking demonstration space that opened in Kingston's Stockade District in October 2017. The two men re-used and repurposed materials wherever possible—from ceilings made from reclaimed beams to shelving made from old Victorian garden posts. The result is, well, a warm take on shabby industrial chic.
Nutley originally opened bluecashew Kitchen Pharmacy in High Falls in 2004 with Gregory Triana, then moved the business to Rhinebeck for seven years before decamping to its present location, the former J&J Hobby Shop in Kingston. Nutley had his eyes on Kingston for over six years, but the attraction to this particular space is personal: Though a Staten Island native, Nutley spent a lot of time growing up in the Hudson Valley. "This is full circle for me," he says. "This is the place [where] I used to buy my grandfather's Christmas presents, here in the hobby shop—this one had trains and everything."
McKay, who hails from New Jersey, became infatuated with the Hudson Valley 12 years ago during a visit to Kate's Lazy Meadow Motel in Mt. Tremper (Ulster County). While tubing the Esopus, he saw a bear cub playing in the river and immediately started looking for a house in the area. McKay moved up full-time six years ago after meeting Nutley at the Burning Man festival in Nevada. The two now share their Accord home with Briggles, a Shiba Inu.
Rechristening the business, Nutley and McKay were determined to work with local designers and artisans. The bar carts are custom made and the shelves were made from reclaimed wood by Kingston's Excelsior Wood Products, located a mere six minutes away. The Louise Nevelson-like pieces of "garbage" nailed to the wall are barrel stave offcuts picked up from the floor of John Cox's studio at Quercus Cooperage in High Falls. The lamps hanging over the counters are derived from a Midcentury Modern chandelier once owned by McKay's grandmother. Other whimsical design flourishes include a lime green wall, polished copper tiles and two hidden owls.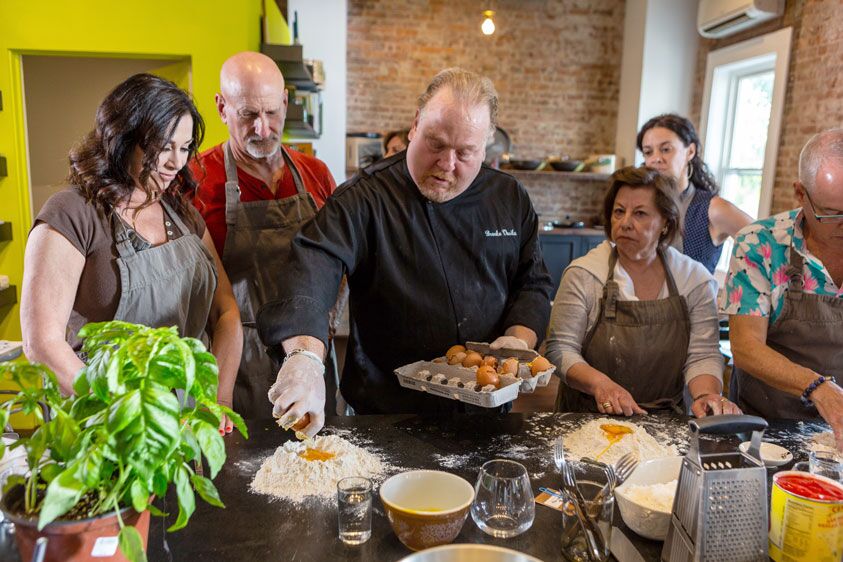 The Kingston store is "100 percent different from Rhinebeck," Nutley stresses. "It's a completely different concept—we've been reaching out to a lot of local makers and bringing in products that are not made in China, while also trying to avoid Amazon."
Determined to offer a range of price points, the owners initially hesitated about about selling high-end items like handmade Italian Match pewter, but it's been (surprisingly) extremely popular, as are the MUD ceramics from Australia and Littala dinner and glassware from Finland. (So are the $3.50 silver and gold scrub sponges, by the way.) On the other hand, "You won't find that little plastic thing that pulls the herbs off the stem here. That's just not us," McKay shrugs.
In line with this mission, bluecashew offers a curated selection of edible products as well, including small-batch chocolates from Fruition Chocolates, in Shokan, handcrafted syrups and bitters from More Good, in Beacon, and premium whole-leaf teas from China and Taiwan selected by Asian cuisine authority Corinne Trang, a frequent instructor who plans to do monthly tea tastings at the shop with traditional Chinese porcelain tasting cups.
The pièce de résistance, however, is what McKay happily describes as a kitchen "to die for," the result of a collaboration with Carrie Bono, of Rhinebeck Kitchen and Bath. Replete with Wolf and Sub-Zero appliances, the kitchen is used for cooking demos and by Lindsey Hutton, an aspiring baker who comes by the store to practice. (Nutley and McKay supply her ingredients and she shares her sweets with the customers.)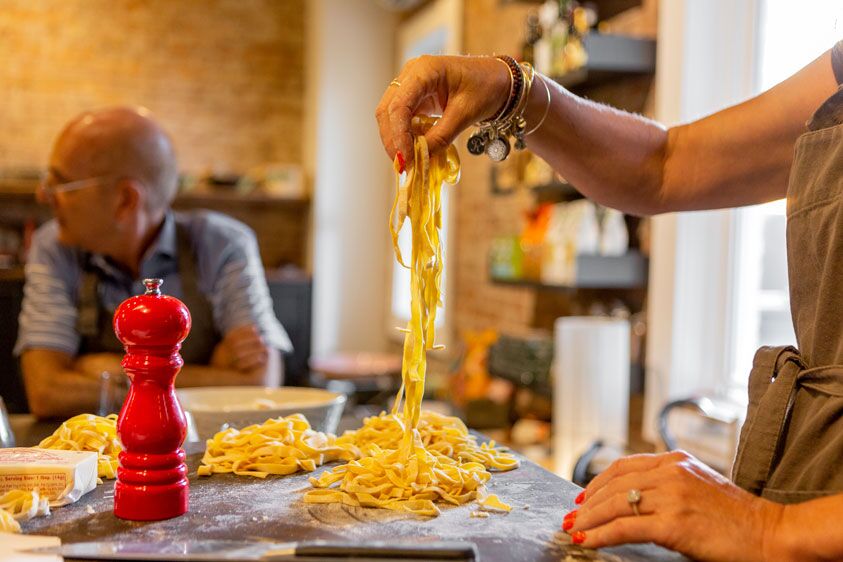 The kitchen also is the site of a highly popular and successful series of cooking classes led by local and celebrity chefs and cookbook authors. Agnes Devereux, of The Village Tearoom in New Paltz, led a Taste of Ireland class that included Cheddar Cheese & Ale Soup, made with ale from Kingston native Michael Barcone's West Kill Brewing. Other recent workshops have included Classic Cocktail Hour Appetizers with private chef Phyllis Segura, and a Raclette Party with Tia Keenan, author of Melt, Stretch & Sizzle: The Art of Cooking Cheese (Universe, 2018; $35 hardcover).
In collaboration with Cornell Cooperative Extension, classes in knife skills, canning, dehydrating and food preservation ("the technical stuff") also are offered. In the works is a cooking club that capitalizes on the participants' creativity by changing and modifying recipes. Nutley calls it "sort of crowd-sourcing the recipe."
"Canning and preserving to me [are] generational things that your mother or your grandmother taught you," McKay says. "It never happened in my family. We got tomatoes and we froze them. We froze everything. When I had a garden, I didn't know what to do with all this extra stuff. So we thought bluecashew had to have a kitchen where people learn how to make the most of what they have. We're surrounded by the most amazing produce—there's absolutely no reason you should buy a jar of tomato sauce that's traveled across the country and is full of chemicals when you can make your own from beautiful, local Hudson Valley tomatoes."
While they've bitten off a lot since relocating, early reaction to bluecashew from the people of Kingston has been warm and welcoming. "People are reaching out, buying us cookies and bottles of champagne," Nutley recounts. "The first day we opened the store—while we were still unpacking—a customer from High Falls came in to say how glad he is that we're back."
bluecashew Kitchen Homestead
37 N Front St, Kingston
(845) 514-2300; bluecashew.com