I GREW UP IN NEW ZEALAND, which 
is about as far from New York as you can get, unless you're a penguin coming up from Antarctica. When done with college, I eagerly set out to see the world—I assumed, as did those who knew me, that I'd return home once I'd had my fill of adventure in far-away lands. That was 52 years ago.
As happens, one thing led to another and another, and gradually the places and people of my youth slipped into the past. Somewhere along the way, without much fanfare, I became an American citizen and, rather unexpectedly, a farmer.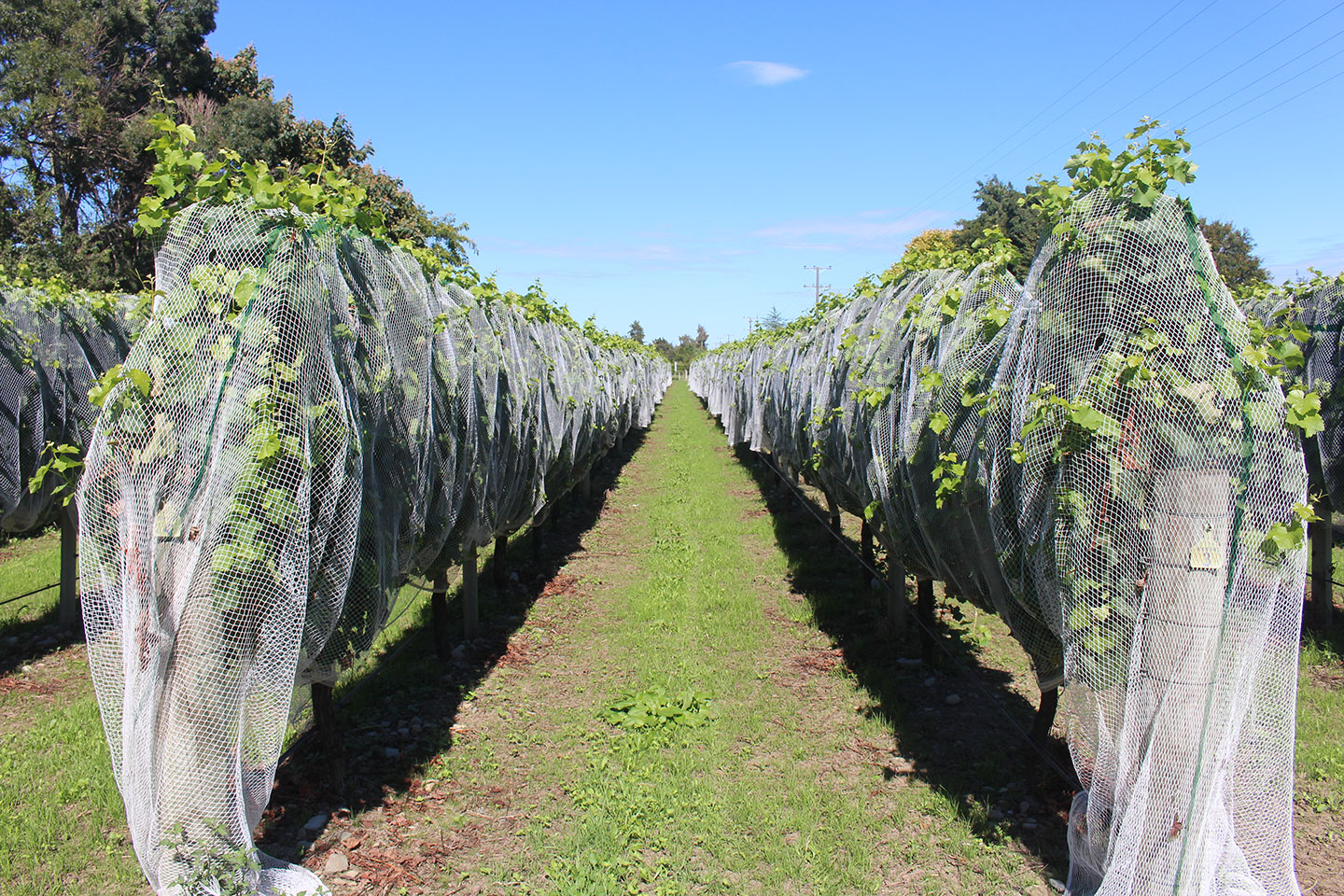 In February, my wife Flavia and I took a long-overdue trip to the land of my birth to revisit my two sisters, their families and a few remaining old friends. I also wanted to soak up as much of New Zealand's personality and impressive landscape as I could—more than a vacation, our month-long trip was, at least for me, a pilgrimage of sorts, with a valedictory undertone.
New Zealand's indigenous Maori people called their home Aotearoa (The Land of the Long White Cloud). It's a fitting name: The country is made up of two main, elongated islands oriented north-south, that stretch about a thousand miles. Both islands are dominated by high mountain ranges over which white clouds often lie.
Modern New Zealand is a very different place from the somewhat old-fashioned, largely Anglo/Irish/Scottish middle-class backwater of the British Commonwealth I grew up in. Today, one gets the impression that it's a vibrant young country on the move, culturally and ethnically diverse, pleasantly civilized, open-minded, quite tech-savvy and, above all, comfortable in its own skin. The new prime minister, Jacinda Ardern, is 37 years old and the third female to hold that office in the past 20 years.
Meals in New Zealand used to be very much in the English mold: meat (usually lamb), potatoes and an overcooked vegetable. Spices were limited to salt and pepper. Today, even in mid-sized towns, you might have a choice of Indian, Chinese, Malaysian, Middle Eastern or other cuisine at any number of restaurants, usually operated by recent immigrants from those parts of the world. As for "fast food," the country now has its share of McDonald's and KFCs, too. (If you must have fast food, fish and chips are still the best. Or perhaps a hearty meat pie.)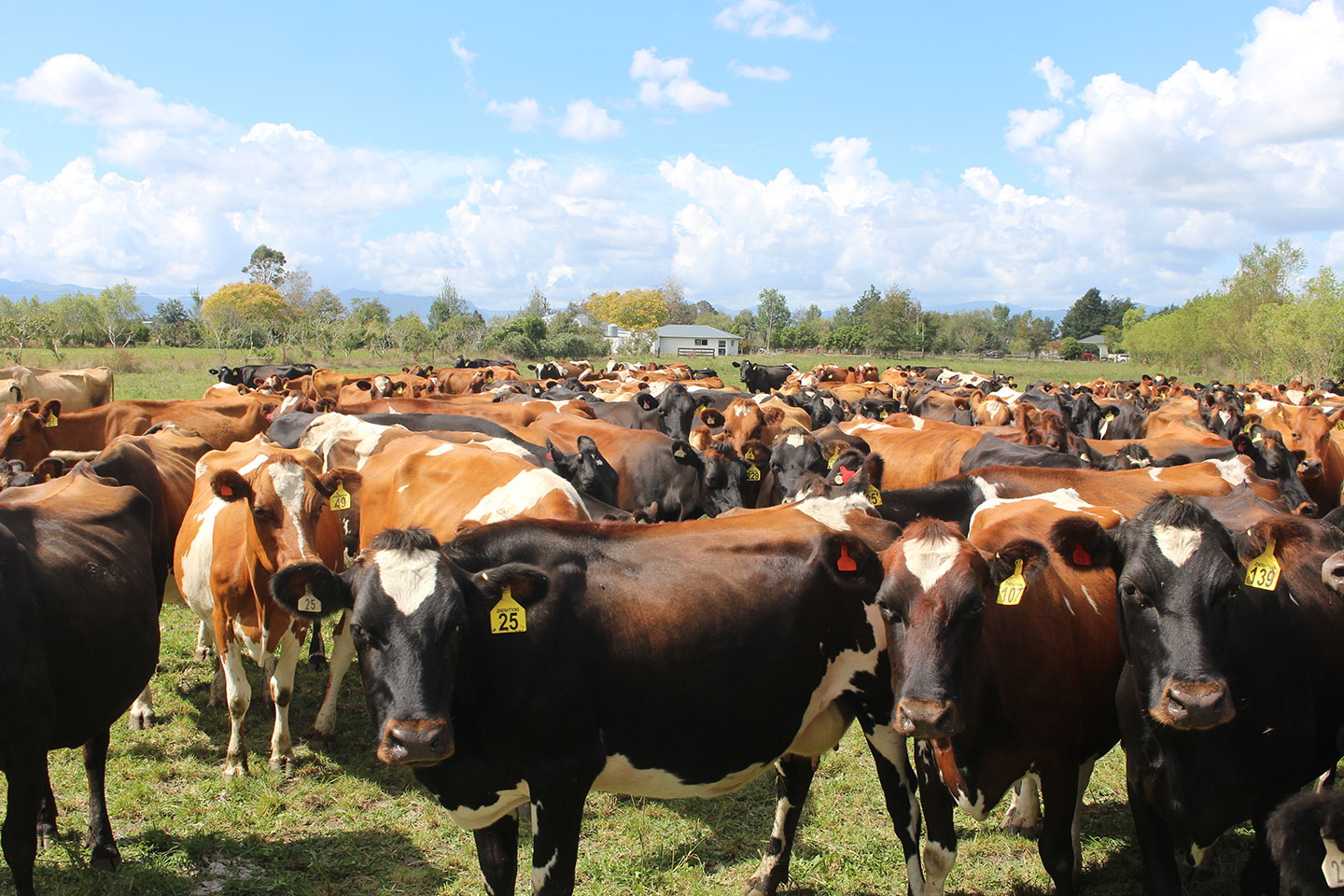 Agriculture remains the country's dominant industry. There still are a lot of sheep (30 million of them, though that's only half as many as there used to be), but now there are 6.5 million cows (many more than there used to be). New Zealand is the world's largest exporter of dairy products, lamb and mutton. Beef, wine, wool, avocados, kiwi and other sub-tropical fruits also loom large on the country's agricultural menu. All of them fuel economic growth.
New Zealand has a true temperate climate. It rarely snows in New Zealand, except in the mountains, and in most areas, adequate rainfall allows for year-round grazing of sheep and cattle. (If you ask someone if the meat on your plate is from grass-fed animals, a New Zealander will tell you disdainfully, "Everything's grass-fed here.")
One of my sisters lives in the Bay of Plenty, half-way up the Pacific coast of the North Island. The region features beautiful, sandy beaches and a sunny, warm climate that attracts tourists from all over the world. It is known for its geothermal energy and thriving agriculture and forestry industries. We stayed in a town called Te Puke, which promotes itself as the "Kiwi fruit capital of New Zealand." Nationally, kiwi fruit (in my youth called Chinese gooseberries; some marketing genius came up with their current name) bring in the equivalent of $3 to $4 billion US annually. Most of them are shipped to China, Taiwan and Japan, though some make it to America.
The roads in the Bay of Plenty traverse many miles of kiwi orchards, impressively trellised and protected—and weed-free. It was dismaying to see the numerous signs alerting the public to herbicide and pesticide spraying schedules, and it didn't seem to be a coincidence that, in this otherwise photogenic and pristine environment, there were virtually no birds (or insects, for that matter).
It was the same story in some other parts of New Zealand. In the Marlboro area, we encountered vast plantings of glistening and spotless grapes—but nary a bird or bug to be found. No doubt, things are much the same in Southern California, in the Napa Valley and in the vast corn and soybean deserts of our Midwest, as well as in many other parts of the world that practice intensive, chemical-dependent monoculture.
Apparently, export markets require flawless products, at least in appearance, and are unconcerned about the environmental costs and harmful effects spray residues can have. For a young, progressive country with a "clean-and-green" image, not to embrace a more environmentally friendly agricultural model seems like a lost opportunity. How far down this path can New Zealand and other chemically driven food-producing nations go without seriously (perhaps even permanently) degrading their soil, water and biotic base?
There are some bright spots on the horizon, however. A small but growing number of New Zealand farmers recognize the need to reduce chemical use and take better care of their land. We visited a few of them.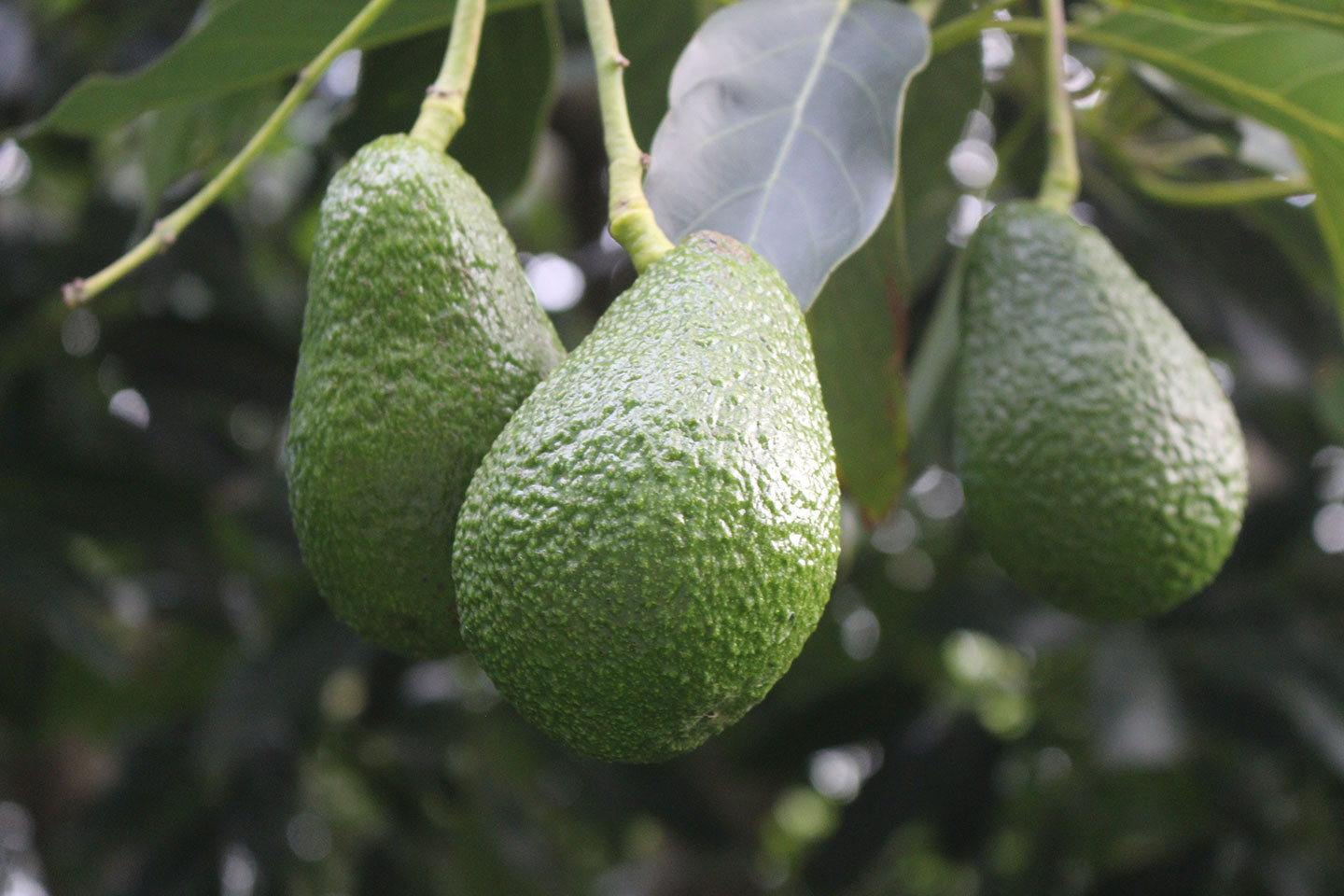 Graham Reid, an organic farmer near the Bay of Plenty, grows grapes, avocados, feijoas (an egg-shaped fruit with a creamy, jelly like flesh that tastes of guava, pineapple and strawberry) and tamarillos on some 25 acres. When we visited him, Reid had just discovered a mealy bug infestation in his almost-ready-to-harvest grapes. He was distraught, but as we chatted, he became philosophical (a temperamental necessity for organic growers).
Reid also manages a small herd of beef cattle and offers a get-away-from-it-all glamping experience for tourists. Glamping, we learned, is a newly coined term for "glamorous" or "luxury" camping. Billed as a "romantic retreat" for couples who like to hang out under canvas, Reid's spacious tent accommodations feature "essential amenities" such as a generous bed, hammock for two, rustic furniture, barbecue pit, outdoor bathtub and ample privacy—and an assurance that no chemical pesticides are used on the grapes and avocados growing a few hundred feet away. (oldcoachoasisglamping.com)
We then visited Jeneraytions Farm, an organic dairy run by Ray and Jen Ridings, their son Grant, and his American wife, Jayme. The day we showed up, the Ridings were hosting a get-together and information-sharing session for a couple of dozen other organic dairy farmers, most of whom belong to the recently formed cooperative, Organic Dairy Hub New Zealand.
Dairy is big business in New Zealand. Fonterra, the country's largest company, is a multinational dairy cooperative owned by some 10,000 New Zealand farmers. Fonterra's focus is on conventional dairy farming, and it is responsible for a staggering 30 percent of the world's dairy exports, with annual revenue in excess of $12 billion US. But all those cows take a toll on the land, and the enormous amount of manure produced inevitably finds its way into rural streams and rivers. The result is a growing water pollution problem.
Because the company in recent years has become less willing to accommodate organic farmers (in many instances leaving them without milk contracts), the Organic Dairy Hub was formed to bypass Fonterra and build market channels for farmers committed to organic methods. It's a small entity compared with Fonterra, but it is growing: In 2015, there were 80 organic dairy farms in the co-op; by 2017, the number had jumped to 145.
While at Jeneraytions Farm, we learned about challenges facing farmers who have sworn off chemicals—such as animal health, pasture management, soil fertility—and how New Zealand farmers are facing those challenges. Though stocking rates (the number of cows allotted per acre) vary from farm to farm depending on soil and climactic conditions, rates on organic dairies are invariably lower than those on their conventional counterparts. Lower stocking rates mean fewer cows, but also less water pollution and a lighter environmental footprint.
In the Wairarapa region (an hour or so north of Wellington, the nation's capital), I spoke, by telephone, with Jeremy Howden, a successful and long-time grower of organic vegetables. In 2015, Howden sold his business to the Canadian movie director James Cameron (Titanic, Aliens, Avatar, etc.), who has a strong interest in organic farming and has purchased several thousand acres in the Wairarapa.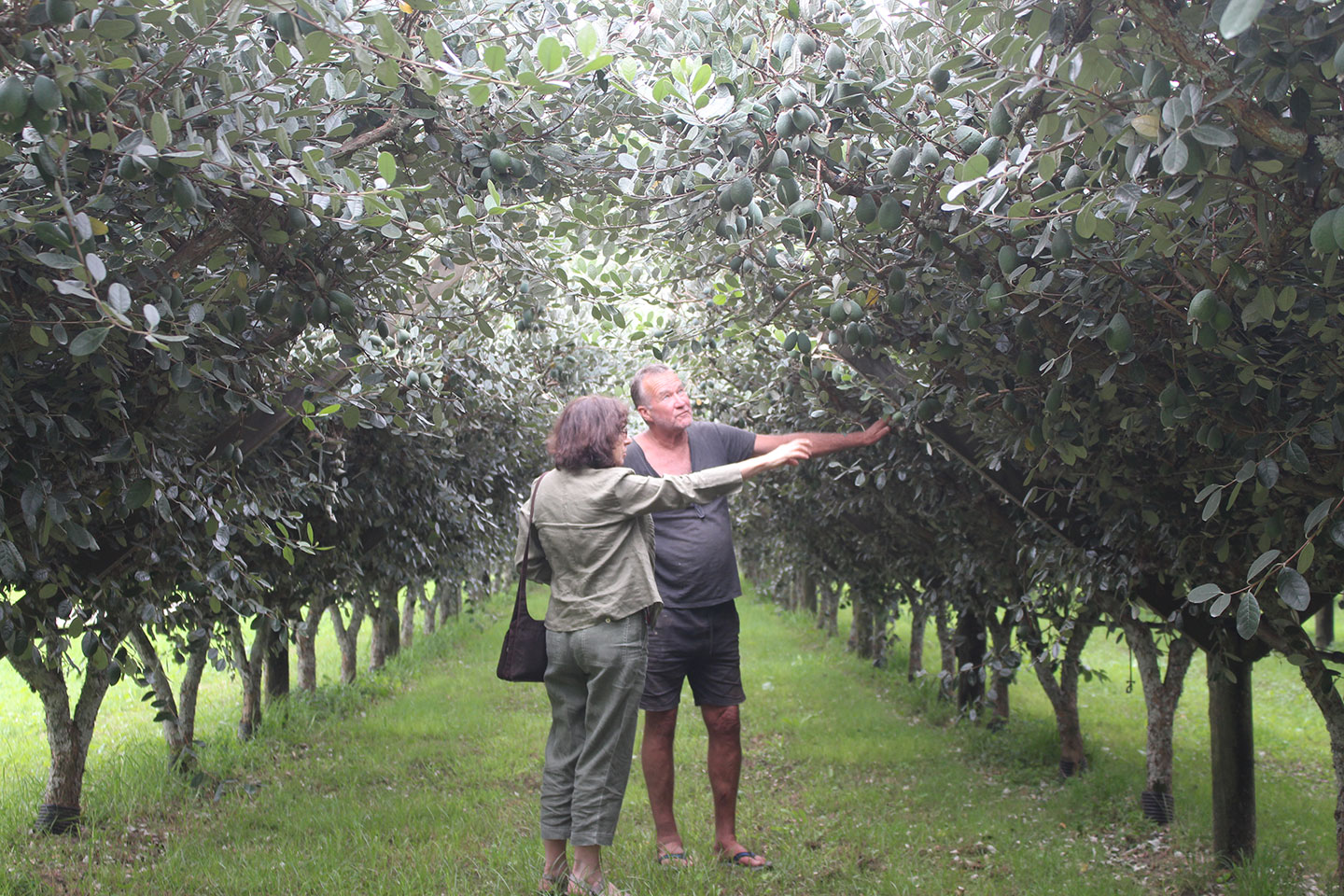 Howden believes the export and domestic markets for organic products from New Zealand have great, untapped potential, yet he also laments that the organic movement in New Zealand is patchy, at best, and in many instances woefully undeveloped. Almost all the best cropland, he says, is under chemical management. The country has very few local farmers' markets, and CSAs are virtually unknown. (In the city of Whanganui, where my father was born, we did find an open air market with a stand selling "organic garlic.") Organic products that do exist are sold mostly through health food stores rather than supermarkets. Howden thinks what the country needs is "new blood" to usher in a more sustainable food system. He's hoping for a little help from the government, which thus far has been unwilling to challenge the status quo.
On the long flight back from Auckland to New York, there was much to digest. The land of my youth is still a remarkable place and it has come a long way in my lifetime. It is inclusive, practical, energetic and dynamic. It is also captive to a global, extractive model reminiscent of colonial times and characterized by intensive production and export of earth-based resources. This model produces wealth (at least for some) and a degree of well being, though it simultaneously undermines the land itself and its ecological underpinning.
To sleep well at night, I have to believe that the Land of the Long White Cloud, like much of this precious planet, is waiting for a new, more holistic and life-affirming model to be born.