Serves 16
Ingredients
40 cherrystone clams
1 thick slice of bacon
1 small onion, diced
1/8 teaspoon minced garlic
1 carrot, diced
5 tablespoons dried oregano, divided
1/2 red bell pepper, diced
1/2 green bell pepper, diced
1 Yukon Gold potato, diced
2 stalks celery, diced
20 ounces Italian plum tomatoes
1 bay leaf
1 sprig fresh thyme
1 splash Tabasco sauce
6 tablespoons Worcestershire sauce
Method
Shuck clams, reserving the juice. Rinse the clams well, and coarsely chop. Pass the juice through cheesecloth to strain.
In a large, heavy-bottomed pot over medium heat, brown the bacon until golden.
Add onion, garlic, carrot and 1 tablespoon oregano to bacon, and sauté until vegetables are tender, about 4 minutes.
Add peppers, potatoes, celery and chopped clams. Squeeze the tomatoes by hand to crush, and add to pot.
Add bay leaf and thyme. Wrap remaining oregano in cheesecloth and tie closed, then place the sachet in the pot.
Add clam juice, and bring to a boil.
Add Worcestershire sauce and Tabasco sauce, and let soup simmer for approximately 10 minutes, or until potatoes are tender.
Remove bacon and oregano sachet before serving.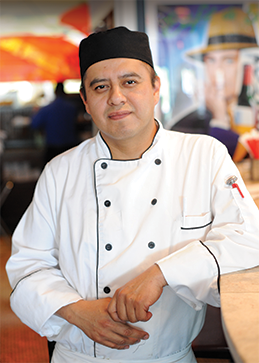 Chef Arsenio Flores, of Eastchester Fish Gourmet, knows Manhattan clam chowder inside and out—he's been making the Scarsdale restaurant's version for more than 10 years. "Clam chowder" most often evokes visions of a creamy white soup (the New England version), but a broth-based tomato version has been on tables in the Northeast since at least the early 1900s. It was first popularized by Portuguese immigrants in Rhode Island, drawing on their native tomato-based stews. Flores crushes plum tomatoes by hand, so the chunky vegetable's flavor stands up to the briny pieces of clam.