The delicious recipe by Molly Baz, former food editor and Rhinebeck native, features zucchini topped with salty, fresh flavors.
Valley Table recommendations are objective, unbiased, and curated by the editorial team. If you buy something through our links, we may earn an affiliate commission at no cost to you.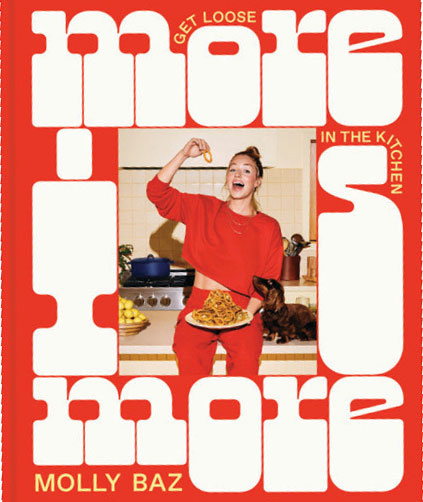 Chef and food writer Molly Baz has fine-tuned having fun in the kitchen. After a five-year stint as a food editor and video host at Bon Appétit, the Rhinebeck native began developing her own recipes full-time. In 2021, she released her first cookbook, Cook This Book, to much acclaim and earned a spot on the New York Times bestseller list. This fall, she's back with More is More: Get Loose in the Kitchen, another inventive, full-of-personality cookbook packed with easy, flavorful, and yes fun, recipes.
I've done a lot of hating on zucchini in my day, but I've come around, okay? Here's the thing: if you know how to treat it right, zucchini is a sponge for flavor. In this recipe, you'll use zucchini (or summer squash) in two ways: raw and pan-seared. As the zucchini sits in a vibrant, garlicky, tangy, minty marinade, all that flavor is absorbed into its flesh. The fried sunflower seeds on top add a necessary salty crunch.
Marinated Zucch & Mozz With Fried Sunflower Seeds
Ingredients
Produce

3 pounds zucchini or summer squash (3 or 4 medium)

1 garlic clove

1 bunch of mint

Dairy

6 oz. fresh whole-milk mozzarella cheese

Pantry

Kosher salt and freshly ground black pepper

¼ cup white wine vinegar

5 Tbsp extra-virgin olive oil, plus more as needed

A pinch of sugar

3 Tbsp raw sunflower seeds, pepitas (pumpkin seeds), or sesame seeds
Directions
Prep the Zucch and Mozz
Slice half a zucchini crosswise very thinly and place in a large bowl.
Cut all the remaining zucchini (including the other half of the sliced zucchini) in half lengthwise. Using the tip of a sharp knife, score the zucchini flesh in a crosshatch pattern. Season with salt.
Tear 6 ounces mozzarella cheese into bite-size pieces.
Make the Marinade
To the bowl of sliced zucchini, add ¼ cup white wine vinegar, 3 tablespoons olive oil, 1 finely grated garlic clove, a pinch of sugar, a big pinch of salt, and some freshly ground black pepper.
Firmly whack about half of the bunch of mint against your cutting board to release some of its essential oil. Add the whacked mint (stems and all) to the marinating zucchini and stir well to combine—the mint will flavor the marinade as it sits. Add the torn mozzarella and let it all marinate.
Cook the Zucchini
In a large cast-iron skillet, heat a few big glugs of olive oil over medium-high heat until smoking. Pat the zucchini halves dry (they will have expelled some liquid) and arrange in the skillet, cut-side down. If it doesn't all fit, work in 2 batches. Cook, undisturbed, until well caramelized on the cut side, 5 to 6 minutes.
---
Related: Improve Gut Health With These Fermented Foods in the Hudson Valley