FOLLOW THE BACK ROADS around the Croton Reservoir in Mt. Kisco, head up a tree-lined hill and suddenly the view opens up to a bucolic landscape of estates and small farms that, from a red tailed hawk's perspective, are neighbors of Target, strip malls and the Sawmill Parkway of Westchester County. There's barely a hint that there's a working farm here, but once Mimi Edelman and Luke, her vociferous Italian Spinone, arrive, the place comes alive. Edelman is a bundle of energy mixed with passion that wholly embraces everything and everyone that comes into her orbit.
"My father would be happy to know I grow organic and biodynamic. He used chemicals that are no longer on the market. Now, rather than take from the soil, growing biodynamic connects me to the earth, teaches me respect for it and allows me to put in ten times what I take out."
​Edelman grew up on the shore of Long Island Sound, eating "sustainable and seasonal" from both land and sea. "When I was a kid, I used to leave the house with a bottle of Wish Bone dressing in hand to accompany anything I would forage. We ate deer, pheasant—and anything that came out of the water. Of course, I just wanted to eat Cheetos, like my friends," she says with a big laugh. "My father would be happy to know I grow organic and biodynamic. He used chemicals that are no longer on the market. Now, rather than take from the soil, growing biodynamic connects me to the earth, teaches me respect for it and allows me to put in ten times what I take out."
In 2000, Edelman joined the "rough-and-tumble group that had a playground and best schoolyard possible," a.k.a. Cabbage Hill Farm. The 170-acre farm, started by Nancy Kohlberg, was a breeding ground for farmers. There they could experience everything from rotational grazing livestock to organic and aquaponic farming. "Every day was different," Edelman remembers. "It was a great way to learn the art of farming and develop the sense of social responsibility that comes with it."
After eight years at Cabbage Hill, Edelman and a partner found land through the Westchester Land Trust Farmland Match program and established I & Me Farm. There's not much to look at on the four acres on Bedford's Wood Road they lease for free–an uncovered hoop house (its plastic blown away by Sandy), a few seedlings in small growing cups and rows of low-growing vegetation are the only indications that this is a working farm.
Edelman's working relationship with chef Jeremy McMillan began soon after the farm was started. "There are challenges, but there are no two individuals who can embrace each others' work as well as a chef and a farmer," she notes.
Today, Jeremy McMillan, Executive Chef of The Farmhouse at the Bedford Post, is making one of his regular visits to see what Edelman has coming out of the ground now and in the next few weeks. There will be a few surprises, but McMillan has a solid idea of what to expect because he and Edelman started planning the farm at their annual February planning meeting. "I love our February meetings," she says. "We spread everything out on the table, look at where Jeremy and I have traveled, and we usually find a telepathy that leads us to the same wish list for the growing season."
That's not to say that they don't sometimes miss the mark, telepathy or no telepathy. "Sometimes I do the 'ridiculous chef' thing and ask for vegetables that I just know are not in Italy," McMillan says, adding, "I came back to this kitchen for this relationship—New York City is a great place for accolades, pushing limits and great pay, but I can't have the relationship with a farmer like I do with Mimi—we can have a very honest and frank relationship about what works and what doesn't and keep moving forward."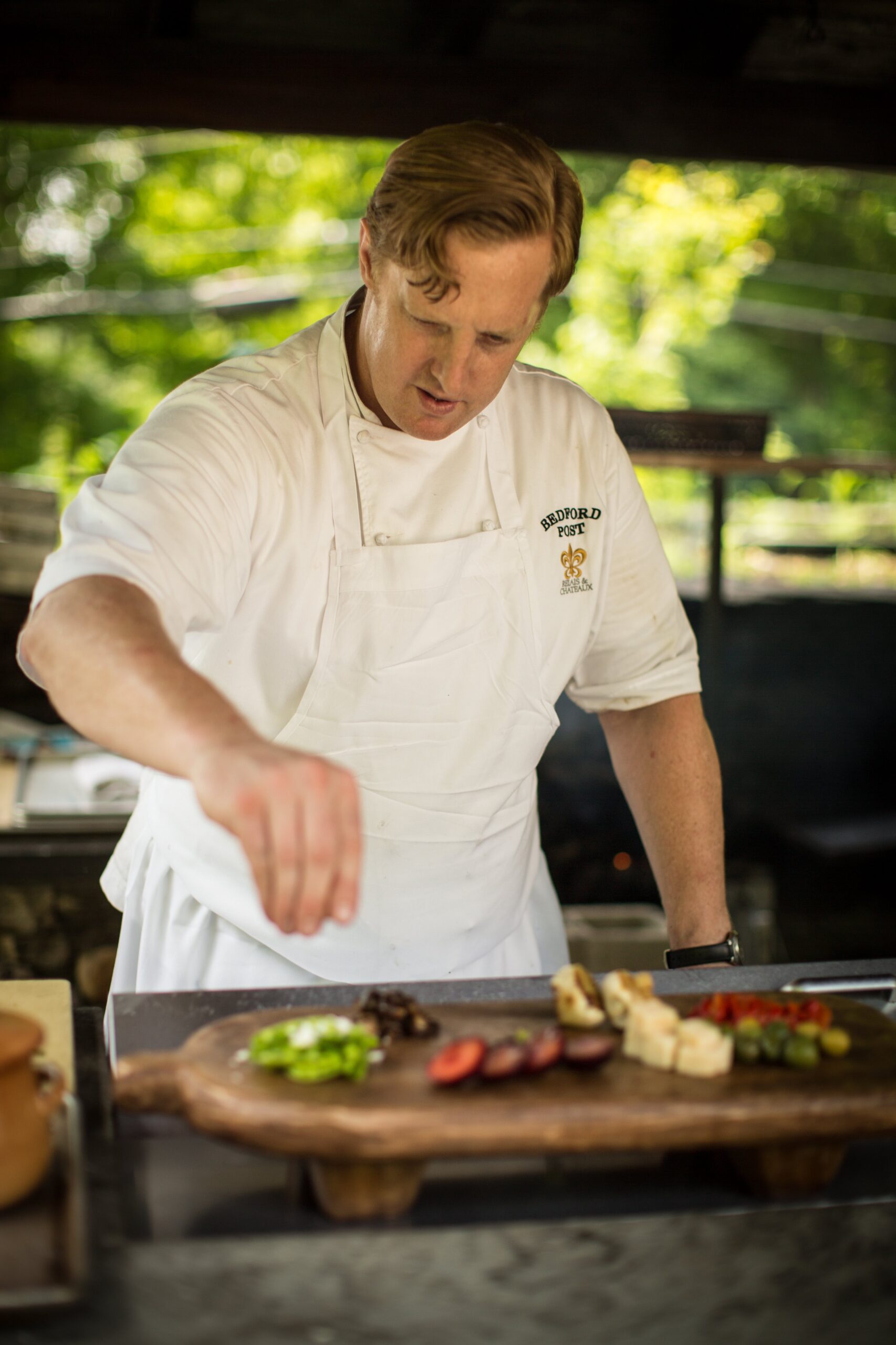 This season, Edelman is growing a variety of produce, per McMillan's requests. Emails and subsequent deliveries have included purple haricot verts, dragon tongue beans, a variety of radishes (including the French breakfast variety), as well as assorted herbs and greens. To say the products are "fresh from the farm" is an understatement. "She picks for us, so sometimes the product hasn't even been out of the ground for an hour," McMillan says. "We have to wash it and cool it down for the plate—sometimes it never hits refrigeration. Because of our close relationship, Mimi knows to pick things for us depending on what we are looking for. Like, when the purple beans are just flowering—we like to serve those raw."
Watch McMillan in his outdoor kitchen at The Post and you immediately understand his entire raison d'etre is relationships. When he came to head the kitchen, he decided to move the cooking of most proteins to an outdoor grill and oven, both wood-fired. "It's more efficient to cook inside, but unsatisfying," he stresses. "It's not that I wanted to cook in an open kitchen—I wanted to be closer to our customers and their experience of the food and restaurant. When I see a couple on a first date and the ticket says 'hold the garlic,' I get to see why. It connects me to the people enjoying our food."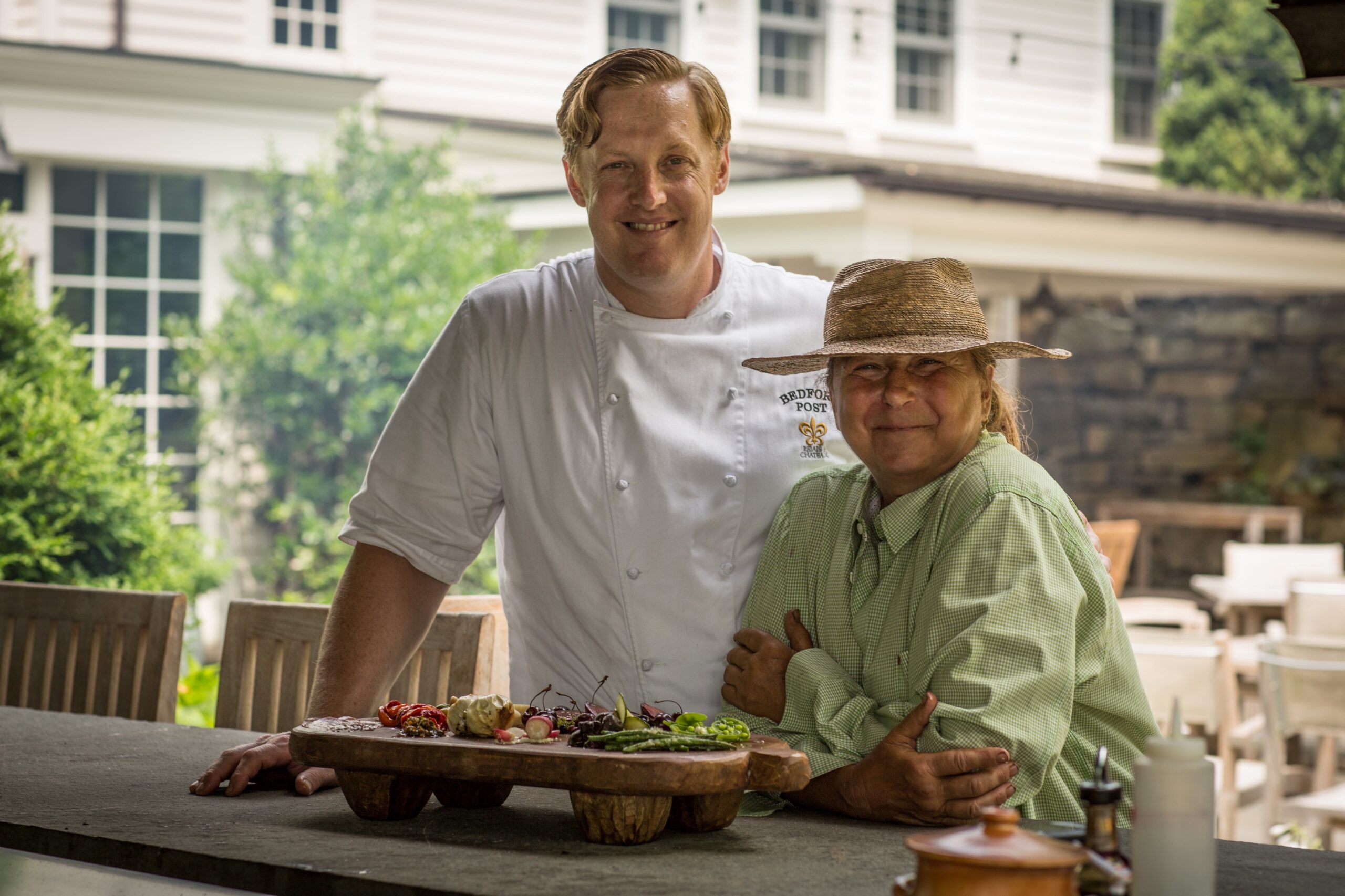 The cuisine at The Bedford Post shifted when McMillan moved back in as executive chef three years ago. His love of Italian cuisine and the technique behind it was honed by his early work at Red, in Napa, and then solidified during his first stint at The Post, and then in his chef de cuisine position at A Voce Columbus, in Manhattan. It didn't hurt that Post owner, Richard Gere, is passionate about what McMillan calls "an Italian state of mind" that now permeates the menu, the service and the general attitude at The Bedford Post.
That state of mind includes the tight bond that McMillan has with Edelman. "When I drop off a delivery and Jeremy tells me that the flavor notes in the last beans were 'amazing,' I feel inspired, and I can't wait to get back into the field," she beams. "If Jeremy is cooking from his heart and I am farming from my soul, that's going to translate to the diner, consciously or unconsciously."