LARGE-SCALE MUSHROOM production, once a booming business in the Hudson Valley, has shifted almost entirely to Pennsylvania, but in its wake a few small companies and farms have emerged and, spurred on by chefs, they are bringing wild and gourmet mushrooms to the table, year 'round. In a season filled with root vegetables and storage crops, these flavorful fungi can be a welcome addition to winter menus.
In the valley, two very different companies fill a niche that barely existed 25 years ago. Inside the temperature-controlled growing house at Wiltbank Farm, in Saugerties, dozens of packages of "inoculated" straw hang from the ceiling, like so many punching bags. Brightly colored oyster mushrooms poke out of the bags in clusters, and shiitakes sprout from small, artificial logs. A couple of hours or so south, in the walk-in cooler at Mushrooms and More, a small mushroom-distribution company in White Plains, up to 30 varieties of mushrooms, from the Japanese delicacy matsutake to wild-foraged chanterelles and chicken-of-the-woods, fill carefully packed boxes, stacked to the ceiling.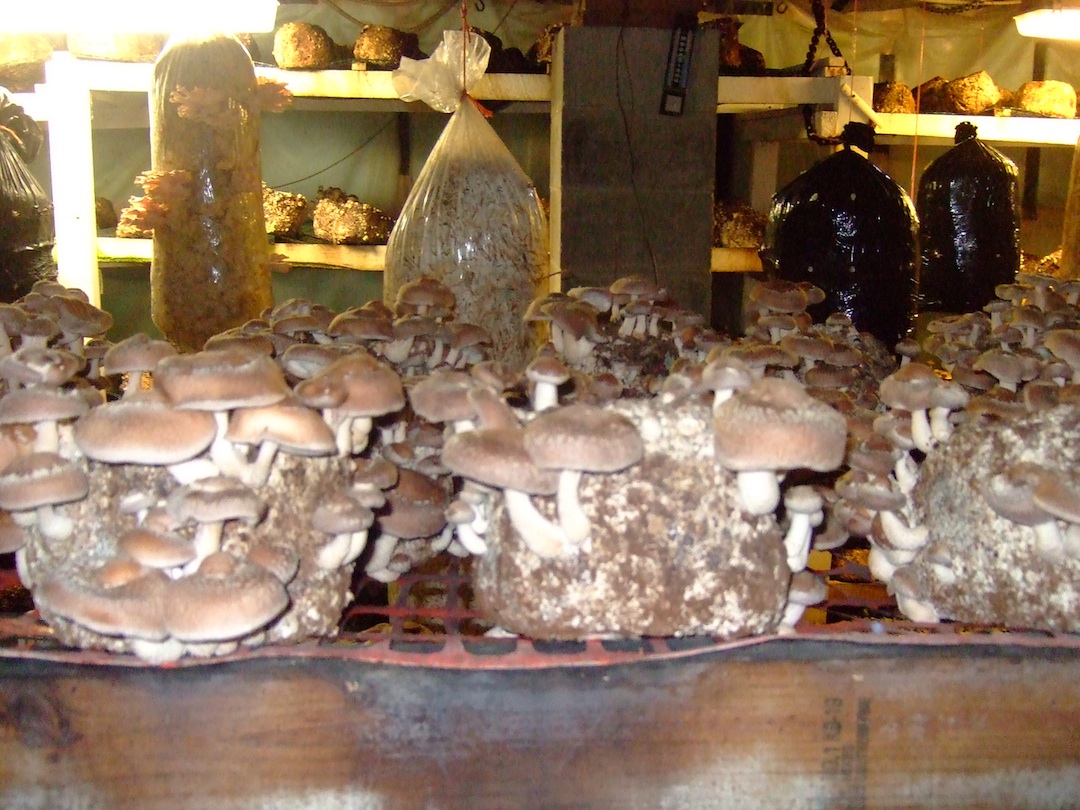 For culinary purposes, mushrooms loosely fall into two categories—those that can be cultivated and those that can't. Dozens of wild varieties, primarily those that grow on dead organic material like fallen tree trunks, hay or compost, have been converted to domestic cultivation. These include shiitake, oyster, enoki and the ubiquitous white mushroom, also known as "champignon," which was domesticated in the 1800s. This species, which also includes crimini (a brown variant) and portabella (actually overgrown criminis), accounts for 90 percent of all mushrooms cultivated in the U.S. Technically, mushrooms that grow in symbiosis with a living organism, or as a parasite on a living organism, cannot be cultivated (not that people haven't tried). Such "wild" mushrooms include chanterelles, morels, porcinis and black trumpets, all of which can command high prices at market.
Gary Wiltbank has chosen to cultivate only shiitakes and oysters on a very small scale. "They have character," he says.
Their earthiness and fragrance complement so many things, even just as a garnish.
In a time when nearly everything can be replicated and manipulated, mushrooms don't make it so easy, which is perhaps part of their appeal to the culinary crowd. "A lot of times you can't even tell where wild mushrooms will come up, or even if they'll come up at all," says Hans Johansson, who founded Mushrooms and More nearly 25 years ago. Foragers, trained to spot the bright yellow of a chanterelle or a morel's gullied cap, spend hours scouring the forest floor.
But even cultivated mushrooms can be finicky and difficult, and the growing process is so labor intensive and exact that few people are willing to take it on as more than a hobby.
The desire for gourmet mushrooms has been fueled in large part by chefs, perpetually on the lookout for unique and authentic products. They are the primary customers of both Johansson and Wiltbank. Johansson started his business catering to markets but shifted his focus to restaurants almost immediately. "With stores, it's a vicious cycle," he says. "They don't understand how to handle the product. Mushrooms sit on the shelf without proper packaging, get old and dried up, and you're left with rotten mushrooms on the shelf and no one will buy them."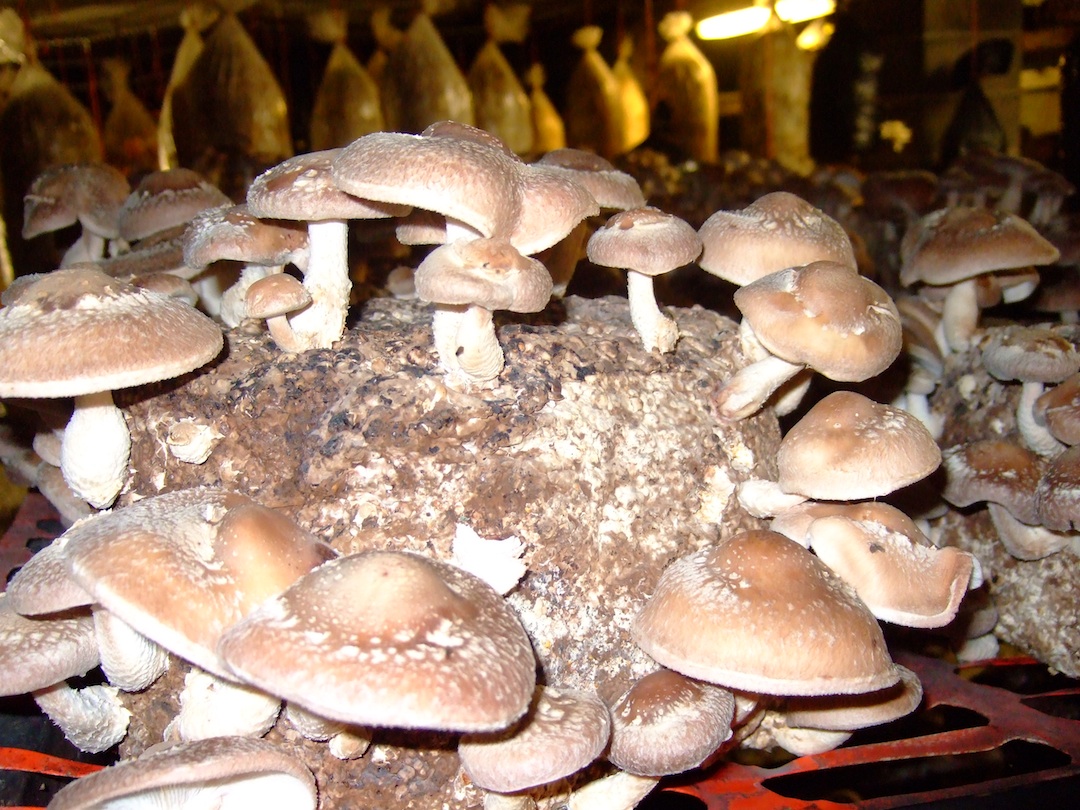 Chefs, it seems, are more knowledgeable, and appreciative. "Mushrooms are very exciting," says Kevin Katz, of The Red Onion in Woodstock. "Their earthiness and fragrance complement so many things, even just as a garnish." The strong flavor of mushrooms means that a little can go a long way (a good thing, considering a little can sometimes cost a lot). Like most chefs, when Katz gets the opportunity to purchase wild-foraged mushrooms, he does so without hesitation. "I load up and indulge," he says. "I know I can't afford them all year round, but when I can, I'll use them in anything."
Johansson carries wild-foraged mushrooms from as close as Connecticut and New York, and from as far as South Africa and China, and local chefs are thrilled. Mushrooms and More moves several thousand pounds of mushrooms per week to the kitchens of some of New York City's best chefs, including Jean-Georges Vongerichten, Alain Ducasse and David Bouley. Some Westchester chefs have become clients as well, including Lesley Sutter, chef at Flying Pig in Mt. Kisco. "They know they're getting top quality from us," Johansson stresses, "and they know what to do with them."
One of Johansson's employees, himself a former chef and customer, sees the demand for mushrooms as timely. "Mushrooms fit into so many things that chefs are trying to do right now," he says. "They're conscious of the environment, of working more with seasonal ingredients and of understanding sustainable agriculture. Mushrooms just fit into all of those things." In a time when farming practices can come under close scrutiny, the sustainability of mushroom foraging and cultivating (when properly done) holds great appeal for conscientious cooks, whether at home or in a professional kitchen.
Wild mushrooms are sustainable by default, a necessary component to the ecosystems of forests and fields; with cultivated mushrooms, however, successful production can be hit or miss. According to Wiltbank, large-scale commercial mushroom farming can be very chemically dependent—unnecessarily, in his view. Wiltbank uses straw from Amish farms in Pennsylvania to grow oyster mushrooms, and composts it when he's done. He doesn't require much space to grow, and packs mushrooms in used grape boxes from California, which otherwise would be discarded. "It's not a get-rich-quick scheme" he says, "but it is sustainable."
Admittedly, mushrooms are a bit of an unknown element for many—pick the wrong one in the forest and you could die; pick the right one and it could be a key to curing a disease. Experiments have even shown that certain mushrooms can break down toxic compounds in waste dumps, rendering the material harmless. "Mushrooms have always had this mystique about them," Johansson says. "They grow in dark, damp woods; they have this amazing variety of flavors; and people really believe they have healing properties." Mushrooms may hold secrets, and that's a good case for preserving their environments. "It's not just a bunch of trees and a few endangered owls," Johansson concludes. "It's a whole system—one intricate organism—and mushrooms are a part of that."