IN THE WORDS OF GARRETT OLIVER, the award-winning brewmaster of Brooklyn Brewery, "If you've tasted only mass-market beer, I'm afraid you haven't actually tasted beer at all. Real beer is to mass-market beer like a loaf of fresh-baked bread is to store-bought 'Wonder' bread."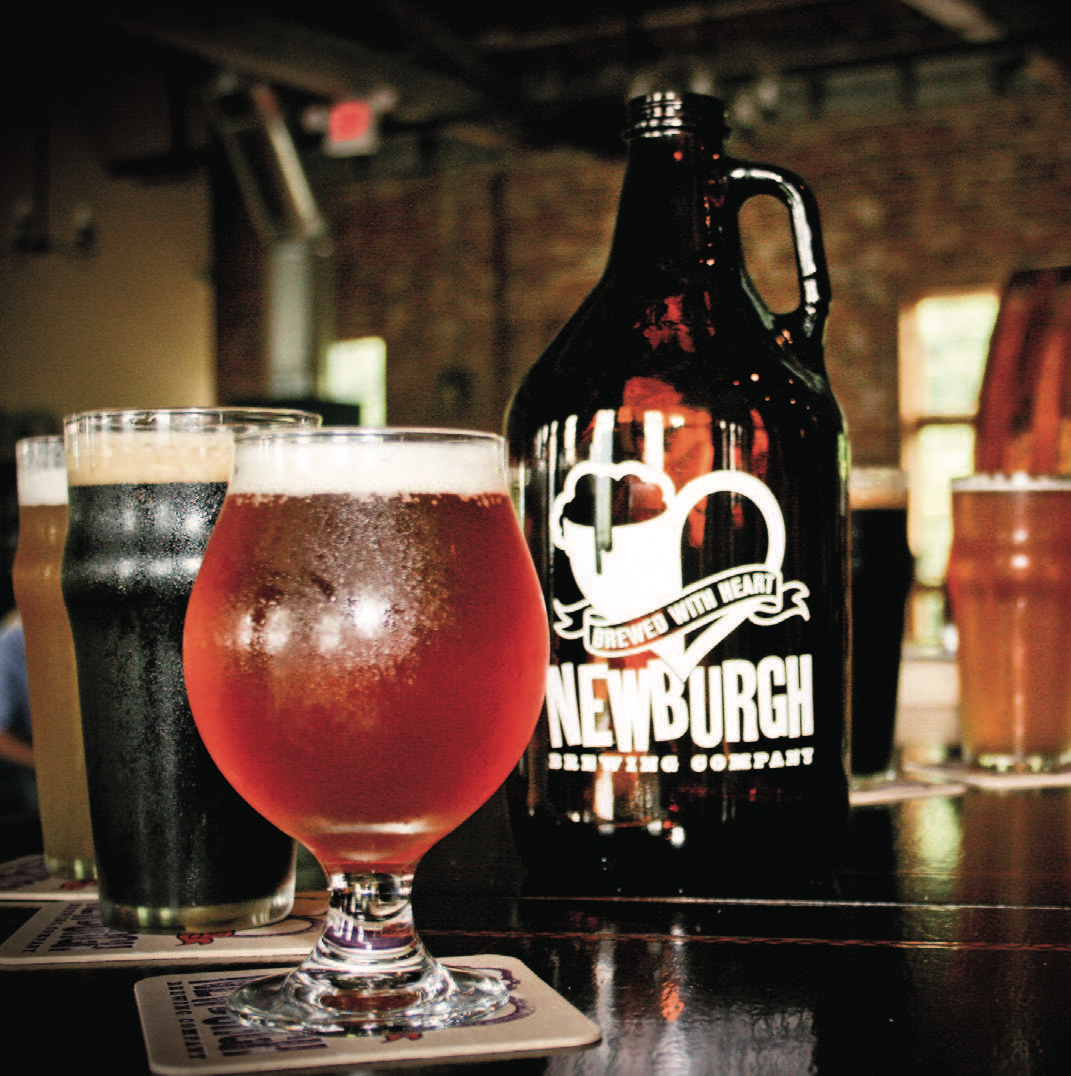 Oliver, the former boss of Newburgh Brewing Company brewmaster Christopher Basso, should be proud that Basso, who worked as a brewer at Brooklyn Brewery, is now crafting real beer in the brewery he recently started in Newburgh with his high school friend, Paul Halayko (a CPA, a.k.a. "The Numbers Guy"). In August, Basso and Halayko learned their Cream Ale had been awarded a 93 (Exceptional) by Todd and Jason Alstrom (a.k.a. The Bros), who run the Beer Advocate magazine and website. Basso had said he wanted to make sure he's ready before his old boss comes to visit.
He's ready.
Henry Hudson was the first European to reach Newburgh and his first navigator declared it "a pleasant place to build a town." General George Washington used it as the headquarters for the Colonial Army for the last year-and-a-half of the Revolutionary War and it was the place where he awarded the first Badge of Merit, later known as the Purple Heart. (Newburgh Brewing Company honors this distinction by topping its beer handles with custom-designed metal hearts with beer frothing over the side; its motto is "Brewed with Heart.")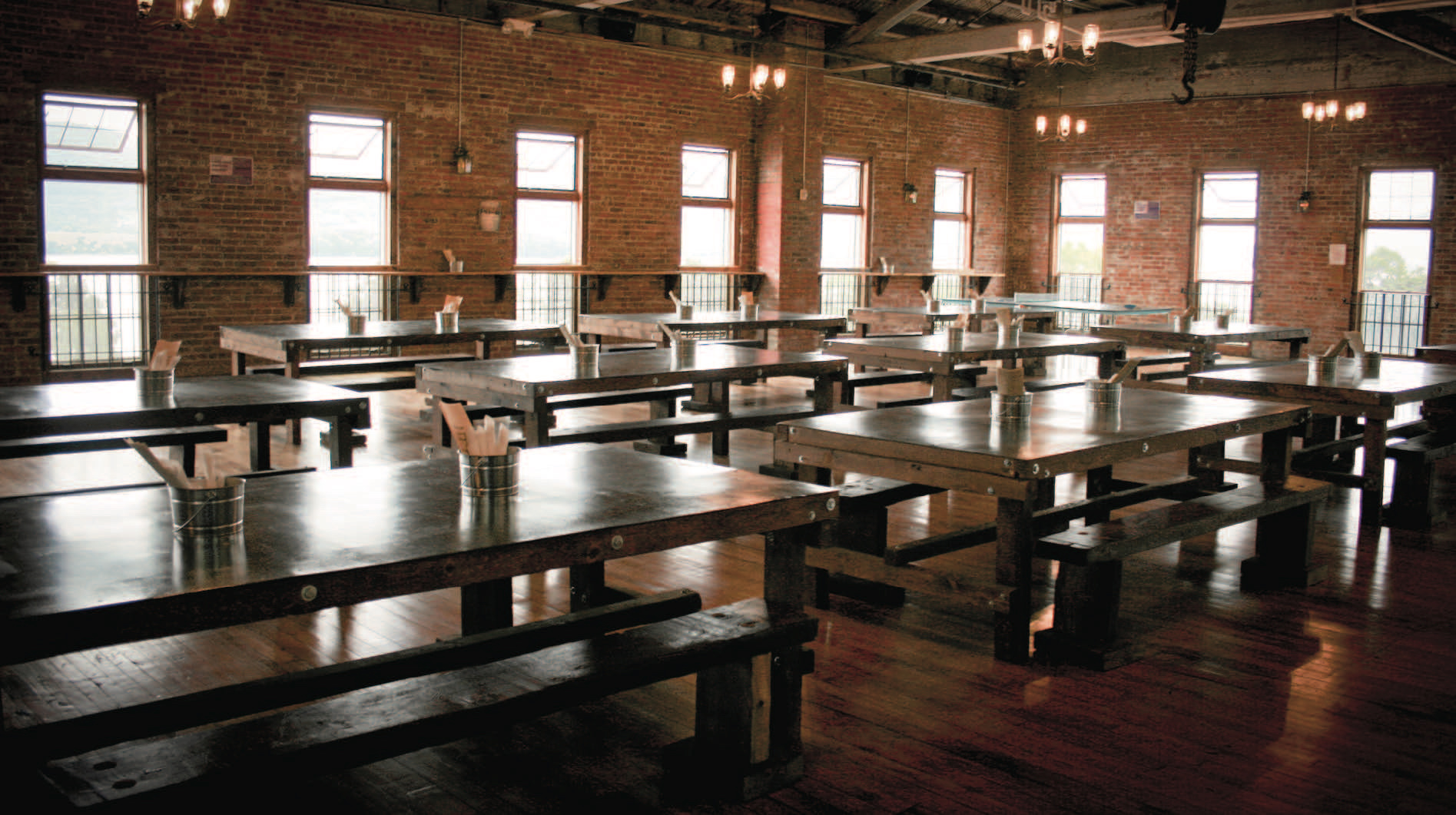 Newburgh once thrived as an important transportation hub and industrial center. Thomas Edison built one of the country's first power plants here in 1884, and it's where RCA tested its first televisions. The city's centerpiece is a gorgeous, 35-acre park created by Calvert Vaux and Frederick Law Olmsted (creators of Manhattan's Central Park) to honor their mentor, native son Alexander Jackson Downing (often called the Father of American Landscape Architecture). The city fell on hard times when trucking replaced shipping and the Newburgh-Beacon Bridge simultaneously bypassed the Newburgh waterfront and killed off its ferry service. In the 1970s, a failed city planning initiative demolished most of the buildings overlooking the river and replaced them with, well, nothing. One of the few buildings in the area that was not destroyed belonged to the Newburgh Paper Box Company, which closed in 1980. The building originally was built in the 1850s as part of the William Wright Steam Works (the company's steam engines were used to build, among other things, the Brooklyn Bridge.)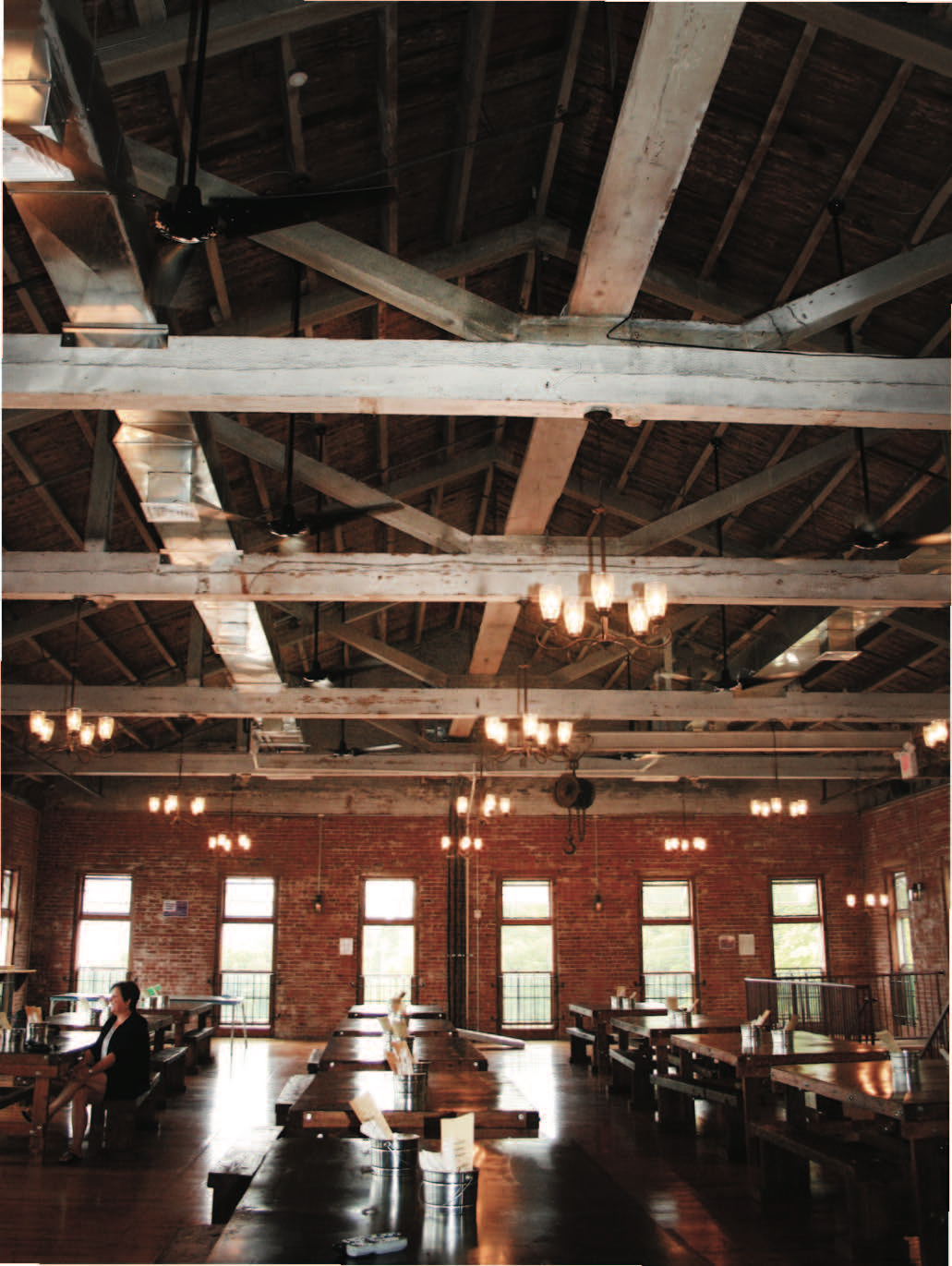 ​Basso says he has had his eyes on Newburgh since he attended the French Culinary Institute. Part of Newburgh's appeal, both partners admit, is that they hope to play a roll in the cultural and economic revitalization of a city that, as recently as last year, New York magazine called the Murder Capital of New York. Basso and Halayko, who both grew up in the area, knew they wanted to open their new brewery close to home; they see Newburgh as a city on the cusp of a major economic, social, and cultural revitalization, and hope that their business can play a role in that. And, because New York City is less than 70 miles downriver, it's easy to transport their beer there. They can literally grow without leaving their backyard.
Basso and Halayko, who met at Washingtonville Middle School, have been best friends since they were 12 years old. They played on the same ice hockey team and both attended Boston University. Basso's sister, Melisa, who attended the Culinary Institute of America, helps him develop recipes; Halayko's cousin, Charlie, who worked on Wall Street for over 30 years, is head of sales and is the company's official Beer Ambassador.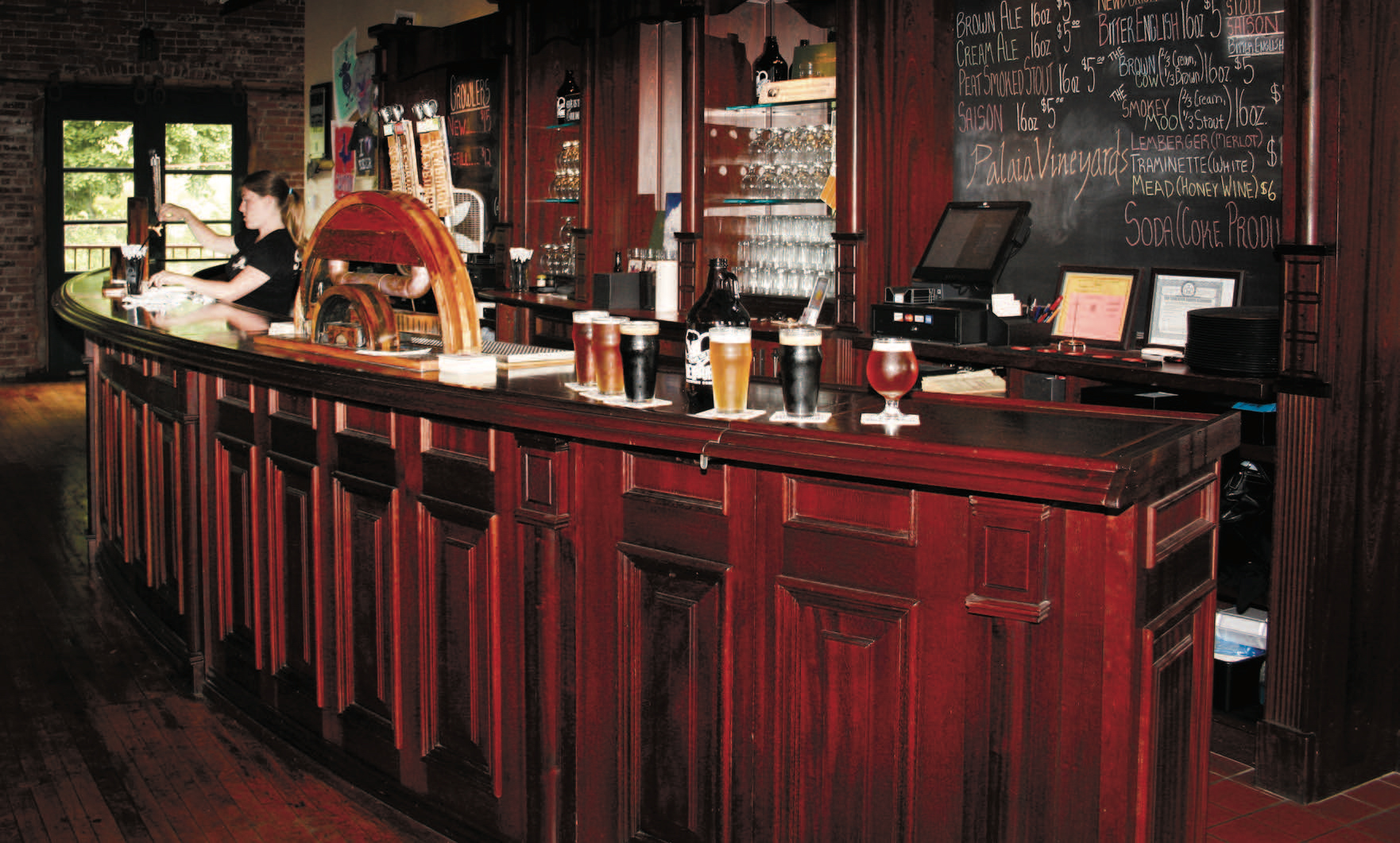 The guys must be doing something right: After only four months in business, the beers of the Newburgh Brewing Company are sold in more than 200 outlets in the Hudson Valley and New York City.
Basso started home brewing when he attended culinary school, and he loves beer's versatility. "With wine, you tend to pair opposites; beer harmonizes with food," he says. "The art of winemaking lies in growing grapes, whereas in crafting beer you can use a wide ranges of ingredients, including spices and fruits."
Basso currently brews four regular beers and has just started some limited edition specials:
Saison Farm Style Ale is one of Basso's favorite beer styles. Originally brewed for farm workers to drink during the harvest, saison is a low-alcohol beer (3.8 percent alcohol by volume, or ABV). The brewing term for low-alcohol beers is "sessional," meaning the beer can be enjoyed over a long period of time without intoxicating the drinker. (When Washington roamed Newburgh, the water was noxious, so beer was the drink of choice for men, women, children—and for breakfast—so low-alcohol brews were ideal.) Basso's saison is dry, crisp and refreshing, a perfect summer quaff.
Newburgh Brown Ale is a southern England-style ale (maltier than most northern brews); it gets what Basso calls "its roasty character" from chocolate malt. Basso likes it with burgers, steaks, caramelized things and a proper British shepherd's pie. It has an ABV of 4.8 percent.
Peat-Smoked Stout is brewed in the style of a dry Irish stout with lots of roasted malt (chocolate and black), as well as the peat-smoked malt that gives it its unique flavor. There's a nice hint of smoke that is balanced by the roasted taste, so it's not overwhelming. Basso likes stouts with "brunch foods" like eggs and omelets, as well as with steak, barbecue and, of course, smoked foods like lox. It has a breakfast—worthy ABV of 4.1 percent.
Cream Ale is one of few indigenous American ales. Newburgh's version has a clean, smooth finish and hint of citrus from the hops (though it's not an especially "hoppy" beer). It compliments light foods like fish and salad, and is a good introductory beer for people who don't have a lot of experience with craft beers.
Basso recently introduced a limited edition series of "beers from the heart." The first was New Burton IPA ("India Pale Ale," named for the extra-hopped ales the British once exported to India). While IPAs are very popular right now, neither Basso nor Halayko are fans of the style (American brewers tend to make them overly hoppy, citrusy and bitter, Basso says), so when he set out to create one, Basso went back to its British roots. utilizing British hops. He developed a brew that smells and tastes of hops but doesn't, in Halayko's words, "strip the enamel off your teeth." Unlike the rest of Newburgh's beers, however, with an ABV of 7 percent, this one is not considered sessionable because an IPA, by definition, is a stronger beer.
The taproom is designed to be a relaxed, community spot where people can drop in, whether they want to have a beer or not.
Other beers on deck for Basso include an English-style bitter and a German-style gose (a wheat beer brewed with a blend of Moroccan and Indian coriander).
Much of the material removed during the extensive renovation and reconstruction was recycled and reused. By design, the building offers plenty of room to expand the company's brewing capacity. The fourth-floor taproom, an expansive 6,000-square-foot open space, is arranged with massive tables constructed from floor joists that were removed to make room for the brewing equipment on the lower level. The bar's tap towers are made from a wooden gear wheel from the original freight elevator, and the tap handles are crafted from the building's floorboards. (The heart-shaped metal tap handles were designed at Czinkota Studios in Gardiner.) The bar, over 100 years old, is from Murphy's Brewery, across the river in Beacon.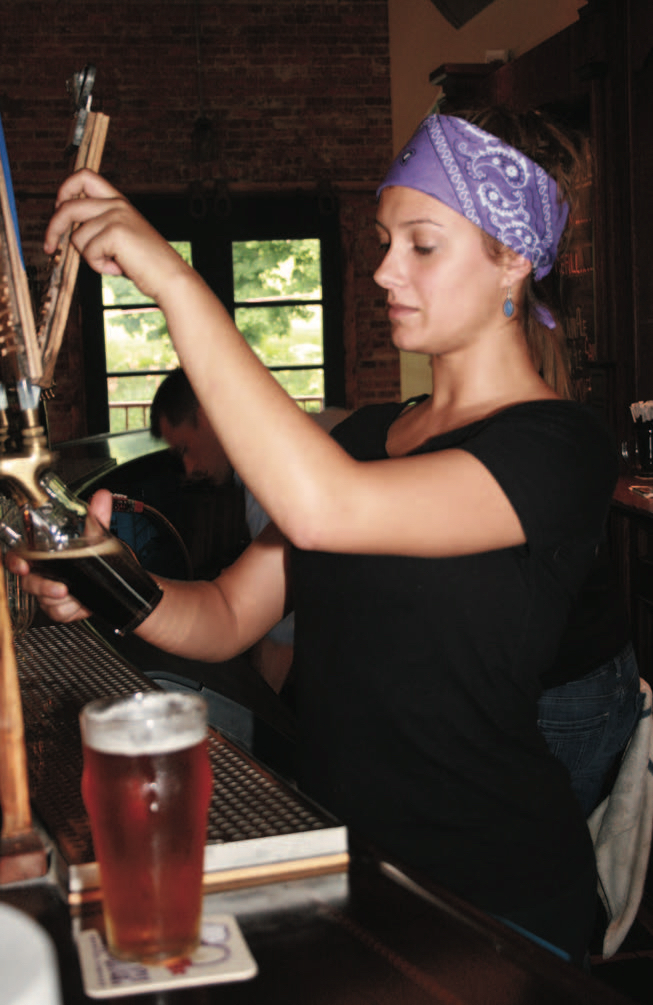 The taproom (open Fridays, Saturdays and Sundays) is designed to be a relaxed, community spot where people can drop in, whether they want to have a beer or not. The wait staff alternates clearing pint glasses and empty French fry baskets with putting away dominoes and Monopoly boards. Basso and Halayko want the community to feel like "this is our brewery."
On one of this summer's rainy Saturdays, the taproom was filled with people ranging in age from a few months to well over a few decades, families with strollers, couples playing ping pong and friends standing by the windows enjoying the view across the Hudson River. Trivial Pursuit games were interrupted by servings of French fries with crispy garlic and rosemary; grilled cheese sandwiches made with Edgwick Farms Goat Milk Cheddar (Cornwall) with mustard (a blend of cream and tang that's a credit to Basso's culinary training) on multi-grain bread from All You Knead bakery (Beacon); piquant onion jam; house-made smoked bacon; and the house salad (dressed with Basso's Newburgh Saison Vinaigrette and shaved Edgwick cheddar). Wine from Brotherhood Winery (Washingtonville) and mead from Palaia Vineyards (Highland Mills) also are available.
Basso also makes his own sausages and pork rinds dusted with lime chili salt. He gets a half a pig from Fleisher's Meats (Kingston) every week and, with luck, there may be enough leftover to make pulled pork sandwiches the weekly special. PEI Mussels come either saison style (with saison beer, garlic, onions and fresh herbs) or stout style (with peat-smoked stout, house bacon, caramelized onions, garlic and herbs). The back of the menu lists more than 20 local and regional suppliers, including flour from Champlain Valley Milling (Westport, NY). At Madura Farm (Pine Island), Dan Madura has started growing hops for New York craft brewers, and Basso hopes to start using his hops later this year.