It was a sad day when Newburgh's Caffe Macchiato closed its doors in January. Yet for Liberty Street Bistro chef and owner Michael Kelly, it was also an opportunity in disguise. Kelly had been dreaming about expansion for a while, and what better place to do it than right next door?
"It [was] clear for some time now that we would benefit from more space, but it was not until all the uncertainty next door arose that I considered it a feasible opportunity," explains Kelly, who also owns Newburgh Flour Shop down the road.
Wasting no time, he received the keys to 99 Liberty Street on February 1. After that, it was onto renovations of the new property to connect it with the original. Kelly moved the entrance and bar to 99 Liberty, which has comfortable, elegant lounge seating for guests to stop by for a cocktail or light bite. For diners who prefer to grab a drink before moving to a more formal dinner, a breezeway at the rear of the building connects the two areas seamlessly.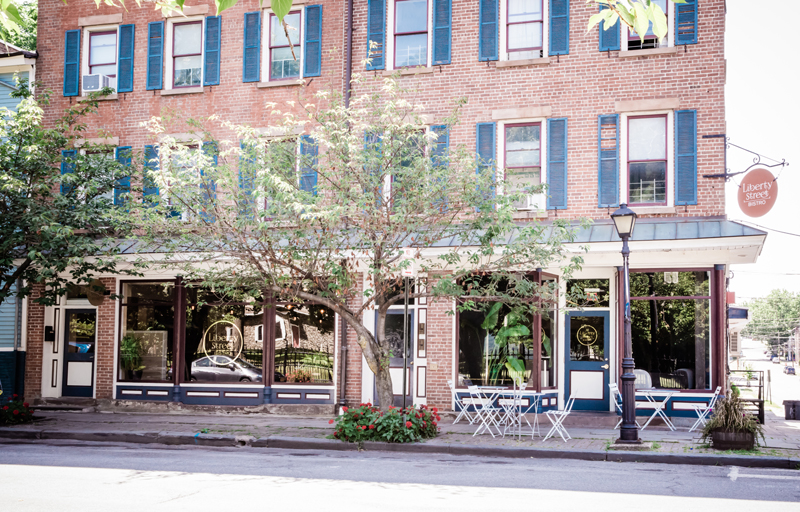 Liberty Street Bistro part deux debuted in April. New and improved, the restaurant seats between 65 and 70 guests, a jump from its original 44 settings. The bar fits 10 comfortably, with room for 18 to 25 in the lounge itself. As for the menu, the seasonal, French-inspired theme remains constant, although Kelly added a tiered menu of small, medium, and large bar bites for those who prefer to wine and dine without committing to a multi-course reservation.
Signature cocktails like Berg Is King, a refreshing sip with Peony vodka, bergamot cordial, egg white, and lemon, are thoughtful and elegant. The wine list is beautifully curated, with a tasteful assortment of French and Italian vintages that run the gamut from Riesling to rosé brut to Pinot Noir.
The expansion — during which Liberty Street Bistro remained open all but one week — was an undertaking, but it's all part of Kelly's commitment to the eatery and the City of Newburgh.
"Liberty Street in Newburgh is a very exciting place to be right now with lots of new ventures popping up around every corner."
Liberty Street Bistro
97 Liberty St, Newburgh
845.562.3900; libertystreetbistro.com