1 serving
Ingredients
5 fresh oysters
1 egg, beaten
2 tablespoons all-purpose flour
salt and pepper to taste
1/4 cup of herbed breadcrumbs
3/8 cup Champagne or other dry sparkling wine
1/4 cup finely chopped spinach
2 tablespoons unsalted butter, cut into pieces
Method
Carefully open 5 fresh oysters, and add the juice from the oysters to the beaten egg. Remove the oyster meat from the shells, reserving the shells.
Dredge the oysters in flour, then in breadcrumbs.
Add a dash of olive oil to a medium skillet over medium- high heat. Sauté oysters 30 seconds on each side, or until golden brown.
Return oysters to their shells, and arrange on a plate. Discard the oil.
Add Champagne to the pan. Let it reduce for 1 minute, then add spinach. Stir in butter, and pour over oysters.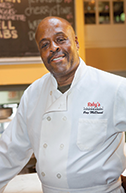 "I've always enjoyed serving the freshest oysters to my customers," says chef Greg McDowell, of Ruby's Oyster Bar & Bistro in Rye. The restaurant sells almost equal numbers of mollusks from the East and West coasts, the chef says. The East Coast oysters are generally briny and savory, while those from the West Coast tend to be more sweet and creamy—all kinds are enjoyed raw at Ruby's