Learn what's trending in the noodle world and try a few new, delicious recipes from local pasta pros.
IS THERE ANYTHING BETTER THAN A BIG bowl of pasta for dinner on a chilly night? That's a rhetorical question, of course—most people would agree that it's nearly impossible to resist any time of year.
Talk to Hudson Valley pasta chefs and producers about their favorite winter dishes, and you'll want to run to the kitchen and start boiling some water. "I love a traditional Bolognese this time of year, or a dish with butternut squash or maybe mushrooms, using the great produce we have here in the Hudson Valley," says Scott Ketchum, co-founder of Sfoglini, the West Coxsackie-based organic pasta company.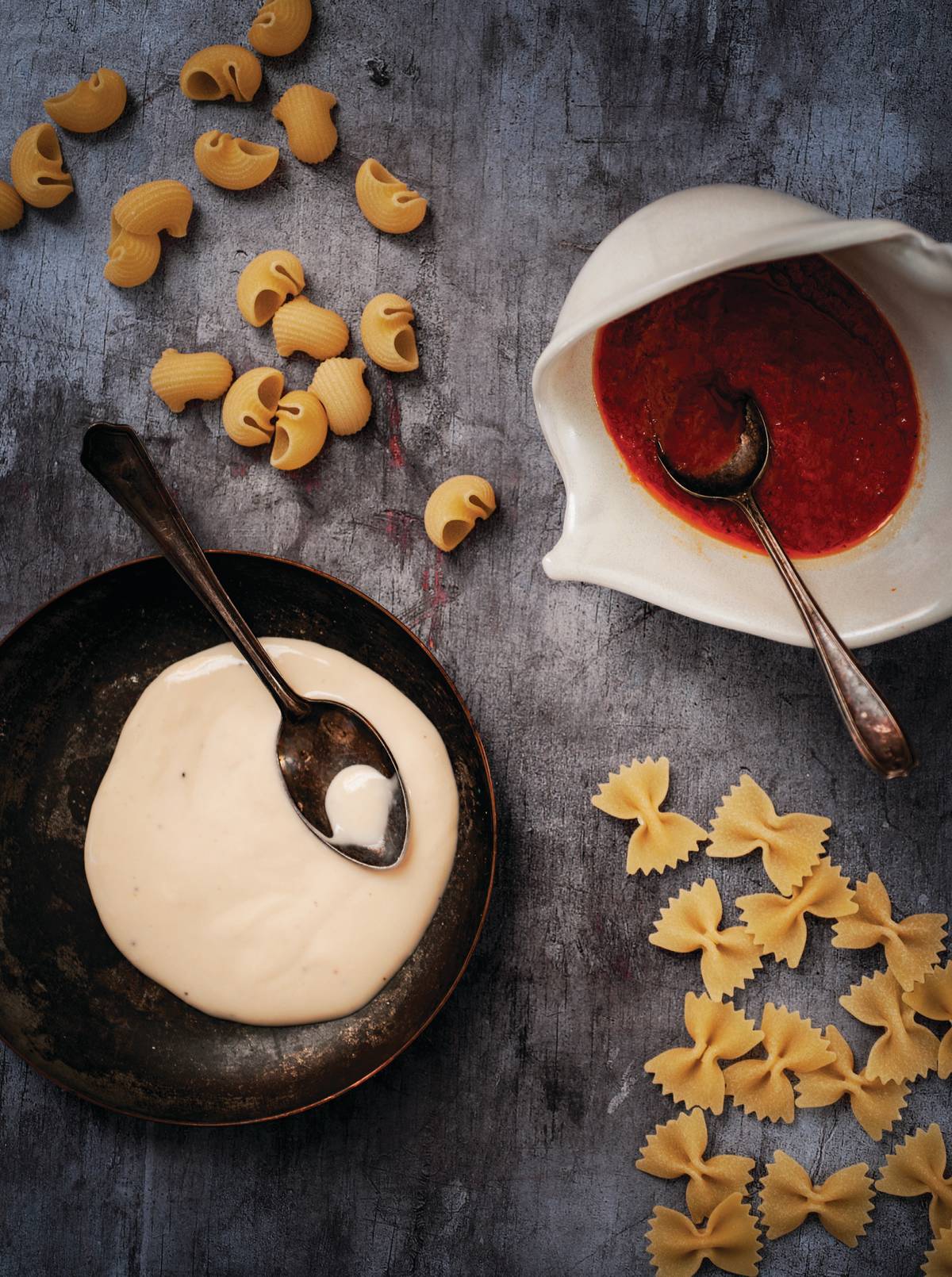 "Pasta is always in season! While I was growing up in Italy, we made richer sauces in winter—more butter, more cheese, more olive oil," says Chef Francesco Buitoni, of the famous Buitoni family, who co-owns Tivoli's bustling GioBatta restaurant.
Over the last year, with the pandemic keeping us stressed out and shut in, the appeal of this classic comfort food has only risen. Scott Rosenberg, chef and owner of Il Figlio Enoteca in Fishkill, says he is seeing a marked increase in "comfort style pasta and an eagerness to eat carbs again. People were shying away from pasta for so long because they thought it was too indulgent, but homemade pasta is such a treat!" At Il Figlio, 75 percent of the pasta is homemade and Rosenberg recommends half orders of pasta for an appetizer to cut down on the richness and leave room to try other entrees.
This season—as we're once again able to venture out and explore new tastes, retailers, and restaurants—is the time to rediscover pasta in all its forms and see how it's changing to keep pace with our ever-changing palates.
Going with the Grain
Pasta can be traced back to the 4th century B.C.; an Etruscan tomb from that era depicts a group of people passing around a bowl of what appears to be a tangle of noodles. It's no wonder this amazing food has survived for millennia. At its most basic, pasta is just flour and water. And although there's a beautiful simplicity to organic Hudson Valley wheat, people are always looking for the next new thing.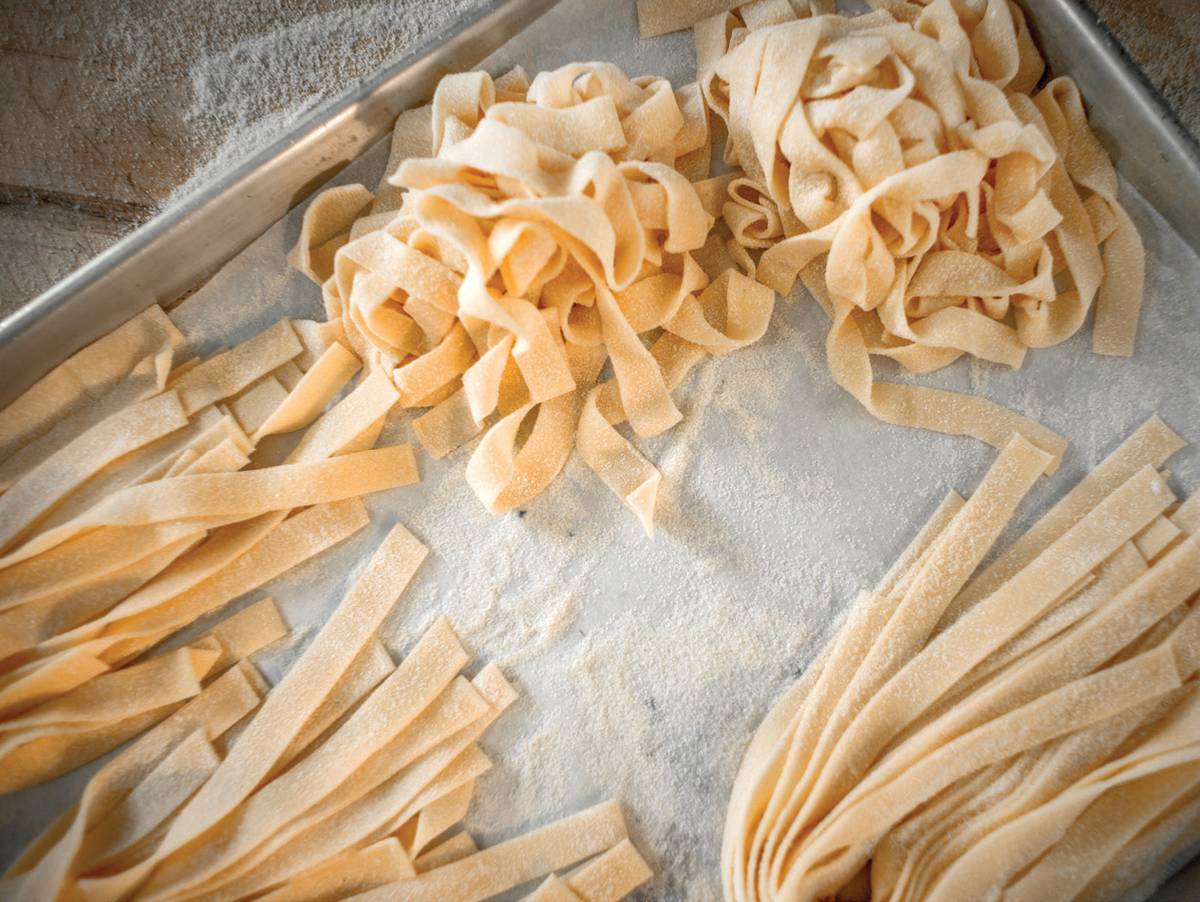 Typically, pasta is made from semolina, a coarse durum wheat flour that's rich in protein and fiber, but ancient grains are gaining popularity. At Sfoglini, emmer—a grain that's over 17,000 years old—is blended in with semolina for a nutty taste. Einkorn (only 10,000 years old) is another add-in with a payoff of enriched protein, essential fatty acids, and vitamins. Hemp flour, high in omega 3s, is weaving its way into noodles (while the taste is dreamy, there's no trippy THC involved). With their deeper flavors, these new pastas hold their own beautifully against your heartiest winter ragu.
No Gluten, No Eggs
Chefs are also tweaking pasta to make sure it doesn't get lost in the sauce as our desire for healthier options evolve. "Free-from" eating— which translates into food stripped of additives and allergens—is an undeniable trend, with 63 percent of consumers saying they try to eat healthy most or all the time, according to a survey about indulgent food trends by L.E.K. Consulting.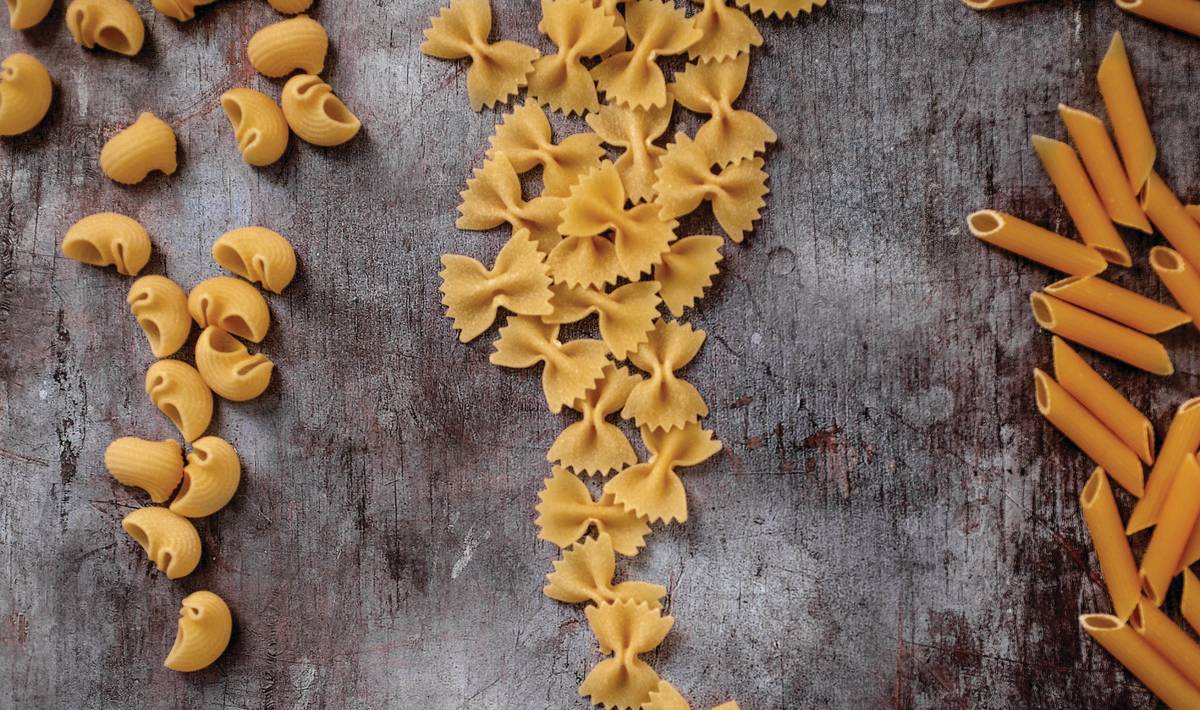 We've seen the gluten-free movement growing as more and more people opt to avoid wheat and the potential digestive problems it can trigger. Gluten-free pasta is officially a thing, both on supermarket shelves and in restaurants. "It's here to stay," opines Ketchum, though Sfoglini doesn't yet offer that option. "Gluten-free pasta has come a long way," says Rosenberg who thinks shapes like penne or rigatoni are more successful in recipes than ribbon-like gluten-free pastas. Some varieties you may find at your local market use quinoa, millet, amaranth, and even cauliflower.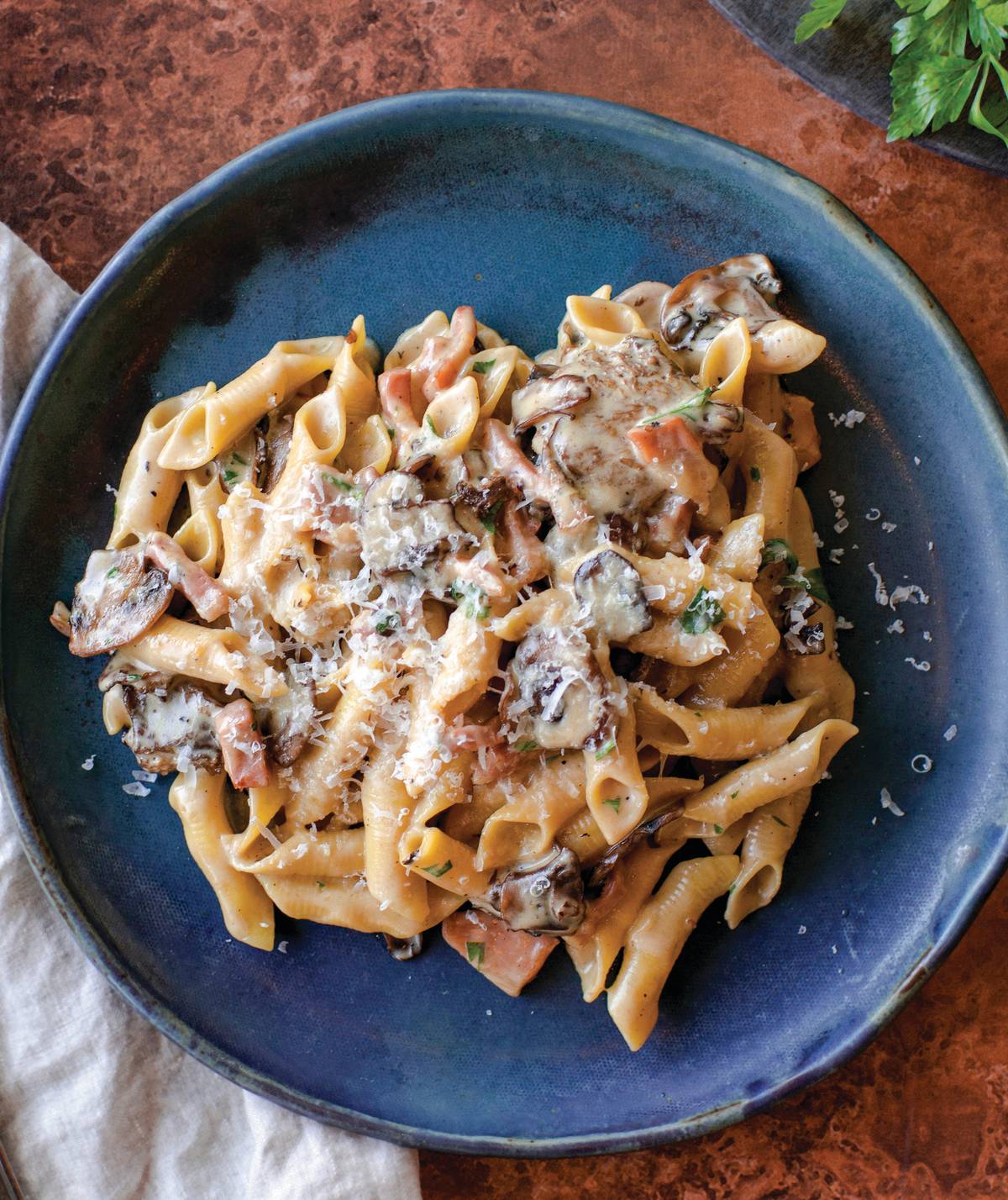 Taking Shape
A great dish doesn't just depend on what's in the pasta, though. It's also all about how that dough has been sculpted. New forms are a fun way to add a twist on familiar dishes, whether zucca, which look like plump little pumpkins, or gnudi, featherlight ricotta and pasta puffs that are currently enjoying a resurgence.
Sfoglini is known for mining the history of pasta, researching thousands of shapes, and then tweaking them into something unique. Ketchum is especially proud of his company's latest creation, made with James Beard Award winner Dan Pashman, creator and host of The Sporkful food podcast. Called cascatelli (Italian for waterfalls), it's a ruffled curve of pasta that snags sauce in its central trough. Not to totally geek out on pasta engineering, but it's designed to maximize the three qualities by which Pashman believes all pasta shapes should be judged: sauceability, forkability, and toothsinkability. To put it plainly, it delivers that golden ratio of noodle to topping that makes a meal memorably delicious.
---
NOODLING AROUND AT HOME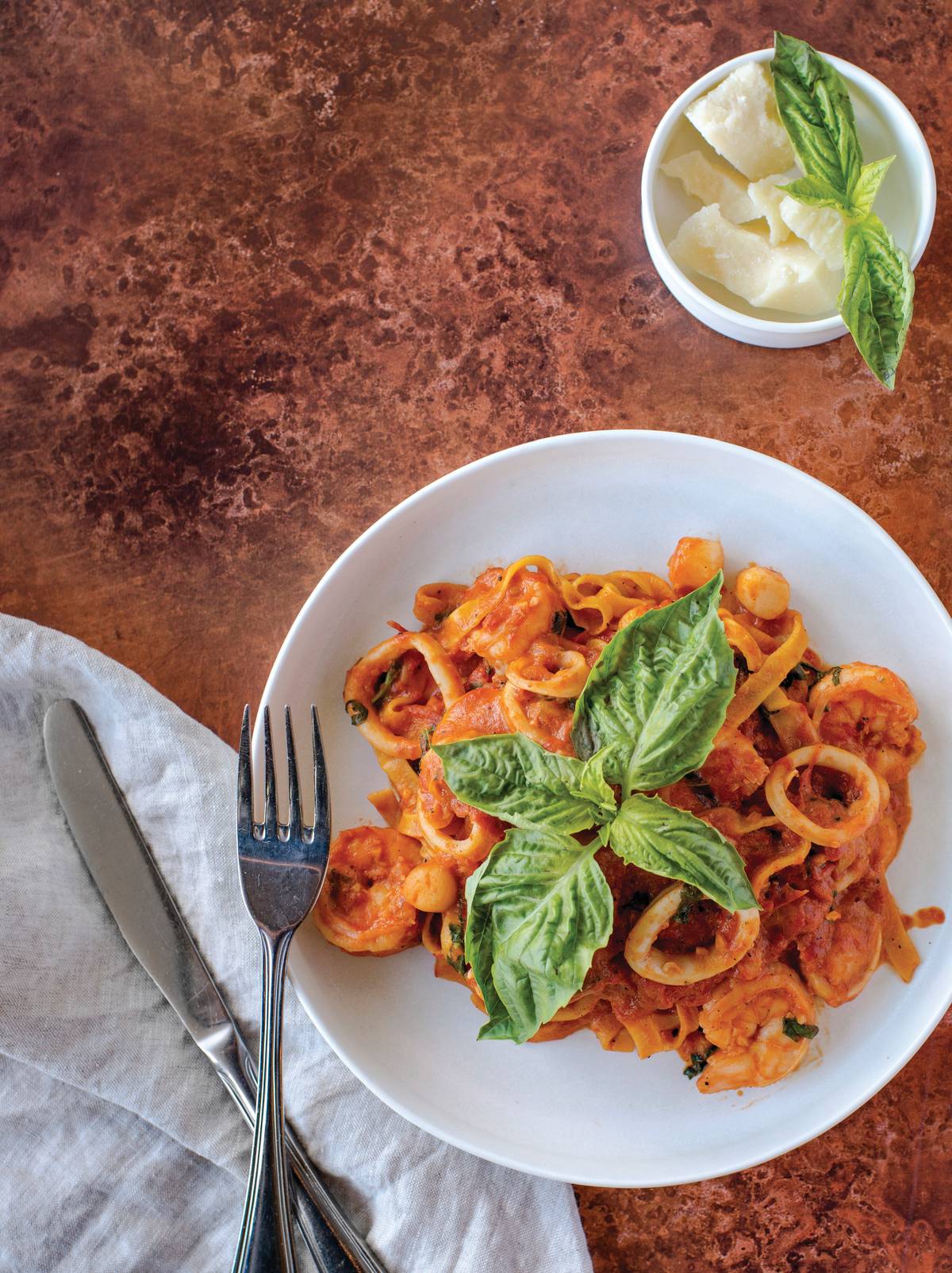 During the pandemic, many of us sought solace in sourdough baking. But now that's so 2020. Why not level up to pasta-making? If you don't get too ambitious, it can be a fun activity for a cold afternoon—and yields delicious results. We spoke with some of the Hudson Valley's experts for their advice:
Stick to basics. "Use the simplest recipe you can find," says Scott Ketchum, co-founder of Sfoglini. Your mission is to start getting your technique down. "So much depends on the dough being balanced and mixed well to get the right moisture to flour ratio. It will take a few tries." Joseph Cafaro of Hudson's Palizzata Market and Eatery agrees: "Pasta making requires patience. The first time I made dough by hand, it was very crumbly and took 15 minutes to get the consistency right."
Flat is fine. Fettucine or papparadelle is good for beginners. You can use a pizza cutter to slice your rolled-out dough into strands. An inexpensive pasta machine (about $30 to $50) can help press the dough into sheets and keep your batches more consistent than working with a rolling pin.
Get a garganelli board. When teaching pasta classes, Ketchum says a garganelli (pronounced gar-gah-nay-lee) board is a great tool. "It has a textured side that helps you make ridged or patterned shapes," he says of the widely available wooden boards. "Or you can also make little balls of dough, press your thumb in and make cavatelli [little shell shapes] or gnocchi."
Stuff some. You can buy a ravioli mold to create these beloved filled pillows of pasta. Lay one sheet of pasta on the mold, squirt in the filling, top with another sheet, press, and then separate them with a pizza cutter. This gives you plenty of room to experiment with fillings based on what's at your local farmers' market—mushrooms, squash, cheese and more.
---
Getting Saucy
A perfect pasta dish also depends upon how well the noodle and sauce mesh. Knowing the right equation can elevate a very good meal to one that's straight-up spectacular. "When you're preparing, say, spaghetti, a classic garlic and oil will slide right off; it's better to use a red sauce, which is thicker and will stick to the strands," says Cafaro. "If you want olive oil and garlic or something similar, orecchiette will hold that sauce well. We follow this rule: if you have vegetables or pieces of chicken in your sauce, you want them to be approximately the same size as the pasta, so cut them to match your fusilli, penne, or whatever you're cooking." Rosenberg agrees that pasta and sauce can't be thought of as two separate elements. "The true test of a properly made pasta is not seeing a big puddle of sauce at the bottom of the bowl."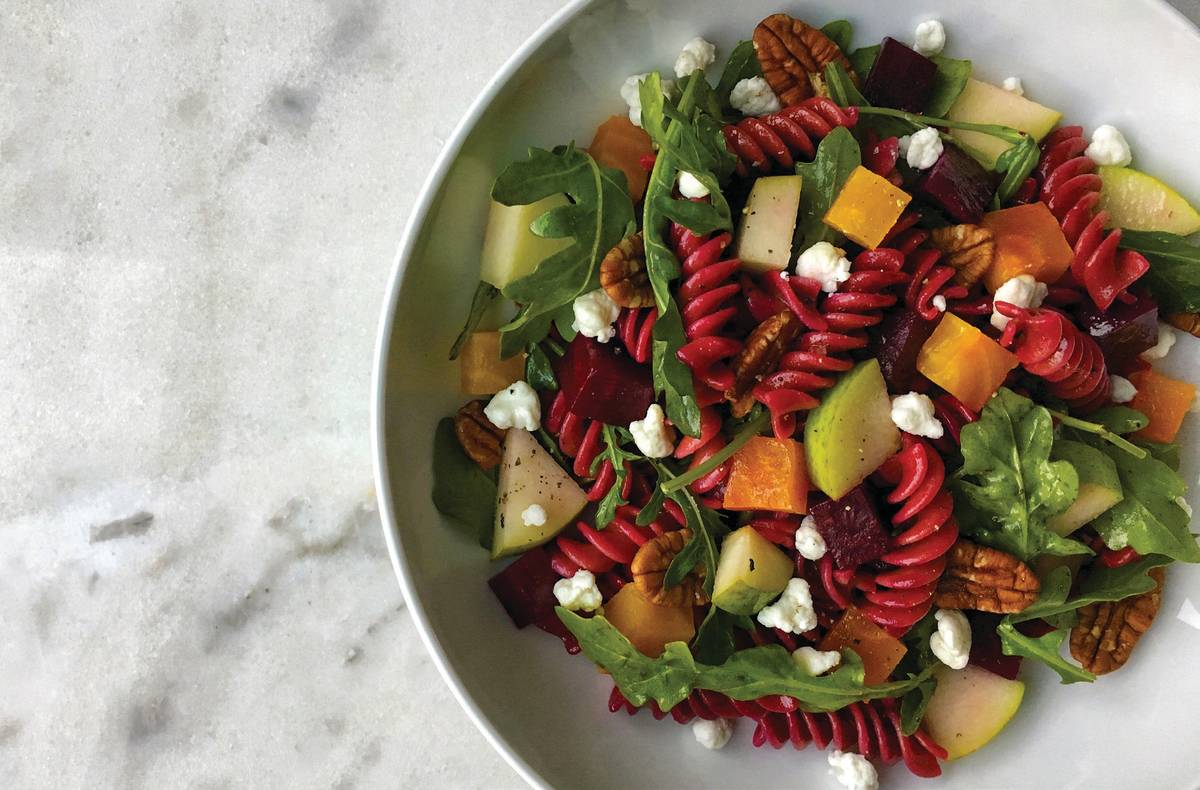 But the chefs we spoke to agree that once you find a good noodle, the sauce is almost beside the point. "The way I test my pasta is topping it with nothing but olive oil and salt— delicious!" enthuses Cafaro.
Smarter Shopping
Now that you're sufficiently educated about pasta, as well as really good and hungry, what should you look for when you are scanning the store shelves? "Many people these days seek out a clean label and quality ingredients," says Ketchum. Translation: very few ingredients that are ideally organic and local. Not to take anything away from Italian pasta, but made-in-the-USA and home-grown in the Hudson Valley offer amazing options. In addition, says Ketchum, "you want to see texture on surface of the pasta—make sure it's rough and porous, so sauces cling."
Once you're at home and ready to get cooking, follow this advice: "The most important thing is to make sure you boil the pasta in well-salted water and always al dente," says Buitoni. "Like a good steak, once pasta is over cooked, it's ruined!" He says this holds true "whether you buy the best dried pasta from pastificio [Italian for pasta factory] like Rustichella D'Abruzzo or make your own." (See our sidebar on page 29 for advice on that.)
To get that ideal al dente texture, Cafaro recommends subtracting one or two minutes off the cooking time on the package. "When I was a young cook, I remember learning that al dente means a little crunch and asking my teacher, 'What's the term for pasta cooked soft?' I was told, 'There's no such thing! Al dente is the only kind there is!'"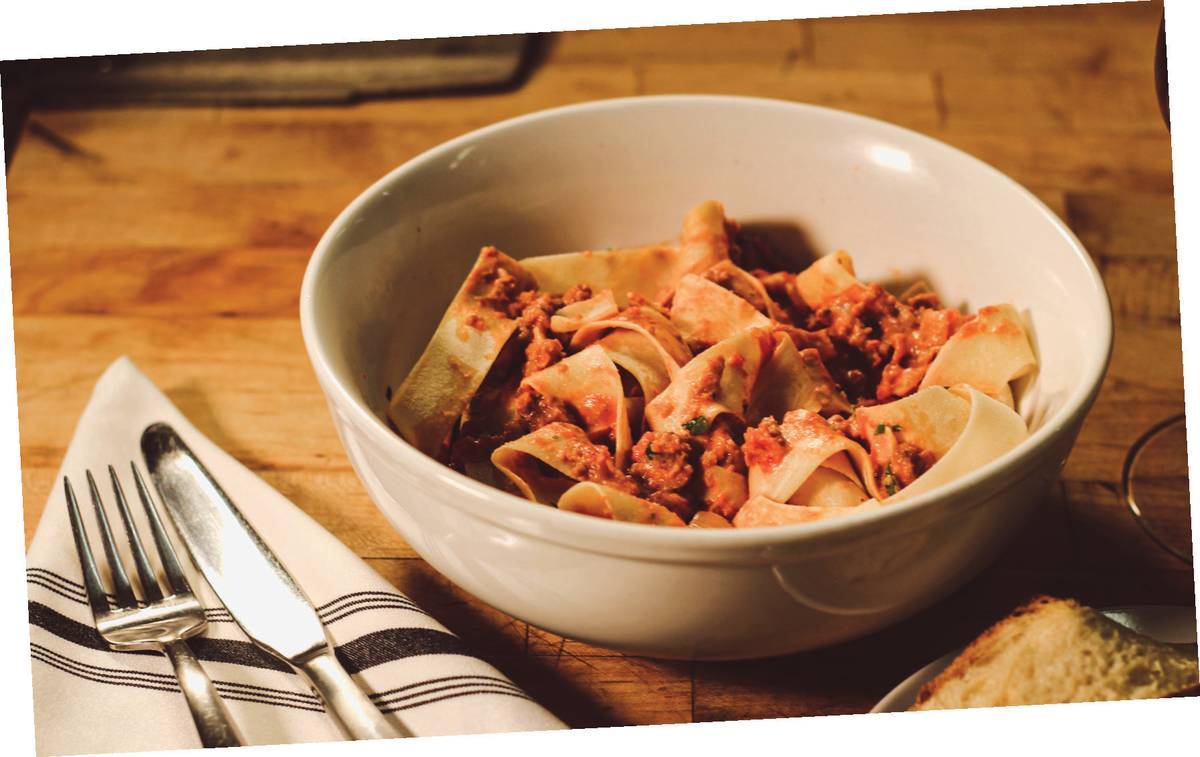 Cafaro's other secret is to never over sauce, and doesn't believe in extra sauce on the plate to dunk your bread in. "You want just enough sauce to coat the pasta, no more." His favorite formula is 16 oz. (2 cups) of sauce to a pound of pasta—considerably less than the 26-oz. jars of sauce you find on supermarket shelves.
Armed with this intel, anyone can make great pasta. Even better, why not cook it up for friends now that we can gather safely again? As Buitoni puts it, "One can never say no to a well-prepared plate of pasta!"