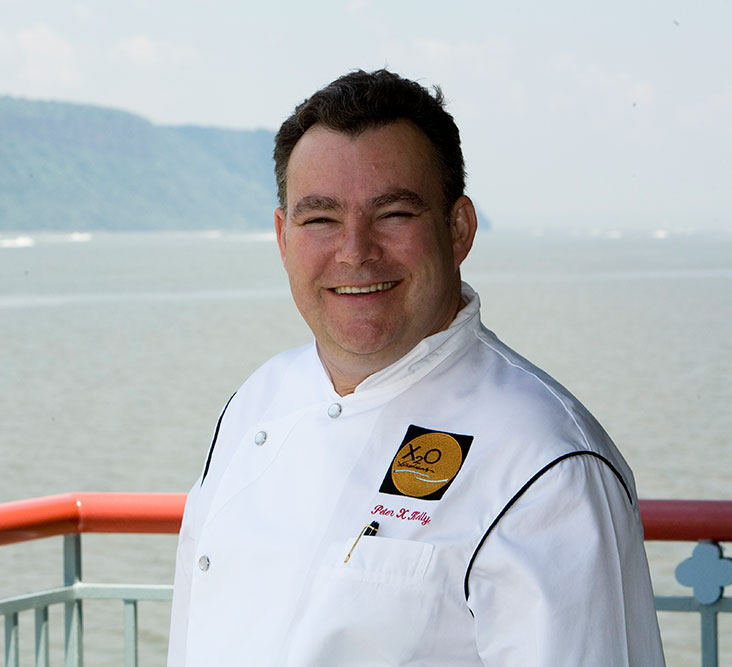 This could be one of those classic stories: A kid who says he grew up eating roast Spam (well, sort of—he and his 11 brothers and sisters had good, simple food at home together every night and on Sundays a roast and "too much drinking, too much eating and conversation") starts working as a dishwasher at 14 and spends most of his time in the front of the house, not the kitchen. Gets a business degree. No formal culinary education—a truly self-taught chef and restaurateur. Of course, no other chefs let him near their kitchens, so, at age 23, after a pilgrimage to France, he opens his own restaurant, Xaviar's in Garrison, in 1983. Then three more. Then he gets inducted into Nation's Restaurant News Fine Dining Hall of Fame along with Wolfgang Puck; his latest venture, Restaurant X, gets named one of the top restaurants in the country; and this widely acknowledged nice guy gets picked New York State Restaurateur of the Year. Like we said: classic.
I didn't have much money so I scraped together whatever I could to buy some china, glasses, silverware and all that kind of stuff. I was going to have a chef from Switzerland, but he came from the old school that says the kitchen is the kitchen, the dining room is the dining room—you do your job and I'll do my job. My philosophy was different—I really wanted to take the wall down to the kitchen because it's the waiter who can tell the kitchen that they're not eating a side dish, that they don't like something. But of course nobody could talk to the chef to tell him that back then.
Not being trained in the kitchen, I didn't have any bad habits yet. In New York I worked as a captain of the Laurent Restaurant and a sommelier on the weekends. I was very young, just out of school. I was lucky enough to have the owner come take me under his wing and say, "I really want to teach you the business." He like the youthful enthusiasm I had. Laurent was an old classic Escoffier restaurant. It gave me the basis—I didn't have the benefit of going to the Culinary, except for lunch. I was like a sponge, observing, trying to take everything in.
I went to Europe every year before we opened restaurants. I spent a lot of time and resources; my feeling is that in order to be excellent you have to know what excellent is. if you've never seen great food presented and served, you don't know if it's right or wrong. That was the one edge I thought I had—I dint' know exactly how to do it, but I knew what the appearance was supposed to be.
Attention to detail both in the front of the house and in the kitchen has infused each of Kelly's restaurants with an unmistakable air of excellence—not to be confused with extravagance. It means assuring that everything—from the color of the walls to the design of the uniforms and china to the demeanor of the staff—allows the guests to relax and to comfortably enjoy their dinging experience. Maybe it's Kelly's business training; Tom Peters (In Search of Excellence) might call it "total quality management" in action.
Restaurants are so much more than just food. I'm not saying it has to be a theatrical experience, which is what a lot of restaurants try to do. It's about your experience when you try to make the reservation, when you drive in the parking lot, the wine program—it's all these things. There's places that have wonderful food but they don't survive because they haven't put it all together. It's choreography—you have to have the right bar and the right bartender; you have to know how to make a martini as well as beef Wellington. It's about making the guest relaxed.
In medicine or law you find out next month, next year, whether you did a good job. In cooking, you walk into the dining room and you know if you've done a good job. But one thing I learned about that immediate gratification: You cannot trust it 100 percent. This is something we reiterate with the staff: Don't believe them. What we want to know is what they say in the car on the way home. Every night the valet comes up and we spend five minutes going through any comments because once they've walked past that door they feel they can say "It's too expensive… I didn't like this… The service wasn't…" If I could get in the car and drive home with them that would be the best. If I could get in the car and drive home with them that would be the best. If you don't listen to your clientele you won't last very long. The guests are the most important thing. Without them there is no business.
I can't cook every meal, I can't serve every dish, so I'm dependent on the people that are here—from the person who makes the salad to the person who washes the dishes. It's a real team effort. I try to be the thread that enthuses them and gets them pumped up. In our handbook to the staff at all the restaurants there is a thread—it's a dedication and a commitment to the restaurants. A lot of employees don't get it; they don't last. Graciousness and hospitality are the two key words we are always putting into their heads.
The same relaxed precision and attention to detail goes into the food, of course. "Excellence" in Kelly's kitchens means using the best ingredients and allowing their characters to define the taste, not hiding or changing them unnecessarily. Even the simplest menu items are meticulously prepared and exquisitely presented.
I think that the Asians did more for food than anybody. I love Italian food and I like French food, but the Asians have a real respect for the integrity of each ingredient, how pristine and perfect it has to be. If you're going to eat a piece of fish that's not going to see any fore or cure or anything, it has to be perfect.
One of the best dishes I ever ate was a perfectly ripe slice of pineapple. Of course, it was carved perfectly, it was just dusted with a little sugar and a touch of dried vanilla bean, just a teaspoon of Kirschwasser over it. The simplicity of it was pretty amazing. Not too many people can pull off something like that—make you really sit back and say wow, that was just a slice of pineapple. But it's dedication to the product; it's all about the ingredients. That's something people talk about a lot but it's not paid near enough attention to as it should be.
I'm not a big fan of fusion cuisine, but the truth is, that is what American food is. We can borrow from Italy, we can borrow from Spain, we can borrow from Japan. I think that there's a bastardization of the food until some real professionals get a hold of it and realize there are ways to incorporate Asian influences into classic French cuisine without dropping soy sauce into everything.
The importance of flavor is knowing when to leave well enough alone and when you need to infuse or build on the flavors. For example, there is nothing better than a simple oyster that is pristine fresh—it doesn't need any embellishment. Somebody wants to put on a squeeze of lemon or mignonette sauce, that's one thing, but it can be wonderful just out of the sea. Nantucket scallops are another thing: You can eat them raw or you can very briefly cook them. But if you take something like short ribs and just boil them in water till they are tender enough to eat they would be terrible. You need to infuse them with a mirepoix or seasoning. Can créme brûlée be improved upon? I've had chocolate créme brûlée, I've had lavender créme brûlée, I've had it steeped in chamomile tea. They're all okay, but is it better than créme brûlée? I don't think so.
What I try to do is to juxtapose different elements. One dish in particular—lobster tempura with wasabi, mango relish, served on bed of finely sliced pineapples—you have hot, you have cold, you have spicy, you have mild, you have texture. I wouldn't consider that haute cuisine—it's just fun food. There is room for both in my style of food. Too many chefs take themselves too seriously.
I'm not trying to make anybody's palate explode, but to tingle it and to have jun. At Piermont and Garrison we always do an ameuse bouchée—amuse the mouth—a little tasting from the kitchen, not to startle the guest's palate, but to get it going. Subtlety is important. I love the combination of caviar and beurre blanc flavored with star anise, and then a spoonful of caviar with it. The saltiness of the caviar, the richness of the butter—it doesn't bang you over the head. I think that people like Jean-Georges Vongerichten have proven that you just take great ingredients and very simply embellish them and you create wonderful food.
I also try to put some humor into the food. We do a fig Newton—something we ate as kids. We take a whole fig, it's roasted, wrapped in pastry and served on a créme anglaise. It's that fig and pastry you wanted, but it's served warm. Twinkies are a great idea, too, but do it with a créme Chantilly and a vanilla genoise on the outside—you've re-invented the Twinky. I always look at what's going on out there, and my childhood, what did I like then, how to reinterpret them to make them fun.
The food at each of his restaurants is based on the classics, but there's often a catch, a surprise, some special touch that reinvents the term. Kelly doesn't call it art—to him it's a craft that must be consistent and re-created each day.
They will probably put coconut shrimp on my gravestone, but it was just a dish I did 16 years ago that I just can't seem to get rid of. We serve it with a spicy mustard sauce—you have the crunch from the coconut and the sweetness of the shrimp and the spiciness of the mustard. It plays into all of those things. It's really street-vendor food dressed up a little bit.
I like the classics, but I like twisting them a little bit. I like, for example, liver and onions. It's a pretty classic dish, but when you change the calf's liver to foie gras and you change fried onions to caramelized onions, you have a new dish. It's still just liver and onions, but it's a completely new experience. We dust the foie gras with salt, very quickly sear it, serve it rare, and the onions are very slowly cooked toll they are caramelized—the apples give another sweet note to it. You know, goose foie gras from France has just been allowed into the country in the last six months, competing with our Hudson Valley Foie Gras. They both are certainly wonderful, but we're from the Hudson Valley and we're partial to the duck liver; it's a little drier.
Partly by luck, partly by design, Kelly's restaurants are situated to capitalize on the wealth of Rockland, Westchester and Bergen Countries. But they also place him just north of the meat and produce markets of New York City—the ones that define the term "world class"—and just south of the farms and markets of the mid-Hudson Valley, a combination that allows him to continue to set the standard by which culinary excellence in the valley is measured.
In the beginning, when I opened Garrison, I went to the market myself. It's good to go down there and pick through everything in the markets, but I questioned whether I was getting the best quality—if I was even seeing it—because here I am going down with a thousand dollars and the guy behind me is coming in and spending $50,000. Who gets the better quality? There's a lot of behind-the-scenes stuff and a lot of the highest quality is going directly on the trucks of people who are the bigger spenders. It just makes sense. You may get the vest of what's there, but you may not even seeing the best.
When I stared in '83, which doesn't seem that long ago, we couldn't get the best produce, couldn't get the best. It has gotten so much better. We have lamb being raised here in the Hudson Valley; we have venison; there is a great fish-farming community. Not to mention the onion fields of Orange County, and the orchards. There are great berries, apples and vegetables of all kinds. I get zucchini blossoms right here; mushroom foraging is a huge industry now in the valley. Certainly herbs—it's all here. Now, within the season, literally everything in the restaurant could come from purveyors in the Hudson Valley—but you'd have to have a very fluid menu.
I think there is a lot more professionalism in the industry now, too. A place like The Castle coming to town with a huge bankroll to make a beautiful, big, splashy statement with a restaurant with a great chef means a lot. I think that Old Chatham and Melissa Kelly mean a huge amount to the neighborhood. I think that il Cena Colo over there doing great Italian food is important. We didn't have that before. I would love to see some of the old restaurants that had a presence be a little better, reinvent themselves, but they're afraid to change anything because they'd lose what they have.
Kelly's commitment to the product is uncompromising. He has created a different menu at each of his four restaurants, but dining at any of them involves much more than the food. The line waiting to enter the Freelance Cafe snakes around the corner on Saturday nights summer and winter (no reservations accepted); guests may wait weeks for a reservation at Garrison. There's something going on here besides food. Garrison is grand; Piermont is intimate; the Cafe is casual; Restaurant X is comfortably elegant. You may sit at a table replete with Baccarat, Cartier, Waterford and Versace appointments, but that's part of the grace and style Kelly has mastered.
It's a given now that you have to have good food. But you also have to have a serious wine program, you have to have serious service, you have to have ambiance. It could be a mom-and-pop shop or Alain Ducasse's restaurant, but you have to create an ambiance of some kink that people are comfortable in. Within the Xaviar group there are four restaurants—all four are different, but they've all reached a level of success by doing what it is they do. The food we serve at each restaurant is similar, but they are not the same—some dishes kind of find their way on to all of the menus in some form or other. I don't want people to walk into the Freelance Cafe and say this isn't Lutéce; I want them to understand it's at a very high level for the price point, for the style of restaurant it is. All of the restaurants have an excellence about them. But you get a different experience at each restaurant. Some people who like Piermont don't like Restaurant X, and some people who like Restaurant X don't like Garrison. And then we have some customers who love them all just because of the quality level.