SPORTING A COCKED BASEBALL CAP, scruffy facial hair and t-shirt, The Cookery's chef/owner David DiBari exudes
a knee-buckling, edgy charm that only comes with a chef's knife and fork. It should come as no surprise, then, that Chef DiBari likes playing with fire—The Cookery's DoughNation pizza truck is smokin'.
Wanting to give the public fun, sustainable, organic food, DiBari hauls out his portable pizza oven to create artisanal pizza on the road. Dubbed "The Cookery's fiery beast," the hand-crafted wood-burning oven delivers pizza from an 800 ̊ flame and is adorned with tiles spelling "Laura."(That's DiBari's mother, who is very hands-on and often helps out around the truck.) The oven sits atop a trailer and is transported to different locations every week.
Wednesday through Saturday, the DoughNation crew can be found at several local farmers' markets, including Chappaqua, Irvington, Hastings and Phelps Memorial Hospital. DiBari serves up several "market pies," sourcing the ingredients from the markets where the truck locates. On Fridays, the truck is at the Dobbs Ferry Farmers Market.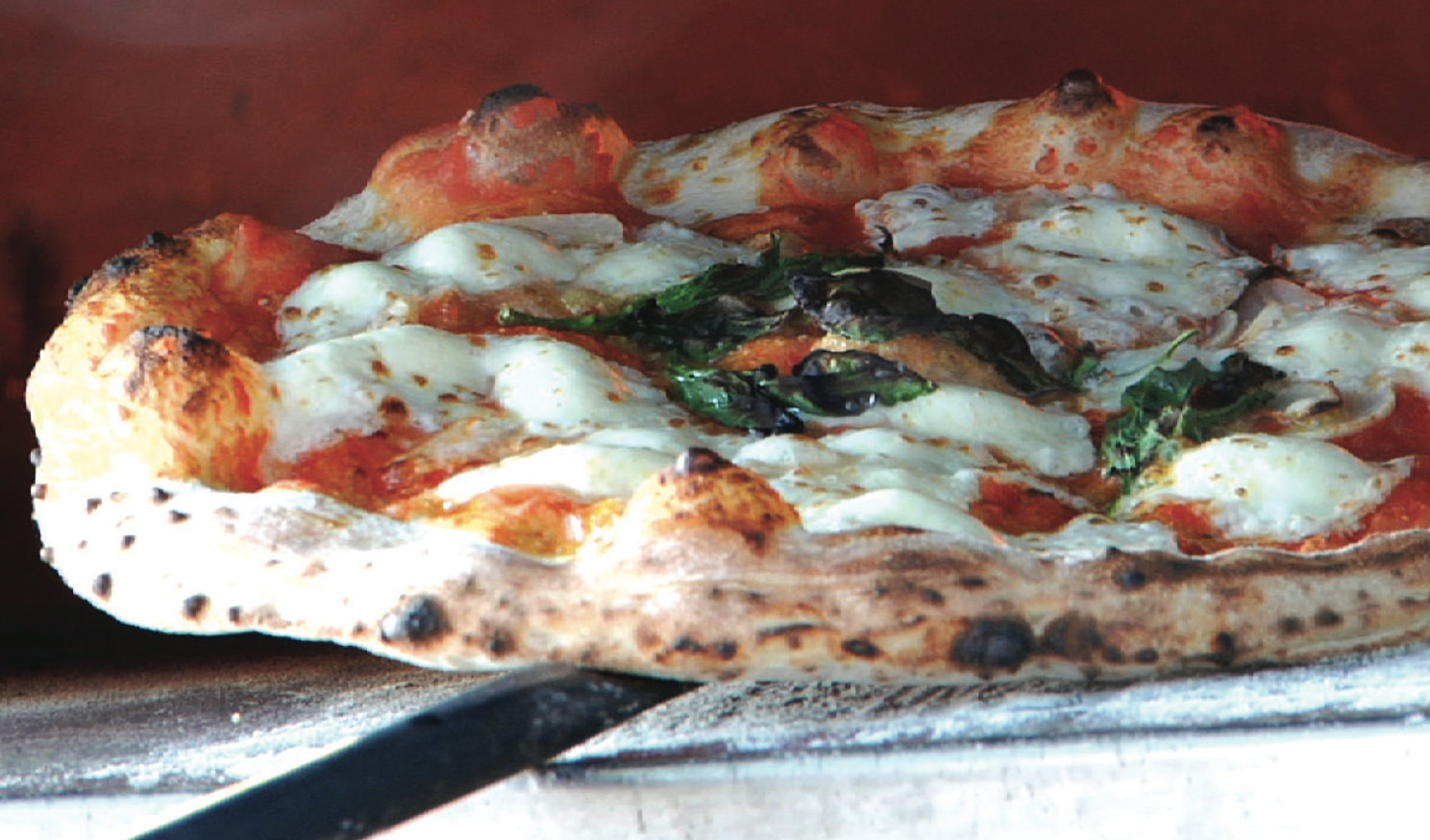 Flavors like smoked mozzarella, ricotta, garlic and thyme, or fresh lemon with basil and garlic mozzarella, offer gourmet summer fun, but this pizza oven-on-wheels comes with some no-nonsense decrees. First, there are no substitutions (don't even ask); no, you can't have extra anything; there are no half-pie this, half-pie that; you can't have it extra crispy; you can't hold anything unless you are allergic (and you'll need a doctor's note). This serious "take it or leave it" food attitude is all about the flavor. With house-made mozzarella and locally sourced meat and vegetables, DiBari's pies are not made, they're crafted, and he has set the boundaries to protect the quality of his food.
As the name suggests, DoughNation donates 2 percent of the proceeds from the sale of every pizza to a different charity each month. Last summer, some of the local charities included the Make-a-Wish Foundation, Pets Alive Animal Sanctuary and the Leukemia & Lymphoma Society. Pizzas are all priced between $10 and $12.
Response to the truck has been so successful, DiBari plans to open a full-blown pizza restaurant in Dobbs Ferry later this summer.