ONE OF ONLY A HANDFUL of "universal" comfort foods, pot pies hold a special place on the plates of diners around the globe. Filling, flaky and adaptable, what this simple, savory dish lacks in complexity it makes up for with endless variety. In its broadest sense, the term pot pie refers to savory ingredients (meat and/or vegetables) encased and cooked in a dough (as opposed to a sweet pie, which usually contains fruit). The staple ingredients for pot pies have remained constant throughout its history. Traditional fillings usually reflect ethnic origins and geography—"shepherd's pie," for example, contains lamb (or more likely mutton) topped with mashed potatoes, a tipoff to its northern England/Scotland lineage. There are popular Roman images depicting live birds bursting through the crust of a pie while it is being served—a largely fanciful interpretation not related to an edible dish, though "blackbirds" (actually starlings) were commonly cooked up as pie filling (notably in London during the late nineteenth century, partly because the city was overrun by an overpopulation of the birds and they were free for the taking).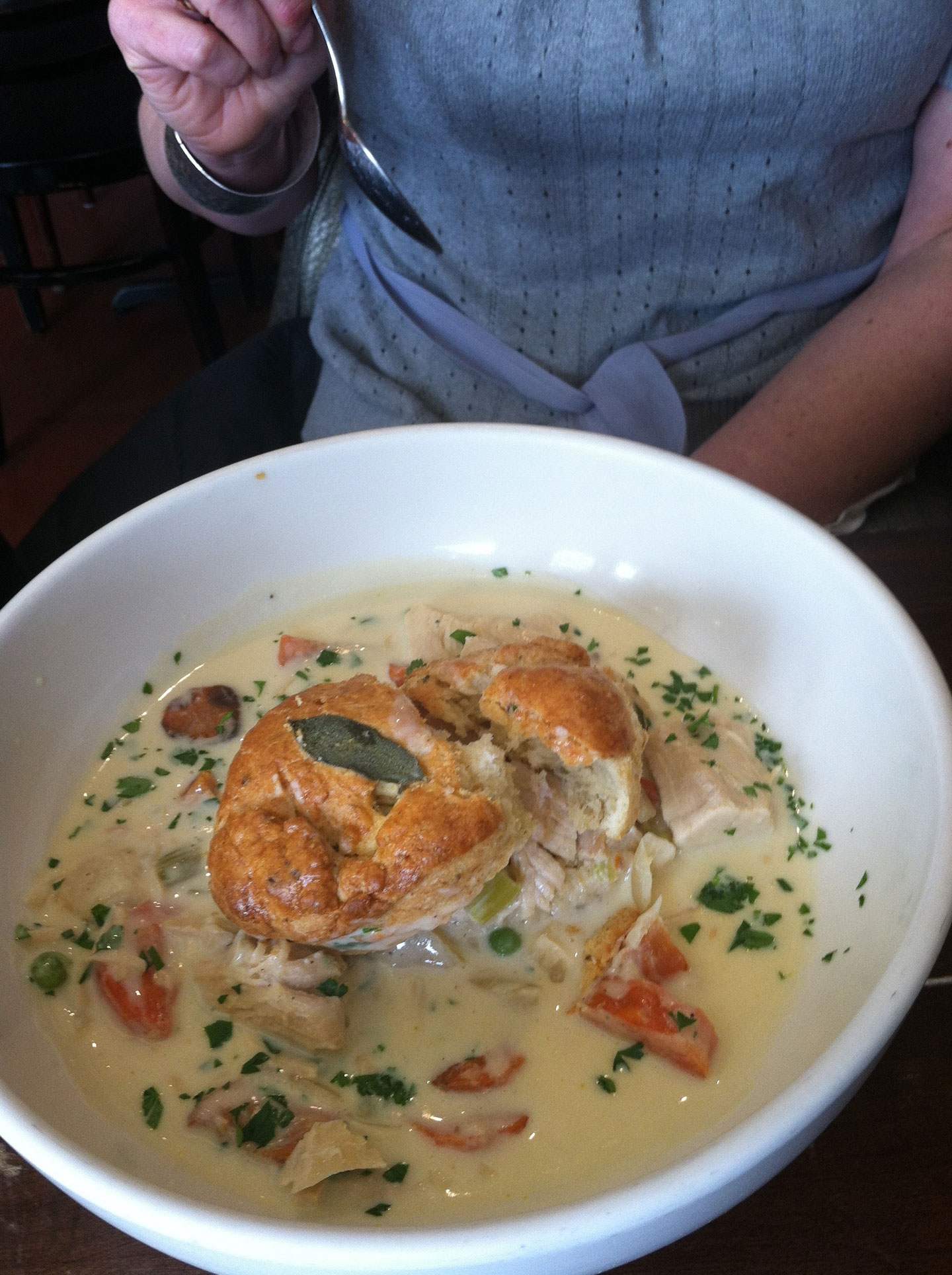 In fact, almost every variety and cut of meat (including mutton, beef, lamb, pork, venison, tongue, tail, hoof) or fowl (from crow to sparrow, chicken, turkey and even penguin) has found its way into a pot pie somewhere at one time or another. The high point of fillings (or low point, depending on your frame of reference) may be "peepers" (baby chicks stuffed with gooseberries), popular in sixteenth-century England.
The versatility of pot pies made them a popular meal for the colonists, too. In American Cookery, published in 1796, author Amelia Simmons includes a variety of pot pie recipes utilizing meat combinations, as well as "sea pies" that feature pigeon, turkey, veal and mutton. Most appealing to the American palate, however, turned out to be the chicken pot pie (which Simmons also includes).
Chicken and turkey pot pies became two of the most popular premade meals available to Americans during the heyday of frozen "TV dinners" from the late-1940s through the 1950s. While the definitive history is complicated and yet to be written, the look and taste of frozen pot pies from companies like Banquet, Stouffer's or Swanson are burned into our collective memory—which is unfortunate, because pot pies aren't difficult to create from scratch.
Home cooks can use store-bought puff pastry or pie crusts, a filling of shredded or cubed meat and diced vegetables, and a simple gravy/sauce made from butter, flour and broth to make a delicious, one-dish meal. They're also a perfect way to salvage and stretch leftovers, and adding a personal touch to such a basic dish is almost mandatory.
Simone Williams, owner of All You Knead Bakery in Beacon, offers two variations of the dish at the bakery: one for vegetarians, one for carnivores. Her vegetable pot pie is dense with carrots, celery, potatoes, mushrooms, peas, kale, spinach, broccoli and onion. "I wanted to offer something filling that vegetarians could enjoy, not just a pie containing carrots, onions and peas," Williams says. "My family tends to be my test kitchen—they helped me think of how to make it great. It's convenient for customers to drop in to pick one up for dinner—[it will] usually feed at least two people."
Across the river in New Paltz, Agnes Devereux, chef/owner of The Village TeaRoom, veers from the norm with her "deconstructed" turkey pot pie. Instead of encasing the fillings within a crust, Devereux serves the hot filling in a bowl, topped with a large biscuit—a throwback closer to the original presentation than to the modern "sealed" version. "It's lighter than a complete lid of pastry, but you still get that 'comfort food' feel," Devereux says. "Turkey can be dry and bland, but cloaking it in a rich, creamy sauce enhances the flavor and keeps it juicy. The sweet, roasted carrots are a lovely counterpoint to the savory sauce, too."