THE AROMA OF CHOCOLATE PERFUMES THE AIR of the Fruition Chocolate shop. Machinery buzzes in the background as cocoa nibs are ground into a shiny paste. Gracious, soft-spoken and chocolate-obsessed, owner Bryan Graham understands that the craft of chocolate making requires finesse. It's all in the details.
A self-proclaimed control freak, Graham is involved in every step of the chocolate-making process at the shop, which opened last year in Shokan, west of Kingston on Route 28. "I didn't just want to be a chocolatier; I wanted to know where the chocolate came from and how it was made," he says. As a culinary student, Graham pestered a chef/instructor to show him how cocoa nibs are transformed into chocolate (a lesson not typically included in the curriculum). "When I saw the process, it clicked," he says. He knew he wanted to build a career around chocolate.
Graham dedicated his free time to making chocolate in his home kitchen, practicing formulas and learning the process in small, 5-pound batches. After an externship with Jacques Torres and graduating from the Culinary Institute of America, he returned as a sous chef for Chef Francisco Migoya at the Institute's Apple Pie Bakery and Café. Together, they implemented the school's first "bean-to-bar" program and developed a retail confectionary line to sell in the café.
Born and raised in the Hudson Valley, Graham says he loves the local spirit and has formed close relationships with surrounding businesses. "Here in the Hudson Valley and Catskills we have a bounty of great products to work with," he says. He collaborates with local organic farms to source fresh berries or pumpkins, depending on the time of year. He dehydrates the produce into a powder and incorporates it in his creatively flavored bars and confections to achieve the freshest, most flavorful result possible.
He uses Bread Alone sour dough to create an "olive oil and toasted sour dough truffle." Bread Alone sells Fruition chocolate bars and uses the chocolate in their hot cocoa.
Graham sources his cocoa beans from a cooperative in St. Martin, Peru, where his wife runs a nonprofit. Peruvian cocoa beans are high quality, he says, emphasizing that they offer a uniquely bright and acidic flavor profile. Graham focuses exclusively on Peruvian product because, he says, "I would love for that money to be going to a country that I love and a place that I love."
Graham has made a science out of roasting the beans, one of the most critical stages in chocolate production because it determines a lot of the chocolate's final flavor. Graham roasts a certain percentage of the beans to a lighter roast to retain some of the bean's natural acidity; another percentage of the beans is roasted slightly darker to achieve a deeper chocolate flavor. The result is a balance of flavors.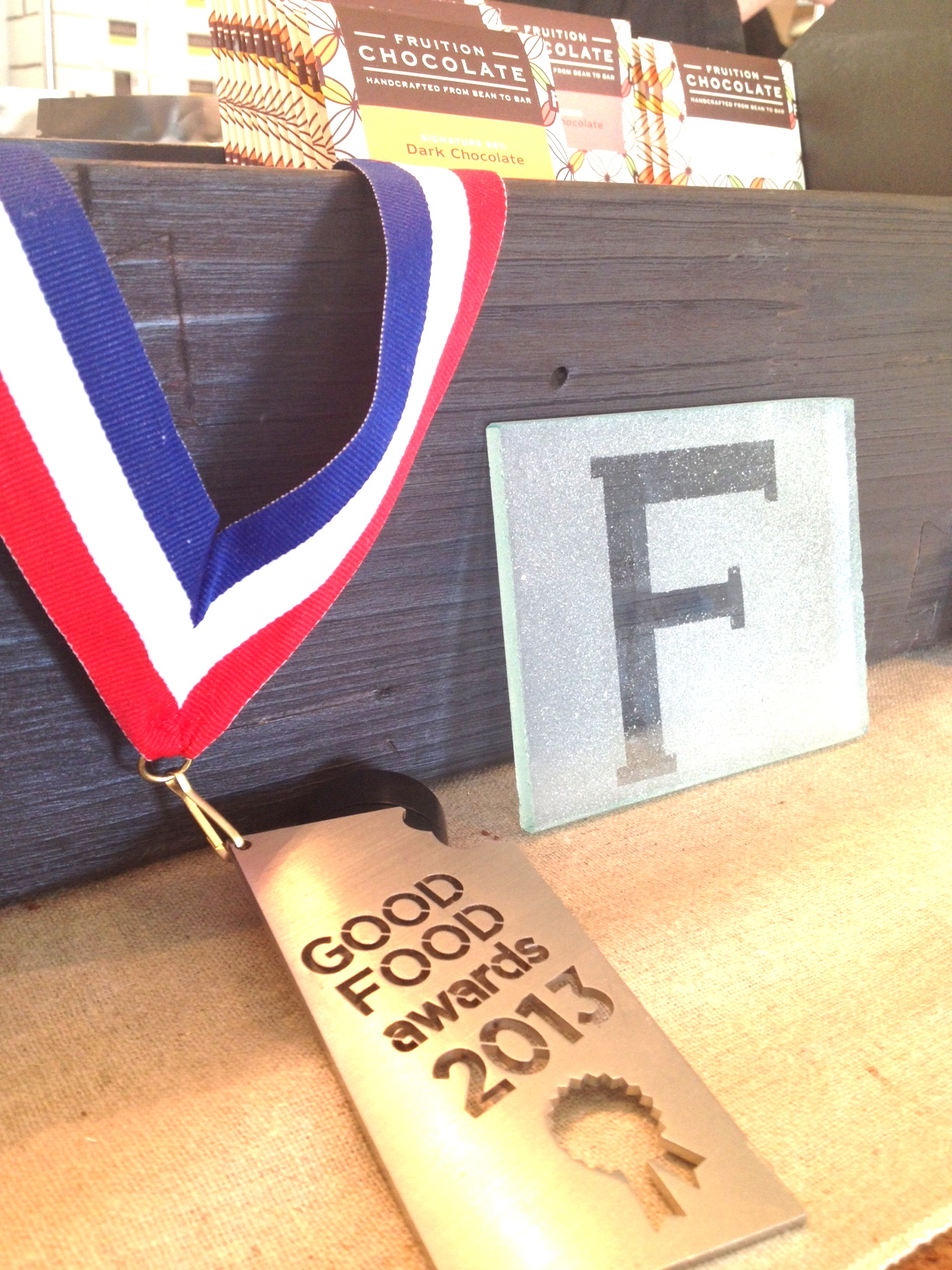 The quality of Fruition's chocolate has gained Graham recognition beyond the Hudson Valley. Fruition took home a 2013 Good Food Award for its dark milk chocolate bar with fleur de sel; now he supplies the pastry chefs at New York's Le Bernardin and Café Boulud with chocolate for their pastries and desserts. Graham works with the chefs to create their own signature chocolates for various applications, tweaking percentages and viscosity for a customized product.
Unlike many bean-to-bar producers who don't go beyond the process of making chocolate bars, Graham is both a chocolate-maker and chocolatier, taking his product from "bean to bar to bonbon." Graham's experience enables him to elaborate the chocolate into something more; he offers five signature bars, four types of pan-coated products (like olive oil-fried almonds with dark chocolate, rosemary and honey), as well as crafted confections (including his popular brown butter bourbon caramels made with Tuthilltown Spirit's Baby Bourbon).