The scrumptious recipe by Molly Baz, former food editor and Rhinebeck native, features ramen noodles, crispy mushrooms, and soy sauce.
Valley Table recommendations are objective, unbiased, and curated by the editorial team. If you buy something through our links, we may earn an affiliate commission at no cost to you.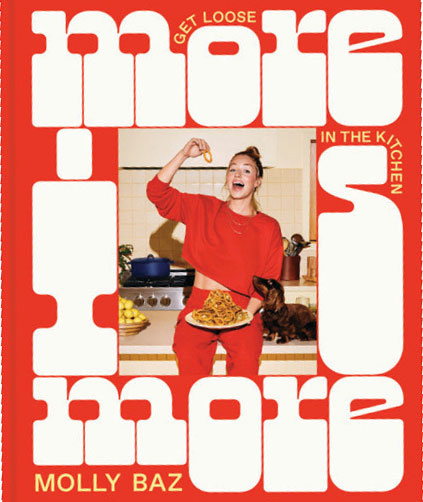 Chef and food writer Molly Baz has fine-tuned having fun in the kitchen. After a five-year stint as a food editor and video host at Bon Appétit, the Rhinebeck native began developing her own recipes full-time. In 2021, she released her first cookbook, Cook This Book, to much acclaim and earned a spot on the New York Times bestseller list. This fall, she's back with More is More: Get Loose in the Kitchen, another inventive, full-of-personality cookbook packed with easy, flavorful, and yes fun, recipes.
On most days, there are few things I want more than the umami trinity of crispy browned mushrooms, soy sauce, and Parmesan cheese—okay, maybe also a martini. This dish uses fresh ramen or udon noodles, which you can find in most grocery stores. If not, there's always spaghetti. Take your time with the mushrooms. Because we're adding them all to the pot at once, it will take at least ten minutes to cook off all their water and start browning. The wait is worth it.
Ramen Noodles With Shrooms & Soy Butter
Ingredients
Produce

1 pound mixed wild fresh mushrooms (shiitake, oyster, maitake, etc.)

6 garlic cloves

1 lemon

Dairy

6 Tbsp (¾ stick) unsalted butter

1 ½ oz. grated Parmigiano Reggiano (about ⅓ cup)

Pantry

Kosher salt and freshly ground black pepper

3 Tbsp extra-virgin olive oil

¼ cup low-sodium soy sauce

18 oz. fresh ramen or udon noodles, or 12 oz. dried spaghetti
Directions
Do Some Prep
Bring a large pot of salted water to a boil.
Tear or cut 1 pound mixed wild mushrooms into 2-inch pieces. They don't have to be the same shape, just generally the same size.
Thinly slice 6 garlic cloves.
Build the Mushroom Sauce
Heat a large Dutch oven over medium-high heat. Add 3 tablespoons olive oil and swirl to coat. Once the oil just begins to emit wisps of smoke from the surface, add all the mushrooms at once and give a good stir to coat in the oil. Season lightly with salt. Cook, stirring only every 2–3 minutes or so, until the mushrooms are golden brown and crisp all over, 10–14 minutes.
Reduce the heat to medium-low and add 2 tablespoons unsalted butter and the sliced garlic. Cook, stirring, until the garlic is very fragrant but has not yet browned, 1 minute. Transfer the mushrooms to a plate (it's okay if some of the garlic sticks behind in the pot).
Add the remaining 4 tablespoons unsalted butter, ¼ cup soy sauce, and ¾ cup water from the pot that the noodles will cook in. Bring to a simmer, then remove pot from the heat and cover with a lid so it keeps warm until the noodles are cooked.
Cook the Noodles
Drop 18 ounces fresh ramen noodles into the pot of boiling water. Cook until al dente according to the package directions. Using tongs, add the noodles to the pot of soy butter (reserve the pot of noodle cooking water). Return the pot to medium-low heat and start adding handfuls of grated Parmigiano Reggiano to the noodles, one at a time, tossing with tongs as you go and adding more of the noodle water until all the Parm has been incorporated and the sauce is very creamy, saucy, and glossy.
Add the mushrooms and lots of freshly ground black pepper and toss again, loosening with more noodle water as needed.
Remove from the heat and finely grate the zest of 1 lemon into the pot. Taste and add more salt here as needed.
Serve
Divide the noodles among serving bowls and top each with more black pepper (if desired) to finish.
---