DOTTIE AND JERRY ARGENIO set out to renovate the kitchen of their countryside Cornwall home, but there was nothing impulsive about the process. This wasn't going to be your ordinary "let's get new cabinets" remodeling project—plans eventually called for almost half the house to be reconstructed.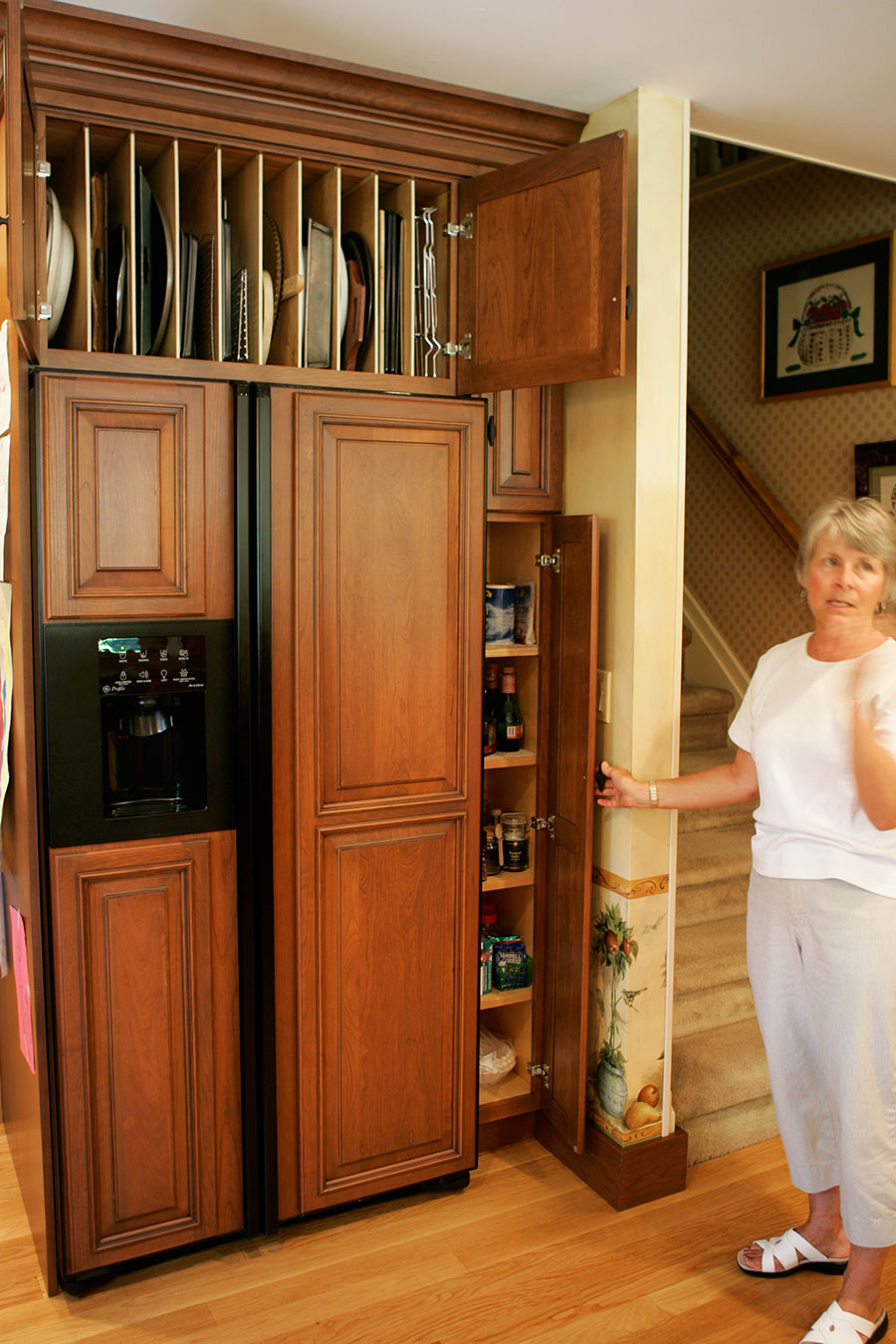 Barely a room, it seems, ended up untouched. But it was all toward one goal, Dottie says, "I wanted room. Room to move. That was a very important part of our design. My husband had started to enjoy cooking. We had a very tiny galley kitchen, with only countertops on one side. While most people are interested in other aspects of kitchens, we wanted space. It was like we threw the house up and it all came down in different places. The laundry room was over here, we enclosed part of the porch and it went over there. It was exciting. It was wonderful."
If the buzzword was space, the opportunity to rethink (and then have to live with) an entirely new kitchen was challenging. They had help, of course—a thoughtful contractor (whose plastic curtains shielded the rest of the house from dust for seven months), and an architect designer who put their needs first but who encouraged them to think out of the box.
"We sat down and her first question to us was, 'Okay, you want to add a room—what do you want this room to do for you? Let's talk about what your outcome is and then we'll back into how we can make that work.' And she made it very clear that the process is not about what she liked but to get a plan that we would be pleased with."
In another sense, though the Argenios knew what they wanted (room), there were aspects of the project that called for consultation and opinion. "I asked anyone I knew who did any kind of kitchen renovation what's the best thing they did—what they liked the most, what did they forget to do, what did they wish they had done. I really tried to listen to what other people had to offer with respect to their renovations. There were some real glaring errors out there."
Some solutions were subtle but significant—a paneled refrigerator, for example ("This has become a gathering space, so we opted to dress up the refrigerator so that you weren't looking back at a big stainless steel block as you're entertaining"), a flat cooktop ("The one thing I said—I'm not going to clean anything—I'm going to have it absolutely flat") and ball-bearing slides in the ovens ("For years and years I have had family dinners for holidays, and you really need two ovens. You only do this a few times a year, but you get a 20-pound turkey in the oven and then you try to pull that bottom rack out—it's hot and it's heavy and it won't slide on the metal. Well, I found ovens that have stainless steel rollers—you put that turkey in and it just rolls out.")
The spice drawers are a nice detail ("Any kitchen I ever operated in they were never convenient; they were somewhere else. We ended up with a great solution—that little stack of three drawers. [The spice jars] lay flat and they're all exposed and labeled. That worked great for us.") And there are more lights than they thought they'd need ("Our contractor actually said, 'All these lights—this is crazy.' But you know what, wherever you want them, they're right there. Every area of the kitchen is lit; no matter where I'm working, I can turn the light on and it fits. And everything is on dimmers.")
And what kitchen renovation these days doesn't include a pantry? But one tailored for a baker—with the countertop height built to your stature? At 5-foot-1, it's no joke, Dottie says. "This is a very important feature—I do roll and I do bake. You have no idea how convenient it is that you're looking into a mixer instead of up at it. I'm very, very happy that I held true to what I really wanted to do. It has been functional and a great benefit."
The light, the space, and the conveniences the Argenios included in their renovation added up, significantly. On the other hand, their kitchen contains all the elements they hoped for, and then some.