NO WONDER RHUBARB IS NICKNAMED THE "PIE PLANT"—say "rhubarb" and most people automatically think "strawberry rhubarb pie." If that's the limit of your experience (or your imagination), the versatility of this perennial vegetable with slender pink stalks resembling blushing celery may surprise you.
Botanically, Rheum rhabarbarum belongs to the buckwheat family and is second cousin to sorrel. There are numerous species of Rheum, some cultivated more than 4,000 years ago for medicinal purposes in Asia and India, where the root and stalks were used as a cathartic to treat digestive problems. Marco Polo is credited with bringing the medicinal root from China to Europe by way of Venice; records indicate it was planted on Italian soil in 1608. Italian pharmacists and physicians prescribed rhubarb root as a purgative, a colon-cleansing practice popular throughout Europe at the time, and rhubarb root is still used in traditional Chinese medicine.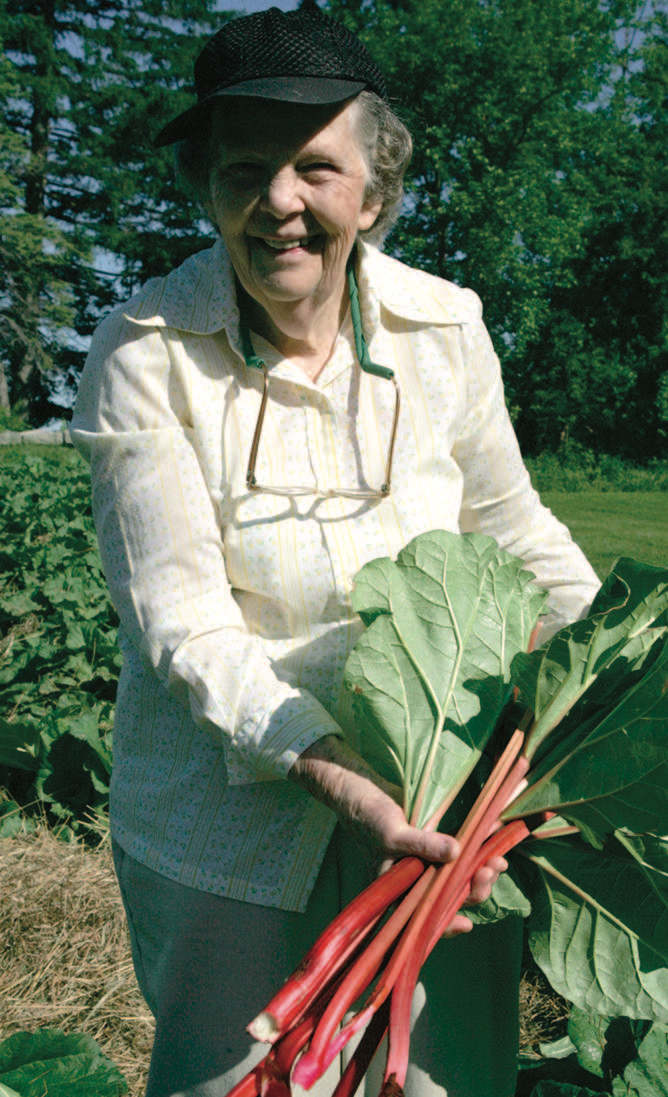 Modern science has determined that the roots and stems contain high levels of anthraquinones such as emodin and rhein—both have a laxative effect and can contribute to weight loss. It's also said to speed up metabolism. One cup of diced rhubarb contains about 26 calories. It's highly nutritious—rich in dietary fiber, vitamin C, Vitamin K, potassium, manganese and calcium (though the calcium is combined with oxalic acid and not easily absorbed).
Growing rhubarb as a food plant was first recorded in seventeenth-century England, when commoners could finally afford to buy sugar to counter the plant's astringency. By the early 1800s, the seeds of common garden rhubarb (Rheum x coltorum) became available in the United States; the plant's popularity peaked about a hundred years later, which might explain why so many associate growing it with grandma and her garden.
While it can be challenging to start, once established, the big, old-fashioned plant with its huge ruffled green leaves is easy to grow and it's extremely hardy. It needs cold winters and cool weather during the growing season, making it especially suited to gardens in the Hudson Valley. As for dependability, the same roots can produce edible stalks for up to 15 years.
The best way to start a plant is to get a plant. That's how Doris Jones Clearwater first established her rhubarb patch at the family's farm in Cornwall. (Call it a patch? It's a veritable garden.) Her grandfather started the farm in 1914, and some of the rhubarb the 83-year-old harvests today comes from her grandmother's plants.
I have it for breakfast—stewed rhubarb, every morning with yogurt.
—Doris Jones Clearwater, 83
Doris and her husband, their son David and his family now run the farm, selling the harvest mainly at the farm store, which includes a bakery, gift shop, frame shop and art gallery. Of the 85 remaining acres, 10 are in cultivation: The biggest crops are apples, pears, sweet corn, tomatoes and a variety of vegetables.
Doris harvests rhubarb from about the last week of April to the fourth of July, sometimes a little longer, and picks it fresh every day. The stalks are ready to use as soon as harvested, and the farm store offers whole grain rhubarb muffins, rhubarb custard pies and rhubarb apple crisp in addition to fresh-cut stalks. And then there's stewed rhubarb—"I have it for breakfast," Doris says, "stewed rhubarb, every morning with yogurt." (A favorite family recipe mixes stewed rhubarb with canned pineapple, which adds sweetness without too much sugar. It's one of the dozens of recipes Doris and her sister Alice collected more than 30 years ago and recently published as The Jones Farm Country Kitchen ($8.95, softcover), available at the farm.)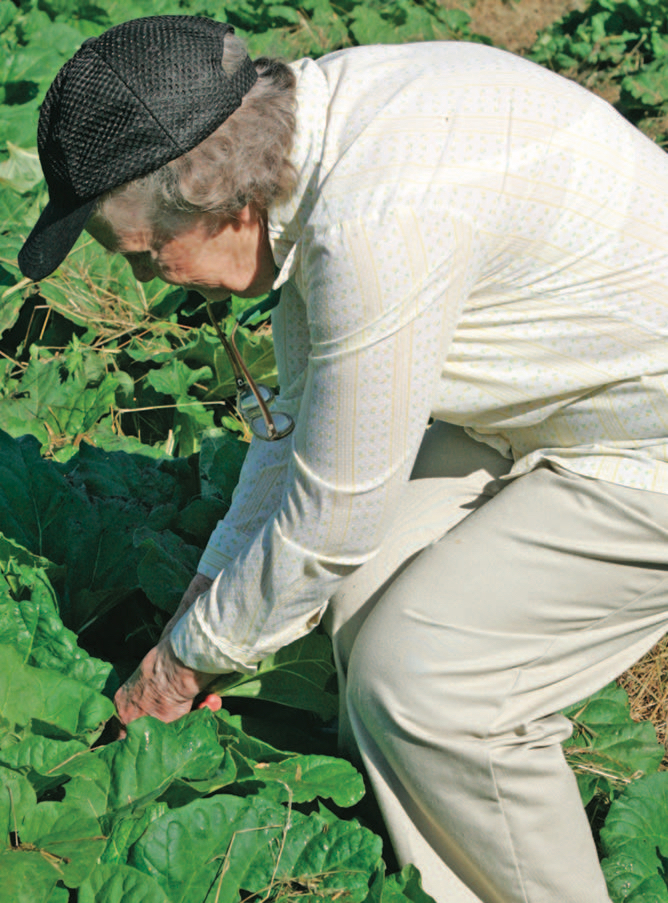 Indeed, garden-fresh rhubarb is prized by gourmet cooks, who give this old-fashioned favorite a nouvelle twist in dishes both savory and sweet. Rhubarb's tang is a terrific counterpoint to rich sauces and meats, such as duck, quail and foie gras, and goes surprisingly well with fish. It blends beautifully with other seasonal summer fruits such as peaches, plums, raspberries and apricots in desserts ranging from puddings to pies, crisps and cobblers, ice creams and sherbets. It's also popular in some Indian-style dishes and dressed up as chutney. Crisp rhubarb stalks can be sliced and simmered with sugar or other sweeteners, a cinnamon stick, nutmeg, fresh ginger, fragrant orange peel, a dash of lime, lemon juice or vinegar. The Art of Indian Vegetarian Cooking (Yamuna Devi, Bala Books; Dutton, 1987) offers a refreshing rhubarb-pomegranate beverage.
If you spot fresh rhubarb at the market (with its new-found popularity with health-conscious and adventurous cooks, it can be hard to find) look for heavy, firm stalks with shiny skin and no signs of drying (rhubarb is 95 percent water, so if it looks at all dry, it is really dry). If there are leaves on the stalks, discard them—rhubarb leaves contain oxalic acid in much higher levels than in the stalks and another potent but unidentified toxin. Wash the stalks and store in the crisper. Rhubarb also freezes well.
"I freeze the harvest and bake delicious rhubarb pies, tarts and cobblers all summer long," says food blogger Lorraine Thompson, (CopywritersKitchen.com), who lives in Westchester. She coarsely chops the stalks into 1 to 1 1/2-inch pieces. For every four cups of chopped rhubarb, Thompson adds 1 1/2 cups sugar, 1/4 cup instant tapioca, 1/4 teaspoon salt, 2 teaspoons finely grated orange zest and stirs. She packs four cups of her rhubarb mix into individual freezer containers. "This is the perfect amount for a 9 inch, double-crust pie," she says.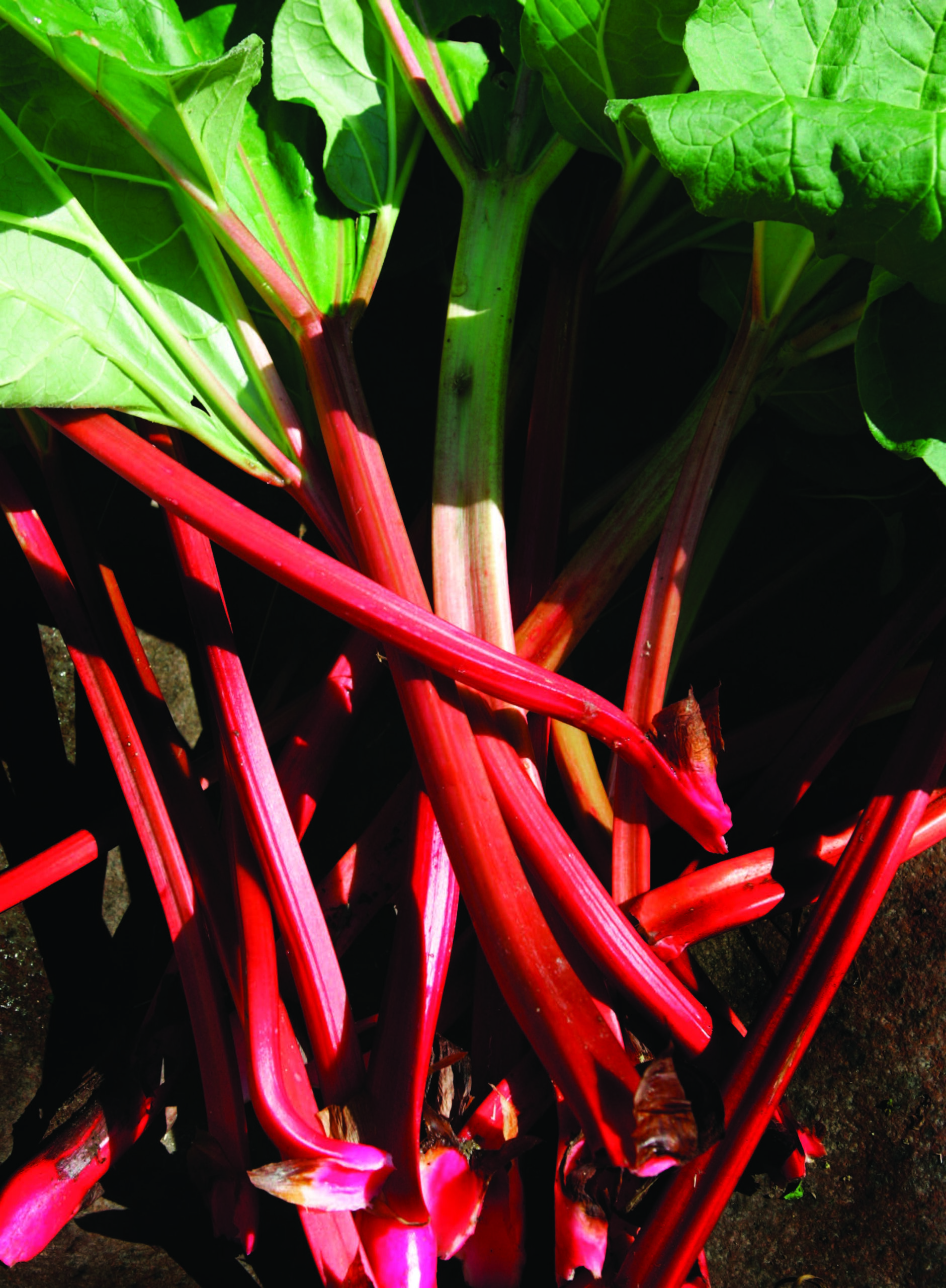 Rhubarb is showing up on more menus as area restaurants highlight the seasonal offerings of local farms. At The Village Tea Room, Restaurant & Bakeshop, in New Paltz, Agnes Devereux's homemade rhubarb chutney pairs as easily with crisp roasted chicken as it does with the cheese board. Rhubarb appears again in familiar favorites here, like rhubarb crisp and, of course, strawberry rhubarb pie. (Ever-adventurous, Devereux also has concocted a rhubarb Collins). You can order a rhubarb martini at Beeb's in Newburgh. Café of Love in Mt. Kisco recently spotlighted rhubarb in a delicious custard dessert.
For Gar Wang, who teaches private cooking classes in Warwick, developing a rhubarb dessert without resorting to sugar posed a challenge. "In the past, I was reluctant to use rhubarb because of the amount of sugar needed to make it palatable," Wang says. "Dates, orange juice and a touch of honey make this dessert delicious." Her recipe for rhubarb and date tapioca appears here. In a savory dal dish, Wang avoids sweetener altogether and uses rhubarb's natural tartness as a substitute for tomato acidity. Wang says she will likely be making rhubarb in her upcoming cooking class.