The first passive house cidery in the world is coming to the Catskills.
Originally started in Germany as the "Passivhaus" movement, this new standard for building energy efficiency seeks to dramatically reduce ecological footprints. Seminary Hill Orchard and Cidery, a bucolic plot of Sullivan County land marked by a former seminary building that overlooks the Delaware River, will be a place where heritage methods meet modern sustainable practices.
"Passive house said that the biggest 'bang for your buck' is having a really tight envelope with a lot of insulation and just making your building really energy-efficient. We use energy-recovering ventilation, solar…in many ways, this is conceptually the most straightforward approach to the complex issue of sustainability," says Stuart Madany, director of cider, events, and marketing for Seminary Hill Orchard and Cidery.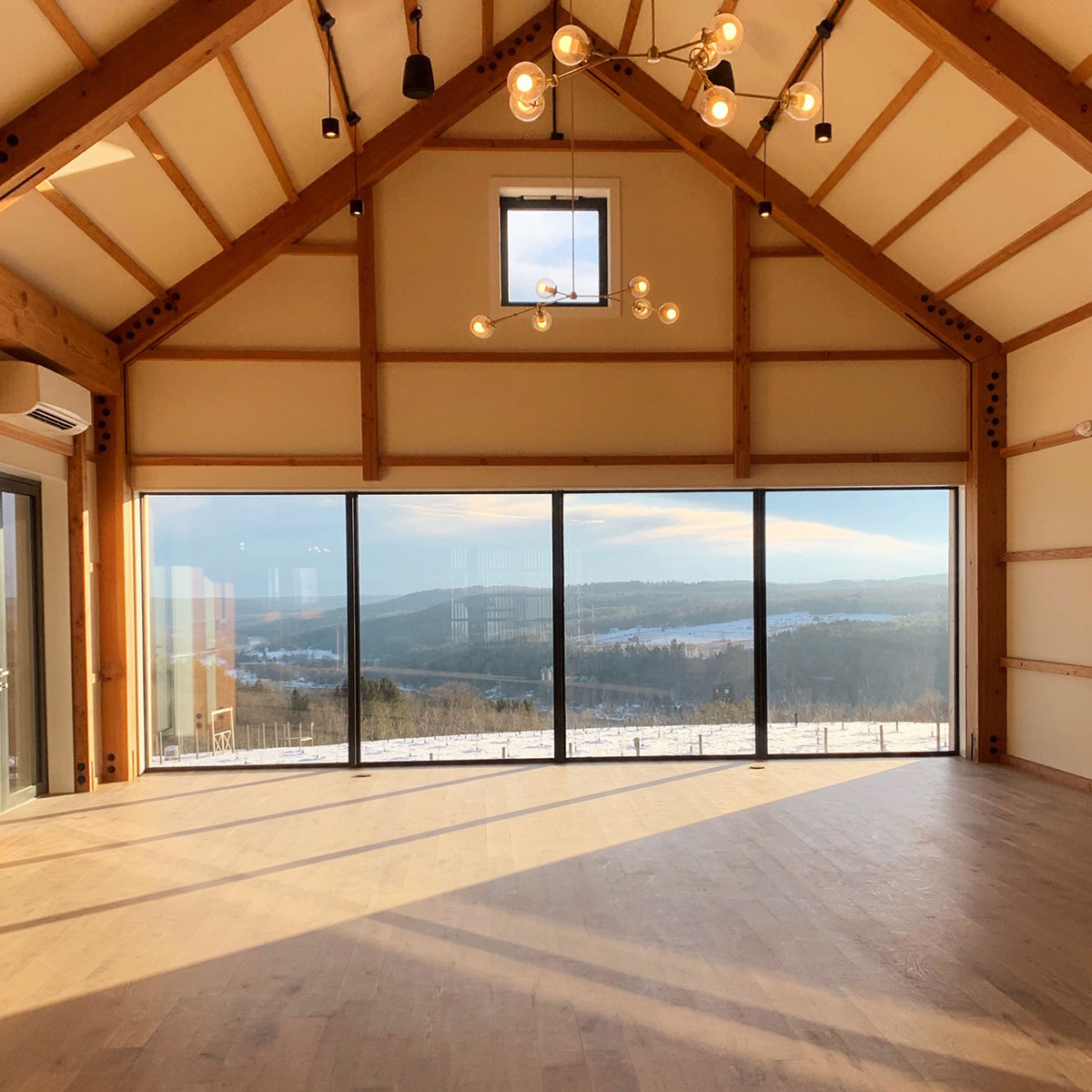 Madany started his career as an architect and spent 10 years managing an orchard and cidery in Virginia. Baxter Building Corporation, based in Poughkeepsie, finished construction on the passive house site in time for a spring 2021 opening. Seminary Hill drew Madany in not only due to its progressive energy standards, but through the opportunity to return to orchard-driven cider making.
Madany divides the cider industry into three sectors. The macro-brands include global producers like Stella Artois. Then there's a category that mainly produces cider from commodity apples grown for the fresh fruit/dessert market. The apples used are not fit to be sold on their own and find a second life as a fermented beverage. The issue with these apples is they require flavor additives and sugars to achieve desirable flavors.
The third category Madany describes as orchard-driven, which includes producers that take a wine-making approach to cider, focusing on growing specific fruit varietals that imbue ciders with distinct flavor profiles, aromas, and other characteristics.
"It's very analogous to making fine wine. You grow the best apples possible on your site and make the best cider from that," Madany says. Seminary Hill began growing in 2016, making it a relatively young orchard. Single-varietal ciders from Seminary Hill apples are not yet possible due to the limited yield thus far, but the cidery has made blends from onsite fruit.
There are over 60 apple varietals planted across the gorgeous 12-acre farm in Callicoon. For the single-varietal ciders produced, the team sources apples from other parts of New York. Apples native to this region — and transplants that thrive — tend toward higher tannin levels, greater acidity, and bittersweet/bitter-sharp flavors.
Madany notes that English bittersweet varietals from cider-producing regions like Somerset grow especially well in the Hudson Valley. Their structure and body grants them a greater aging potential, giving the cidermaster tons of opportunities to experiment with longer fermentations and barrel-aged batches.
Part of what enriches the apples with hyper-local traits is the team's dedication to holistic orcharding methods and biodynamic agriculture. Seminary Hill does not use chemical pesticides, but instead focuses on the health of the ecosystem that surrounds the 1,500 apple trees. The cidery fosters companion plants that attract bees and other natural pollinators.
"Our approach involves tending to what the soil needs, what the trees need, and never adding anything you wouldn't want to eventually consume. It's all a single system, which then feeds into the cider as well," says Culinary Director Grayson Brower.
Brower has a hand in many of the processes at Seminary Hill in order to curate a rotating seasonal menu representative of Sullivan County's rich culinary traditions. Having a seasonal menu is not an option, but a necessity for Brower, who utilizes both onsite ingredients and produce from local providers.
Brower credits Doug Doetsch, the founder and CEO of Seminary Hill, with founding many of the important relationships with nearby growers. The Doetsch family has been in the Hudson Valley for generations. Seminary Hill's very founding was an extension of Doetsch's desire to continue an agricultural tradition and express the bounty of this land.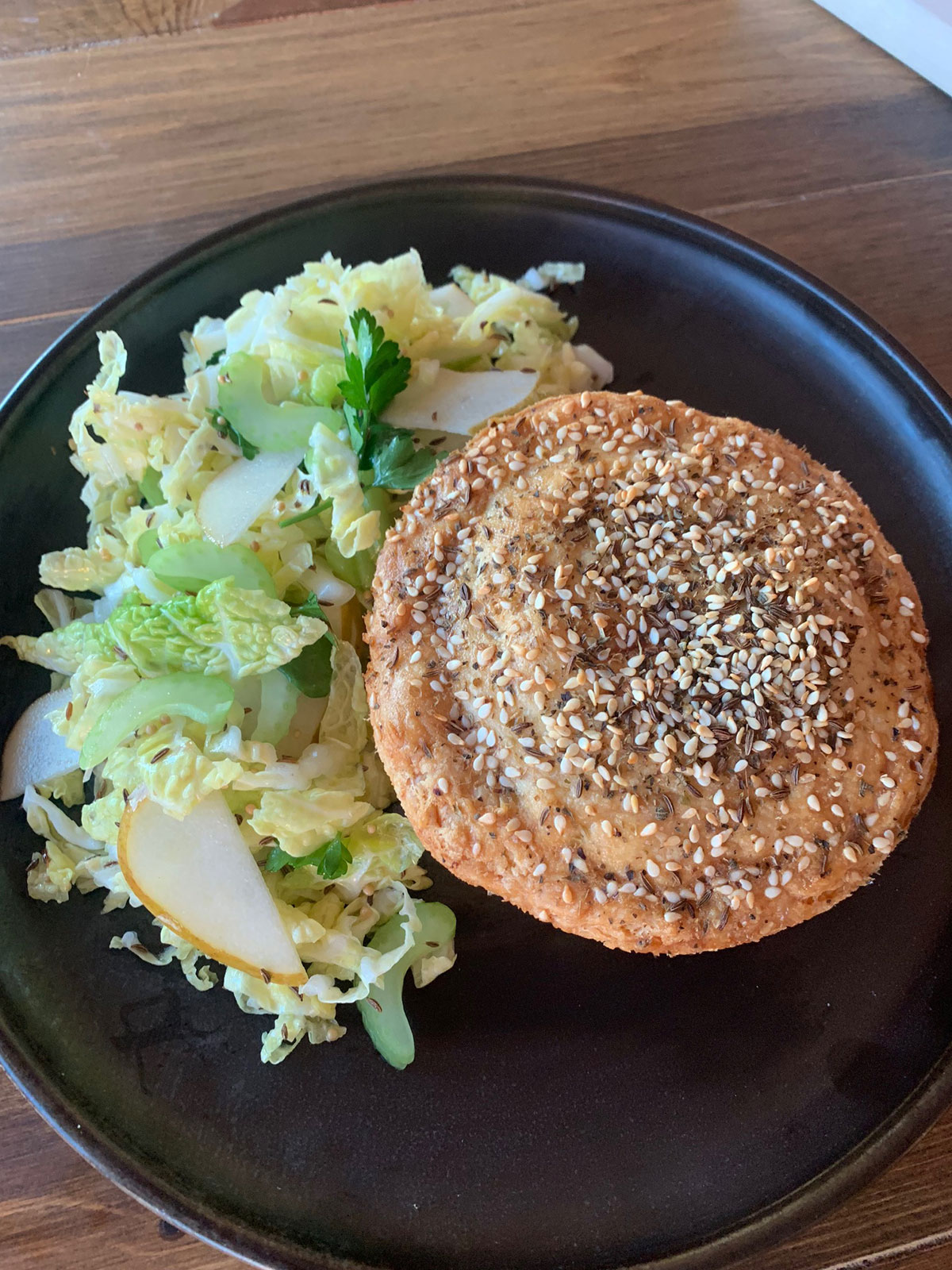 Part of this tradition is venison. Brower develops cuisine to pair well with dry cider and to pay homage to local history. Spiedes, or skewered, marinated venison, always entered the conversation when she was discussing local eats.
"Everyone that I've spoken to that grew up in this area has this food memory that makes them smile," Brower says. And spiedes were always a part of that.
Brower's great grandparents lived in the Western Catskills and actually met at one of the famous Borscht Belt hotels.
"How very 1960s of them," Brower laughs. With her menus, she seeks to harken back to those times, highlighting local agriculture alongside Jewish and German culture.
"There's a fun lightheartedness and a beautiful heritage here as well. Finding ways to sprinkle in influence from that era, that generation, is something that I'm interested in," Brower explains. Amazing indigenous game and heritage preparation makes for delicious dining.
In the winter, there's nothing like warm, crispy German potato salad with a mustard vinaigrette and a cool, crisp cider. Old-fashioned pot pie has made an appearance on the menu as well. All in all, Brower serves up hearty, familiar, comfort food with the highest quality regional ingredients.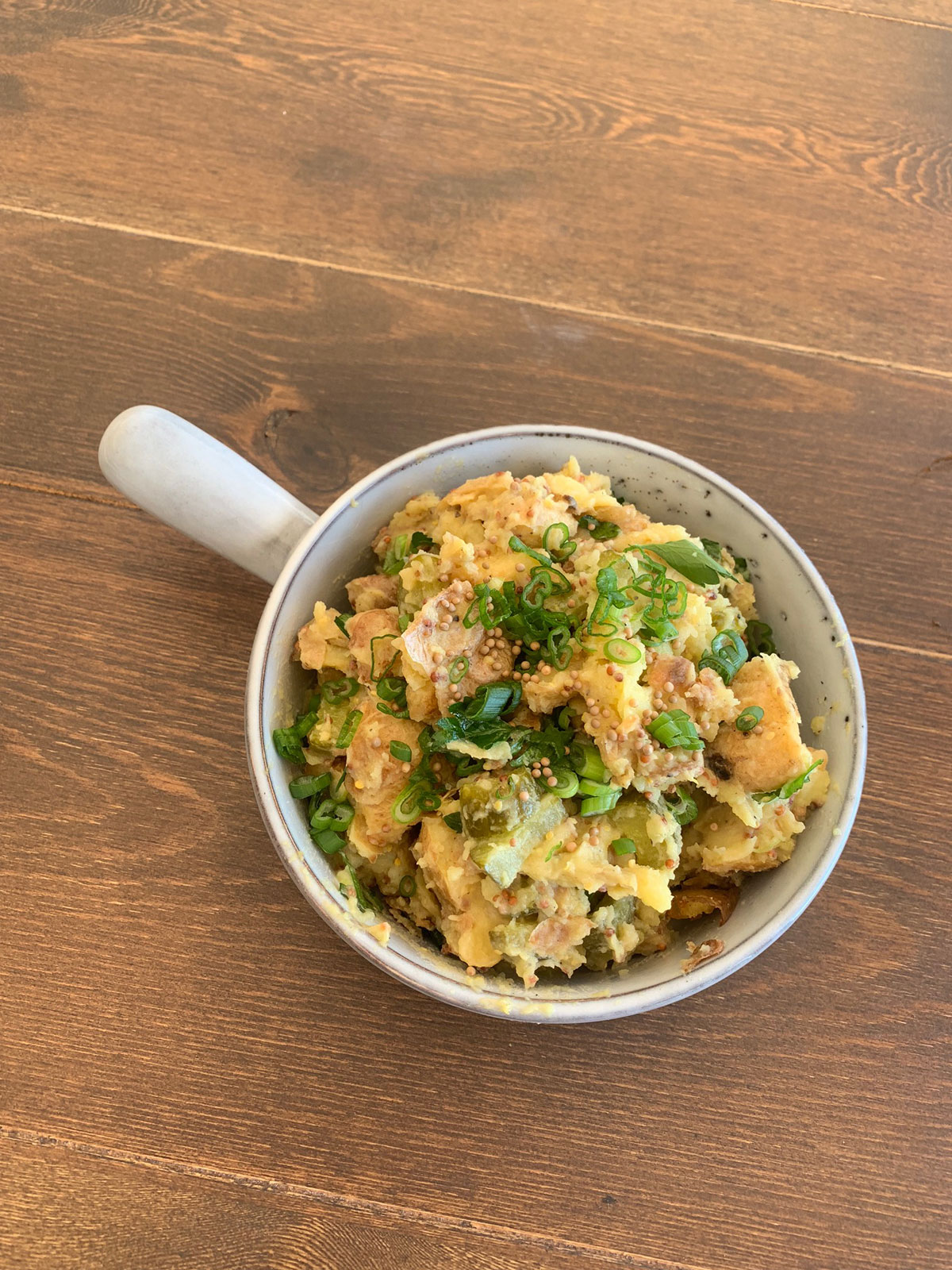 Though most of the apples grown onsite are more palatable in their liquid form, there are many species that Brower has gotten to know by experimenting in the kitchen.
The Northern Spy, dubbed by Brower as the unofficial apple of upstate New York, plays well with rich, savory foods and can stand up to ingredients like butter and sugar. A denizen of the Hudson Valley since the 1800s, the Northern Spy is favored by locals as the base for an old-fashioned apple pie.
Seminary Hill produces a single-varietal cider using Northern Spy.
"That leans less toward the super-sweet, saccharine flavors that people might associate with hard ciders. [Northern Spy] challenges that with acidic, savory notes that harken back to European styles of heritage cidermaking," Brower says.
Tart and effervescent, this cider has tannins that produce a beautiful feeling on the tongue and make the beverage pair well with anything from rich roasted chicken to the local classic, venison spiedes. It's also a great cocktail topper due to its champagne-like crispness.
Another cider ready to hit the market is Perfect Pear, featuring wild-foraged pears alongside the Newtown Pippin apple.
"Newtown Pippin is widely grown, and it seems to have pretty pronounced citrus notes to it," Madany says. "Its most typical note is lime zest, but sometimes it comes across as tangerine peel or something like that. It's got a nice aromatic quality…it's a pretty balanced apple."
Seminary Hill's full assortment of ciders and offerings will be available in the form of takeout boxes in the spring. When visitors arrive in the summer, they can sip flights in the tasting room, explore suggested food-and-cider pairings inside or out, and tour the passive house cidery building.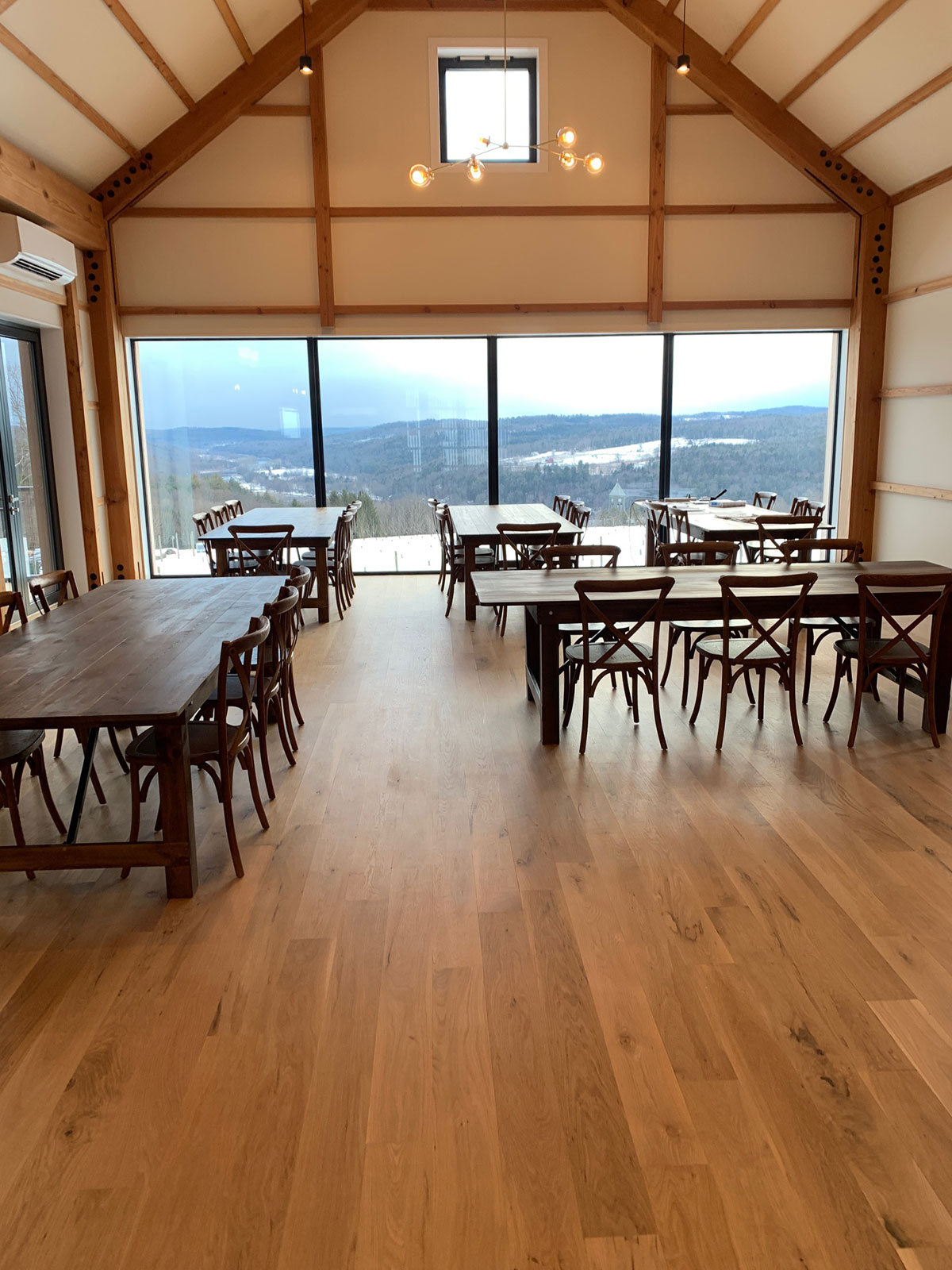 "One of my favorite moments was when Greg Swartz of Willow Wisp farm came by to deliver beautiful purple daikon that I've pickled earlier this year — and will be on our menu. He pointed through the window of our tasting room and said 'Do you see that out there? That's our farm.' That makes me so happy," Brower says, elated by the network of local producers.
"It's so fun for me because I can tell guests to look out the window and not only see what they're drinking, but also what they're eating."
Seminary Hill Orchard and Cidery
43 Wagner Lane, Callicoon