KELLY VERARDO, BAR MANAGER and mixologist at Restaurant North in Armonk, offers an unusual caveat to trepidatious guests about to order her Summer Sidecar cocktail: "I will get you something else if you don't like it."
Why the need to reassure? Because there are shrubs in the mix. Not twigs or bark or trimmings from a plant, but a vinegar-based syrup with unmatched complexity that has a lineage as long as wine's. Verado never worries about her patrons' reactions. "After they try it, the majority of people enjoy it and want to know more," she says.
While putting vinegar into a drink seems odd, the practice has a long history. Like wine, vinegar was added to water as a means of purification. In Turkey and Persia, where shrubs originated, vinegar was a non-alcoholic way of preserving fruit—the resulting products were called sharāb or sherbets, but eventually became known simply as shrubs. These syrups were simply a mixture of fruit juice, vinegar, sugar and other flavorings. "Drinking vinegars," as they were also referred to, were a remedy for the warm weather, bringing flavor and, more importantly, refreshment, particularly to those refraining from alcohol for cultural or other reasons.
However, another fashionable drink also became known as a shrub. Popular in colonial America, these concoctions consisted of citrus, sugar, and rum or brandy. Today, the term shrubs commonly refers to the vinegar-based product that currently is causing a stir in the beverage industry.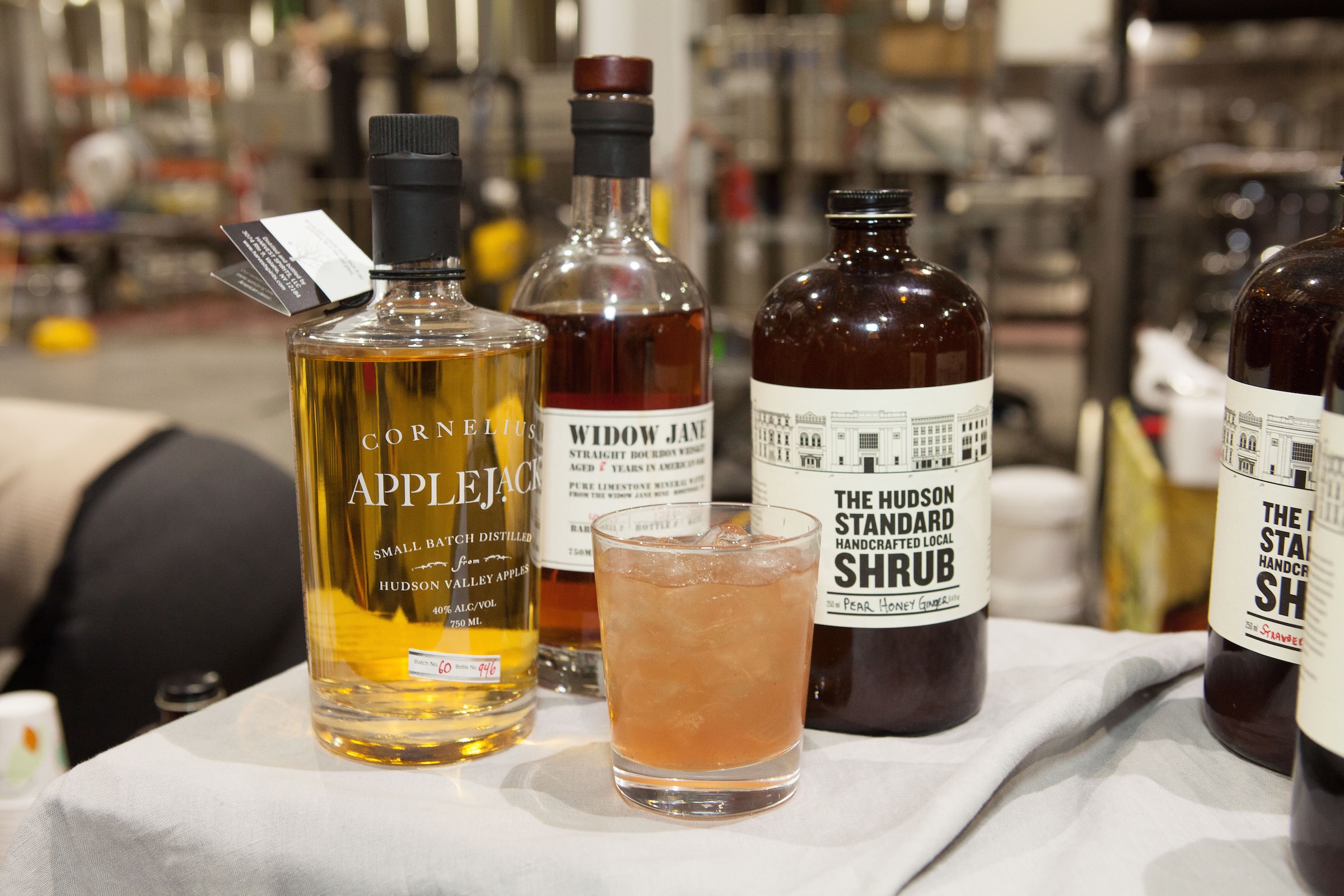 Shrubs have emerged with a bang because of the reborn interest in cocktails. Michael Dietsch, author of Shrubs: An Old-fashioned Drink for Modern Times (Countryman Press: 2014; $24.95 hardcover), first tasted a shrub in 2008 at Tales of the Cocktail, the New Orleans festival that brings spirits professionals and bartenders together to learn, compete and celebrate all things cocktail. Dietsch was immediately hooked. "I had to recreate this drink," he writes, but when he returned to the Northeast, the season for raspberries—the base ingredient of the shrub he had tasted in New Orleans—was already passed. Undeterred, he went to work experimenting with a host of other berries.
His tinkering paid off and he created an approximation of the drink that had captivated him in New Orleans. Dietsch didn't stop there—mixing shrubs with a variety of spirits, he created new cocktails and updated classics. His book is loaded with cocktail recipes using everything from aquavit to vodka. (He admitted to me, however, that one of his favorites is reposado tequila with strawberry shrub over ice with a squeeze of lime juice.)
Verardo had an even more compelling reason to turn to shrubs—she has a citrus allergy, and vinegar works perfectly for her as an alternative to citrus. At Restaurant North, she serves shrubs year 'round both in cocktails and as soda. Not only do her guests appreciate her concoctions, her Summer Sidecar put her in the top three finishers in last year's Tales of the Cocktail competition. (For the competition, she created a lemon verbena shrub using the herb and white balsamic vinegar. It rides a wave of vanilla from the Cognac as it surfs back and forth from lemony notes to a smooth balsamic tang.)
While cocktails may be the impetus for shrubs' reemergence, they may be enjoyed without the addition of spirits, of course. "What I do every morning—I pour not even a teaspoon of shrub into a big glass of cold water. It's delicious—a wonderful way to start the day," explains Marianne Courville, one of the founders of The Hudson Standard. The company, launched in 2013, currently offers three shrubs prepared in a small commercial kitchen above Hudson Valley Wine Merchants (which she co-owns with her husband, Michael Albin), in Hudson. About two years ago, a friend suggested they start a business making bitters. Initially, Courville was lukewarm about the idea, though research into bitters piqued her interest and led her to shrubs. "I'm vinegar fanatic anyway," she says. "This little bell goes off in my head—I really like this idea." She decided to focus on making shrubs and bitters, sourcing ingredients from the Hudson Valley.
Late in 2013, armed with 50 bottles each of one shrub and one bitters, Courville began sampling customers at Hudson's Basilica Farm and Flea event, an annual celebration of local businesses and products. Within an hour of setting up, she was sold out, and she knew the company—The Hudson Standard—had arrived.
The general way of making a shrub is you macerate the fruit and sugar, then add vinegar and allow that to sit as long as you can to get all the flavors to meld.
The company is developing slowly, but Courville is always experimenting with flavors to capitalize on the versatility of shrubs. The black currant and blackberry shrub, her initial attempt, is enjoyable "as is," its subtle sweetness and lingering acidity almost not needing dilution. The apple coriander maple shrub offers a burst of fragrant apple—first on the nose, then the palate—followed by a delicate hint of coriander before finishing with a nuance of maple. The strawberry rhubarb shrub is the essence of spring—while it's all strawberry on the nose, the vinegar helps access the rhubarb flavors on the palate. Her most successful mixture thus far, though, is pear honey ginger. "It's the most elegant one," she notes, "A pretty classic combination." (It's not just a morning rejuvenator—mixed with sparkling water it becomes a refreshing "adult soda," or with hot water it's a sort of tea.) Such adaptability has made shrubs one of the most engaging beverage trends in years.
Shrub's versatility is exciting, but its most appealing factor may be its simplicity. "The general way of making a shrub is you macerate the fruit and sugar, then add vinegar and allow that to sit as long as you can to get all the flavors to meld," Courville says. Dietsch outlines four methods in his book, but focuses on two basic approaches—hot or cold process. In the hot process, the base ingredient and sugar are combined on the stovetop before adding vinegar. (The main advantage of this process is speed—it's possible to have a completed shrub in under an hour.) He prefers the cold process, however, because it's "more expressive" of the base ingredient.
Not surprisingly, creative mixologists are drawn to these syrups for the layers of flavors and nuances they can bring to a drink. "You could add Cointreau and some lemon juice to a drink—even so, you have just two flavors going there. With a shrub you have at least three," Dietsch affirms.
You can fly by the seat of your pants while making shrubs, and still have something delicious to sip.
Darren Joseph, head barman at Gardiner's Tuthill House at the Mill, was introduced to shrubs at The Stanton Social in New York City and has embraced shrub-based cocktails for their subtle complexity and layering of flavors. "You can be very versatile with shrubs," he remarks—offering a fig and cinnamon shrub or saffron and green tea shrub as evidence. Similarly, Verardo's Old New York, a cocktail using a shrub-process grenadine, bourbon and grapefruit bitters, offers all the depth a Manhattan-drinker seeks, but with a freshness typically found in more summery libations.
Yet, this discussion doesn't even take into account the culinary applications of shrubs as a gastrique or in salad dressings. Because they are both easy to create and extremely friendly to work with, Dietsch encourages home cooks to create their own shrubs and use them imaginatively. "You can fly by the seat of your pants while making shrubs," he stresses, "and still have something delicious to sip."
One of the charms of shrubs is that once you discover them, they become unforgettable. As a way to preserve the last of the season's produce or fruit, as an ingredient that can add a surprising but subtle nuance to a roast or stew, as an early morning pick-me-up, an alternative to sugary drinks or caffeinated teas, or as a mixing ingredient with exceptional balance and depth, shrubs cover all the bases. They are, in many ways, the missing link in our beverage arsenal, offering versatility, complexity and simplicity of use all at once. Limited only by imagination, countless combinations of fruits, vegetables, herbs, spices and vinegars are waiting to deliver a remarkable depth of flavor, conveniently captured in a bottle.