Head to Scott & Joe for cheese galore, then stay for the tasting menus, cheese classes, and bistro bites in Nyack.
Every weekend, Joe Garreffa and Scott Young—both fresh out of college—used to find themselves hanging around South Philadelphia's Italian Market. It's a food-lover's paradise: you can wander, smell, and taste your way through new and classic foods, and pick up fresh and affordable ingredients to cook up at home. Their love for ethnic markets continued to grow, and led them on expeditions to Napa, Lyon, Rome, Havana, and even St. Petersburg and Melbourne, to explore what those food-focused areas had to offer.
Almost 20 years and a young son later, the two seized the opportunity to own the food store of their dreams. Nyack's Simard & Co, a beloved gourmet shop on Broadway filled with international cheeses, provisions, and charcuterie, was up for sale. Garreffa and Young loved the store when they first relocated to Nyack in 2017, and purchased it last October. "We saw nothing but potential for this place. We saw that a brand existed of exquisite specialty food items and now, with some tweaks, it's better than ever," says Young.
The duo has spruced up the place with tasting menus, cheese classes, and even "Wheel Wednesdays," when Garreffa dives into the flavors of a specific cheese each week on Instagram (follow on @joeygsnyackfoodtours). What's more, to better reflect the next chapter of the shop, the pair renamed the storefront "Scott & Joe." We chatted with Garreffa and Young to find out what's new and what's next.
How do you select and source your products?
Our food comes from all over the world. Our cheeses are carefully sourced— we import mainly from Europe, and we carry some incredible cheese from the U.S. as well. We specialize in cheese and charcuterie, but there's a cornucopia of other products on our shelves—from crackers and cornichons to pastas and pickles, to hot sauce and honey—plus charcuterie accessories. We like to think that Scott & Joe is a one-stop shop for amping up your meal.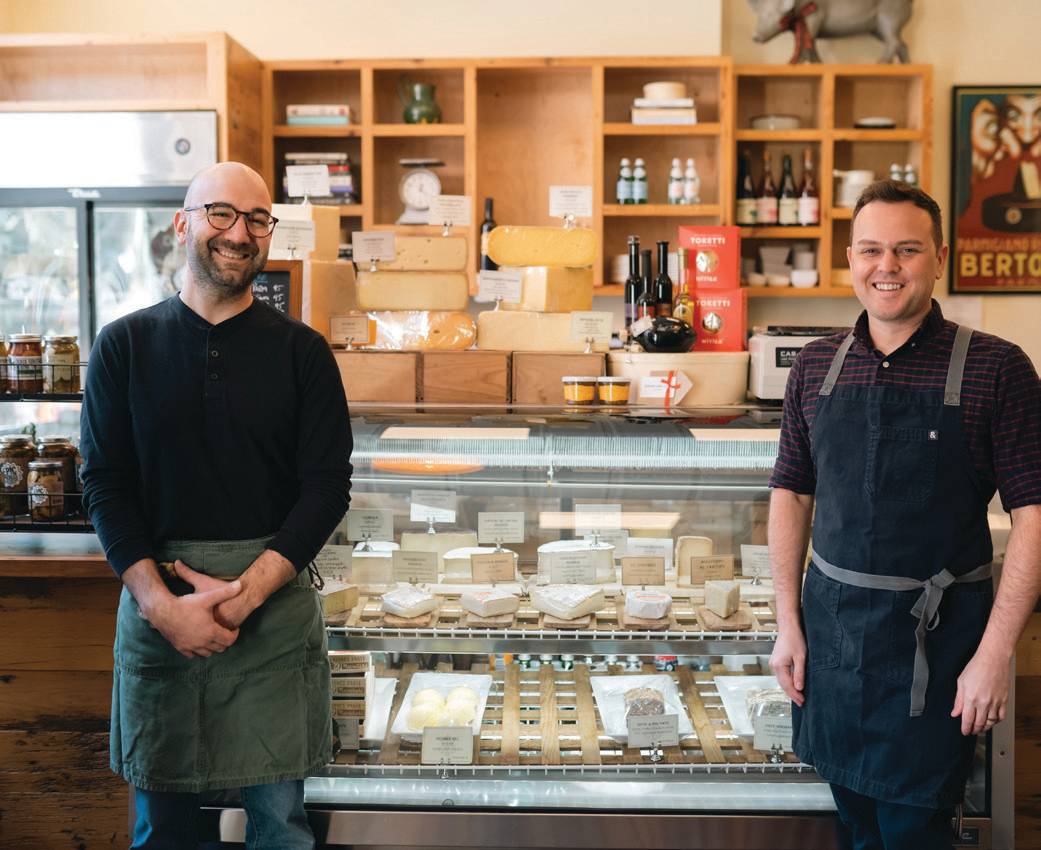 What are some of your local items?
Our fresh bread is delivered from incredible New York City bakeries every morning. We also have some fabulous Finger Lakes wines and Hudson Valley cheeses. You can often find us at the Nyack or Piermont farmers markets stocking up on produce for the store. The best thing to know is that all the food we serve in the bistro is prepared right in the shop behind the cheese case—now that's local!
Wait, you have a bistro, too?
So many people tell us they didn't know we have a quaint little restaurant in the back of our store! Our 12-seat bistro is open Thurs–Sun, 11 a.m.– 4 p.m. (reservations recommended but not required). You will have an incredible time eating our cheese and meat and drinking our wine! We do private parties in the space, and we are gearing up for our cheese and wine classes and tastings.
Joe, tell us about your side hustle "Joey G's Nyack Food Tours."
There are so many fascinating stories to be told and doing so while eating is a true passion for me. My childhood nickname is Joey G. and I really do feel as happy as a kid when I lead tours. The goal of the tours is to celebrate the makers and families behind Nyack's restaurants and culinary landmarks.
Since April 2021, I've led 250 guests on 30 tours. Our summer calendar is up, and I am so excited for our classic Saturday tour, the farmer's market walk-and-wine luncheon, and a Nyack pizza crawl. Check it out at joeygsnyackfoodtours.com.
So, how has Nyack been treating you?
We said it once and we'll say it again: we are obsessed with Nyack. It's our home, it's where we've chosen to raise our son, and it's where we feel a sense of belonging that we've never felt before. And honestly, we felt most of that before we even stepped inside the cheese shop, but the extremely warm welcome that this community has given us since we opened has been nothing short of extraordinary. A day doesn't go by when someone doesn't say something to the effect of "we are so lucky to have this shop in Nyack." Can you imagine that? We feel like we are the lucky ones!
---
Say Cheese!
The owners of Scott & Joe—along with their 5-year-old son Michael—spill their charcuterie recs.
You can only bring one cheese to a deserted island. What is it?
Garreffa: An aged Parmigiano Reggiano. I'm going to need it to last a while!
Young: Jerseyhoeve Schorren, which is made from a herd of 80 cattle that live on the island of Goeree-Overflakke, Netherlands. It's creamy and has so many interesting notes that I think I can live off it for a really long time.
Michael: Grana Padano.
What's your go-to wine and cheese pairing?
Garreffa: Our 2019 Barbera d'Asti, with some stinky Taleggio.
Young: Triple cream brie and Champagne.
Favorite cured meat?
Garreffa: Iberico chorizo.
Young: Anything I can share with Michael—he loves the stuff!
Michael: Salami.
What's in your go-to grilled cheese recipe?
Garreffa: I have to admit that classic American cheese and bacon is delicious. However, I do love luxurious versions, with a combo of Juscht and Imperial Buck and a slice of tomato.
Young: I feel like this is a veiled attempt to spill our famous grilled cheese recipe. I'm simply not going to do it! We call it our house blend because it is a secret and I promise you that once you taste our grilled cheese, you'll never put any other kind in your mouth again.
Michael: I don't like grilled cheese.