IF THE BULLROOM COCKTAIL lounge and restaurant had been open during Prohibition, it might have been the region's best-kept secret. Red leather seats, a ritzy golden bar top and chandeliers overhead create an atmosphere straight out of the days when moonshiners and bootleggers peddled spirits without the law's consent. The discrete entrance, tucked in the back of Nina Restaurant in Middletown, is unassuming—but once inside, a bursting, modern-day speakeasy offers up local craft cocktails and eclectic American cuisine that won't remain on the QT for long.
Opened in November 2016, The Bullroom is the latest venture of chef and co-owner Franz Brendle, who founded the upscale Nina Restaurant 15 years ago, with partner Karyn Scordo. With its own menu and entrance, The Bullroom is a major change of atmosphere from its next-door neighbor: playful, imaginative and founded on locally sourced spirits. "It's the place to go for someone looking to try something new," Brendle says, seated with a spread of New York spirits along the bar behind him. "What I really like is seeing a bottle and knowing the person I purchased it from."
Names like Bootlegger, Neversink and Beacon Bourbon sit on the shelf alongside house-made bitters in mason jars. In addition to the bitters, Brendle and Scordo also make their own grenadine and fresh juices. "I believe in the craft movement, straight down to ingredients," Brendle stresses. "With the industry booming now more than ever, the interest in it is increasing, too. That means good things for our economy and our progression as a community."
Though he admits he can't pinpoint one "signature" drink on the menu, a growing number of guests favor the New York to Moscow—Tuthilltown Distillery Indigenous Apple Vodka, Barrow's Ginger Liqueur and lime juice.
Brendle and Scordo's locavore mindset isn't limited to elegant elixirs: Local meat, cheese and seasonal produce are at the core of The Bullroom's menu. From Hudson Valley Duck empenadas with McGrath Farm fresco cheese and caramelized onions to the No Bull Burger featuring Hudson Valley Cattle Company beef and house-cut fries, the entrées are fresh and filling. For small-plate grazing, the ricotta- and mozzarella-stuffed meatballs, or grilled Romaine salad dressed with herbed lemon and olive oil fit the bill. "People can come in for a drink and a burger, or get a bit fancier and go for the porterhouse," Brendle says. "I want The Bullroom to be a place of both comfort and sophistication."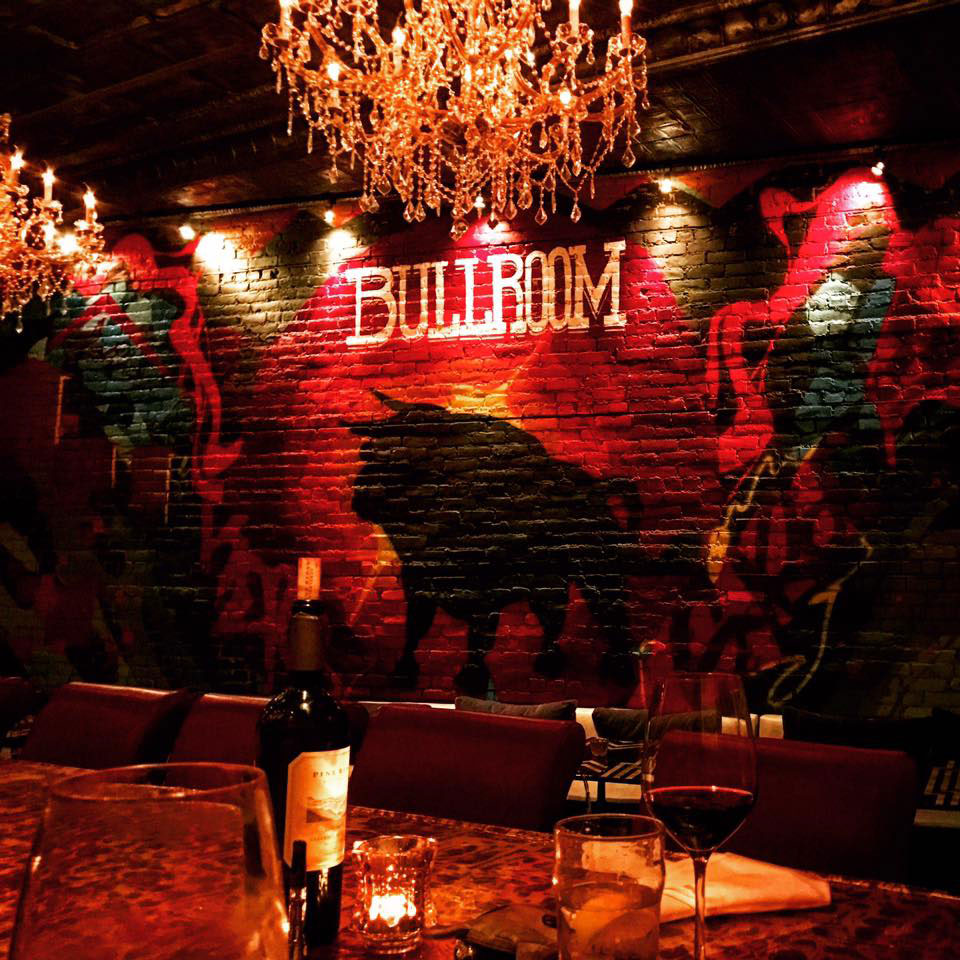 Exposed brick walls (one with a large bull mural looking over the space) provide hints of the building's historic roots—it was once home to Bull's Opera House, the inspiration for its name. Historic records show the theater once featured the soon-to-be-infamous John Wilkes Booth alongside his brother, Edwin, in a November 1864 performance of Julius Caesar.
The Bullroom joins Nina and the beer- and tapas-centered Craft 47, in Goshen, on Brendle and Scordo's roster of restaurants, and the easy-going restaurateurs admits the three spots show hints that they're related. "People have said before that The Bullroom is the in-between of Nina, which is fine dining, and Craft 47, which is totally laid back," Brendle says. "I just love the creative end of opening a restaurant and putting out food that makes people happy. That's what brought me here."