Ingredients
Meatballs
2 pounds fresh ground lamb
1 small onion, diced
1 chipotle pepper in adobe sauce, chopped
1 cup fresh bread crumbs
1 egg
1/2 cup milk
salt and pepper
Sweet Potato Polenta
2 large sweet potatoes, diced
1 cup stone-ground polenta
4 cups water
2 to 3 cups milk
1/4 cup grated parmesan or Grana Padano
1/4 cup butter
2 tablespoons maple syrup
For garnish:
Goat cheese
Spicy pickled peppers
Fresh herbs such as cilantro, mint or parsley
Method
Meatballs
Preheat oven to 400° F.
1. Sauté onion in vegetable oil until translucent.
2. Add salt, pepper and chipotle pepper. Cook 2 to 3 minutes. Remove from heat and let onion mixture cool to room temperature.
3. Combine cooked onions, bread crumbs, milk and egg.
4. Add ground lamb to bread crumb mixture and mix evenly.
5. Shape meatballs, 1 to 2 ounces each, and place on a greased baking sheet.
6. Refrigerate for at least 30 minutes before baking.
7. Bake meatballs at 400° for 7 to 10 minutes until golden brown
and just cooked through.
Sweet Potato Polenta
Preheat oven to 350° F.
1. Toss diced sweet potatoes with vegetable oil, salt and pepper. Roast at 350° until tender.
2. In a large sauce pan, bring 4 cups water to a boil and slowly stream in polenta, season with salt and pepper. Cook until polenta has thickened.
3. Gradually add 2 cups milk and allow polenta to slowly cook at least another 30 minutes. Reserve remaining cup of milk to adjust thickness before serving.
4. In a sauté pan, melt butter over medium heat.
5. Add diced sweet potato, cooking until the potato starting to brown.
6. Add maple syrup. Cook 1 to 2 minutes. Remove from heat.
7. Fold sweet potato mixture into polenta.
8. Finish with grated cheese and more milk if necessary to achieve a smooth soft consistency.
To serve: Ladle polenta into a bowl, topping with meatballs and garnishing with goat cheese, spicy pickled peppers and herbs.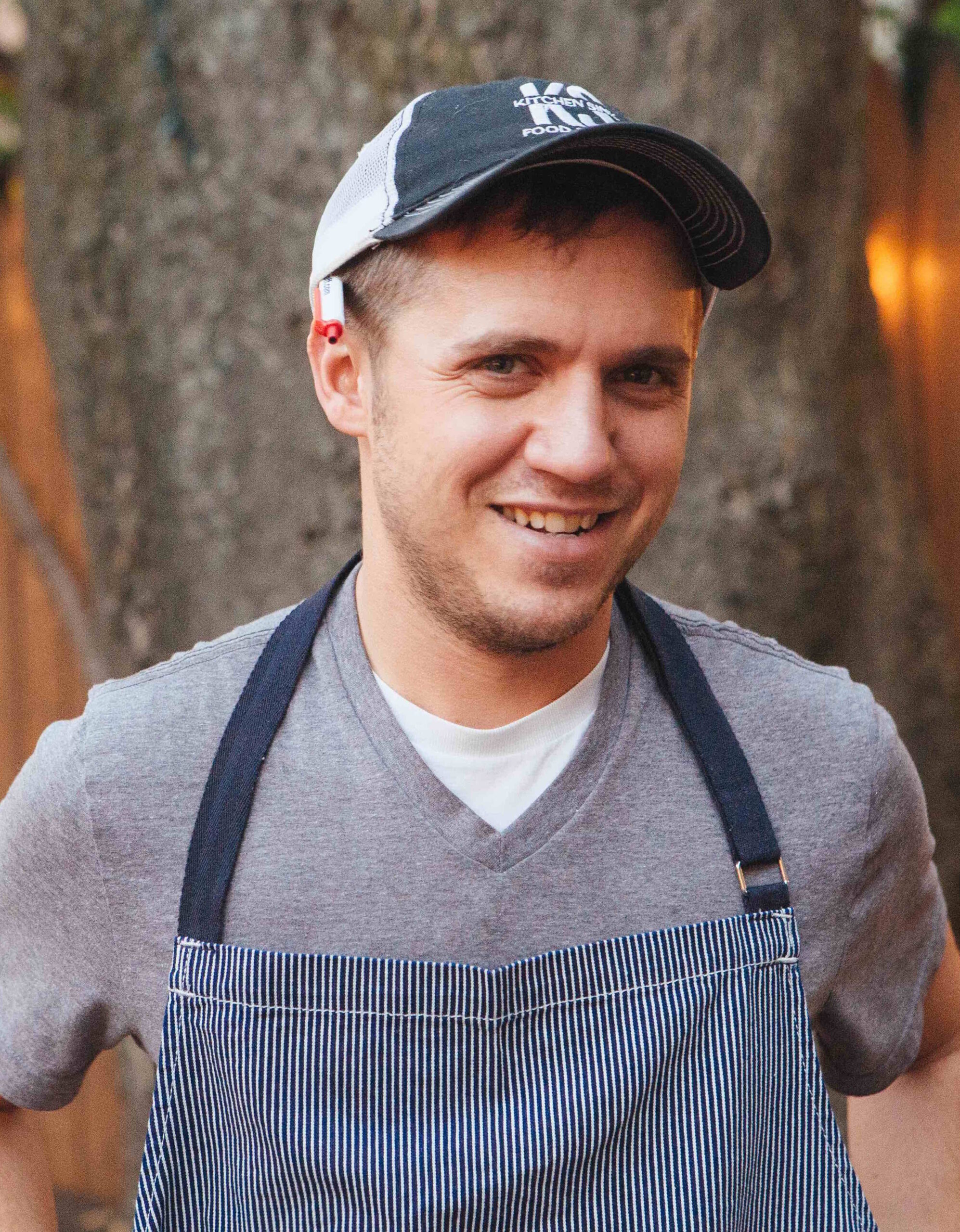 As a chef, I love sweet potatoes. I find them to be a really versatile ingredient, and there are a lot of local sweet potatoes around here. The lamb in the dish comes from Barb's Butchery in Beacon. I wanted to incorporate lamb and sweet potatoes on our menu, so I thought a meatball would be really nice, and the spice would balance the sweetness of the sweet potato.