As the summer season rages on and temperatures swell, farmers throughout the Hudson Valley work diligently to give their hopyards the largest possible yield. The growing season for hops begins sometime in March when asparagus-like shoots burst out of the ground, and ends when cooler nights arrive in August. Get the full scope of this unique time in the region, when craft beer's most distinctive ingredient comes to life.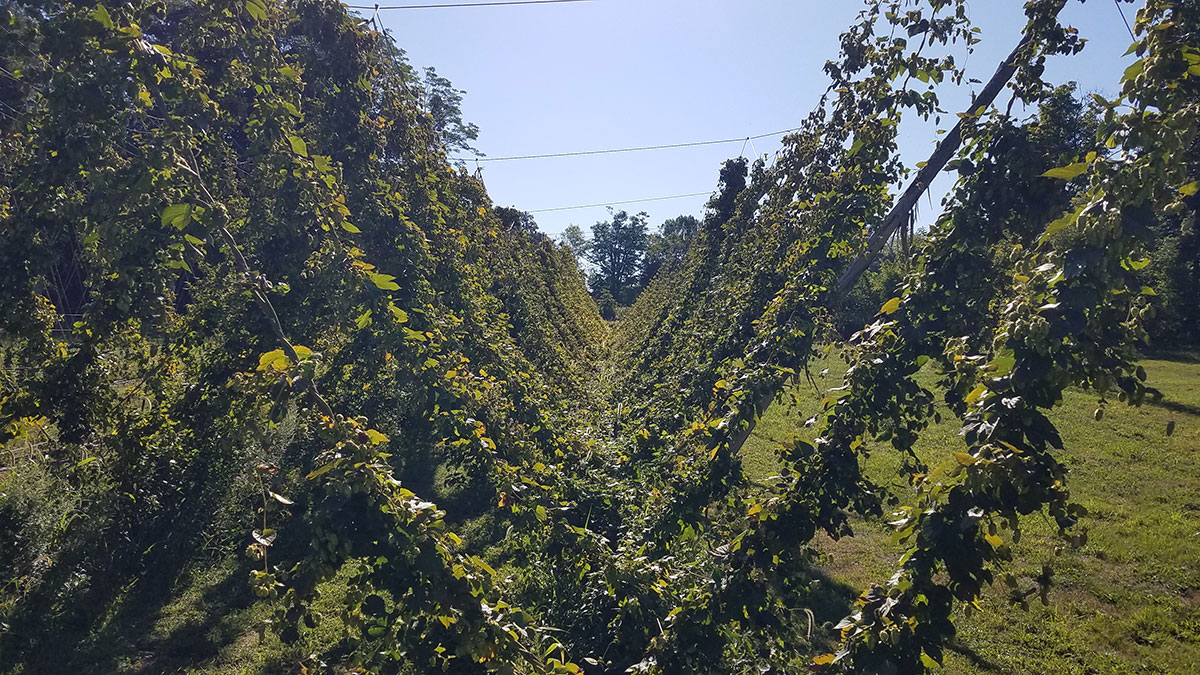 Shoots at the Start of the Season
From March to May, shoots spring out of the ground in hopyards across the Hudson Valley. Dominick Vigliotti manages the hopyard at Obercreek Farm in Wappingers Falls. Vigliotti grows Cascades, the New Zealand Rakau variety, and a newer style of hop called Michigan Copper.
"The notes I get from Michigan Copper are tropical fruit, a little cherry, a little pepper. It lends itself to a wider range of craft brewing styles today, as opposed to what the primary styles were even 10 years ago," Vigliotti says.
This varietal has a reputation as a "super-aroma" hop, making strong contributions to the nose of any beer that utilizes it. Vigliotti planted Michigan Copper for the first time last year, since perennial hop plants take about three years to mature fully. A fruitfully rainy season this summer promises at least a 50-percent yield for the Michigan Copper. Cascade hops, meanwhile, are one of the most commonly used in the industry, and infuse a recognizable grapefruit flavor in many IPAs. They thrive in the Northeast due to lower temperatures and their resistance to mildew issues that plague many other hop varietals. Vigliotti considers them his "bumper crop" due to their consistently high yields.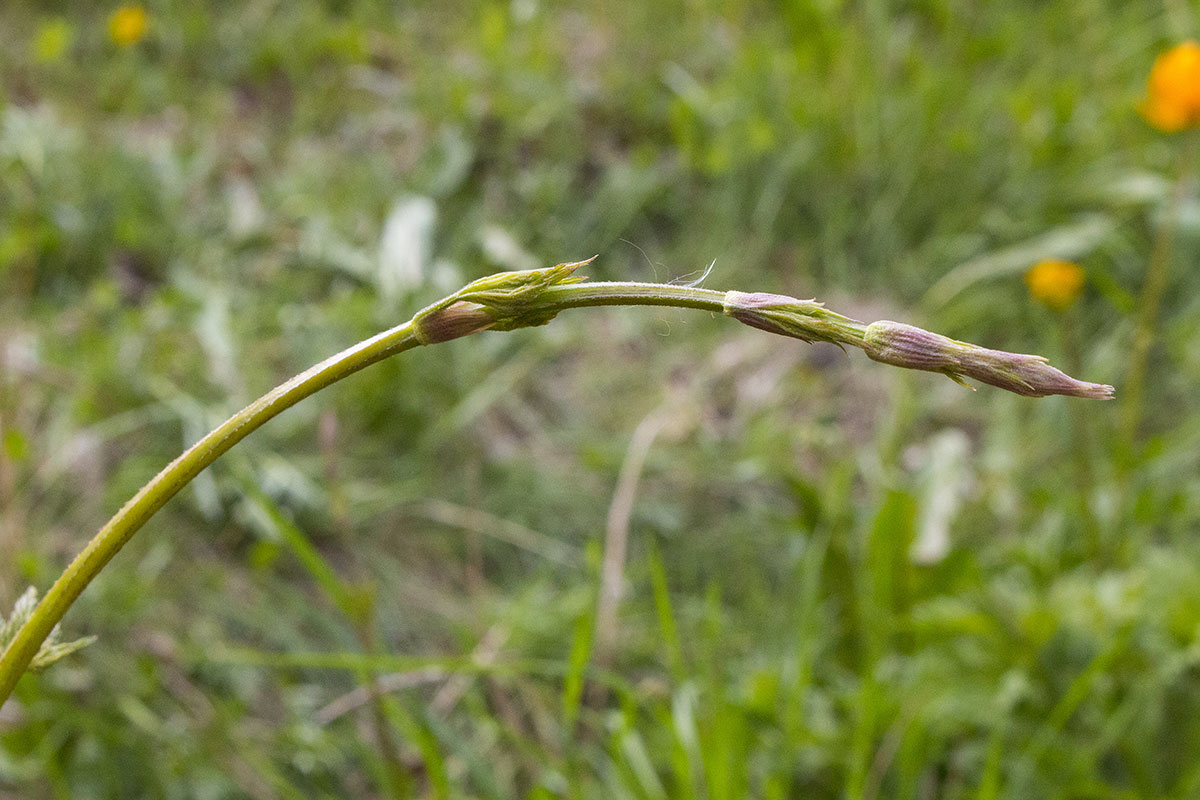 Vigliotti notes that purple "bull shoots" sprouting mark the start of the hop-growing season. Like other fruit-bearing plants, the shoots must be cut back in order to cultivate the largest harvest of cones. The first round of shoots begin around March, and the second round of green shoots can last until the end of May. Hop shoots resemble asparagus in appearance, and also serve a similar culinary role.
A seasonal spring ingredient like ramps, hop shoots have become very popular in farm-to-table circles. Obercreek Farm sells them while they're in season by the quarter-pound. Local restaurants and establishments like The Dutchess have sourced hop shoots from the farmstand in the past, and several home cooks bought them this year. Their flavor is most similar to green beans, and they are excellent grilled, sauteed, or enjoyed in a veggie smoothie.
"I would say usually maybe the top four inches of the plant are the most desirable. Because what you'll do is you can find out the most tender parts by bending them. If they snap, that's at the point where it's usable. If it just bends it's going to be a little tougher, kind of similar with asparagus, you know where they snap is the best part," Vigliotti says. Blanching can help with the less tender pieces.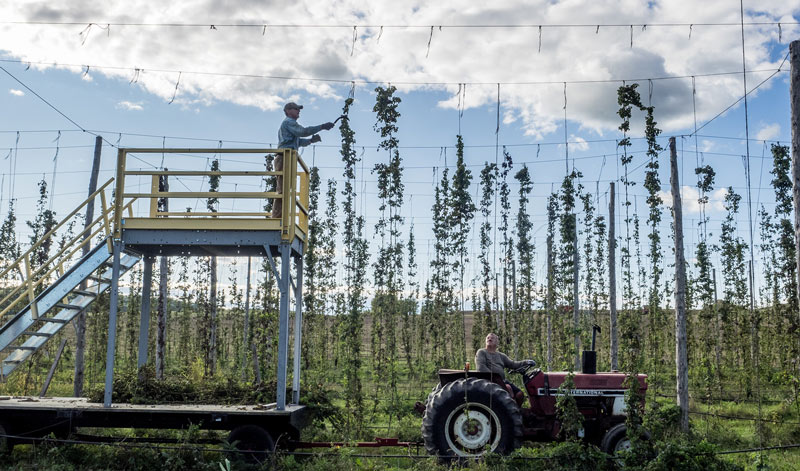 Training Bines and Summer Care
Hop plants require a little help growing up, and they can reach heights of up to 20 ft. In order to stand tall, they need to be trained.
"So every year I have to fit them with a coir line. It's like made out of coconut fiber, like a jute rope. I tie that to cables above, and cables on the ground," Vigliotti says. Other growers will use strings or trellises to assist the structure of their plants. Vigliotti carefully wraps them around the line in a clockwise fashion. "If you wind them the wrong way, they will unwind themselves. They follow the sun in a clockwise direction."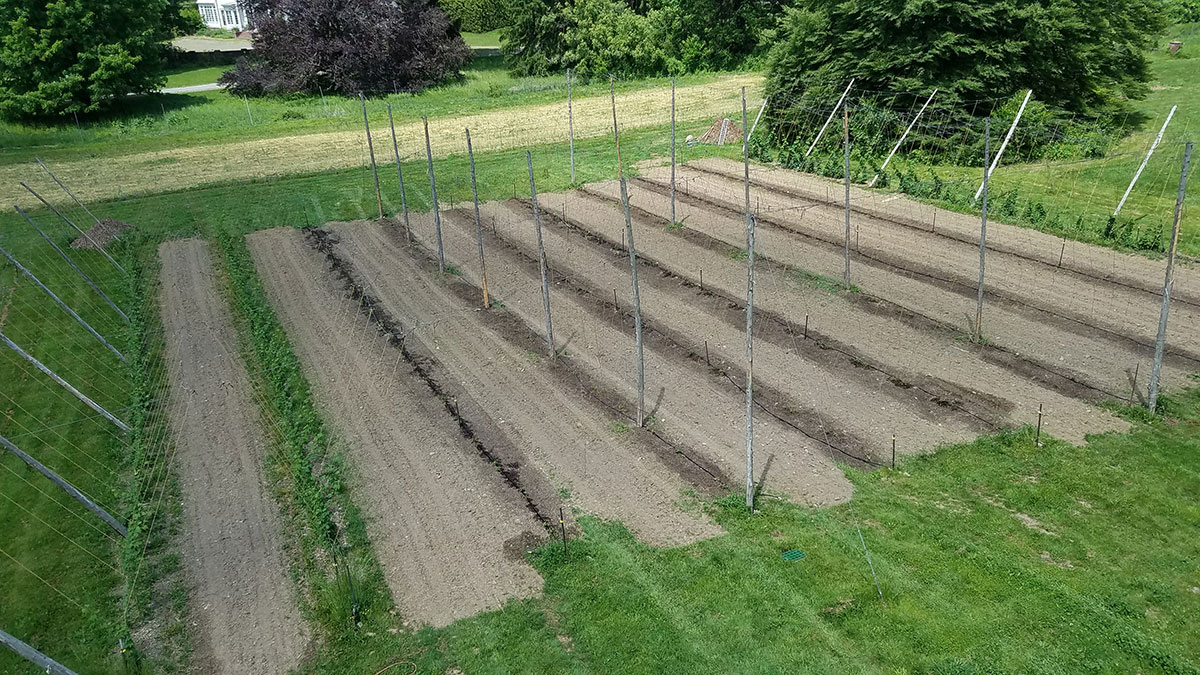 Farmers also have to contend with weeds during the growing season. May, June, and July are some of the most integral times of the season. Hop bines must grow tall in order to secure a successful harvest. Once they're properly trained, they'll continue growing in the same pattern. In order to deal with weeds, some growers will manually pick them about every two weeks. Others, like Vigliotti, employ the help of mulch to keep pesty plants at bay. Others still opt for a black cloth method.
Even more daunting is the barrage of diseases and insect pests that can spoil a growing season. During the dog days of summer, heavy rainfall can bring on a blight of downy mildew, the bane of many plants with vines. Mildew can present as white or yellow patches on leaves with a cotton-like fungi underneath. He uses JMS Stylet-Oil and Pyganic against aphids, potato leaf hoppers, and spider mites, which come out in particularly hot and humid periods of the summer. European corn borers can be devastating, carving out tunnels in the middle of the bine and choking the plant out.
"Biological pest control prevents other insect populations from being affected," Vigliotti says.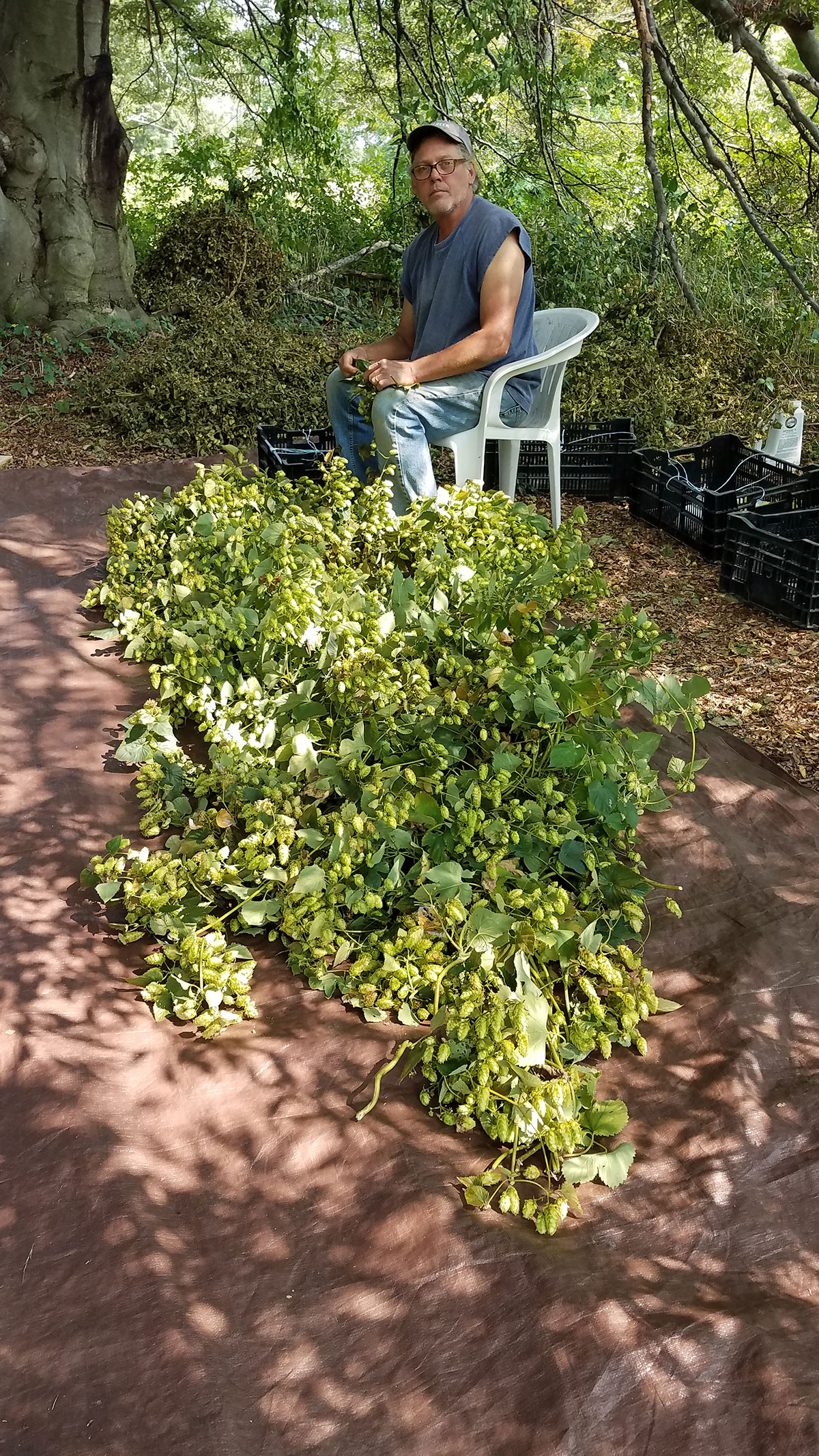 A Late-Summer Harvest
There are many ways to harvest hops, but it must be done at the end of the summer season. Late in August and early in September (depending on the varietal), bines must be cut down or lowered off the cables in order to pick off cones.
"I used to do some hand-picking, but that takes too long," Vigliotti says. The manual process involves separating individual cones one-by-one from the bine. For home brewers growing one or two hop plants, this may be an option. Be sure to wear gloves and avoid abrasive sections of the bines. Cones are ready when they begin to emit pungent aromas of citrus, pine, onion, and other notes.
A friend of Vigliotti's has a harvest machine, which has counter-rotating hairbrushes that flick cones speedily off the bines—a real time-saver. An essential part of the harvest is drying cones, as too much moisture can cause rotting and render them useless in brewing. Many growers use oasts, large trays with air blowing through them, in order to dry them out. Air temperature must be regulated, as hot air can ruin the nuances of flavor and scent. Some home brewers even use a low oven setting to prepare their cones. The key is reducing moisture to about eight percent, and then immediately using them or turning them into pellets and vacuum-sealing.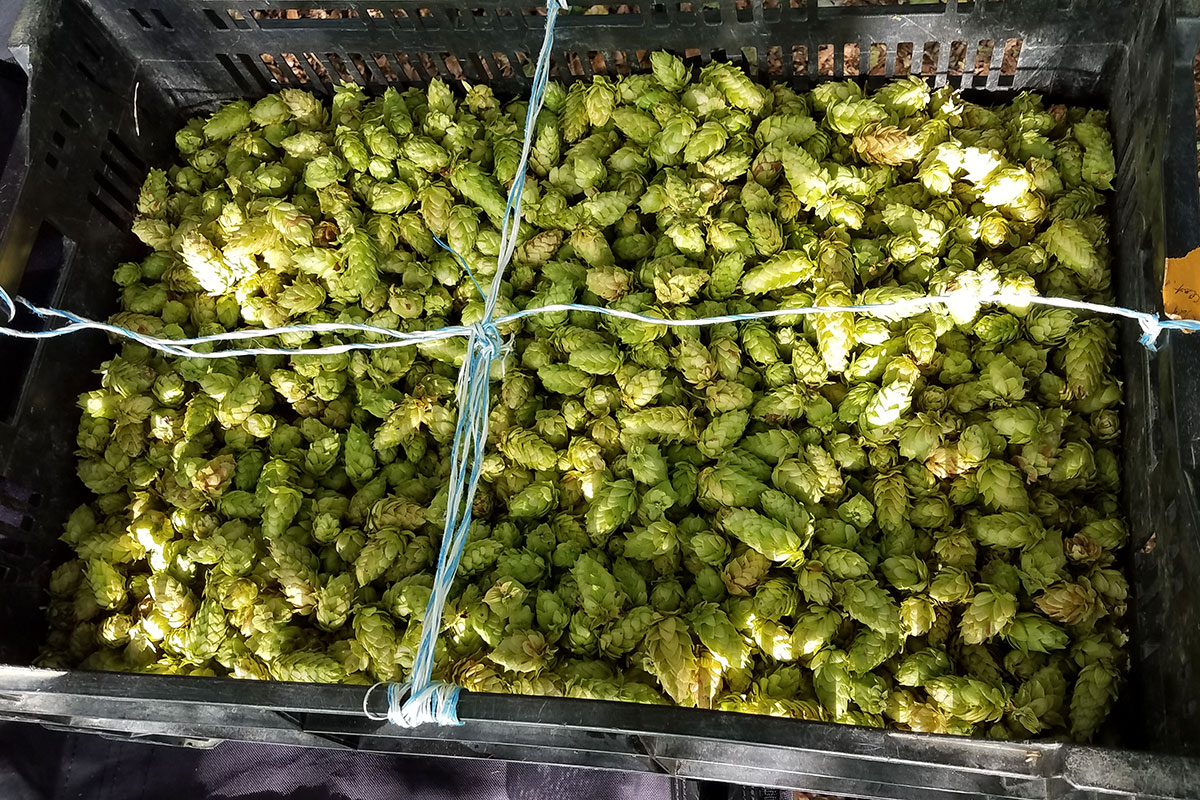 "At Obercreek Brewing Company, they've been doing a celebrity line of pale ale, to showcase the characteristics of single hops. They've been using our onsite yield in that line lately," Vigliotti says. The quaint farm brewery has a rotating tap of about eight or nine beers, and just recently began canning. Stop by for fresh pours, food trucks, and gorgeous summer scenery.