THERE IS JUST ONE WORD to describe summer time drinking: refreshment. Certainly, a cold pilsner works, as does a glass of chilled Riesling, but you needn't drink the same old gin and tonic you drank last summer. Hit the farmers' markets for inspiration or try new takes on old favorites—there's no shortage of new local cider, beer, wine, spirits or mixers out there. Local mixologists, too, are developing variations on classic cocktails and finding new combinations. Here's a small sampling of refreshments to enjoy this summer while you kick back and watch the boats sail by.
---
OLD DRINK, NEW INGREDIENTS
The quintessential drink of summer—the gin and tonic—takes a new turn when the mixings are local. Harvest Spirits (Valatie) has just released its Core Gin, produced entirely from apples with just three botanicals—juniper, coriander and lemongrass—imbuing the gin with a unique and focused flavor profile. Often overlooked but most influential to the flavor of the drink, though, is the tonic. Many commercial tonics contain high-fructose corn syrup, but Jason Schuler and his team at More Good, a specialty syrup producer in Beacon, recently introduced Spring Tonic, made using raw organic cane sugar and organic herbs—no artificial colors or flavorings. In place of the quinine (extracted from cinchona bark) used to flavor traditional tonic, More Good's tonic uses gentian root (the main bittering agent in cocktail bitters), which Schuler likes for its "deep, bold, lingering earthy bitterness." Schuler is now working with Common Ground Farm, in Wappingers Falls, experimenting with anise, hyssop, mountain mint, wild bergamot and marjoram for his forthcoming summer tonic. Combine these with Core Gin and you take this classic refresher in an entirely new direction.
More Good Gin & Spring Tonic
By Jason Schuler / More Good
Ingredients
1/2 ounce More Good Spring Tonic
1 1/2 ounce Core gin
3 ounces seltzer water
Method
Place all ingredients in a Collins glass. Add ice and stir. Garnish with a sprig of hyssop
---
CAFFEINE BREEZE
While cold brew may be the latest beverage of choice for hot summer days, the complex flavors of coffee are making it a cocktail favorite, too. Millerton-based Irving Farm Coffee Roasters is set to release a new cold-brew coffee this summer. (Different from iced coffee, cold brew is "brewed" cold and never heated.) Irving Farm rep Jake Griffin chooses Napoleon Barragan (a single-origin coffee from the village of Monserrate, Colombia, known for its bright berry flavors with subtle hints of chocolate) to mix with blueberries and white rum for a summer cocktail recipe that spotlights the distinct and delicate flavors the roast offers.
Napoleon Summer Cold Brew Cocktail
By Jake Griffin / Irving Farm Coffee Roasters
Ingredients
1/4 cup fresh blueberries
1 sprig lemon thyme
3/4 ounce cold brew coffee (Napoleon Barragan Single Origin Lot or other sweet, fruit-forward coffee
1 teaspoon honey
1 1/2 ounce white rum
2 to 3 ounces dry sparkling wine (or substitute sparkling water for a lighter version)
1 lemon wedge
Method
Muddle blueberries, thyme, cold brew and honey together in a shaker until all the juice has been extracted from the blueberries. Add rum and shake with ice until cold. Pour into a small highball glass (include ice and fruit pulp; strain if you prefer). Top with dry sparkling wine and the squeeze of a lemon wedge.
To cold-brew coffee: In a Mason jar, add water to coffee and stir. Cover the jar and leave it out overnight. Strain the grounds thoroughly the next day, and voila, cold brew.
---
FRESH AND MINTY
At Heritage Food + Drink, Wappingers Falls' newest farm-to-table restaurant, beverage director Jessica Gonzalez follows the theme of the restaurant and works with local farms to source ingredients for her cocktail creations. Mint Condition, for example, features chocolate mint from Tongore Brook Farm (Stone Ridge) for a variation on a mojito that is at once fresh yet familiar.
Mint Condition
By Jessica Gonzalez / Heritage Food+Drink
Ingredients
1 1/2 ounces Mezcal
3/4 ounce Fino sherry
3/4 ounce lime juice
3/4 ounce simple syrup
dash Angostura bitters
5 chocolate mint leaves
splash club soda
Method
Add mint and sugar to cocktail shaker and gently muddle. Add Mezcal, Fino sherry, lime juice, simple syrup and bitters; shake together. Pour into a highball glass and top with crushed ice, a splash of club soda. Garnish with chocolate mint leaves.
---
COOL AS A CUCUMBER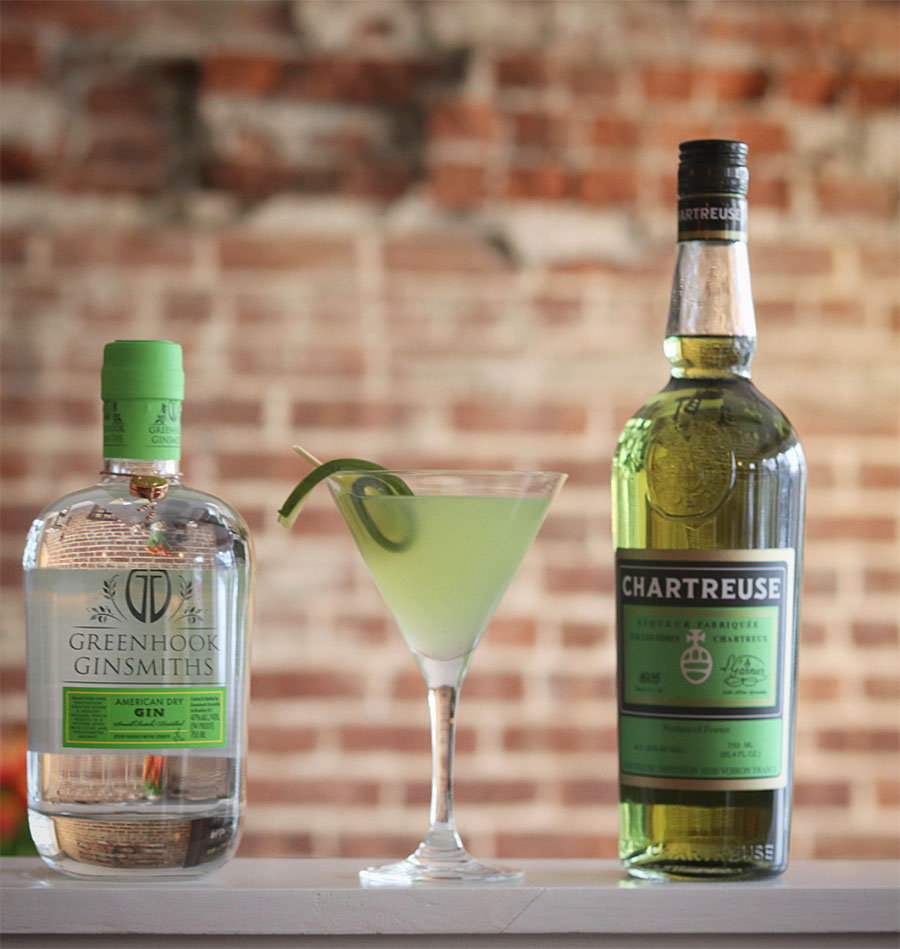 Looking for another twist on gin? Steven Aigner, head mixologist at Liberty Street Bistro in Newburgh, shakes it up with muddled cucumber, ginger and lemon juice for an earthy summer cocktail with just a hint of citrus. If the fresh cucumber flavors don't relax you, the gin and chartreuse surely will. "The key ingredient in this drink is the green chartreuse," Aigner says. "It has strong hints of herbal flavor that blend extremely well with the muddled cucumber and ginger."
The Hudson
By Steven Aigner / Liberty Street Bistro
Ingredients
4 cucumber slices, diced
2 ginger slices
1 ounce lemon juice
1 ounce Green Chartreuse
2 ounces of Green Hook Gin
2 dashes of Cecil & Merl Cucumber Bitters
Method
In a cocktail shaker, muddle the cucumber and ginger. Add lemon juice, Chartreuse, gin and cucumber bitters. Shake vigorously 8 to 10 seconds, then fine strain into a martini glass.
---
SUMMER FUN
The (new) gin with (new) tonic is not the only (new) drink on the block. Keegan Ales recently released a new beer, appropriately called FUN. "We wanted an IPA that could be enjoyed year-round," says Lisa Hantes, bar manager at the Kingston brewery's restaurant. Though enjoyable on its own, the new beer also sparkles in Summer FUNshine, a cocktail that uses vodka and grapefruit to highlight the citra hops used in FUN. "It's fresh and easy and can be enjoyed at any time," Hantes adds.
Keegan Ales Summer Funshine
By Marianne Greaves / Keegan Ales
Ingredients
2 ounces vodka
1 ounce simple syrup
2 lemon wedges
2 dashes grapefruit juice
1 lemon wheel
4 ounces Keegan Ales FUN IPA
Method
In a cocktail shaker, muddle the lemon wedges. Add ice, vodka, simple syrup, bitters and grapefruit juice. Shake, then strain and pour into a Collins glass prepared with fresh ice. Top with IPA, then garnish with lemon wheel.
---
DRINK DESSERT
Cathryn Fadde, of Perch (Marlboro), combines two summer favorites for a memorable after-dinner offering. She floats Kingston-based Jane's vanilla ice cream in a glass of Beak & Skiff 1911 Cinnamon hard cider (LaFayette, Onondaga County) for a summertime riff on the classic Italian affogato. Fadde says that one guest best described it as a "Fireball without the guilt," referring to the cinnamon whiskey currently in vogue.
Cider Float
By Cathryn Fadde / Perch
Ingredients
6 ounces Beak & Skiff 1911 Cinnamon Hard Cider
1 scoop Jane's vanilla ice cream
Method
In a large mug or Irish coffee glass, place a scoop of ice cream and top with the hard cider.