IF YOU DINE OUT WITH Richard Krueger and Ronald Hanson, there are certain givens. Richard will start with a martini, Ronald with a bottle of red wine (usually Italian), which they'll finish together over dinner. Ronald will do the ordering, Richard most of the talking. Introductions aren't necessary, because they already know everyone, and everyone knows them. If you just sit back and relax, everything will be "super deluxe."
If the conversation is good, it is "super deluxe." If they meet a bartender with a bald head like Richard's (the condition is endemic among bartenders they know) it's "super deluxe." If they see an old friend or make a new one, it's "super deluxe." The oatmeal at the Red Hook Diner? "Absolutely super deluxe."
"Super deluxe" is a phrase that Richard uses often enough that, whenever he comes to mind, so do his words. Richard is the conversation conductor, commanding attention with his anecdotes and his high-decibel laugh; Ronald favors the quiet side, and he sometimes plays the straight man.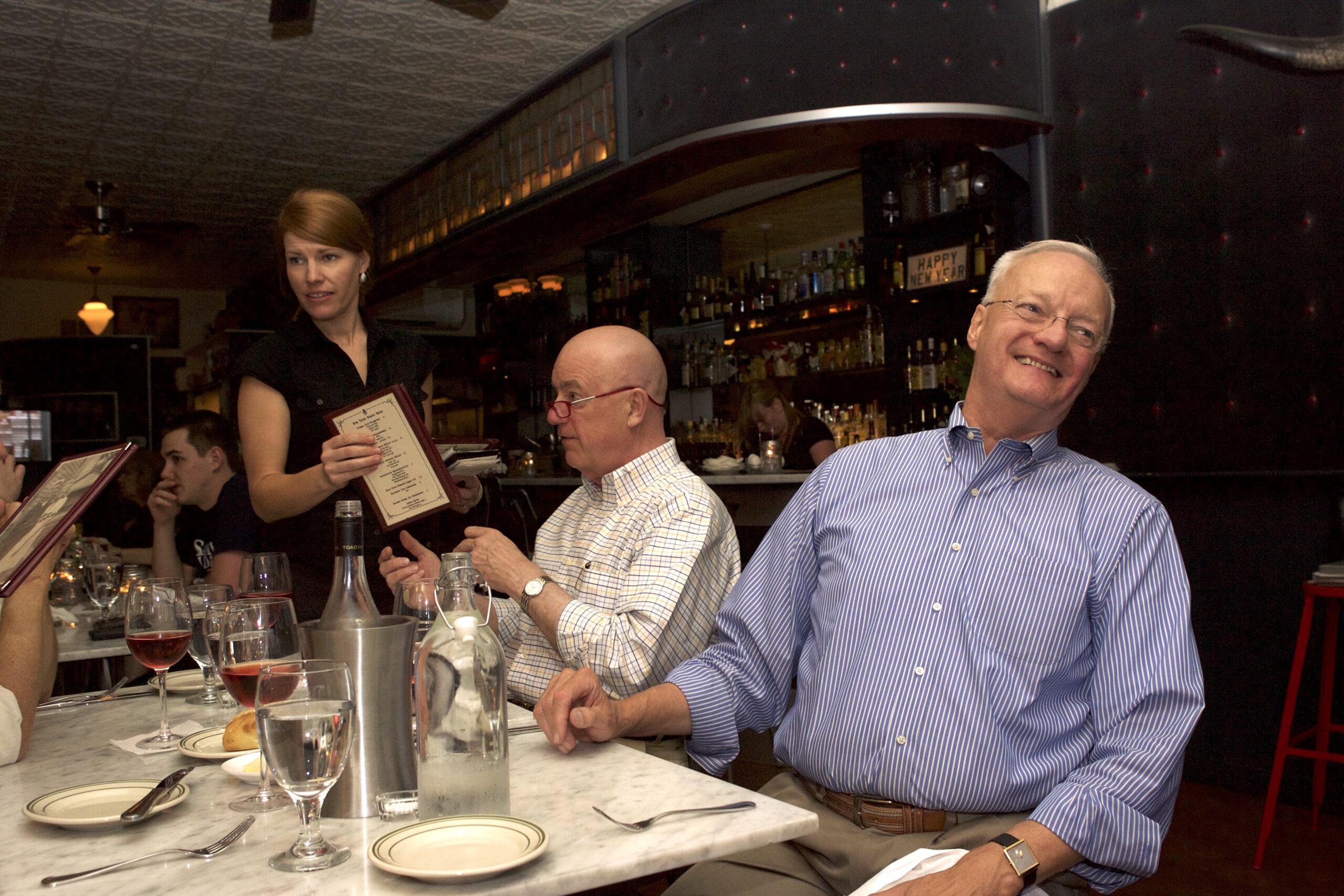 On Thursdays, the pair visits Boitson's, in uptown Kingston, where the tables are set close enough so that striking up conversations with neighboring tables is easy (striking up a conversation with Richard and Ronald is inevitable). They playfully spar with a woman at another table and before long, they admit that they never cook—they eat out every night, following a culinary circuit that takes them throughout Rhinebeck, Red Hook, Kingston, Woodstock and beyond. They go where they know they will find good food, good value, good service and good people. "It's more fun than anything we've ever done. And it's profitable, too," Richard confesses. "We were going to do it for a year—here we are, 18 years later. It's our social life."
Ronald and Richard, both 69, have been together 33 years. They met on the Upper East Side when they had apartments in the same building. Ronald worked in banking and held a leading position in the life insurance industry. Richard worked in real estate, converting co-ops. Richard bought the first of two retreats in Claverack in 1964; in 1988, the two finally moved upstate full-time, the first of several "retirements" well shy of their fiftieth birthdays. Richard continued working in Manhattan real estate; Ronald took a job in the life insurance department of the Poughkeepsie Savings Bank. Richard, too, took a job in banking, for the Rhinebeck branch of Hudson Savings Bank, for five years (long enough to earn a pension when the bank closed the branch). That's when, in 1993 at age 50, they "retired" again, this time so they could open a new business, Astor Square Wine & Liquor in Rhinebeck, a cozy shop that shares a plaza with Francesca's, where they sometimes eat pizza.
They're treated like kings, only better—they're treated like friends.
Customers at the liquor store recognize them for their good humor and good taste, both in wine and (of course) in restaurant recommendations. In the beginning, though, weekenders stocked up on wine in the city and would only stop in the shop for booze. "So we asked them what they brought up, and we started stocking it," Ronald recalls. "Soon they were buying it from us—before driving back." What to pair with a shish kebab dinner? Ronald, in a sunny apron and a warm smile, points out two bottles—La Corte Negroamaro-Salento and Fontana Candida Frascati (wines that he drinks), both under $12 and both excellent.
In 1999, the duo moved from Claverack to their home in Rhinebeck, which sits on 12 acres. They entertain on rare occasions; the last meal Richard remembers making (for four guests) featured antipasti, lamb and white potatoes. The kitchen, he readily admits, is not well stocked.
"You do have cheese in the house," Ronald corrects, "and dark bread for Fritzie." Fritzie, their dachshund, is the latest in a long line of dachshunds ("The sixth or seventh," Richard says, dating them back to his boyhood pet in 1945)—all named Fritzie. This one, he declares, "is the best Fritzie yet." Fritzie is well provided for at home, but Richard and Ronald, they eat out.
Richard and Ronald don't order the same thing every time; they'll take the advice of their servers and try the specials. They will never let a dinner companion split the bill and they're more than generous with tip (they even give gifts out around Christmas). They ask for nothing special, but they appreciate when wait staff remember their preferences—how Richard likes his martini, what wine Ronald prefers, that they like their meat well done and their coffee black. When the staff remembers that, the guys are even happier.
Restaurants are a business, and Richard and Ronald are good for business. They come back frequently, they recommend their favorite restaurants to friends and acquaintances, and they tip well (wait staff have been known to compete for their table). Owners want to keep them happy. "I think it has a large impact," Keith Vantassell, manager of the Beekman Arms Tavern, says. "We have a few regulars, but not as regular as them."
Richard and Ronald have traced the careers of favorite staff as they change jobs, so when they revisit a restaurant a couple times a month, they might do so for a dish that's "a ten" in Richard's book, but they also make the trip because they are visiting people they know and like. Their dining experience is not just transactional—in some ways it transcends the food. "When those guys come in, they always raise the level of energy," according to Larry Clark, the (bald) bartender at the Beekman Arms. "They usually talk to four or five tables before they even make it to the bar." They're treated like kings, only better—they're treated like friends.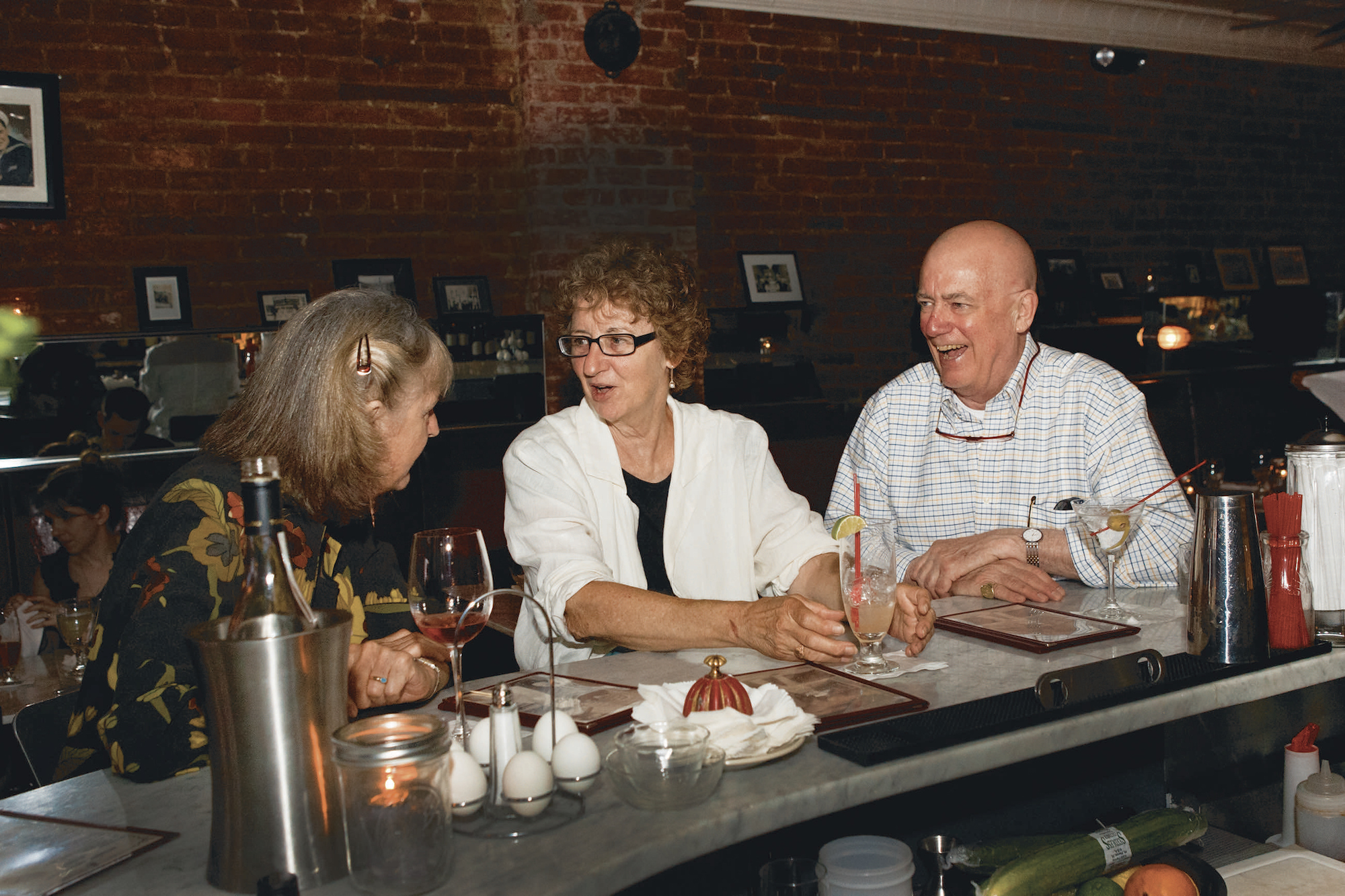 Sunday means they eat at 6 at Savona's, on the Rondout in Kingston. But first they must attend to the ducks: Every Sunday they arrive with a bag of croutons that began life as toast at Michael's Diner in Kingston or the Red Hook Diner, their regular breakfast spots. The rye croutons are perfectly—perfectly—cubed. After a steady diet of carelessly ripped white bread, the ducks seem to appreciate that. Then again, they're ducks. They aren't stingy with enthusiasm.
"Hey! Hey! Hey! Don't do that!" Richard, in a peach checkered shirt, shorts, white socks and loafers, scolds the Canada geese. Boats slowly motor past in the summer heat, people stroll by, birds wheel overhead. "Here are the babies," Ronald, in jeans and a blue plaid shirt, says, pointing out a family of ducks paddling beyond the orgy of bread consumption.
Inside at the bar, Sam (bald) has Ronald's wine ready, and he seems to be mixing Richard's martini as soon as they enter. "Bombay Safire, straight up, not dry, plenty of vermouth. With a twist of lemon. And the ice in a glass on the side," Richard recites. "Every bartender knows that." Sometimes, they might show up with a guest, or they might gather their dinner companions at the bar. This night they easily could have filled a table for eight the way friends crowd around them at the bar—a pianist and singer they've seen at the Lazy Swan, a barfly they see everywhere. But when the drinks are drained, Steve, the bartender from Valerie's in midtown Kingston (bald, too) is the only one who joins them at the corner table, their usual. "Have we told you the story about that mirror?" Richard asks. (The mirror hangs in place of a painting Richard liked so much that Ronald finally bought it for him. Shocked at its absence one Sunday, Richard immediately accused Ronald of buying it. Ronald, aghast at being labeled predictable, skipped a holiday before giving him the painting.)
After checking the menus and discussing choices, Ronald is ready to order. He observes proper etiquette—ladies should be ser ved before gentlemen, soup before salad, and his guests' wine glasses are always filled before his. Once they arrived at Mercato, in Red Hook, with their own cloth napkins and wine glasses. ("Who wants to drink wine out of a jar?" Ronald notes.)
"All these places have bald bartenders," Richard says, "so I love them."
"Except Lisa," Ronald says.
"Except Lisa," Richard agrees.
Richard eyes one special— salmon with peach mango salsa— remembering a week-ago pork loin with a similar salsa. "It was a ten," he says. The two often order the specials—one night lasagna for Ronald and the sole for Richard (served as a filet, not stuffed as advertised). Tonight, they both order broiled scampi seafood combo. "And the gazpacho," Richard says. "Instead of a salad?" Ronald asks. "Salad, too," Richard says.
Ronald orders, taking care of all the details, from the grated cheese and red pepper flakes for the breadsticks to the wine glasses. "And another Maker's Mark Manhattan for Steve," he says. "On the rocks."
Where do they eat the rest of the week? Monday, they say, is as routine as Sunday: They go to the Beekman Arms for the $17.66 prix fixe dinner. "There are five things on the menu that are wonderful for the money," Ronald says.
Now that evenings at one of their old favorites, Aroma Osteria in Wappingers, are much rarer because of their intense dislike of driving in the traffic on Route 9, you might find them instead at The Local in Rhinebeck ("We like everything—a lot of tapas," Richard says), or at Flat Iron in Red Hook ("Kathy's our waitress," Richard says. "She will always steer us to what's good"). Their minds are encyclopedias when it comes to owners and addresses, dishes and prices, servers, dinner companions and bartenders. "All these places have bald bartenders," Richard says, "so I love them."
"Except Lisa," Ronald says.
"Except Lisa," Richard agrees.
Thursday they go to Boitson's, where the seafood platter with lobster, clams and mussels that costs $28 on Friday costs just $20 on Thursdays.
"Another bottle of wine?"
"Another bottle of wine."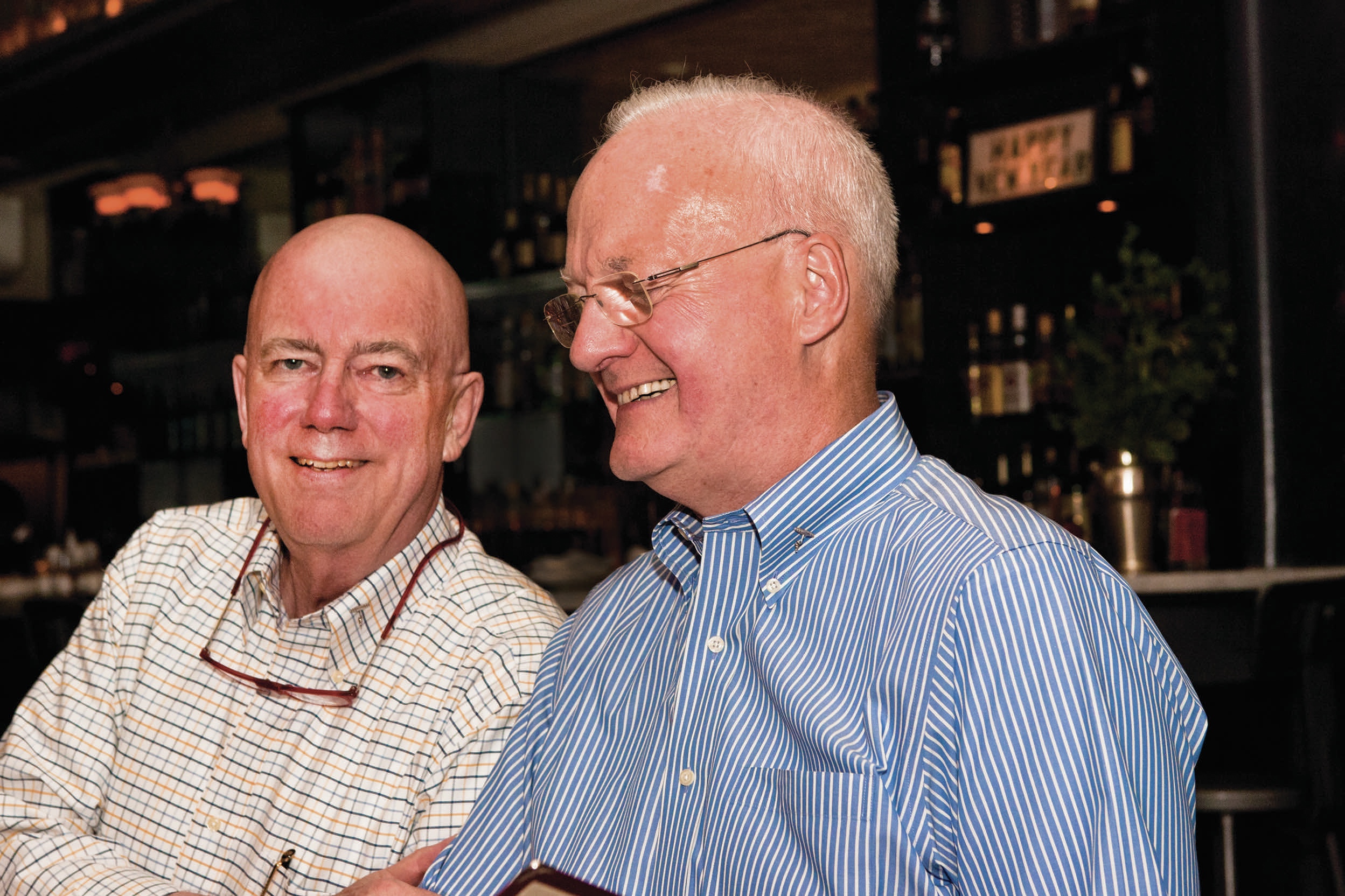 Friday and Saturday might find them back in Kingston, visiting La Canard Enchaine ("You feel like you're in Paris—it's worth the money," Richard notes), or in Woodstock for a meal at the Red Onion or Cucina. They attended the opening this year of 2Taste in Hyde Park. They might stay put in Rhinebeck for a meal at the Rhinecliff, where Jordan is their (bald) bartender, or at O'Learys, where they're friends with the owner. If they're not in the mood for a formal dinner, they might head to Hyde Park for the Culinary Institute of America's Ristorante Caterina d'Medici, or slip into jackets, cross the bridge and head for the Ship Lantern Inn, between Highland and Marlboro. ("They require that—it's proper," Richard says.) They might go still farther south to visit friends at Cena 2000, on the Newburgh waterfront, or head up north to Tatiana's in Catskill.
But when Sunday rolls around, there's only one place to find them. Savona's is where they retreat to the bar for conversation with a favorite (bald) bartender, for cannoli, for coffee (no sugar, no cream, no spoon). Before they leave the table, though, Richard turns to the waiter. "Aiden," he says, "everything was super deluxe."