"Sustainable Staples"—kitchen items that are "produced or grown using sustainable methods, by companies, co-ops or individuals who pay fair wages to workers, respect the environment, and honor food tradition." Here are a few items to add to the pantry that will please your conscience as well as your palate.
Rice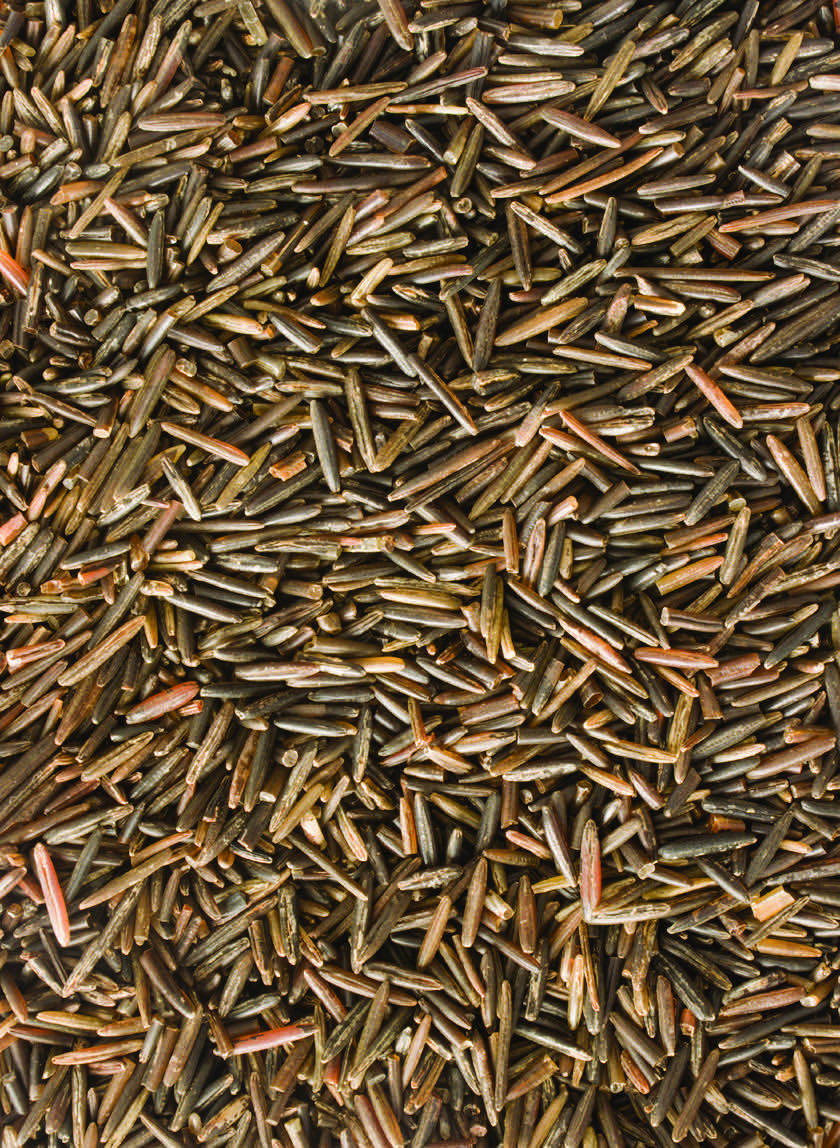 Wild rice is related to "true rice," but it's actually the seed of an aquatic grass that grows in the shallow water of small lakes and slow-flowing streams and rivers. Minnesota Wild Rice is one of the four species of wild rice known in the world; three are native to North America. Production of the rice is carefully regulated, and it must be harvested in a traditional manner, in keeping with the practices of the region's original Native American populations. The rice is cured, parched and graded before being packaged for sale. Available "broken" or "long grain," the rice is available in one pound and four-pound packages. A printable order form, recipes and cooking instructions are available online at mnwildrice.com.
Over 40,000 varieties of "true rice" are cultivated on every continent except Antarctica. Like wild rice, true rice is a grass, but is generally cultivated using flooding or other irrigation techniques. California-based Lotus Foods, a specialty rice company, is committed to introducing exotic and rare rice varieties to the world, handcrafted in places like Bhutan, Bangladesh and China using sustainable, traditional methods. Popular varieties include Bhutanese red rice (a short-grain rice grown at 8,000 feet in the Himalayas); Forbidden rice (a deep purple rice grown in China and now certified organic); Kalijira (a tiny grain rice available in white and brown, from Bangladesh); Carnaroli (grown in the Andean foothills of Argentina and perfect for risotto); and white and brown Jasmine (certified organic and grown in Texas). Lotus Foods rice is available at most natural foods stores, including Beacon Natural Market in Beacon, and online at lotusfoods.com.
Flour
Few regions in the country can boast of locally grown and ground flour, but the Hudson Valley is one of them. Wild Hive Farm, in Clinton Corners, produces micro-milled grains from certified organic hard red spring wheat, soft white winter wheat, spelt, rye, triticale, oats, and corn, all grown at Lightning Tree Farm in Millbrook. Don Lewis and his staff grind the grains between two rotating slabs of pink granite, resulting in truly stone-ground, whole-grain flour with more taste, texture and nutrition than commercially milled varieties. Wild Hive Farm flours are available at several local markets, including Adams Fairacre Farms in Poughkeepsie, The Amish Market in Hyde Park and Fleisher's Meats in Kingston and Rhinebeck, and online at wildhivefarm.com. A full list of markets carrying Wild Hive Flour is available online as well. A note about flour storage: Remove the flour from its cellophane wrapper or bag and store in a sealed container in the refridge—it'll stay fresh and free of bugs.
A bit farther afield, Anson Mills, located in South Carolina, offers stone-ground flour, polenta and grits milled only from certified organic heirloom grains. Their whole-wheat flour, for example, is milled from Red May wheat, the first improved wheat of colonial America. An heirloom Japanese buckwheat is used for their rustic buckwheat flour. The company's traditional grits feature two varieties of corn that were previously near extinction; one, Carolina gourdseed white, dates to the 1600s. All products are ground to order and shipped the same day. They're available online at ansonmills.com; the website also offers dozens of recipes designed specifically for Anson Mills products.