Ingredients
Cannelloni Dough
11/4 cups Italian 00 flour
6 tablespoons durum flour
9 egg yolks
1 tablespoon olive oil
3 tablespoons water
Cannelloni Filling
2 pounds sweet potatoes
1 cup fresh ricotta
2 whole eggs
2 tablespoons brown sugar
1 teaspoon pumpkin spice
3/4 cup crushed Amaretti cookie
1/2 cup breadcrumbs
Salt and pepper to taste
Pumpkin Crema
3 cups heavy cream
1 cup unsweetened pumpkin puree
1 teaspoon pumpkin spice
Salt and pepper to taste
Method
Cannelloni Dough
Mix all ingredients together in mixer or by hand until a solid mass.
Knead by hand for 10 minutes, let rest for 30 minutes before using.
Roll out dough as thin as possible without tearing.
Cut into 4- to 5-inch squares.
Bring 4 to 5 quarts of salted water to a rolling boil.
Prepare ice bath for noodles after boiling.
Boil squares for 1 minute; immediately drop into ice water to cool.
Arrange squares on lightly oiled baking sheet until ready to fill.
Cannelloni Filling
Preheat oven to 350° F
Scrub potatoes under cold water.
Rub with olive oil and wrap individually in tin foil.
Bake 1 hour and 10 minutes in 350˚ oven until soft.
Let cool slightly. Peel and mash potatoes with fork.
Add ricotta, eggs, brown sugar, pumpkin spice, crushed Amaretti cookie, bread crumbs and salt and pepper.
Whisk briefly to combine—don't overmix. (If watery, add additional breadcrumbs.
This should have the consistency of stiff mashed potatoes.)
Pumpkin Crema
Whisk together heavy cream, pumpkin puree, pumpkin spice and salt and pepper in small saucepan.
Simmer over medium-high heat (place pan halfway over burner to avoid boiling over) about 25 minutes until thick.
Strain pumpkin out for smoother crema or leave in for texture.
Assembly
Preheat oven to 375° F
Arrange pasta squares on work space.
Place heaping spoon of filling on edge of each square and fold into 3-inch rolls.
Place filled cannelloni seam-side down on greased casserole dish.
Top with smear of softened butter and sprinkle of grated parmesan.
Cover dish with tin foil and bake at 375° F for 12 to 14 minutes.
Remove foil and bake for additional 6 to 8 minutes until heated through and golden brown.
To Serve: If serving individually: Spoon 3 to 4 tablespoons of pumpkin crema onto each dish. If serving in bulk: Cover bottom of serving platter with crema, then carefully arrange cannelloni on platter. Top with toasted walnuts and crumbled gorgonzola dolce, or preferred toasted nut or blue cheese.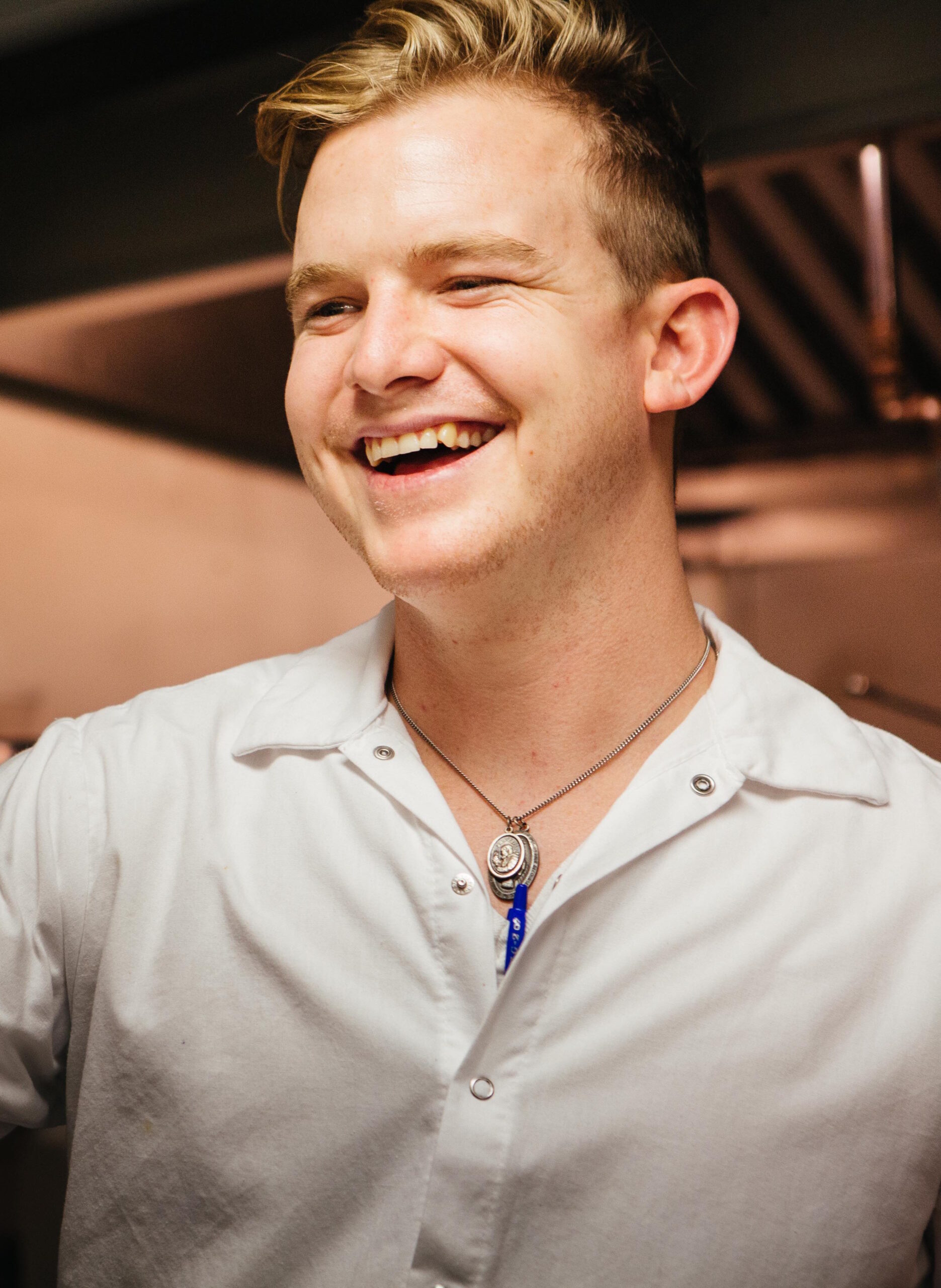 We try to make what's available locally the star, especially things that aren't usually a big part of the recipe—like these sweet potatoes from Laughing Child Farms. Also, a big part of Italian roots is eating seasonally, eating locally, which we choose to practice even though other [out of season] ingredients may be available.