WHEN BOB BAXTER, of the R. L. Baxter Building Corp., approached brothers Chris and Daniel Crocco in 2013 about opening a restaurant, he already had made significant real estate investments in Poughkeepsie. He was eyeing an historic building on Mill Street that housed the Mill House Panda, a Chinese restaurant. The Crocco brothers were working just a few blocks away at Brasserie 292—Chris as general manager and Daniel as executive chef. Jamie Bishop and Larry Stock, two longtime home brewers, had successfully set up a one-barrel brewery in Bishop's basement (they called it Bilco Brewery) and were sharing their craft beers with the brothers at the Brasserie. "I remember bringing 13 beers to audition for the restaurant," Bishop recalls.
After an eight-month renovation of the historic building and steady, planned growth, the Mill House Brewing Company celebrated its first anniversary in November as "a complete Hudson Valley dining experience." Enthusiasm abounds in the kitchen, in the brewery and in the dining spaces. The executive roster of the enterprise reads like a family reunion guest list: Chris and Daniel Crocco are general manager and executive chef, respectively; Jamie Bishop and Larry Stock are the brew masters; and Eric and Amanda Baxter are proprietors. Two words sum up the vibe: "We are having fun and our passion shows in everything," Bishop says.
The Mill House Brewing Company is the third restaurant to occupy the 1836 building and its first brewery—oddly, the building never housed a mill. "This was the largest house on Mill Street," Chris Crocco says, noting the site had two elements that made it perfect for a brew house: "Here we have an historic building—and a large parking lot."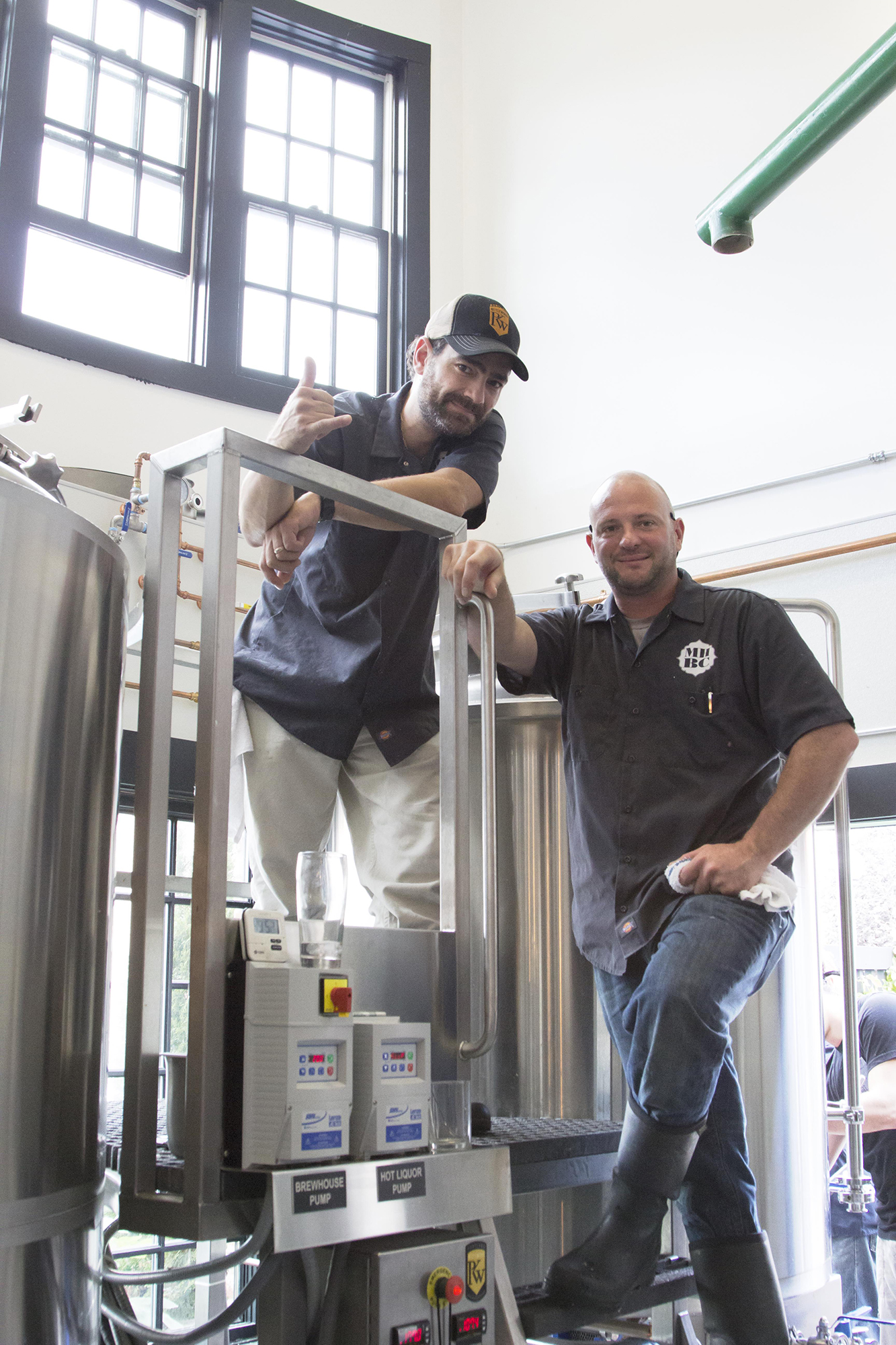 Much of the renovation of the building stripped away contemporary alterations and exposed elements of the historic structure. The crew reused and repurposed what they could: the wood-fired pizza oven is made from leftover brick, and heavy wooden supports used in the first floor dining room came from elsewhere in the building. Bluestone removed from the front of the downtown Bardavon Opera House was incorporated, as well. A few interesting artifacts turned up during the renovation, too, including a menu offering onion soup for 25 cents, a remnant of the building's first restaurant. (As a nod toward posterity, the renovators set a 2013 quarter in the mortar of the pizza oven.) The brewering tanks are housed in an addition, and "we got a second-floor patio because we needed more clearance for the brewery," Daniel Crocco notes.
Each of the restaurant's dining areas has a distinctive vibe. The second floor is decked out in French Country décor, while the third floor features a barrel ceiling and heavy farm tables. The restaurant seats about 250 total, with space for hosting private parties. "You can eat here three times a day and get a different experience each time," Stock says. "You have a view of the Walkway Over the Hudson and five steeples. It is very historic."
Bishop and Stock produced 609 barrels—20 different beers—in their first year at Mill House. Production includes trying new recipes and tweaking old ones—they tried 30 variations of their stout recipe, four different IPAs (India Pale Ale) and five seasonal beers before they were satisfied. The current bestseller is Köld, a Kölsch-like, straw-colored ale they call their "gateway craft beer." Runner-up is the IPA.
Bishop notes that Matthew Vassar, who founded nearby Vassar College in 1861, was a major brewer of his time. "It has been more than 100 years since there has been a brewery in Poughkeepsie—and this is a beer town," he says, adding, "The terroir of the water [in Poughkeepsie] is great for beer."
A Beer Flight Sampler
​Queen City Cream Ale
A light-bodied cream ale—dry, clean and crisp. Uses two-row barley, six-row barley, corn and rice to create a beer. Liberty hops are used sparingly as a bittering addition.
PK Pale Ale
This pale ale stays true to its roots by keeping the hops in check. Two-row base malt accentuated with Victory, Munich and red wheat and balanced by a schedule of American "C" hops.
Alpha
High-alpha American hops flood this amber ale. Two-row base with CaraAmber and Victory build a malt profile that st ands up to the hop schedule.
Kilt Spinner
A malty beer aged on oak, complex and warm. Two=row base with Munich, Crystal 40 and Carafa II with a touch of Black Patent, all balanced with a simple Fuggles schedule.
Derailleur
This beer switches gears (get it?) to bring a hop-centric beer in a dark-as-night package. Two-row base with Black Patent, Munich and acidulated malt are joined by Simcoe, Columbus and Centennial hops.
Velvet Panda Nitro-Strout
This award-winning stout has a velvety mouth feel and nicely balanced bitterness. Two-row base, roasted barley, Carafa II, flaked oats, flaked barley, chocolate malt and Black Patent malt are balanced with a simple schedule of American "C" hops.
In late fall, Bishop, Stock and the Crocco brothers gathered to taste a new beer, Imperial Maple Pumpkin Ale, made to honor the brothers' late grandfather, who operated a sugar shack for maple syrup in Brewster. The brew masters currently are working with area historians to recreate a 100-year-old ale recipe originating from the Hudson Valley that features floor-malted barley, local honey and Demerara sugar, a project especially appealing to Bishop, whose academic background is in anthropology and history.
At the Mill House, however, the beer doesn't just flow from taps. It's also in the food. Chef Daniel Crocco has embraced the brews, and incorporates beer in many of his crowd-pleasing dishes, including beer-and-cheddar brats made with PK Pale Ale; a barbecue pulled-pork sandwich with 16-hour smoked pork shoulder smothered in Kilt Spinner Beer BBQ sauce; and fish and chips with Alpha Ale-battered Atlantic cod and duck-fat Belgian fries. The 27-year-old chef, a Culinary Institute grad, has worked in the food industry since he was 14. He spent five years immersed in the world of local, seasonal and sustainable food while working with esteemed chef Melissa Kelly, formerly of Old Chatham Sheepherding Company in Columbia County. He also credits his stint at Brasserie 292 ("It was like working in 14 different restaurants," he says). He sources local products through Red Barn Produce, in Highland, and gets chickens from John Fazio Farms, in Modena. (On the other hand, Bishop notes, sourcing consistently high-quality local ingredients for their volume of beer production has been an issue. In the mid-1800s, New York ruled the nation in hop production, but today much of the growing has shifted elsewhere. "I am a hops hound," he says. "It is hard for a new brewery to get good hops right away.")
Of course, where there's beer there's pork, and the restaurant uses a lot of it. In addition to the pulled pork, chops and ribs, from 200 to 300 pounds per week go into house-made sausage. Most of the pork comes from a sustainable farm in Pennsylvania, and occasionally from the Meiller Farm and Slaughterhouse in Pine Plains. For take-home preparation, a refrigerated display case offers sausage, smoked ribs, brisket and pulled pork for sale.
The goal at The Mill House now is to "keep improving, keep growing," says 33-year-old Chris Crocco, who turned to a career in restaurant management after studying finance at Siena College. He's convinced that working with his brother and other partners here—where he grew up—was the right move at the right time. "I worked for three years at the Copacabaña building when it was on 10 East 60th Street in New York City," he says, "and I hear more stories about this [Mill House] building. There are so many great memories about this locale. People from all walks of life, all ages, come in to enjoy the same thing: an amazing dining experience. And the beer is great."