In an age of açai bowls and moon juice, Atina Foods keeps it old-school.
Located in Catskill, the condiment brand from husband-and-wife team Suresh Pillai and Carrie Dashow draws upon Ayurveda, a more than 3,000-year-old Indian tradition of holistic healing that balances body, mind, and spirit. Based on a person's tendencies toward the three Ayurvedic doshas, or constitutions, certain foods and lifestyles aid healing and well‑being.
In other words, Ayurveda uses food as medicine.
"We like to say, 'Eat the food that is good for you,'" Dashow and Pillai explain. "This is to say, in whole form rather than popular extractions which separate us from the magic and wholeness of the plant."
After meeting in India and moving to the Hudson Valley, the couple began Atina Foods in 2015 to showcase homegrown produce and tap into Pillai's South Indian heritage. To create their herbal jams, pastes, and pickles, they source from regional farms like Honey Dog Farm in Hillsdale, Samascott Orchards in Kinderhook, and Shaul Farms in Fultonham. While the ingredients are as fresh as they come, the recipes are old — thousands of years so. Take inji puli, for instance. Using the time‑tested Ayurvedic combination of inji ( ginger) and puli (tamarind), this jam aids digestion with its harmony of astringent, bitter, hot, salty, sour, and sweet notes.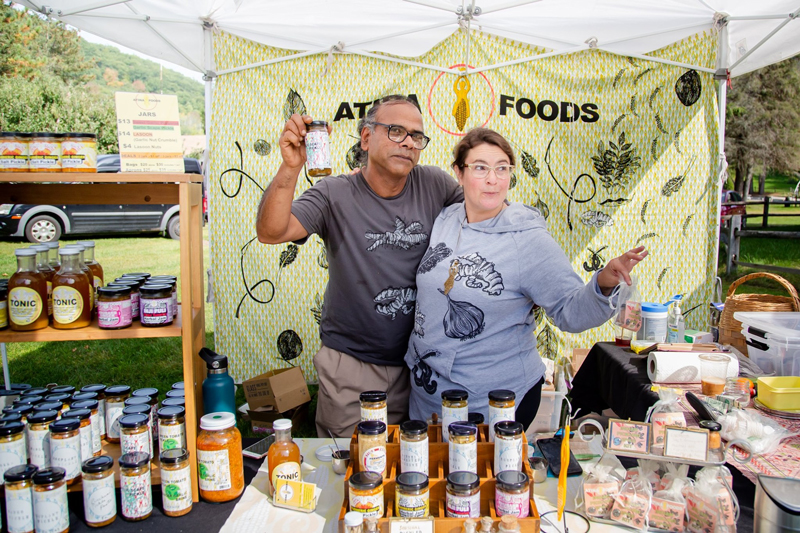 "Since we now live in the Hudson Valley, we have created a regionally specific version of this special condiment using locally grown rhubarb to replace the tartness of the tamarind, since in Ayurveda it is important to find the health benefits where one lives locally," the couple note. Combining organic ginger with whole black peppercorns, juice from tamarind and jaggery (a type of unrefined cane sugar), spices, and salt is time-intensive, with intermediate steps like dry-roasting peppercorns, but the result is a nutritional powerhouse that's 100 percent natural, to boot.
"We feel there is a need to develop a deeper understanding about food, the material which keeps us alive and from which we are literally made," they say. "Ayurveda is not place-specific; it is a mindset. Our practice is to live locally and listen to the plants as much as we can hear them."
---
Which Dosha Are You?
Kapha
Grounded by earth, kapha personalities are physically cool, with curvy or strong frames and smooth skin. Emotionally, they are calm, patient individuals who enjoy routine.
Pitta
With fire at their core, pitta personalities are physically warm, with healthy skin and medium builds. Emotionally, they are articulate leaders with competitive tendencies.
Vata
From the air and space elements, vata personalities are physically cold, with dry skin and thin frames. Emotionally, they are lively, talkative, and often on the move.