The economic effects of the coronavirus have been widespread and devastating, and nowhere has that been more apparent than the food industry, where restaurants have been shuttered or are struggling for survival. But amid the feelings of helplessness come encouraging stories of individuals and organizations answering the calls of their community.
Since the beginning of the outbreak in the Hudson Valley in mid-March, Food Bank of the Hudson Valley has seen a 50 percent increase in the need for emergency food, which, if sustained, puts the organization on track to distribute 8 million more pounds of food in 2020 than in 2019.
"Since our response to the pandemic began, we have seen unprecedented levels of financial support (from both current and new donors), as well as in-kind donations, food donations, and people donating time by volunteering in our warehouse," says Paul Stermer, director of Food Bank of the Hudson Valley.
Part of that support came from Bank of America, who pledged a donation match of up to $75,000, which the organizations reached thanks to individual donations in the community.
Other efforts have worked to resolve supply chain disruptions due to the virus. In the Hudson Valley, Scenic Hudson and FeedHV have partnered in an effort to provide food assistance for children while supporting local farms. Through the initiative, FeedHV purchases dairy products, like milk, yogurt, and butter from Hudson Valley Fresh farms and Ronnybrook Farm Dairy, and supplies them to three organizations: the Kingston YMCA Farm Project; The Lunch Box, a food pantry operated by Dutchess Outreach; and Friends of Hudson Youth.
According to Sarah A. Salem, director of development for Dutchess Outreach, not only has demand doubled, "We are serving some clients who haven't visited the pantry in more than 20 years."
The Kingston YMCA Farm Project has since teamed up with the Kingston Emergency Food Collaboration, packing meals for up to 2,500 students per day.
In Westchester, Chef Eric Korn and restaurateur Louis Lanza brought together a number of chefs like Christian Petroni, David DiBari, Mike Anastacio (above), and more, with the goal of making one million gallons of soup for people who are facing food insecurity during the pandemic. They recruited more chefs and restaurants to help make soup, and raised money, accepted corporate donations of food and supplies, and mobilized to provide meals to thousands of local residents.
As of July, they had distributed more than 100,000 bowls of soup (upwards of 25,000 gallons), and have raised more than $150,000, with participation from restaurants in New York and Connecticut and support efforts from several other states, including New Jersey, Colorado, and Texas.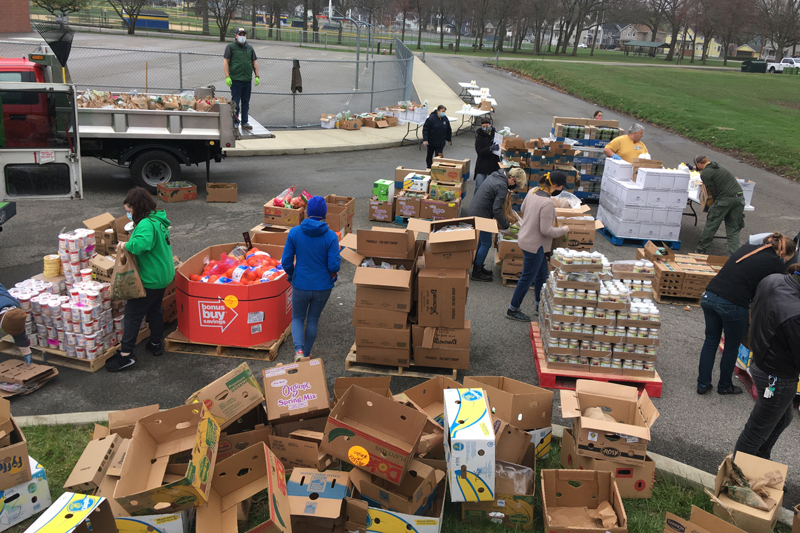 Other businesses have also gotten crafty in their relief efforts. Shortages of hand sanitizer have inspired businesses like Cooper's Daughter Spirits, The Vale Fox Distillery, Hudson Valley Distillers, Orange County Distillery, and more to put their stills to work to brew 80-proof alcohol. Cooper's Daughter Spirits set up a system whereby online donations are used to make hand sanitizer for first responders and, if they fulfill those needs, the supplies will be rerouted to senior care facilities, restaurants, and other high needs areas. Most of these distilleries' efforts are a combination of goodwill and efforts to stay afloat in what is undoubtedly the most challenging economic climate in modern history.
Yet perhaps most encouraging is that some business owners still have a sense of humor in the face of a bleak outlook. In early April, Aaron Browne, owner of Cousins Ale Works, incorporated a hop variety into the name of a special release beer called "Citra Ass at Home" — a refreshing way of encouraging residents to stay at home and stop the spread.