Chocolat, author Joanne Harris penned a line for the novel's chocolatier main character, Vianne Rocher, which read: "I sell dreams, small comforts, sweet harmless temptations to bring down a multitude of saints crashing among the hazels and nougatines."
It's a quote that rings true when speaking of the Hudson Valley's finest chocolatiers. Each craftsman or craftswoman is different, some with rich culinary backgrounds, and others who learned it because the sweet science of confecting truffles, caramels, bars, and barks is their birthright.
Dive into their stories, browse their shops, and indulge in the guilty pleasures they've blessed us with.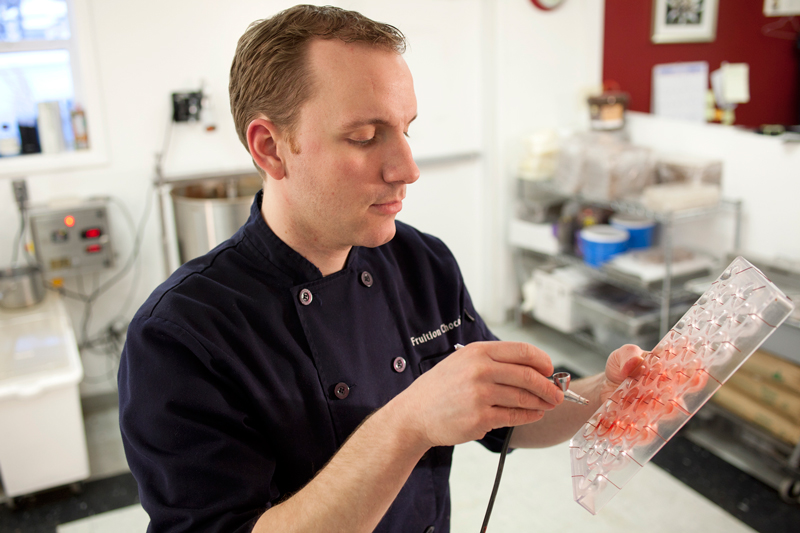 Fruition Chocolate Works
Shokan and Woodstock
"I was one of those lucky kids who knew more or less what I wanted to do at an early age," Bryan Graham says.
His food education began on his grandmother's farm in Andes, where they'd pick fruits that would later go into a freshly baked pie. Graham went on to intern at the Bear Café in Woodstock and later became the pastry chef. Once in his mid-20s, he enrolled in The Culinary Institute of America to enhance his command of the kitchen. After taking a three-week class on chocolate and confections, he knew this was what he wanted to focus on.
In that chocolate and confections crash course, part of a lesson detailed how to make chocolate from scratch: not buying the nibs, but making it from the cocoa bean. Hooked on the idea, Graham experimented at home in small batches and learned the equipment necessary in the long, tedious process that at the time, only 20 or so chocolatiers would even bother with. When he was ready, he and his wife, Dahlia, quit their jobs, traveled, and worked on a business plan.
When they returned to the area, they opened Fruition Chocolate Works in Shokan, thinking it would be temporary before they moved elsewhere.
Eight years later they're still churning out decadent, mostly dark chocolate bars, including a 68 percent dark-milk that won Best in Competition at the International Chocolate Awards.
Temporary? Not anymore, according to Graham. "It's home for both of us and as adults, we fell in love with where we grew up, all over again."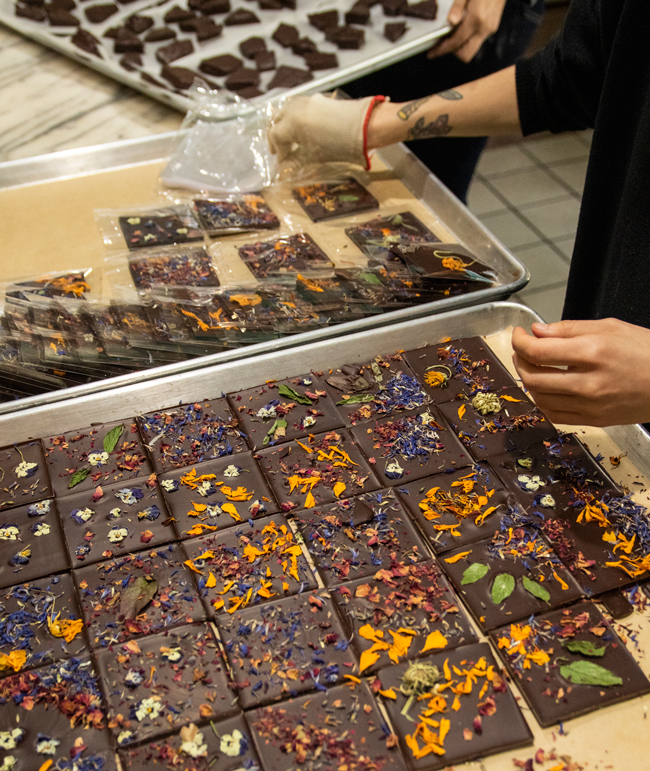 Photo by Erica Wadleigh
Lagusta's Luscious
New Paltz
Twenty years ago, you would've been hard-pressed to find much in terms of vegan anything, let alone vegan chocolates. But Lagusta Yearwood was ahead of the trend, confecting vegan chocolates at her home in New Paltz.
Her journey started in culinary school, which led to private-chef gigs in New York City. "I started making chocolates for fun [as] Christmas and Hanukkah gifts for people, back when there were little-to-no vegan chocolates available."
Her craft was well received, so she started selling and shipping them in 2002. "Around 2010, I knew I had to pick if I was going to continue being a savory chef or if I was going to start selling chocolates," Yearwood says.
She chose chocolate, wanting to prove that she could make a luxurious, satisfying treat with vegan ingredients. A year later, Lagusta's Luscious became a brick-and-mortar shop.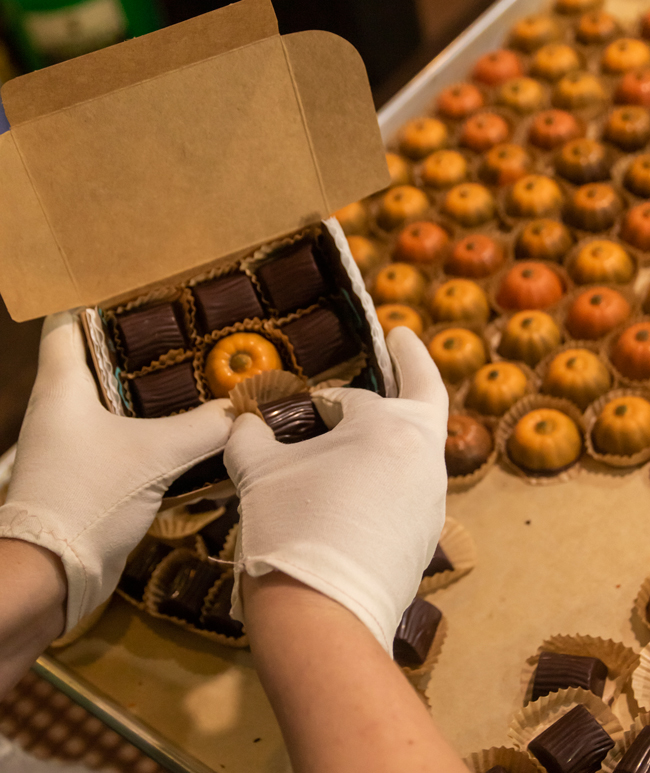 Miso caramels are one of her sweet-meets-savory combinations, while chocolate barks, some imbedded with fennel pollen or edible flowers, are visually stunning.
Aside from deliciousness, Lagusta's Luscious is all about ethics, as in none of their cocoa beans are harvested by slaves. They also try to use local produce and herbs in their treats when possible. To boot, they pride themselves on being an LGBTQ-friendly space.
Yearwood has expanded her brand, partnering with Sweet Maresa's to open an East Village shop called Confectionery!. Plus, she's got a new cookbook: Sweet + Salty reveals the secrets behind 100 of her signature truffles, caramels, and more.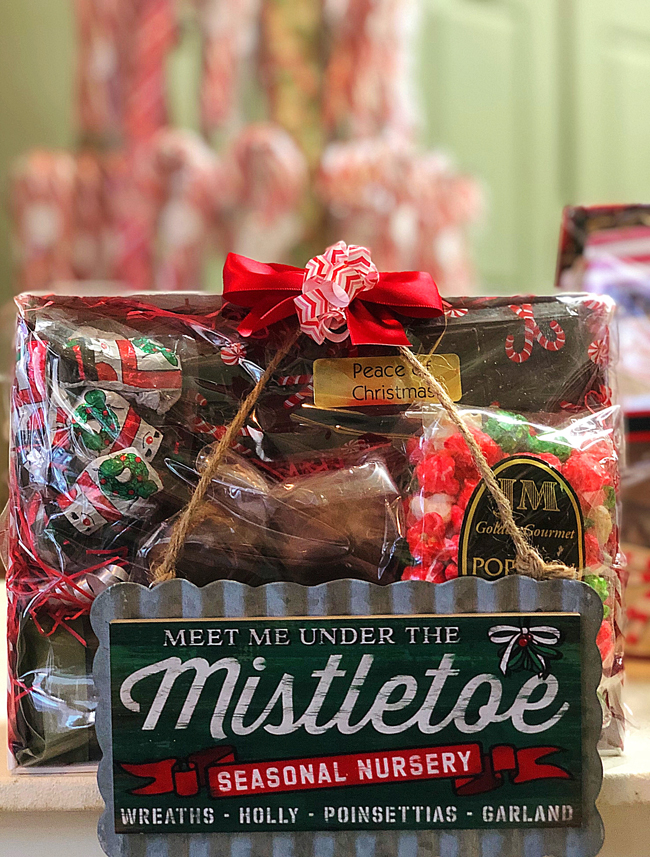 Lucas Candies
Haverstraw
Not many chocolate shops — or businesses, for that matter — can claim to have been open since 1896. For more than a century, Lucas Candies has been using the same chocolate recipe to do everything from coat Oreos, form into nut clusters, shape into bunnies, and cup around peanut butter. Oh, and they still make everything by hand, using almost no machinery.
Although fourth-generation owner, Nick Loucas, didn't go to culinary school, he may as well have been born in the shop. "I grew up here, and I was always a part of it," he says. "I worked here part time while in college for business and engineering. I graduated and worked here full time. It's in my blood."
Why does a Loucas own Lucas Candies? When five of his forebears immigrated from Greece, they each adopted a different spelling of their name so as to avoid confusion with the mail. Nick's great-great uncle, who spelled his name Lucas, founded the store, but it was eventually passed down to Nick's grandparents, who had taken the spelling of Loucas.
While old-school recipes will forever be a staple at Lucas Candies, Loucas and his partner, Deb Bertrand, have mixed a little present day style into what the shop does. For instance, their brittle is infused with local craft beer from the likes of Mill House Brewing Company and Industrial Arts. Another newish creation of theirs received serious press on Today when Kathie Lee Gifford and Hoda Kotb raved over their PMS bar, comprised of peanut butter, milk chocolate, and salted potato chips. PMS never sounded so good.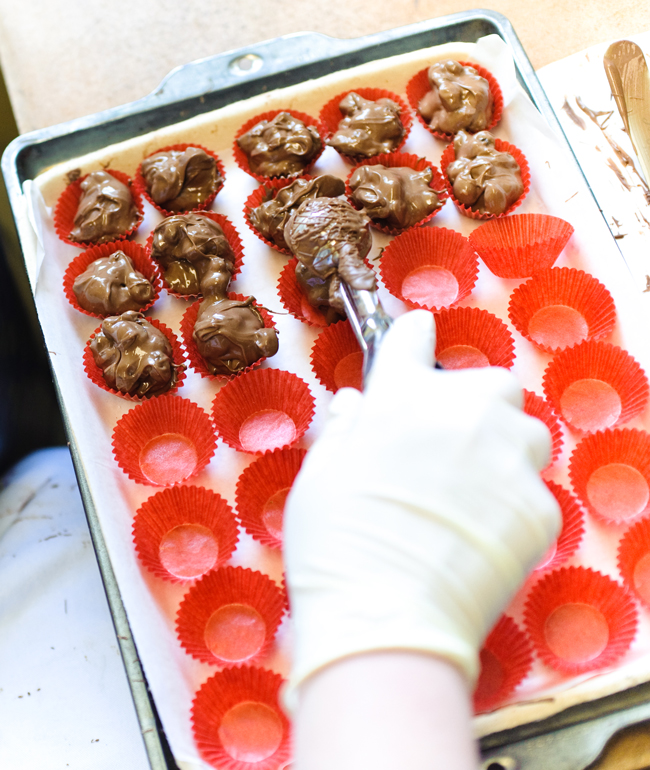 Krause's Chocolates
New Paltz, Rhinebeck, and Saugerties
Karl Krause starts the tale of his family's foray into chocolate-making with "The legend goes…"
And quite a story it is. Alfred Krause, Karl's grandfather, who grew up an orphan, apprenticed with a candy maker in Germany in the early part of the 20th century. After World War I and the collapse of the German economy, he worked as a chef on ocean liners until he had saved enough to move to America. Eventually, Alfred opened a general store with a gas station. When patrons gassed up their vehicles, he'd toss them a homemade chocolate treat. "It turns out that people liked the chocolate more than they liked anything else in the store," Karl says. "So, he closed the store to focus on making chocolate."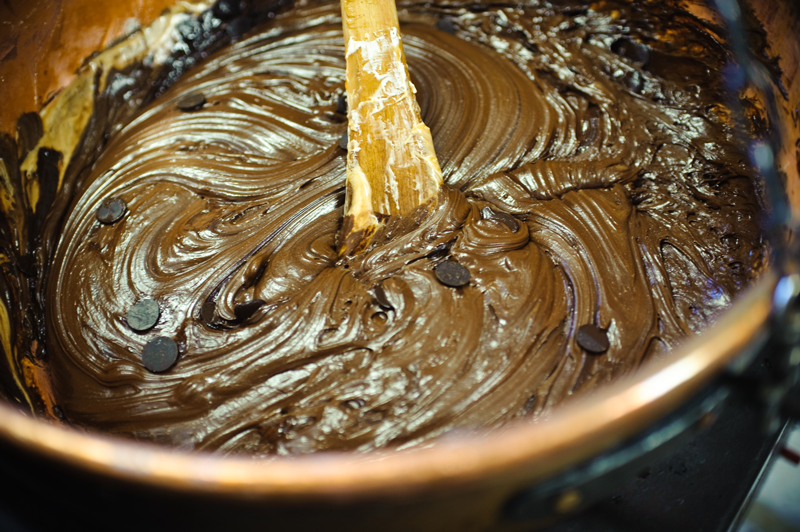 The first Krause's Chocolates was opened by Karl's parents, Manfred and Jean, in Saugerties in 1972. At Krause's — where Karl started working when he was 8 years old — it's always been about hand-dipping chocolates, just the way his grandfather intended. The centers are cooked in a copper pot, then pressed in an antique candy press before each is dipped with a handmade tool in a Swiss-style chocolate bath.
Today, even with upwards of 50 chocolate creations — including seasonal items like dipped hunks of cheesecake, strawberries, or apples — the recipes have basically stayed the same. "I've only changed little things to improve taste or the quality," Krause says. Krause's has expanded to three shops and ships their creations to most states. Fortunately, we can get the full experience in person.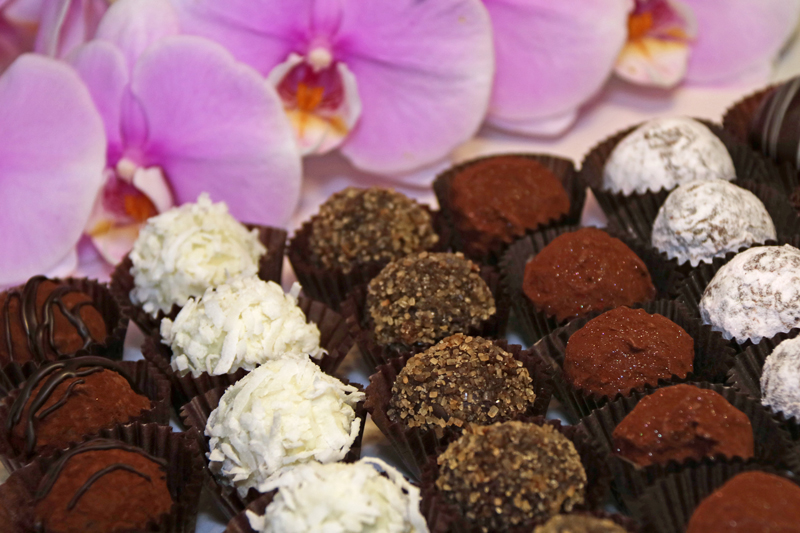 Blue Tulip Chocolates
Rye
The time it takes to break the seal on the door is how quickly you'll be struck by the beauty inside of Blue Tulip's display cases.
"You eat with your eyes first," says owner Diane Holland. "Current trends now are to make it look as beautiful as can be, so we try our best."
Holland's "best" has been a lifelong passion. She'll tell you she's always been a chocolatier no matter what jobs she had previously — other positions in the food service industry, and one stint as a historical archivist. Eventually she started to offer chocolate-making workshops, which resulted in the opening of Blue Tulip six years ago.
To pin down her style is tricky. Holland, an Institute of Culinary Education graduate, who also trained in Belgium and took courses with French chocolatiers, created something all her own by taking her European training and Americanizing it.
The result is a melt-in-your-mouth mixture of French and Belgian chocolate with Vermont cream, an occasional ganache center, and top-shelf global ingredients like Himalayan pink salt, Mexican vanilla beans, and hibiscus. Around any holiday, expect ghostly patterns for Halloween, chocolate turkeys for Thanksgiving, and obligatory lovey-dovey Valentine's Day designs.
The other Blue Tulip signature? Freshness. "Everything here was made the day you come in or within a day or two," Holland says. "It's all handmade, no preservatives, and we're constantly experimenting with flavors. We introduce a new one every two weeks."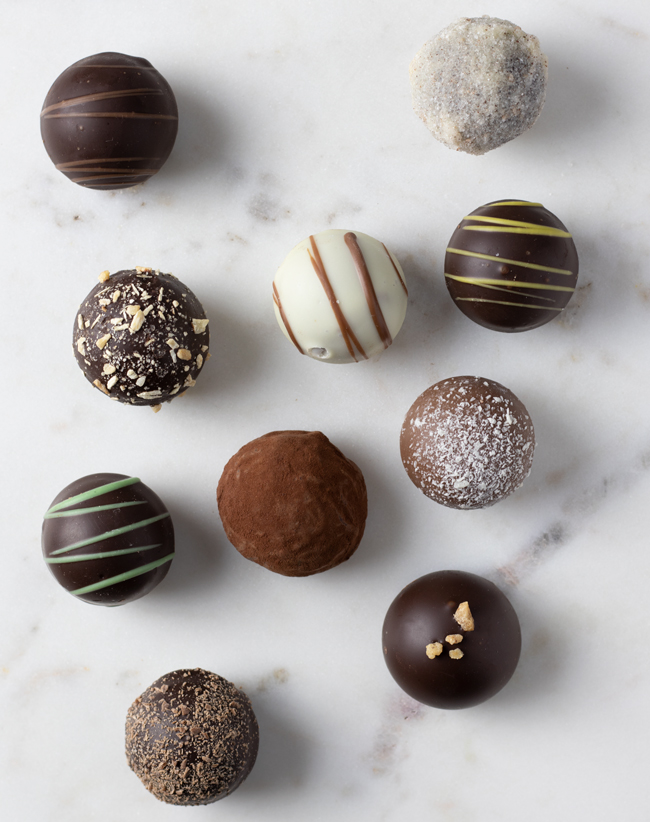 Alps Sweet Shop
Beacon and Fishkill
One of Beacon's oldest businesses has roots that date back to 1922, when Alps Sweet Shop was primarily an ice cream parlor. "We were a soda shop that had homemade ice cream, with chocolates," says current owner Sally Craft. "It started with my grandfather, Peter Charkalis, who immigrated to Kingston from Greece. He lived with a cousin when he arrived, learned the trade from relatives, and eventually opened his own place."
Alps did change a bit when Sally's parents took over in 1967. Instead of doing it all by hand, they went the route of introducing an enrober, purchased in Greece, where creams and truffles get a chocolate coating. They even phased out ice cream to solely focus on chocolates.
Craft, who will tell you that chocolate runs through her veins, also met her husband, Terry, while growing up at Alps. "I was dating someone else and Terry was a recent acquaintance of my then-boyfriend; I told my dad to hire him because I thought he was cute!" she says.
Turns out, Terry was really into chocolate, too. He's now considered a master chocolatier, having traveled all over the world to hone his skills. Now approaching almost 100 years in Beacon (with a second location in Fishkill), the couple still uses many original recipes for filled chocolates, holiday-themed molds, caramels, and, pecan-laden turtles. That same secret blended-chocolate recipe is also used to cover everything from salty pretzels and chips to Oreos and peanut butter cups, along with more than 100 other confections.