A COUPLE OF YEARS AGO, I was invited by the head gardener at Mohonk Mountain House, just outside of New Paltz (Ulster County), to talk to the hotel's guests about heirloom tomatoes and their enduring popularity. I don't know if my words made much of an impression, but the samples I brought—mid-summer, vine-ripened Brandywine, Paul Robeson, Cherokee Purple, and other varieties—were happily devoured along with a few dashes of salt.
Mohonk is a very special place, but as resort hotels go, it carries a hefty price tag. In lieu of payment, I received a coupon, and this fall my wife and I celebrated our thirtieth wedding anniversary with a two-night stay there. Sometimes it pays to talk tomato.
The Mountain House has been owned and managed by one family for nearly a century and a half.
The sprawling, Victorian-style Mohonk Mountain House is situated on 1,325 acres of mountainous, wooded land beside a sparkling lake fed by rainfall. Guests can kick back and take in the stunning, rugged scenery of the Shawangunk Ridge and the Catskill Mountains to the north, or they can engage in hiking, swimming, boating, horseback riding, rock climbing, tennis, golf, croquet, carriage rides, nature walks and, in winter, ice skating and cross-country skiing. Various cultural, historical and environmental tours are offered during the day; at night, there are talks, poetry readings, movies and other entertainment. A fitness center, spa and indoor swimming pool are also on hand. My only problem with the food was that I ate too much — in just two days I gained three or four pounds.
The Mountain House has been owned and managed by one family for nearly a century and a half. The story begins in 1869, when Alfred Smiley, a Quaker schoolteacher-turned-farmer, encountered Lake Mohonk and its spectacular surroundings while on an excursion with his family. For Alfred, a naturalist and outdoor enthusiast, it was love at first sight, and his interest intensified when he learned that the land, along with a small inn and tavern on the lakeshore, was for sale. But with a wife, six children and only a modest income, he was in no position to finance the purchase. He did, however, have a wild card up his sleeve—his twin brother Albert, who was looking for land and a new home.
The descendants of the Smiley brothers remain committed to preserving the natural splendor of the place for which the twins had such affection.
At the time, Albert was very busy at his job as principal of the Quaker Friends School in Providence, Rhode Island, and he dismissed initial telegrams from his brother urging him to come right away to look at his find. Alfred persisted, though, and when Albert eventually acquiesced, he too was greatly taken with the land's natural beauty and potential, and agreed to put up his life savings to obtain a mortgage on Lake Mohonk and 280 acres of surrounding property. Today, the small inn and tavern have been transformed into a world-class, 260-room hotel reminiscent of a European castle.
The descendants of the Smiley brothers remain committed to preserving the natural splendor of the place for which the twins had such affection. Their Quaker heritage imbued many of their offspring with a sense of service, a reverence for nature and the belief in peaceful resolution of conflict. These values continue to shape many endeavors at Mohonk. From the beginning, the hotel and surrounding land were more than just a treasured place for the Smiley family and a getaway for the well-heeled—they also provided an open venue for the discussion of major social, cultural and environmental issues.
From 1883 to 1916, for example, Mohonk hosted the Lake Mohonk Conference of Friends of the Indian, an annual, one-day meeting that included the Board of Indian Commissioners, a humanitarian advisory group established by Congress in 1869, and 50 prominent and influential guests invited by Albert Smiley. Albert and his younger half-brother, Daniel, were aware of the plight and ill-treatment of Native Americans. In step with the aims of the Board, they advocated for civil rights, equal opportunity and full citizenship for the native population in the post-Civil War westward expansion—a time when there was still national debate as to whether the indigenous population should be confined to reservations, assimilated or exterminated. Records from these conferences are available to scholars at Haverford College in Haverford, Pennsylvania.
Given the Quakers' opposition to war, it seems natural, too, that in 1895 Albert should organize and convene the first Lake Mohonk Conference on International Arbitration. Political and religious leaders from around the globe came to debate issues concerning peaceful conflict resolution, but America's entry into World War I brought the conferences to an end in 1916. The work done at Mohonk over more than 20 years, however, served as a model for the establishment of the Permanent Court of Arbitration at the Hague in the Netherlands, a tribunal for peaceful arbitration of international disputes.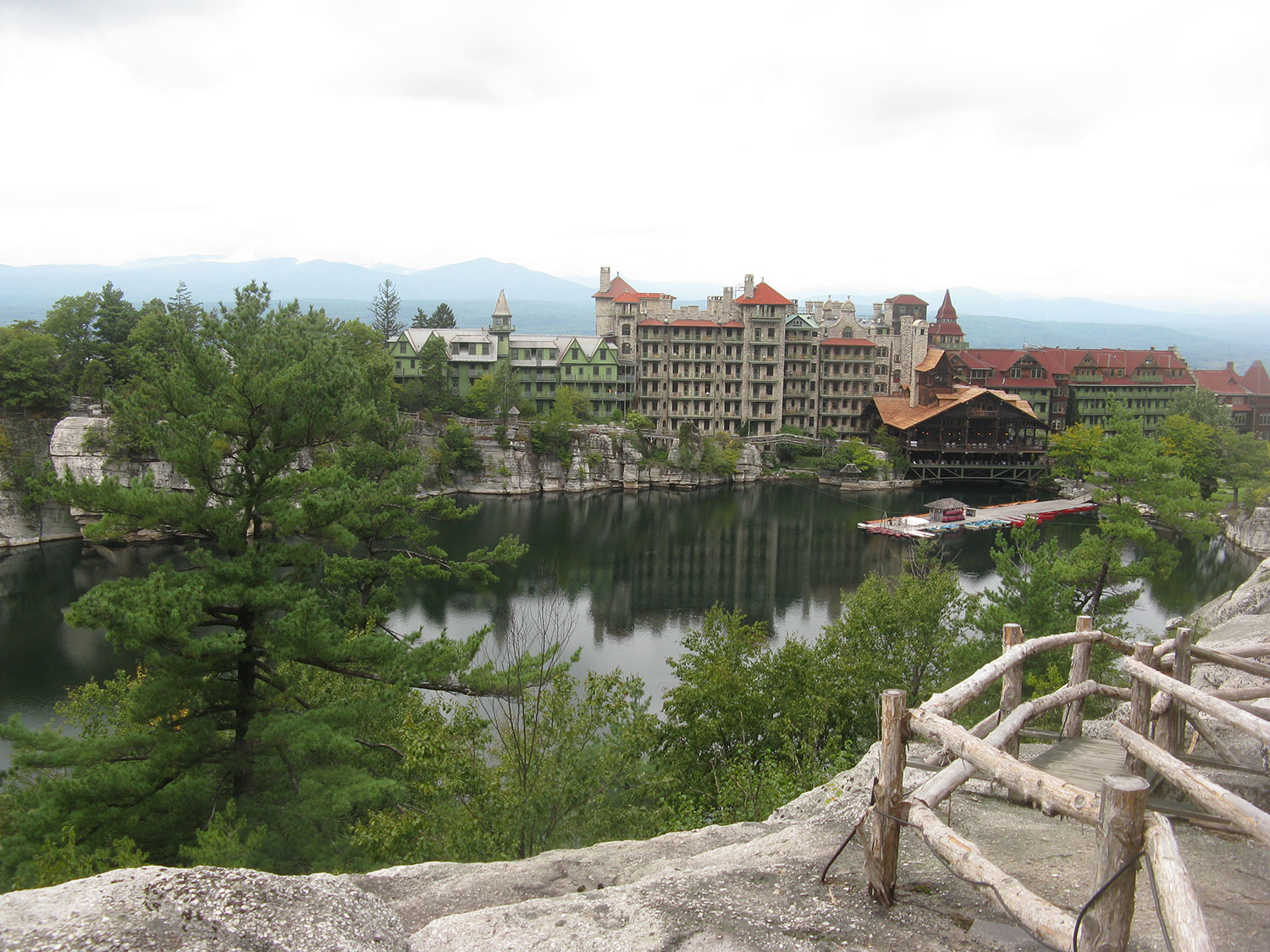 In 1963, members of the Smiley family created The Mohonk Trust, a non-profit entity dedicated to land stewardship and discussion of social and environmental issues. In 1966, the family bequeathed several thousand acres to the Trust to preserve the open space. Now renamed the Mohonk Preserve, it protects some 8,000 acres of mountains, fields, lakes and streams up and down the Shawangunk Ridge. With 40 miles of hiking trails and 70 miles of carriage roads, the protected land is New York State's largest private, non-profit nature preserve. It hosts 165,000 visitors each year: Hikers, nature buffs and birdwatchers find plenty to delight them; students at all levels come for outdoor education programs that focus on conservation and stewardship; rock climbers hone their skills on the world-famous vertical cliffs of the Shawangunk Ridge. Volunteers help maintain the trails and act as interpretive guides.
If you're driving on Route 32 in the vicinity of New Paltz, you can't miss Skytop Tower, an imposing stone monument atop the Shawangunk Ridge almost directly above the Mountain House.
In 1973, the Mohonk Mountain House was listed on the National Register of Historic Places; 13 years later, the Mountain House, along with Mohonk Preserve, were designated a National Historic Landmark. In 1980, Albert K. Smiley, great-grandnephew of one of the original twin brothers, established Mohonk Consultations, a non-profit organization that provides a forum for the exchange of ideas on the sustainable use of natural resources while recognizing the value and interdependence of all life on earth.
Mohonk agricultural enterprises, some more long-lived than others, included poultry, pig, sheep, and dairy operations on the hillsides and bottomlands below the Mountain House, much of it owned by the Smiley family. For 90 years, a good deal of the food and dairy consumed by Mohonk guests and employees was produced there, but by the 1960s most of the food and supplies for the Mountain House came from distant places. Today, in tune with the growing popularity of fresh and local produce, cheeses and meats, an effort is being made to source more food from within the Hudson Valley.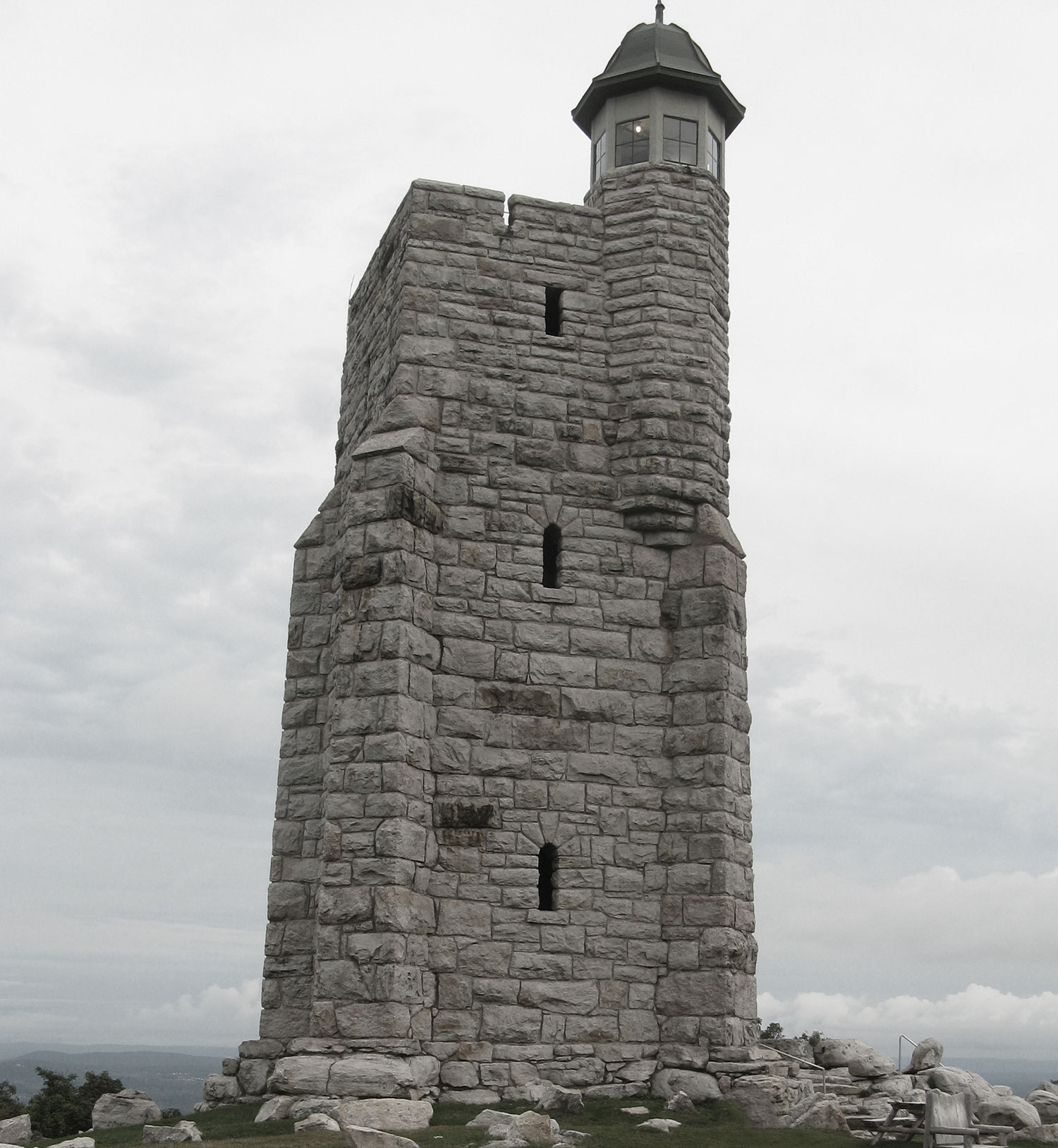 If you're driving on Route 32 in the vicinity of New Paltz, you can't miss Skytop Tower, an imposing stone monument atop the Shawangunk Ridge almost directly above the Mountain House. It was built in 1923 in memory of Albert Smiley, after three earlier wooden towers either blew over or burned down. Even under an overcast sky, the views in all directions from the tower—a mildly strenuous, 20-minute hike from the Mountain House—were breathtaking. (In clear weather, it is possible to see six states from this one spot—New York, New Jersey, Connecticut, Massachusetts, Vermont and Pennsylvania.)
One can imagine a sunny day and cloudless sky in 1869 and the Smiley twins looking out to the horizon in all directions and experiencing a sense of awe at the stunning beauty of the natural world before them. The horse-drawn carriages that conveyed the brothers up the mountain to Lake Mohonk nearly 150 years ago have been supplanted by modern, climate-controlled vehicles with talking navigation systems. The morning prayer sessions held at the hotel well into the twentieth century have given way to nature walks and meditative strolls along the lakefront. But if the brothers were able to come back to their beloved Mountain House, one can imagine them nodding with approval. In many ways the spirit and good works of Mohonk are still strong.