SOME RESTAURANTS ARE JUST BORN OF A POSITIVE VIBE—they embody a young restaurateur's dreams and passions and extend the path of his or her culinary training like a contrail in the sky. Other restaurants, like The Cookery in Dobbs Ferry, open because the chef/owner has learned the hard way what he doesn't want to do with his life.
In 2009, Chef David DiBari found himself cooking in Westchester after a two-year stint at Manhattan's Babbo under Chef Mario Batali. The young CIA grad had done turns at Manhattan's Danube, Patroon and Bouley, but, like other talented young chefs, he accepted executive chef positions as soon as they promised a livable wage. His first, at Eastchester Fish Market, earned him an Excellent rating in The New York Times. His second, at Zuppa in Yonkers, brought high praise for the food and for its siting in the century-old Yonkers Gazette warehouse.
I'm making money, but I'm stuck and I don't want to be stuck.
But Zuppa opened during the giddy real estate boom of 2003, and as the restaurant struggled to find customers to fill its grand Yonkers Avenue dining room, DiBari found himself struggling through an identity crisis. "I had no idea where I was—all I know was that [it] was my second chef job and it wasn't working. They were great to me, but we just weren't meant to be together being restaurant pioneers in Yonkers and doing Bar Mitzvahs. I'm making money, but I'm stuck and I don't want to be stuck. I actually, actually tried out for the Food Network's Next Food Network Star. That's when I knew that there was a problem. A big problem."
That's when, after working 12-hour days at Zuppa, DiBari went home each night and worked until 3am on The Cookery's business plan—"some stupid business plan that I downloaded off restaurantowner.com." For capital, DiBari invested all of his own money ("Barely anything—I had, like, 20 grand") and his mother volunteered to mortgage her house.
When The Cookery opened in March 2009, DiBari played it safe: The restaurant debuted with some democratic dishes, like pasta with Bolognese sauce, that he knew sold well. "It wasn't until two months after I opened that I realized I could do a little bit more—I realized that I don't need to have spaghetti and clams, I don't need to have the mixed green salad, I don't need to have the sirloin or the filet. I could just open up as a chef."
DiBari began slipping diners the joyously carnal dishes that have come to define The Cookery: gorgeous, fluffy emulsified blood sausages, outré crispy duck tongues, and whole pig dinners that he carved at the table himself. Though seemingly designed to be provocative, each dish can be traced back to something in DiBari's cooking history. (Case in point: crispy duck tongues. At Babbo, Batali assigned his young chefs to find an ingredient to bring back to the restaurant to play with and explore. DiBari, at the time living in Chinatown, returned with a bag of duck tongues. "They're good," he claims.)
Some diners were stung by the disconnect between high culinary values and a casual dining room—a disregard for chef's jackets, no $700 stockbroker-bait Barolos on the wine list, no cloths (white or otherwise) on the tables, pressed kitchen towels instead of napkins—but The Cookery was a success right out of the gate. "I always had the idea of my restaurant being about good food and good company before all that other stuff," DiBari says. "I realized that I can just give someone a great product for great value and they'll come. But I didn't learn until I opened The Cookery that, if I wanted to cook anywhere in Westchester, it had to be in the Rivertowns."
The Rivertowns (Hastings-on-Hudson, Dobbs Ferry, Irvington and Tarrytown) contain Westchester County's most urbane, liberal—even bohemian—sub-culture. It's no surprise, for instance, that Dobbs Ferry is home to one of the county's only head shops; the town was also featured in a New York Times article that introduced the idea of hipsturbia ("hipster suburbia"). "I felt like the energy alone brought me here," DiBari notes. "I was looking at White Plains—that would have been a disaster. Here, they were begging for something different and good. I'm not a religious person, or even particularly spiritual, but I do think there are certain energies that bring people together. The fact that I landed in Dobbs Ferry when I didn't know anything about Dobbs Ferry. I had never been to the town—I didn't even know where Dobbs Ferry was, honestly. It felt like fate."
The five years since March 2009 have not all been a graceful sweep uphill for The Cookery. DiBari separated from his original business partner and, just last year, an explosion in the basement prep kitchen required repairs and upgrades. Meanwhile, having defined The Cookery's persona, DiBari began to itch for other creative outlets. Following his passion for pizza (his restaurant career began at the age of 14 at the Paradise Pizzeria in Verplanck), DiBari debuted Doughnation in 2012. This mobile Neapolitan pizza oven visits Rivertown farmers' markets, Captain Lawrence Brewing Company, fairs and local festivals, turning out reverent, puffy, wood-fired rounds topped with The Cookery's house-made mozzarella and seasonal ingredients.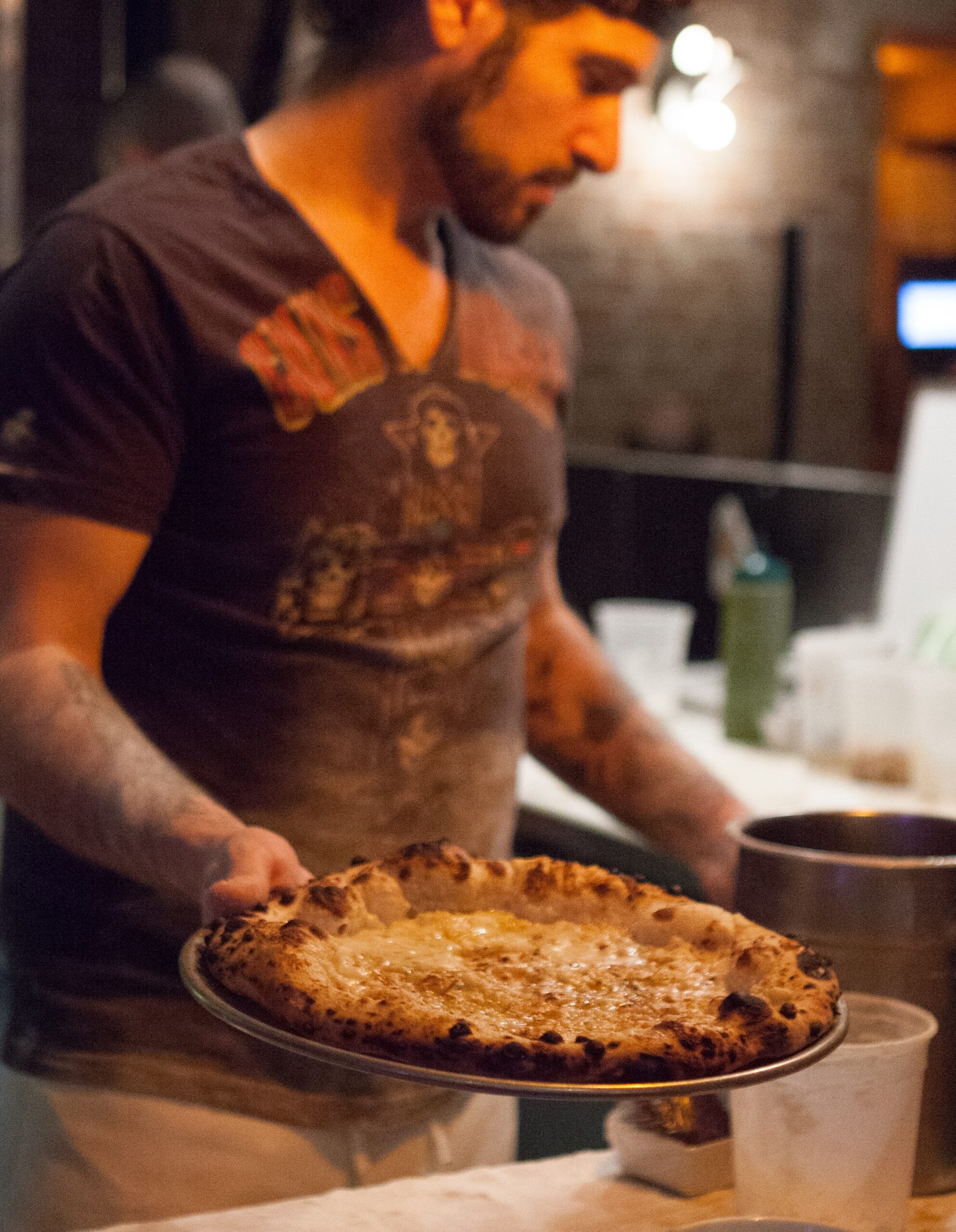 "I truly believe that you don't really need more than one business—you could make anything happen within your four walls, just creating for years and years," DiBari says. "But there are things that I just wanted to do—like, I love pizza. In those white-tiled, badly lit kitchens, you need a fryer and eight burners and dishwashers. On the truck, it's just the oven and three of us, and we produce something that's so beautiful out of water, flour, yeast and fire."
One year after christening Doughnation, DiBari debuted The Parlor (also in Dobbs Ferry), a gritty pizzeria whose graffiti-tagged walls offer the ultimate expression of DiBari's anti-frippery restaurant aesthetic. The Parlor offers an all-tap wine program, cocktails served in miniature bum-style hipflasks and Colt-45 in bottles, among more distinguished beers. The Parlor's menu is provocative: No half one topping and half another, no well-done crusts or extra cheese. DiBari does not think the customer is always right. "I don't think Danny Meyer would approve of what we do," he admits. "I mean, you can build your own burger at Shake Shack. I don't think what I do is for him. But Danny Meyer's expressivity goes into creating an experience on every different level in his diner's mind—so, while Tabla or Eleven Madison Park might not be about his personal experience, he's cultivating a certain experience in the diner's mind. The Parlor is the way that I cultivate that experience, using my own history. You have to understand, pizza has been so bastardized in this country—I need to keep true to what goes best on the pies. So I tell people, 'It's OK if you don't get exactly what you want. In fact, it'll be better.'"
Making purist pizza at The Parlor is not especially easy. The temperature of the wood-fueled oven fluctuates according to wind, indoor temperature, outdoor temperature, and the type of wood being burned. The pizza dough, too, is organic: DiBari must struggle with whether the yeast has risen long enough, too long, or whether the glutens in the dough have relaxed enough to for him to work with it. Fluctuations in humidity also affect the dough.
Says DiBari, "Pizza—it's a headache. It ruins my life when I come in and someone hasn't taken the dough out in time and I can just tell that it hasn't rested enough. Or the humidity was higher one day than it was the next. Everyone who works for me knows that if the dough isn't right, I'm going to be miserable for the rest of the night."
Then why bother? "When I'm in that place and the dough is perfect and the oven perfect, the energy that I feel when I'm working is amazing," he replies. "Why do you stay with the person you love? Because, if it were easy, it wouldn't be worth anything."