Everyone has a different level of familiarity with hops. Beer drinkers flock to Hudson Valley breweries to sample the diverse and creative lineups, seeking creamy stouts infused with freshly roasted coffee beans, bottle-conditioned sours, and other unique takes on beer.
At the root of it all are hops. For the last few decades, the Pacific Northwest provided much of the nation's hops, but New York, once the center of the hops cultivation, is slowly but surely making a comeback.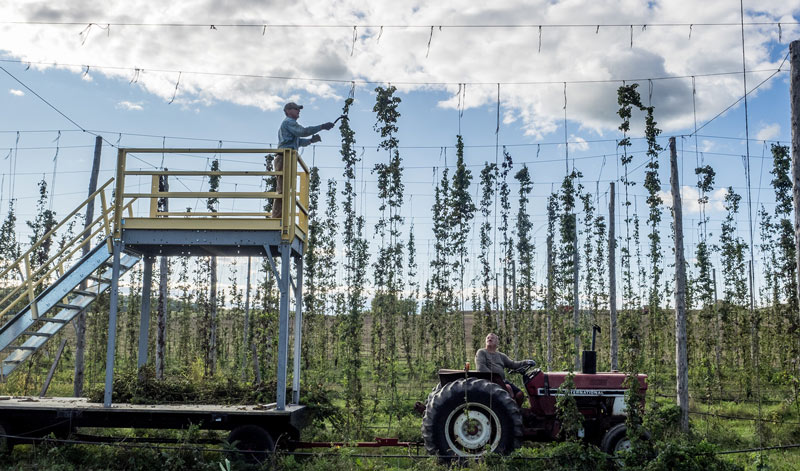 Hops were originally added to the brewing process as an antibacterial preservative. In the 15th century, English brewers loaded their beers with hops so they could survive the long ocean voyage to India (hence the term IPA, or India Pale Ale). Today these Cannabaceae flowers serve two main purposes in beer: bittering and aroma.
Emily Watson, who, with her husband, Evan, owns Plan Bee Farm Brewery in Poughkeepsie, explains that bittering hops have greater impact on the flavor of beer. "The earlier you add hops to the boil, the more your beer will contain those bitter notes…[Bittering hops] have a high level of alpha acids, creating that flavor profile."
The first thing to know about hops is they're perennial plants. Planting only happens once in a generation.

— Stuart Farr, Hudson Valley Hops and Grains
Aroma hops, by contrast, have a lower concentration of alpha acids and impact the scent of a beer. Their use often coincides with fresher, brighter brews and tropical citrus notes. Adding aroma hops toward the end of the boiling process affects the nose more than the taste. Some brewers add them directly to the fermenter, leaving them out of the boil entirely, in a process known as dry-hopping. Dual-purpose hops can be used in either way.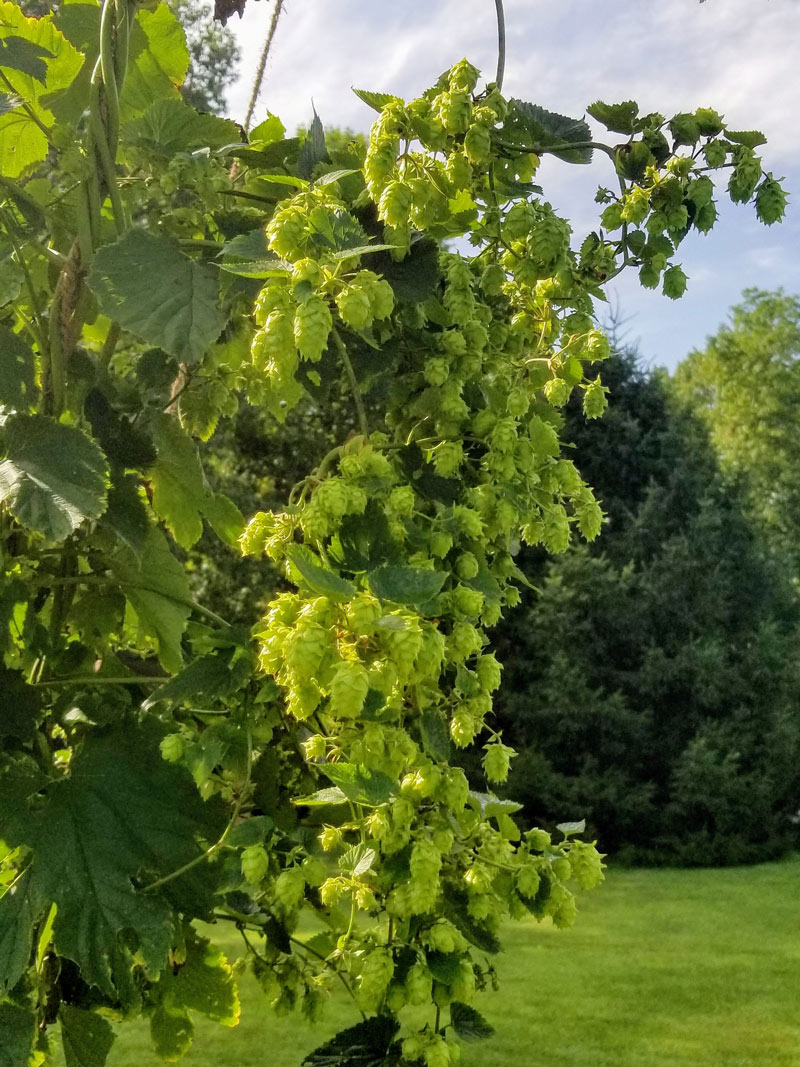 As a licensed New York State farm brewery, Plan Bee uses only New York-grown hops. Farm Beer, Plan Bee's 100% local ingredient batch, utilizes fresh, aroma-variety Cascade hops grown onsite, yielding citrusy grapefruit and tangerine notes. (The brewery's "alive" fermentation continues after bottling, allowing characteristics to evolve over time.)
"Hops like Cascades grow really well in this region. Growers here yield Cascades even better than what they grow out west," says Chris Holden, co-founder of the New York Hop Guild. "I always wondered why there weren't more hop farms in the Hudson Valley. Hops tend to grow extremely well where apple trees thrive."
According to Holden, German farmers who brought hop expertise to New York prior to the 1900s ultimately migrated to Michigan and Wisconsin, and then onward to California. Blight and mildew decimated crops in New York, and Prohibition finally pushed many hops growers westward, where the flat landscapes and earthy soil were closer to what growers were used to in Germany, Slovenia, and the United Kingdom.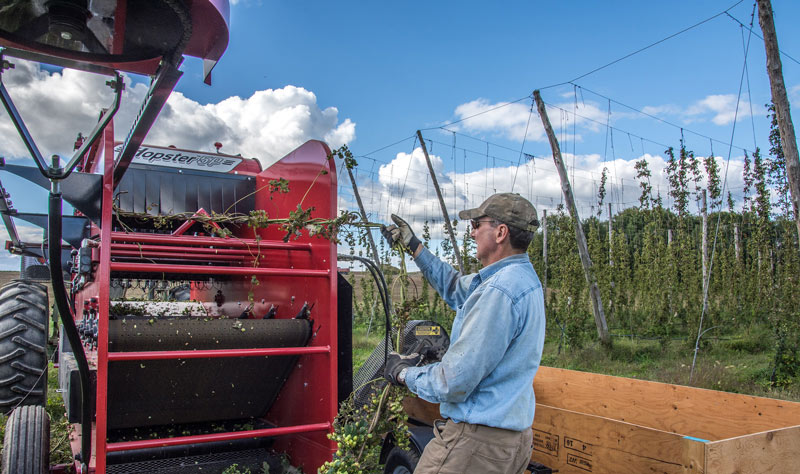 "The New York State farm brewery license [which went into effect in 2013] helped kickstart the return to this area," Holden says. "It's getting bigger due to the quality that brewers are getting. They are just as good, if not better, than what they're able to get from out west, Germany, or anywhere else, to the point where some of the hops grown here are even considered the best in the world."
Currently, the New York Hop Guild sources hops for many of this region's prominent brewers, including District 96, Captain Lawrence Brewing Co., Industrial Arts, Newburgh Brewing Company, Mill House Brewing Co., King's Court, Sloop Brewing Co., and Plan Bee, among others. Many of the farms are based in central New York, just north of the Valley.
Hops are licensed crops, and many newer strains are protected by trademarks. If farmers want to grow popular new varieties like Galaxy — native to Australia — they must purchase the rights. Growers who are unwilling to do so have two options: turn to older strains or begin cultivating their own species.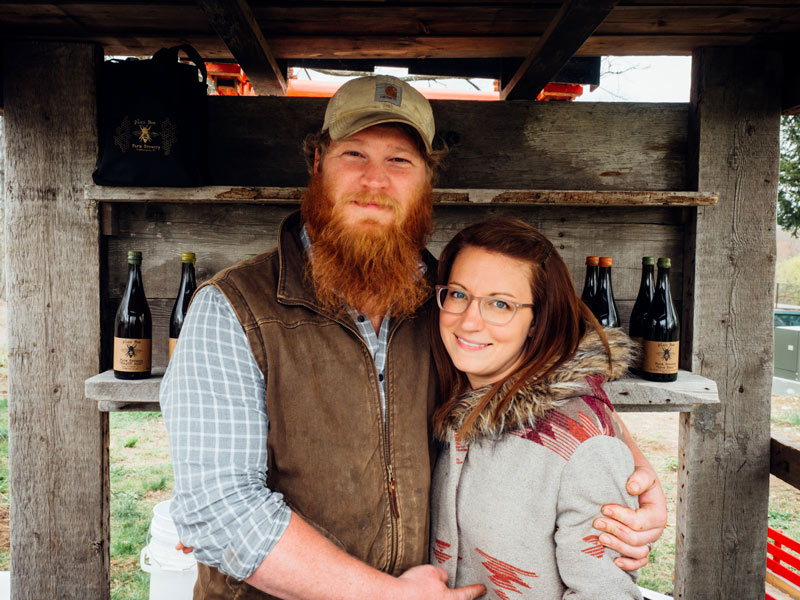 Many new hop varieties go through an official United States Department of Agriculture breeding process, which can take up to 10 years to complete. It starts with a greenhouse trial, and gradually works up to a one-acre test. Plants are inoculated for downy and powdery mildew and tested against threatening diseases. After a test for yield, brewers get involved to evaluate taste, smell, and other features. Eventually, the variety gets named and pushed out by the university assisting in the research. In New York State, Cornell's College of Agriculture and Life Sciences works with Hudson Valley growers and brewers.
In 2021 the New York Hop Guild trademarked its own blend, called Excelsior. "Basically, we took all of our best-growing hops and sent them to HopTechnic," says Holden. A Washington-based lab, HopTechnic uses state-of-the-art technology to match requested characteristics perfectly, right down to tasting notes. "After about four months of testing, we finally came up with something. It's really groundbreaking what we can do with this technology," Holden says.
Identifying the suitable landscape for growing hops is a process. They can be finicky when pitted against the strong winds, short growing seasons, humid summers, and clay soils native to the Hudson Valley.
Stuart Farr, founder of Hudson Valley Hops and Grains, found the perfect spot in Ancramdale. The USDA-certified organic farm produces a host of crops, including wheat, rye, buckwheat, and black beans, in addition to supplying local makers like Roe Jan Brewing Co. and Abandoned Hard Cider with hops.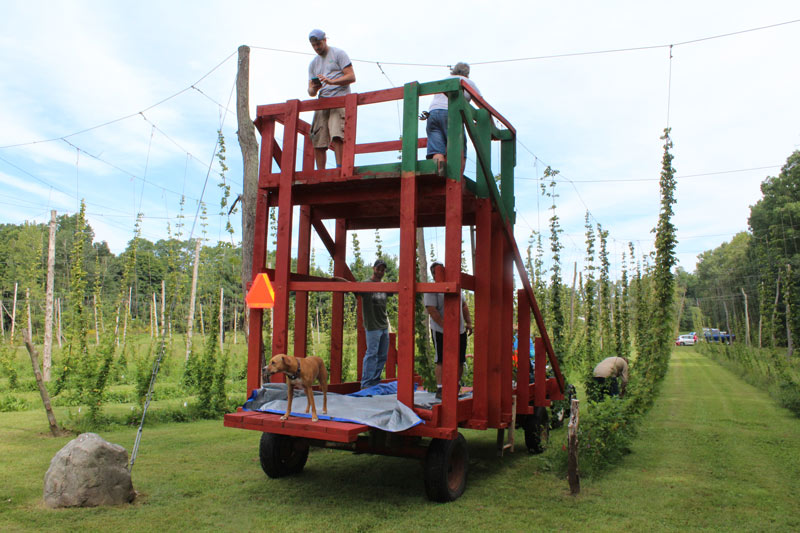 "The first thing to know about hops is they're perennial plants. Planting only happens once in a generation," says Farr, who started his 1,000-plant hopyard in 2015. "These can last anywhere from 20 to 40 years, depending on disease."
The season starts in April, when hop shoots first pop out of the ground, appearing like spears of asparagus. Growers collect the strongest shoots, then manually prune the rest. Hop plants grow up a trellis or coir, a string made from the fibrous material that lines coconuts. Farmers "train" the hop plants by winding them clockwise around the string. The plants then continue this pattern on their own, following the sun.
Throughout the summer, these shoots, called bines, extend up to 18 feet in the air. Similar to wild ramps, the edible shoots are a popular seasonal offering at local markets like Obercreek Farm. During the harvest in late August, Farr cuts each string and put the plants through a hop harvester, where counter-rotating hairbrushes flick cones speedily off the bines.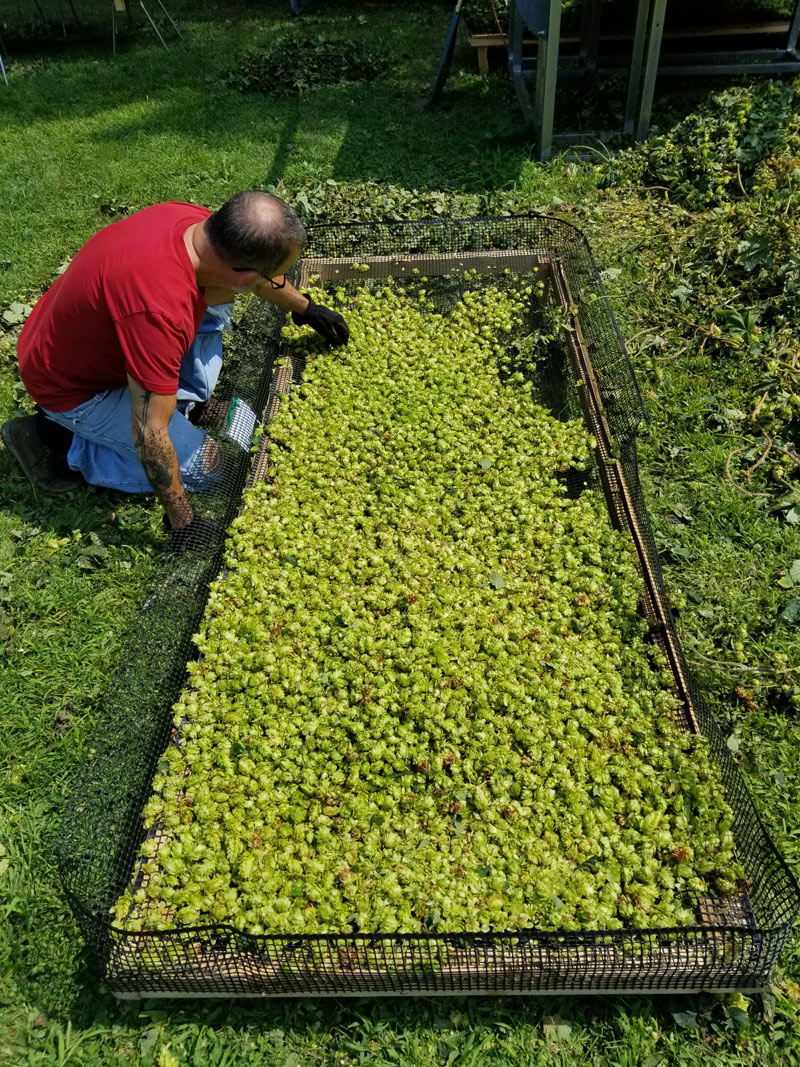 "Cones have to be dried pretty much immediately," Farr says. "We put them in a big homemade oast, which is a very large drying tray that has air blowing through it. The hops are dried down to eight percent moisture, and then stored near freezing."
At Orange County Hops in Walden, harvesting and sorting cones is a family affair. "My dad drives the tractor; my wife ties the strings; and my son, daughter, and in-laws all help me," says owner Michael Antonelli. A retired music teacher, Antonelli and his wife, Alva, planted hops on their 18-acre farm in 2014 after experimenting with small feeders for their home-brewing club. He built a hop processor with his brother-in-law and converted a trailer on his property into an oast house for drying. On sorting days, the farm hosts up to 20 people for a massive picnic after the labor-intensive process of hand-sorting the cones. On a good year, the team harvests 300 pounds of the green stuff.
After working with major producers in the Catskills, Antonelli started the fully functioning Brewery at Orange County Hops in 2018 and opened a tasting room in a former retail space once located on a dairy farm.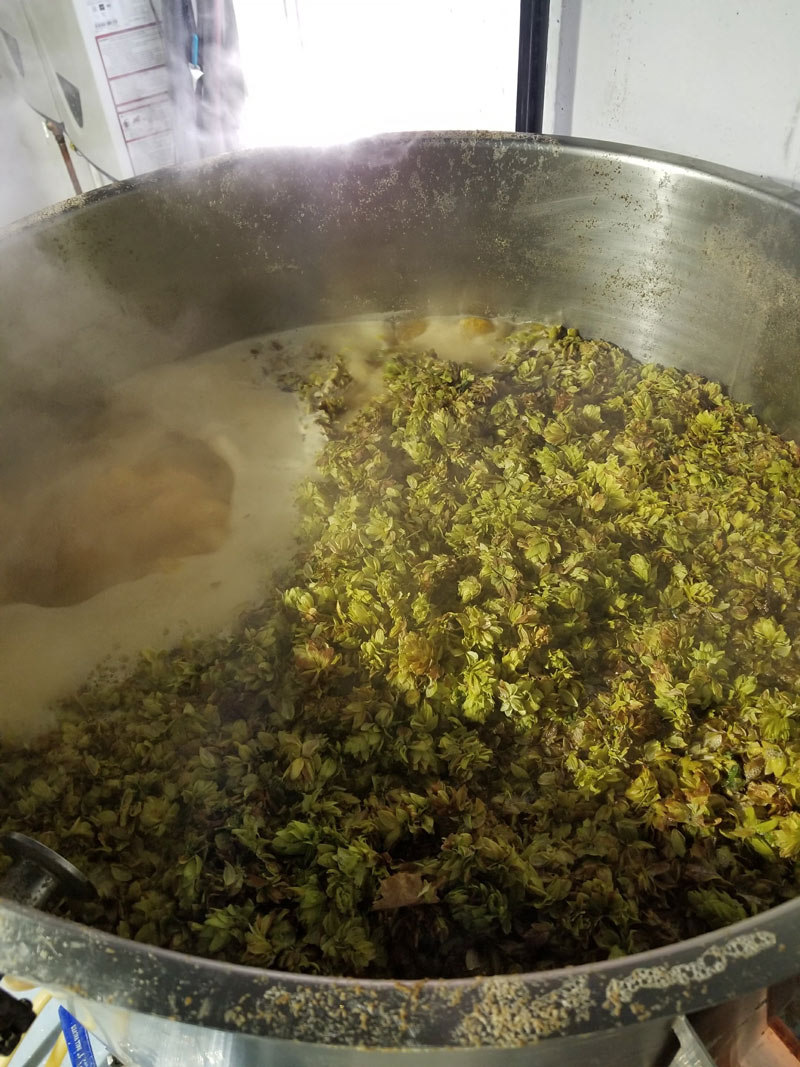 "We're 100 percent New York State, right down to the bar that I made for the tasting room from oak trees on our property," Antonelli says. Black Dirt Malt Company and Hudson Valley Malt supply the grain, while Antonelli grows Cascade, Centennial, Newport, Chinook, CTZ, Nugget, and other varieties for traditional West Coast-style IPAs.
Recently, he even found success growing a wild variety of hops harvested from the side of the road. "The hops that grow here have been in this climate for centuries and are the ones that adapted best," Antonelli says.
West Coast hops, like Centennial, struggle with downy mildew during humid summer months. Pests are another potential issue. At Orange County Hops, Antonelli releases thousands of ladybugs to naturally deter against spider mites. Dominick Vigliotti of Obercreek Farm combats everything from Japanese beetles and potato leaf hoppers to European corn borers when growing hops for his pale ales. "Since I'm small, any loss is an impact on me," he says. "If I get close to 300 pounds, I'll be crushing it."
With the New York State farm brewery license spurring agrotourism and brewers seeking greater control over local terroir, the Hudson Valley seems primed to be a focal point for hop farming once again.
"Temperature-wise, we are right in the sweet spot. That's why they grew so well in the past," Vigliotti says. "If we can get yields up, the future of hop-growing in the Hudson Valley is bright."
---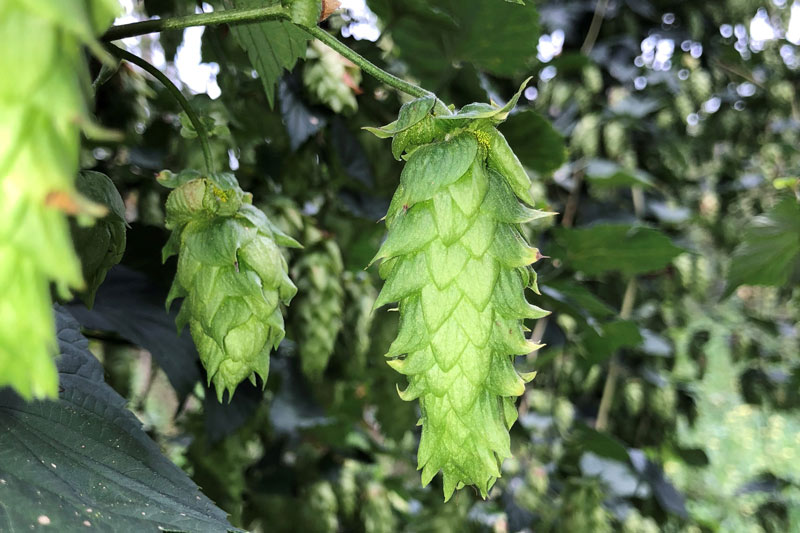 Hudson Valley Hop Varieties
Though many of these hops were developed in Washington's Yakima Valley, they are becoming mainstays of the Hudson Valley hop revival.
Cascade
One of the most common hops grown in the U.S., this aroma variety features bright, fresh grapefruit notes that lend a fruity nose to anything from IPAs to farmhouse beers.
Chinook
An aroma with a high oil content, its flavor is distinctly piney and resembles Pacific Northwest varieties. Look for it in West Coast IPAs.
Newport
A bittering hop that can also be used for aroma, this modern variety has built up a resistance to local diseases like downy mildew, and provides balanced notes of citrus and earthy evergreen to lagers and IPAs.
Centennial
Often referred to as "super Cascade," this citrusy, piney, dual-purpose hop provides a distinct aroma and bitterness when used in pale ales.
CTZ
This combination of Columbus, Tomahawk, and Zeus hops grows well in New York. It's used as bittering hops, and has spicy, black pepper notes.
Nugget
A "super alpha" bittering hop, its high acidity levels impose the woody, resin tasting notes beloved by aficionados of smooth, hoppy beers.