THE FARM DISTILLERY ACT, which became law in 2007, was the fuse that lit an explosion in craft distilling in New York State and, in turn, around the country. What started out as three farm distilleries in the Hudson Valley in 2005 has turned into 27 in Dutchess, Ulster, Sullivan, Orange, Putnam, Rockland and Westchester Counties as of 2017. "It took three years and three governors to get us where we wanted," says Ralph Erenzo, of Tuthilltown Spirits in Gardiner (Ulster County).
In all, there are now 140 farm distilleries in New York, and secondary industries like barrel making and malting are racing to support the production of whiskey, rye, bourbon-style whiskey, gin, vodka and rum, according to Stefan Fleming, Assistant Director for Industry Development at Empire State Development, a state-run economic and industrial development agency.
Fleming says Governor Andrew Cuomo has been a driving force behind the growth of the craft beverage industry across New York State. "Governor Cuomo has worked diligently with the legislature to roll back, change or eliminate outdated and archaic regulations that were still in effect from the Prohibition era," he notes.
New York State distillers are an interesting bunch. Smart, hard working, always learning from each other, they bring dramatically different ages and backgrounds to this baby industry. "Distillers are a unique breed," says Brian McKenzie, former president of the New York Distillers Guild and the owner and distiller at Finger Lakes Distilling. "I think we all realize that there is much work to be done to get consumers to recognize and appreciate New York State craft spirits."
McKenzie notes that while established and newer distilleries are competitors, "We can all benefit by working together to steal some market share from the mass-produced spirits that people have consumed for years. We've formed some great friendships over the years in working toward this goal."
Collectively, the farm distilleries, Distiller's Guild, the State Liquor Authority and Empire State Development, with support and encouragement from the governor and the legislature, have birthed a terroir—a New York flavor of spirits—that's been winning awards and moving in on the top shelves behind bartenders around the globe. That terroir comes from state laws that mandate farm-distilled spirits contain a minimum of 75 percent New York-grown raw agricultural materials.
More than a decade after the first legal stills in New York State fired up, Ralph Erenzo, Jeremy Kidde and Jason Grizzanti, and Derek and Ashley Grout are the distillers emeriti of the Hudson Valley. They all freely admit that in the beginning they had almost no clue what they were getting into.
"We started completely blind," says Harvest Spirit's Derek Grout, a statement echoed by Tuthilltown Spirits' Ralph Erenzo. "Not a single person who works here knew anything at all about spirits when they started—that includes the owners," Erenzo smiles. "We taught ourselves how todistill and how to build a distillery."
Production at regional distilleries has increased from perhaps a few experimental bottles a year drawn from a 100-gallon copper pot still to more than 130,000 gallons a year at some. The operations have changed and, like the spirits they've produced, matured in many ways. Sitting outside their distinctly rustic distillery buildings, a faint whiff of malted grains in the air, each of the original Hudson Valley distillers recently looked back over the past decade and at the future of the industry in the valley.
Black Dirt Distillery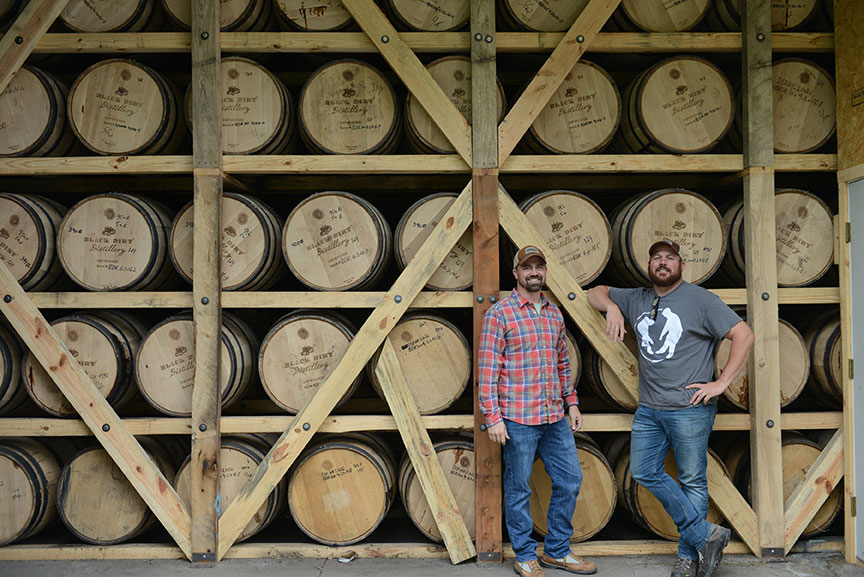 Jeremy Kidde and Jason Grizzanti, the brains and taste buds behind wildly successful Black Dirt Distillery in Warwick (Orange County), have been friends since grade school in Montclair, New Jersey. Jeremy found a career in investment management in San Francisco, while Jason worked on his family farm, Warwick Valley Winery and Orchards, and then pursued a master's degree in brewing and distilling. Using apples from the family orchard and other local farms, the duo started producing apple brandy in 2002 under the Warwick Valley Distillery label and saw their first bottling—about 200 gallons—in 2004. They added pear, black currant and cherry brandies to their portfolio soon after. (These weren't flavored brandies, they were distilled using New York State fruits, and lots of them—it takes roughly 5,000 gallons of pressed cider to make 500 gallons of apple brandy.)
Last year, the entrepreneurial duo produced 130,000 gallons of Warwick gin, applejack and Black Dirt Bourbon—30,000 gallons of branded product for Black Dirt Distillery, with an additional 100,000 gallons bulk contract distillate, sold under other labels. The spirits are stored in three aging facilities, known as rick houses, in the town of Pine Island, an area known mainly for its vast onion farms.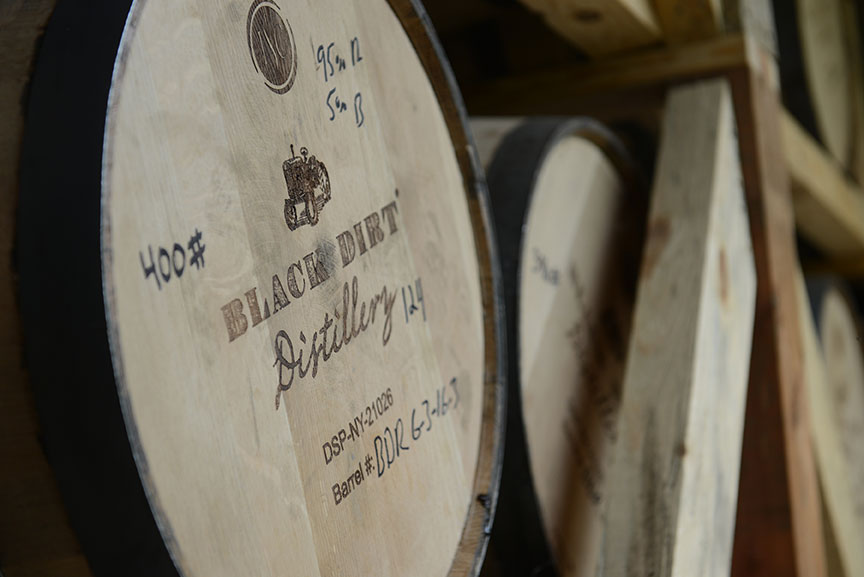 That's quite a change from the Friday before Christmas in 2005, when Astor Spirits in New York City purchased two cases of Warwick Valley Distillery pear brandy. ("We doubled our sales for the year," Kidde laughs.) Black Dirt Distillery spirits are now available at the farm and in stores and bars throughout New York, New Jersey, Connecticut, Maryland, Washington DC, Rhode Island, Georgia, Louisiana and California.
A newly opened food and spirits tasting room known as the Black Dirt Bourbon Barn at Woodbury Commons Premium Outlet Center in Central Valley (Orange County) offers small plates of charcuterie, hummus and sandwiches as well as spirits, cocktails, a small wine selection and a collection of New York State beers, wines and spirits to refresh and nourish shoppers at the popular location just 50 miles north of Manhattan. "The Woodbury location is doing very well," Kidde observes. "It is well received and many customers have said they are happy to have something like that there." Additionally, The Taste New York store at Grand Central Station sells Black Dirt and other Hudson Valley spirits, along with cheese, honey and other locally produced edibles. The shared winery, cidery and distillery tasting room visitors center in Warwick, which features products from Black Dirt Distilling along with those from Warwick Winery and Doc's Hard Cider, features live music every weekend, year 'round. Kidde notes that last year, 120,000 visitors stopped in for tours, tastings or music.
The exposure and sales have naturally spurred growth in the business. The little distillery that produced less than 200 gallons its first year will process more than a million gallons of cider from New York State apples over the next 12 months, all destined to become brandy, applejack or hard cider, according to Kidde. "When we first started, people didn't think of a New York whiskey—they actually didn't think of any whiskey beyond Ireland, Scotland or Tennessee," Kidde stresses, adding, "We realized early on that the facility we were distilling in was too small." Kidde and Grizzanti plan to continue to produce at current levels while they expand distribution. In fact, through contract distilling and a financial infusion from equity investors, Kidde hints, "We're set up with a capacity to go global."
Harvest Spirits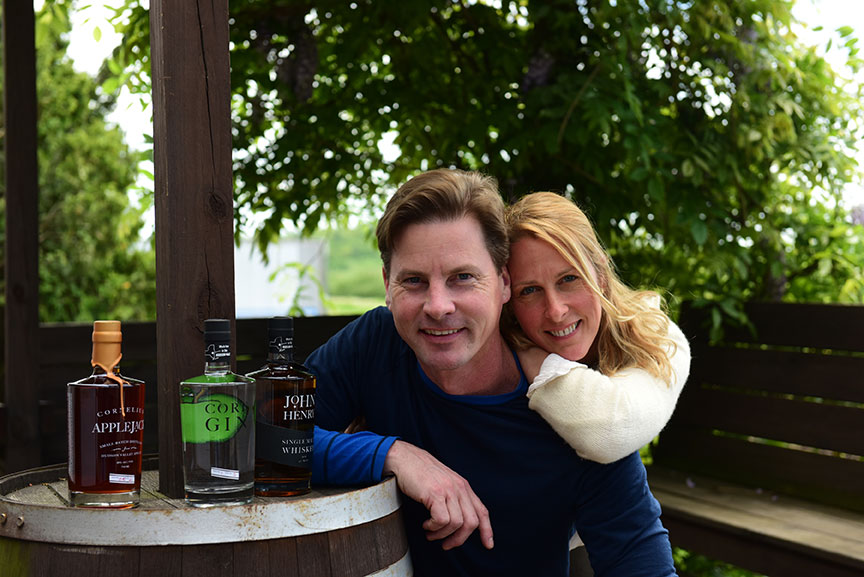 Derek Grout is a third-generation farmer, but he'd left the family farm his grandparents established in 1954 in Valatie (Columbia County) to become a graphic designer in Boston during the wild west days of the internet boom. Eventually, he moved back, started a distillery business, and met his wife Ashley, who grew up in nearby Harlemville.
They're now partners beyond marriage. At Harvest Spirits, Ashley fulfills many roles—business manager, bookkeeper, photographer, graphic designer, events marketing and expert taster. Derek is the distiller—on any given day he can be found checking on apples in a walk-in freezer or lifting a giant bag filled with juniper, lemongrass and coriander from the liquid in a 250-gallon tub destined to be bottled as gin. (And there's Señor Don Gato, the distillery cat, who paces up and down the wooden deck in front of the distillery looking for a mouse or a scratch behind the ears, or both.)
The distillery shares a parking lot with Golden Harvest Farms, the 200-acre family farm with more than 60,000 apple trees Grout's dad and grandfather worked for years. Out front, there's an apple sign, designed by his grandmother in the 1960s, that he faithfully repaints every few years. It's the connection to family that makes Grout proud to be part of Harvest Spirits.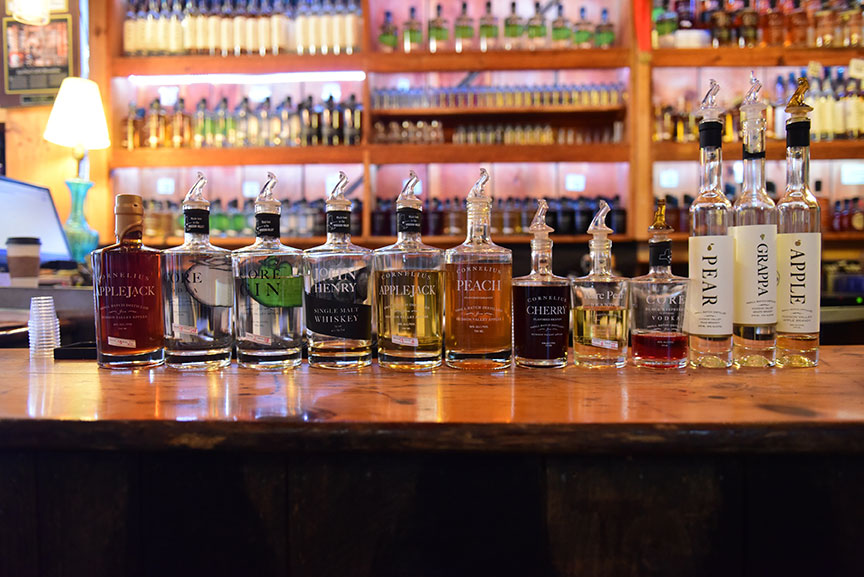 "Growing up, this farm was always teetering on bankruptcy," Grout remembers. "Farms were really struggling back then in New York. We had trouble finding markets for our products. Farmers were selling apples for five cents a pound when our growing cost was eight cents a pound." Grout was one of the original New York farmers-turned-lobbyists who worked to establish the Farm Distillery License legislation and to change local laws that prohibited distilling. "On the local level, I simply attended a town meeting and proposed my idea of a distillery. The town was happy to rescind the Prohibition-era law," he notes.
Grout joined with Ralph Erenzo, Brian McKenzie from Finger Lakes Distilling and Julie Suarez and Jeff Williams from the New York Farm Bureau to lobby the state legislature and the governor to pass the Farm Distilling Act, the legislation that paved the way for farm distillers to distribute their own products and open tasting rooms on the farms.
At Harvest Spirits, Grout installed a small, 100-gallon pot still in an old apple cold storage room and took the bruised, dropped or "funny looking, dented apples" that people don't buy and turned them into vodka, applejack and specialty brandies. In 2007, Harvest Spirits became New York's first farm distillery under the new law.
Visitors to the small-batch distillery often get to try a new liquid that's not yet bottled. Today's experimental spirit is a barrel-aged gin, not yet for sale. And the thinking extends outside the barrel, so to speak. Harvest is the Hudson Valley's first producer of aged balsamic vinegar. Made from apples, of course.
Tuthilltown Spirits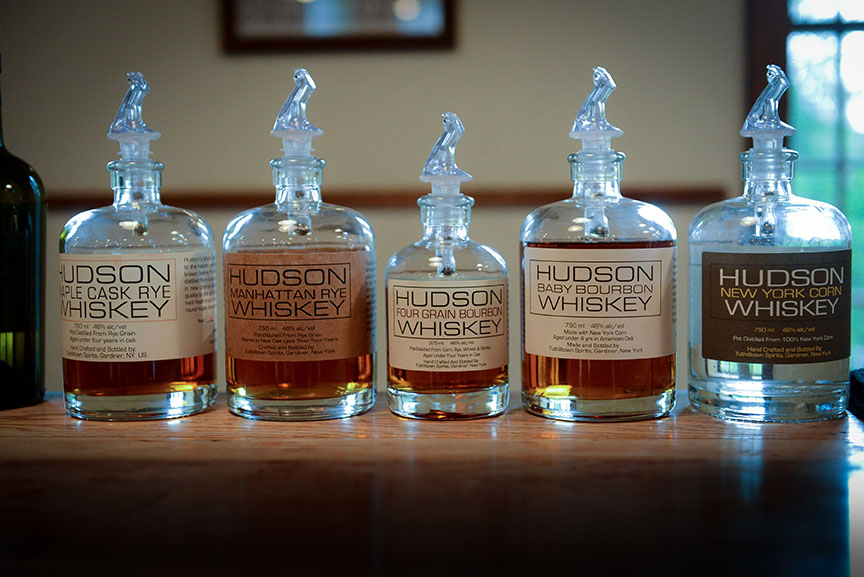 The credit for the explosion of New York State craft distillers actually belongs to a bunch of nosy neighbors in the small, picturesque Ulster County town of Gardiner, in the shadow of the Shawangunk Ridge, Minnewaska State Park and Mohonk Preserve.
"Not in my backyard" was the cry that rang out just after Ralph Erenzo, a professional climber from New York City, bought a 36-acre parcel of land off Albany Post Road that included a river, an historic gristmill and several related buildings. Lured by the Shawangunk Ridge, a rock-climbing mecca that draws visitors from around the world, Erenzo wanted to open "Bunks in the Gunks," an affordable, minimalist housing opportunity for visiting climbers. A few neighbors had other plans and shut down the "Bunks in the Gunks" idea. "I planned to retire at Tuthilltown for my last project, but it was made impossible by NIMBY neighbors," Erenzo recalls.
Erenzo changed plans, too, when he discovered a New York State law authorizing a new distillery class license that lowered the permit fee from $65,000 a year to $1,500 for three years. "The Tuthilltown Project," as he calls the distillery idea, began shortly thereafter. In 2005, Tuthilltown became the first legal distillery since Prohibition to produce whiskey in New York. By 2007, it was producing two vodkas from apples, corn whiskey and four aged whiskeys, including its signature Hudson Baby Bourbon.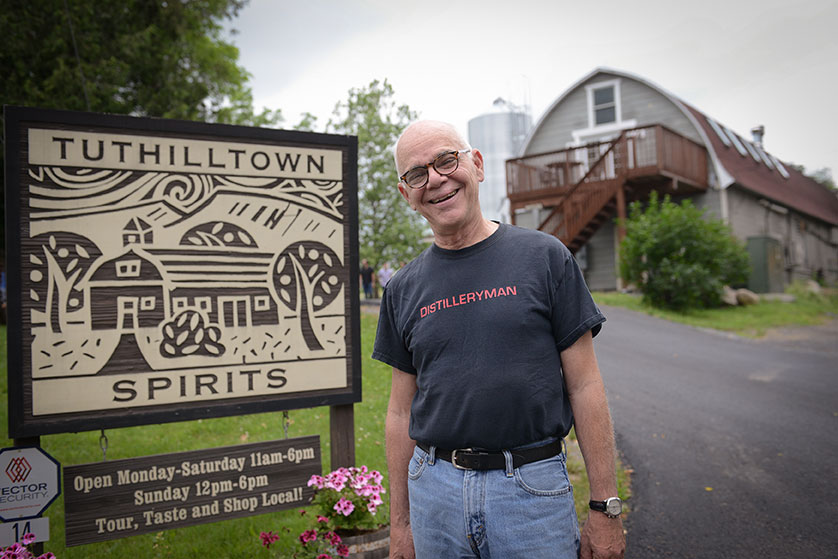 ​Erenzo literally built the brand from the ground up. He loaded up the first batches into his 1998 Honda Element and drove to bars and liquor stores in New York City, offering sips of Baby Bourbon and telling prospective clients, "I'm not a salesman; I made this." Most of the time, he made a sale. Later, he made Tuthilltown's whiskey and bourbon an international name by going from bar to bar in Paris, employing the same sales technique that earned Tuthilltown top-shelf bragging rights in many New York bars.
Sinewy and strong, despite a car crash that almost killed him a few years ago, Erenzo is lauded by many for his passion, dogged determination and his interest in creating a "New York-style" spirit, key to the New York State small distillery resurgence.
The distillery, which produced an admirable 5,000 gallons of spirits in 2007, grew exponentially, distilling almost 80,000 gallons in 2016, distributed worldwide. In addition to being a financial success, Tuthilltown brands have garnered many national and international awards.
In fact, Hudson Baby Bourbon caught the attention of William Grant & Sons Ltd., a distillery, owner and distributor of a number of major labels, including world-renowned Glenfiddich and Balvenie. In 2010, the Scottish company added the Hudson brand to its portfolio. According to Erenzo, "The acquisition of Hudson was a significant signal to the spirits industry that New York craft distilling had arrived and should be taken seriously."
In April 2017, Erenzo sold the remainder of Tuthilltown Spirits to William Grant, including the entire 36-acre site—the distillery, Tuthill House at the Mill restaurant, visitor center and scenic grounds on the Shawangunk Kill. "[Head distiller] Brian Lee and I had reached the limit of our abilities to fund and manage the growing business at Tuthilltown," Erenzo says. "We sought a way to ensure the distillery would continue to prosper and improve. William Grant & Sons is making certain Tuthilltown remains true to its type—a small local farm distillery working with local growers."
Even after the sale closed, Ralph is still there every day, tasting barrels, guiding tours and welcoming people who have stopped in and supported the brand for more than a decade. In July, a packed, full-sized bus pulled up, and he greeted each visitor with a smile and a handshake.
So, where do New York's farm-distilled spirits go over the next decade? Some say that the market is nearing saturation for brands, yet the popularity of New York spirits continues to grow on a local, national and worldwide scale.
Erenzo believes that the next area of growth will be in the secondary markets that support distilling. A cooperage recently opened in High Falls that may help ease a barrel shortage, and a malting room in Germantown is one of only two in the state available to meet the growing demand for the grains that are the base of every distilled spirit.
Agritourism is growing, too, along with the spirits industry. Wine trails in Gardiner, New Paltz, Marlboro and Milton bring thousands of visitors a year to Ulster County, but many are coming to taste local spirits, as well. Erenzo estimates 40,000 visitors stopped by his distillery last year.
Derek Grout sums up the potential for the next decade and beyond. "This has benefited the farm in ways I've never imagined," he says, citing the addition of a stable business in the community, skills and employment to a handful of dedicated employees, and "a heritage I can pass on to my children."
Rising Tide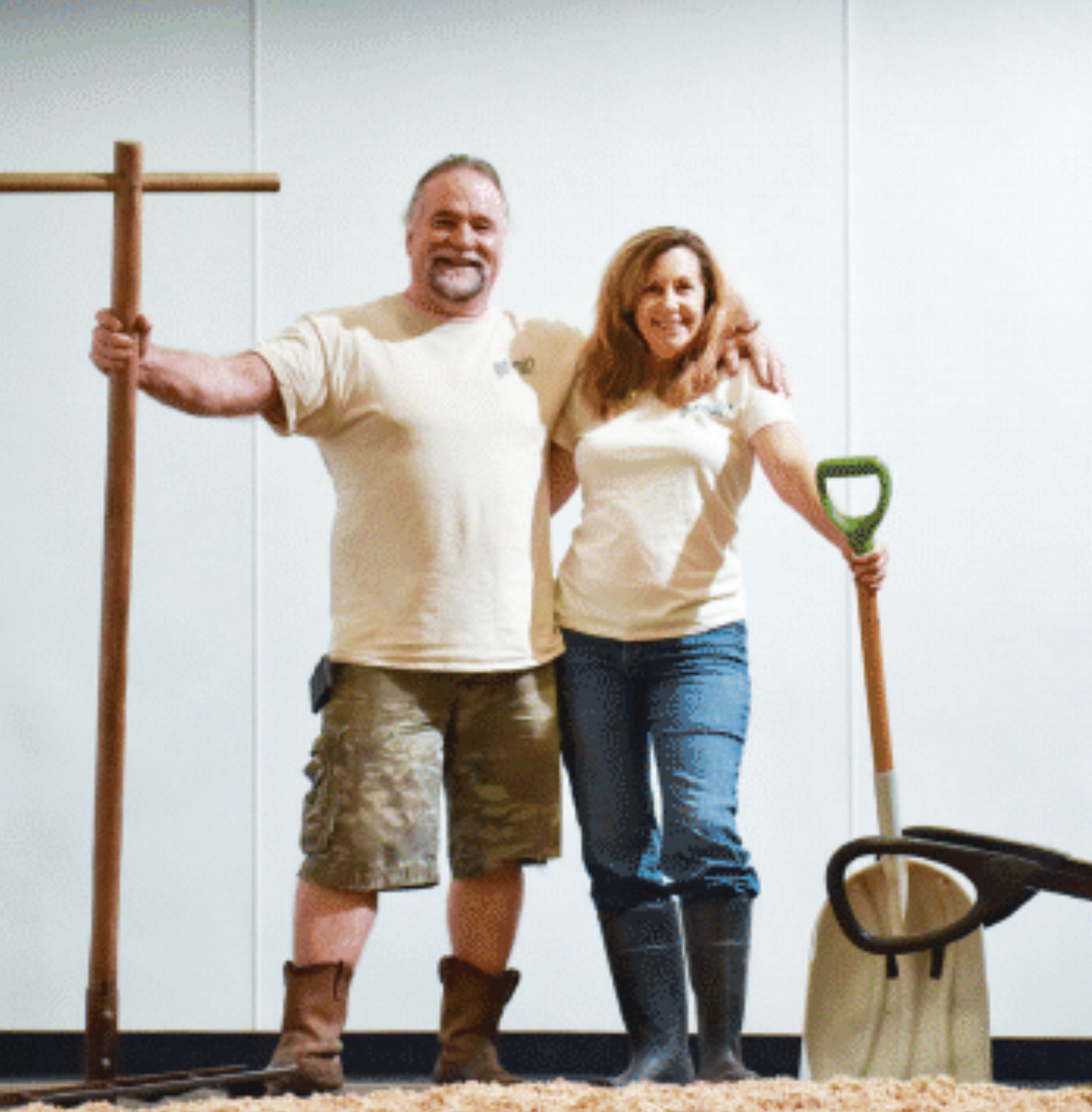 Barley, wheat and rye, sourced 100 percent from New York State, are all needed to produce the mash which is the starting point for spirits and beers. Dennis and Jeanette Nesel of Hudson Valley Malting are scaling up to meet the needs of New York State distillers and brewers. "We're seeing one or two new distillers or brewers every month, and the existing ones have a growing demand," Dennis says while raking drying grains in concentric circles on the floor of the Germantown malt house.
"We started with 50,000 pounds in 2015—we'll be floor malting 150 tons of grains in 2017," Dennis says. "There are more megaways and corporate ways of doing it—large stainless steel drums and machinery—but we do malting by hand. We're craft; we're small batch; we do this by sight, smell and feel. To make a true Hudson Valley whiskey or beer we feel you have to start by using local ingredients."
The Nesels' business is a perfect example of the growth in secondary industries that has resulted from the craft-beverage explosion spawned by changes in New York's brewing and distilling laws over the past dozen years. Hops and grain growers and even coopers have seen a growing demand for their products and services.